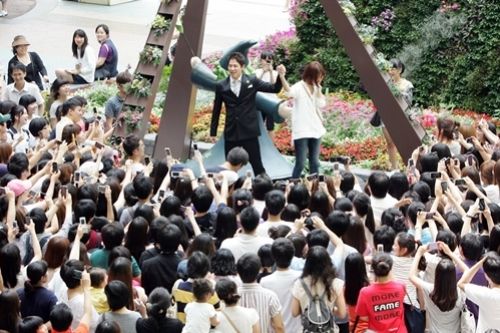 For naysayers who say Lie to Me doesn't have a plot, I beg to differ. Oh, it has a plot alright, it's just at times slow, at times fast, and mostly just there as a driver and not much of a navigator, leaving that to the two leads to shoulder on chemistry alone. Things happen, but the writer doesn't properly set the stage for it or flush it out afterwards. It's been my biggest gripe since episode 1, and the new writer still can't fix the problem.
But to say the OTP doesn't have chemistry in this drama makes me wonder if people need their eyes checked. That's about the only completely undisputable fact about LTM – that Kang Ji Hwan and Yoon Eun Hye are thrilled to be working together and every scene between them crackles with a connection born of some real life give and take that actors who intuitively understand each other can create. I'm going to miss them SO MUCH when this drama is over next week.
Episode 14 Baby Recap:
Ah Jung tells the reporters that she lied about being married to Hyun Ki Joon because she wanted to be a woman with well-off husband, and she pretended to be Ki Joon's wife in front of Chairman Chen leaving Ki Joon with no choice but to continue the pretense. Ki Joon finds out from Aunt that Ah Jung took the fall for the entire charade and he immediately goes to look for her. Both of them are hurting for each other.
Ki Joon finally meets up with Ah Jung later in the evening by their bench and tearfully embrace. Ah Jung thinks her dad is disappointed in her, but dad can tell that Ki Joon is a good man (because he drank well, LOL) and tells Ah Jung that he will wait to see the truth revealed. Love dad. So Ran hears the news and is worried, but Jae Bum tells her not to bother Ah Jung.
Ah Jung apologizes to all her co-workers and packs up her belongings to leave. The Minister calls her in to ask her to explain but she doesn't. He gives her one more chance, scheduling a meeting with the Department Board to review her behavior and determine her sanction, if any. Ki Joon thinks Aunt paid off Ah Jung to take the blame and Aunt gets all offended. Well, it was a logical leap.
So Ran is upset that Ki Joon is letting Ah Jung take the fall, worried that if Ah Jung gets fired the taint from the scandal will prevent her from ever getting married. Which family would approve of a scandalous wife like her? Ah Jung laughs off all her anti's online attacking her, saying she won't read the news. Ki Joon wants Manager Park to schedule a press conference so he can clear Ah Jung's name but she won't do it, reminding Ki Joon that he has a company to protect, so Ki Joon needs to be a coward this time and let Ah Jung be the scapegoat. Ki Joon is furious.
Sang Hee sees that Ah Jung is potentially out of a job and sings an awfully tone deaf song to cheer her up. Ah Jung meets with Ki Joon and pretends she likes being out of a job because she has a rich boyfriend now, though Ki Joon sees through her act. Ki Joon takes her to a public square and screams on the top of his lungs that he loves Gong Ah Jung. He sincerely loves this woman and will die if he can't see her. Yoon Joo sees a video of this declaration on the internet and cries.
Ki Joon and Manager Park talk as friends and he explains that he loves Ah Jung because she is true to herself and makes him live with his heart. Ah Jung and Ki Joon go on a date and she's worried people will recognize them, but Ki Joon wants that so no other guys will hang around Ah Jung. Ki Joon continues to meet up with Ah Jung, each time they don adorably ridiculous disguises (like hoodies from the earlier episodes) so they can go hiking and what not.
Yoon Joo meets with stepdaddy and asks him to do something for her. Ruh roh? Or hhmm? Ah Jung goes before the board, which asks her if she picked the World Hotel for events because of Ki Joon. She confesses under their direct questioning that she loves Hyun Ki Joon. Ki Joon is in the middle of an increasingly disastrous board meeting with news arrives that Chairman Chen has selected the World Hotel to invest.
Ki Joon goes to meet Ah Jung's dad, kneeling before him, and apologizing for all the pain that Ah Jung has suffered. He asked to be punished. Dad lectures Ki Joon, but finally reveals that he's proud of both of them for showing the world how much they love each other, and their willingness to protect the other person and change because of the other person. Dad and Ki Joon drink again and he gets drunk. Park Hoon takes him home, but not before drunken Ki Joon tells Ah Jung that she's his.
World signs the investment deal with Chairman Chen, who asks that Ki Joon bring Ah Jung along to his party tomorrow. Everyone attends the party, including Congressman Park and Yoon Joo's mom, and are surprised that Ah Jung knows Chairman Chen's wife, who is pleased is see her again. A reporter asks Ah Jung what it feels like to be Cinderella, and Ki Joon interjects that it's the other way around, he's a prince because of Ah Jung. Ah Jung gets a call that turns her face white, and she hurries out of the party. Looks like wuri Jungie has been fired from her job. Ki Joon runs after her.