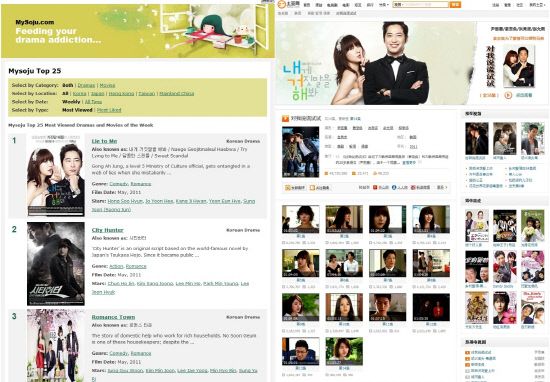 I posted about 3 weeks ago that Lie to Me was currently #1 on all the major Asian streaming sites and drama sites. China's Tudou and Youku alone stream hundreds of millions of videos a day. While ratings for LTM domestically are nowhere near abysmal (that would be my darling Playful Kiss), it's low for a drama starring Yoon Eun Hye and Kang Ji Hwan. It did not meet expectations, period. I know wuri Eun Hye and Ji Hwan have been feeling the pressure for the lackluster ratings, which have zero to due with them, since they are the sole saving grace of this drama. But this ought to cheer them up, as the Korean media is finally picking up on LTM's insane popularity overseas.
As of today, LTM not only continues to be #1 at mysoju, Tudou, and Youku, it's #1 at an unprecedented viewing amount. In the 50 days since the drama premiered, it has been viewed over 100 million times on China's five main streaming sites. This heretofore unheard of online popularity for a drama in China (such high view volume in such a short period of time) has been discussed as highly unlikely to be beat anytime in the near future for any drama. No other drama has ever come close to this view volume in this period of time.
I hope Eun Hye and Ji Hwan's fan share this news with them, because I'm sure it'll really raise their spirits. Bear in mind this doesn't even take into account LTM's popularity in Japan when it airs. And I'll bet my shorts it's going to be a hit Japan. Eun Hye + Ji Hwan = catnip for the kitties in Nippon. The popularity of LTM overseas means that we'll likely be seeing Ji Hwan and Eun Hye reuniting to promote the drama overseas. That possibilty makes me squee with joy.
[Credit: Nate news]