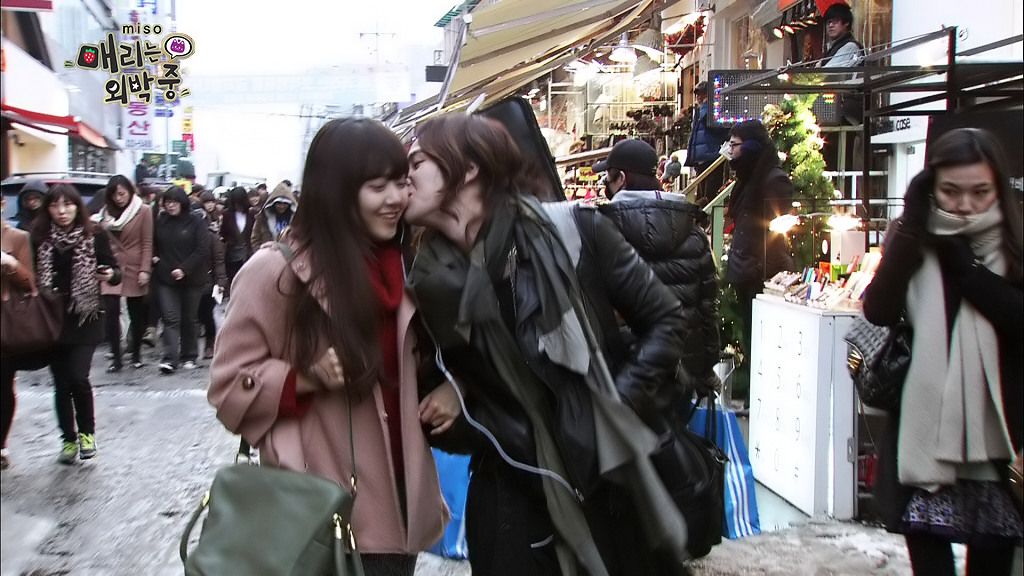 [Koala's current mood:

 Moony over my GeunGeuns so am happy again. Like @Sere says, they are the chibi version of HwanHye, akin to a kitten snuggling with a puppy. LOVE.]
So I have my M3 (Marry Me, Mary! Or Mary Stayed Out All Night) Directors-cut DVD set just waiting for me to give it the proper due, but alas, I need to finish the May dramas and take a deep breath before I can revisit with Mae Ri and Mu Gyul. A few of the added back scenes have been uploaded on Sina so I wanted to bring it to everyone.
After the first episode, I was completely and utterly in love with Mu Gyul+Mae Ri. M3 did something I never thought would happen to me – it made me ship a male lead trope (irresponsible hippie musician with commitment issues) I am allergic to over a male lead type that is my personal catnip (wounded woobie suit-wearing cold repressed businessman).
And no, I will never ever rank this OTP as anything less than #1 in my heart. Another couple has joined them, but they were the first to ever make me RL ship. The GeunGeuns not only ad-libbed some scenes in M3, Seok actually rewrote the ending. The cheek kiss above was his spontaneous add, too. So. Cute.
I have to say – the very instant the video starts, you are immediately transported back to the cold snowy days of M3, the chilliness of reality with shitty parents surrounded by the warmth and confusion of young love finding a soul mate. Guh, I miss Mae Ri and Mu Gyul. I'm also starting to watch the BTS interviews, so if folks want to hear what Moon Geun Young, Jang Geun Seok, and Kim Jae Wook thought about filming M3, let me know and I'll try to do a post about it.
Cut Scene #1 click here
From episode 1 – Mu Gyul brings ice-cream to his mom's place and finds her coming home with yet another man. He tries to bunk in his stuffed van but can't rest comfortably. That explains how he ended up wandering over to Mae Ri's place to crash. And further explains why he was drunk, looking for liquid warmth when maternal love was so close yet so far away.
We saw Mae Ri walk home for hours because she had no bus money, crying for her mom. Now we see that Mu Gyul was equally as empty that night, yet another mom gesture that meant nothing to her. What I love is that this cut scene is scored to "I Will Promise You", which we all know was the last song recorded for the M3 OST and didn't get introduced in the drama until episode 14.
Cut Scene #2 click here
From episode 7 – Mae RI and Mu Gyul discuss how upset Seo Jun is about being deceived. Mu Gyul agrees to call Seo Jun. Mae Ri and Mu Gyul confirm how they are in the same boat, yet they always know they are being candid with one another.