I watched the four-minute trailer for Heartstrings and I felt it. You know – that rush of adrenaline, your mouth slowly gaping open in awe, and the stirring in the pit of your stomach because the more you see the more you want it. It looks SO GOOD, people. Before I only discussed how pretty the drama look, now I'm talking about the glimpse of story that looks so fabulously entertaining. All you You're Beautiful Shin Woo-hyung fans, sorry to break it to you, but that dude is gone. In his place is prickly and full-of-himself Lee Shin. Hhhm, I kinda just described Hwang Tae Kyung. Whatever, Heartstrings looks like it's the real deal.
The drama held its press conference with the cast in attendance. What I find hilarious is that Jung Yong Hwa and Park Shin Hye had to answer a very direct question about whether they are really dating (answer: no, they are just good friends). Either the chemistry is going to be off-the-charts in the drama, or else the collective speculation has turned into overdrive since the YB days. I could care less if they date or not, but they definitely look adorable together.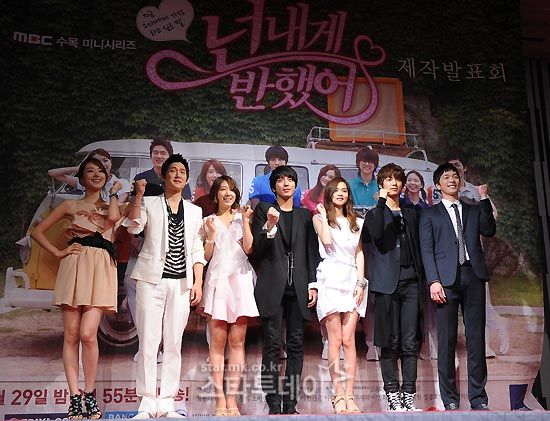 I think everyone is dressed just fine, except for Yong Hwa, who apparently forgot that Heartstrings was a bright youth musical rom-com and instead dressed like he was going to a librarian vampire rave afterwards. Also, he needs to open smile more. I love his snaggle-tooth. Song Chang Ui, on the otherhand, looks like he's about to head off to Jeju on vacation any minute now. There could not be two leading men dressed more dissimilarly at a press conference I have ever seen.
Song Chang Ui and So Yi Hyun look so lovely together. Please please let them end up married in the drama with pretty babies that play instruments and can dance.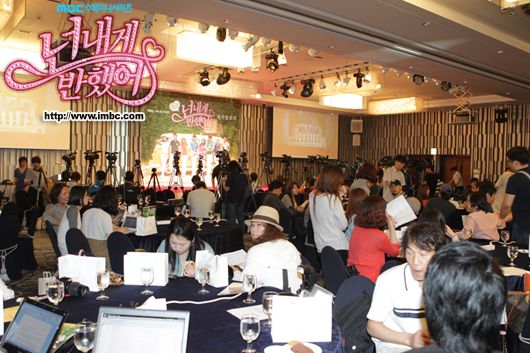 Youth dramas have been mostly a miss these last few years, with the exception of Dream High which was considered a success since it went in with people having such low expectations and garnering pretty respectable ratings. With Best Love out of the way, I think it's more likely City Hunter will leap a few points in ratings and Heartstrings may debut in the low teens (if even that at all). Wishing the best luck to the cast and crew. I know which Wed-Thurs drama I'm watching next.
[Credit: all pictures as marked of the respective news agency]