The cast of the upcoming K-movie You're My Pet had a brief overseas shoot in Japan last month and now the filming moves back to Korea. The movie held an open shoot day for the media that coincided with a rain-required shoot for when Kim Ha Neul's character first meets Jang Geun Seok's character. Via a box. He's a pet, get it? Ergo she finds him in a box like you find stray kittens.
I didn't like the original Kimi wa Petto starring Matsumoto Jun and Koyuki, so I'm not clapping my hands in delight that this story is getting remade as a K-movie. However, Kim Ha Neul looks absolutely gorgeous and Seok owns my number and I'm going to watch anything that boy does regardless. The movie is aiming for a Winter 2011 release.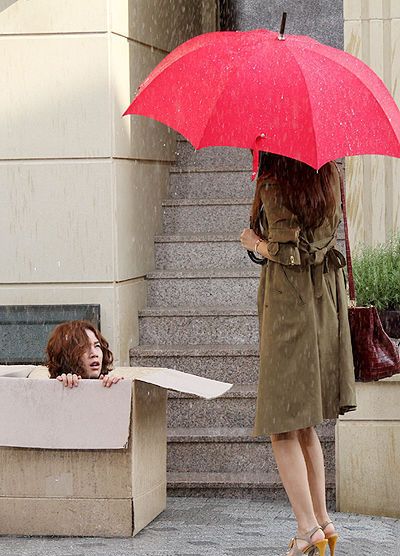 Is it weird that I really want Kim Ha Neul's umbrella? And if I found Seok in a box I'd take him home, too. It's a no-brainer choice.
[Credit: all pictures as of the respective news agency as marked via Baidu Jang Geun Seok bar]