Ouran High School Host Club, how do I love thee? I cannot even count the ways. But number 1 on my list is HER. Take a good look at her face (the cute girl surrounded by boys) and remember her name: Haruhi. I guarantee you'll know it by the end of the 30 minutes that comprises episode 1 of this drama, because a certain rich, clueless, and darling boy will be so smitten with her, he'll take to saying her name every chance he gets. Or more like trilling it: Ha Ruuuuu Hiiiiiii, he calls out, so then she turns and gives him a look like "hhhmmm, yes, you calling me?" One episode in, I've fallen madly in love with a drama craving I never knew I had.
SHE: just wants a quiet place to study. HE: thinks the world revolves around him, and it probably does, if the world likes shiny, pretty, slightly dim kind of boys. And THEY: are the Ouran High School Host Club, where you walk in and may never want to leave. So stay for some "commoner coffee" and don't over think it. You'll thank me for this. After one episode, the amazingly animated faces Tamaki makes and the WTF-is-this-insanity-around-me faces Haruhi makes? You'll be seeing them in your sleep and find yourself laughing out loud.
Episode 1 recap: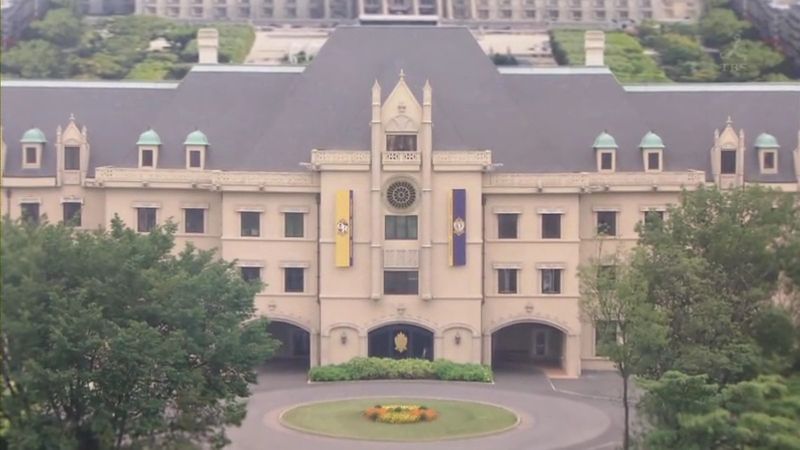 This is Ouran High School, the elite of the elite. What I love is that the set up is pure HanaDan (Hana Yori Dango), and then the mangaka subverts everything about HanaDan (and everything I hated about HanaDan) and makes it rainbows and unicorns and JUST SHEER AWESOME.
Meet Fujioka Haruhi, the sole scholarship student at this joint. She doesn't have a chip on her shoulder (like Makino did in HanaDan), and she dresses and looks like a boy because it's convenient (unlike Mizuki in HanaKimi). She has more important things to worry about, like getting an education. That's just how she rolls, peeps. I already love her. Her fugly glasses? That is just the icing on the cake of awesome that is Haruhi. And Kawaguchi Haruna plays Haruhi so perfectly that I'm making room in my J-actress list to add her ASAP.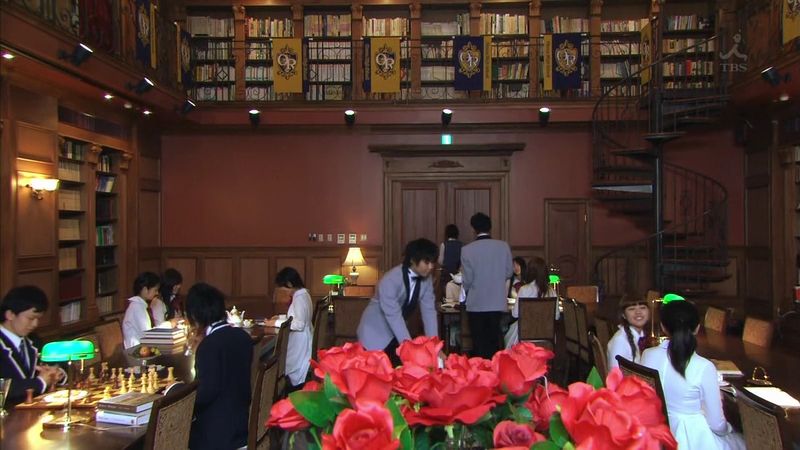 At Ouran, libraries are not for studying, they are for enjoying butler service and taking afternoon tea. No wonder Haruhi books it. How's a girl to study when all she hears is inane chatter about the delicious pastry of the day.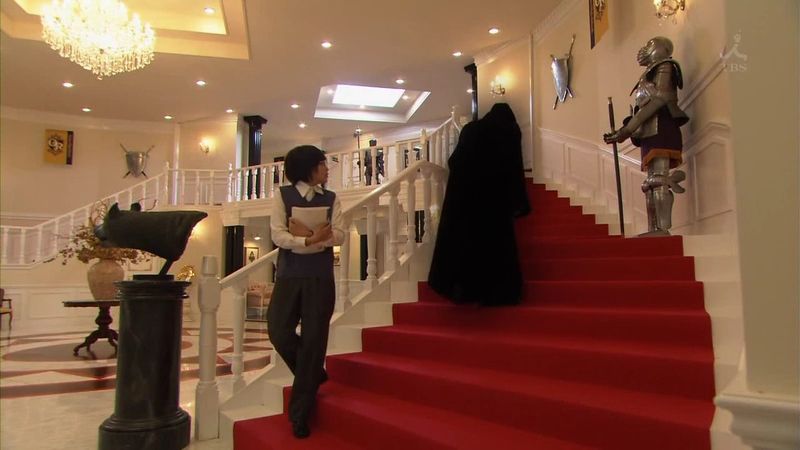 Haruhi heads to find a quiet corner in which to enrich her mind. Along the way she passes a spectral figure cloaked in black. He is Nekozawa Umehito, founder of the Black Magic Club and resident Ouran weirdo. Who likes to lurk. A lot.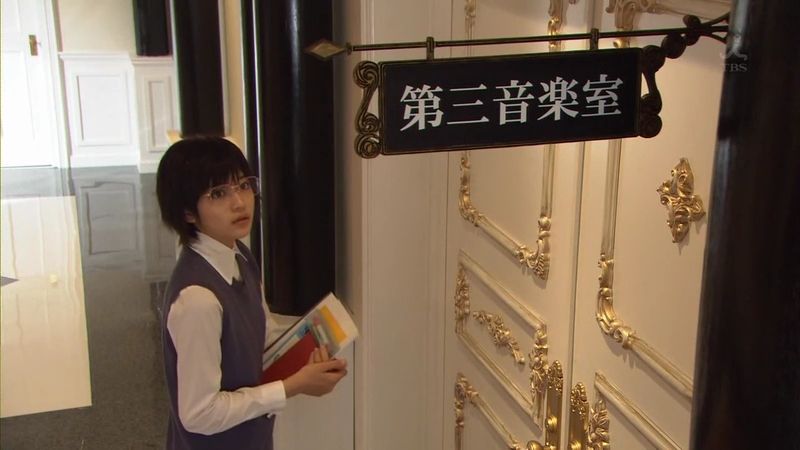 Haruhi sees a room labeled Music Room #3 and walks right in. No one at Ouran could possibly spend time practicing their music, now can they? A shining beam of light illuminates the room.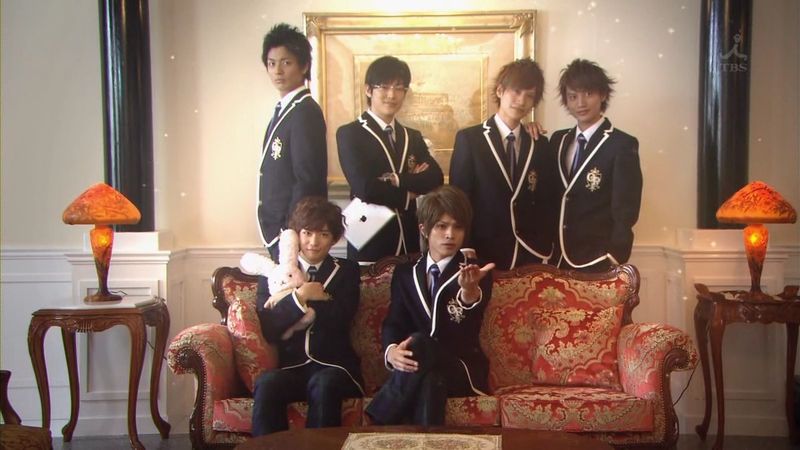 Haruhi blinks and checks out the fancy digs. She turns and sees six guys artfully arranged around a sofa. Leader and all-around exemplar of perfection is he: Suou Tamaki. She is welcomed to the Ouran High School Host Club, where hosting is an art form to pass the time.
Tamaki welcomes Haruhi – the host club serves as the six richest and most handsome boys at school's way to pass the time and entertain the ladies. They recognize Haruhi as the school's only scholarship student. Best grades, butt poor. Tamaki tells Haruhi not to be embarrassed to be butt poor. So what is Haruhi's penchant?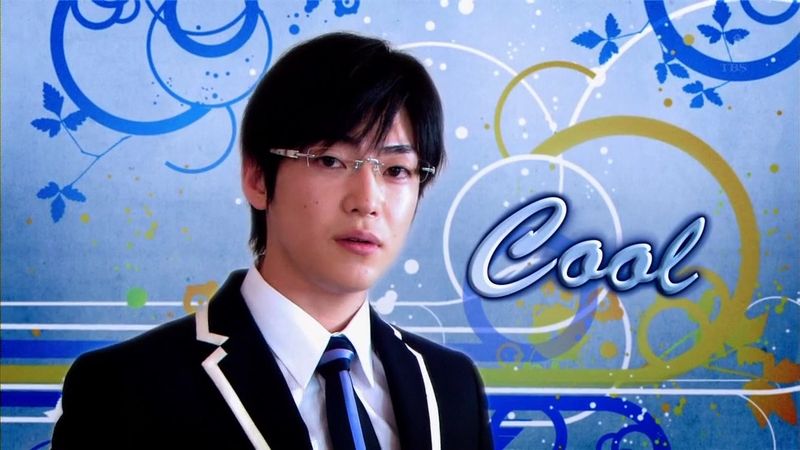 Does she like her man cool? That would be Ootori Kyoya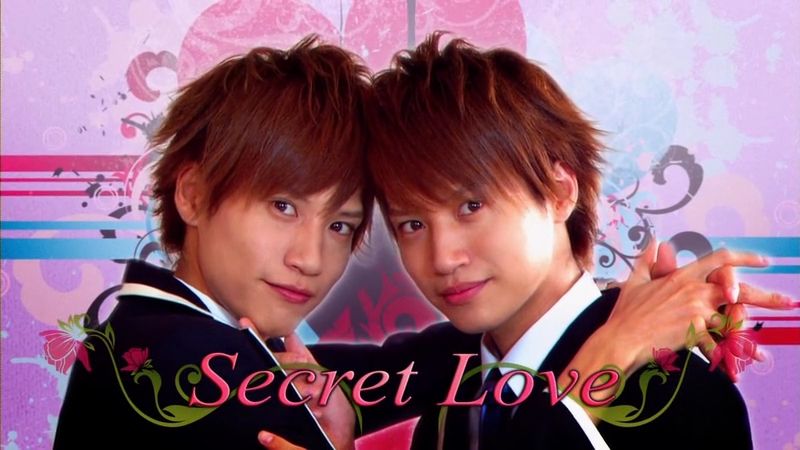 Or does she have a hankering for secret forbidden gay twincest faux love, in the shoujo allusory fashion, of course. That would be the twins Hitachiin Hikaru and Kaoru.
Does a wild man drive her crazy, like Morinozuka Takashi (Mori). Maybe a lovely thing floats her boat, such as Haninozuka Mitsukuni (Honey).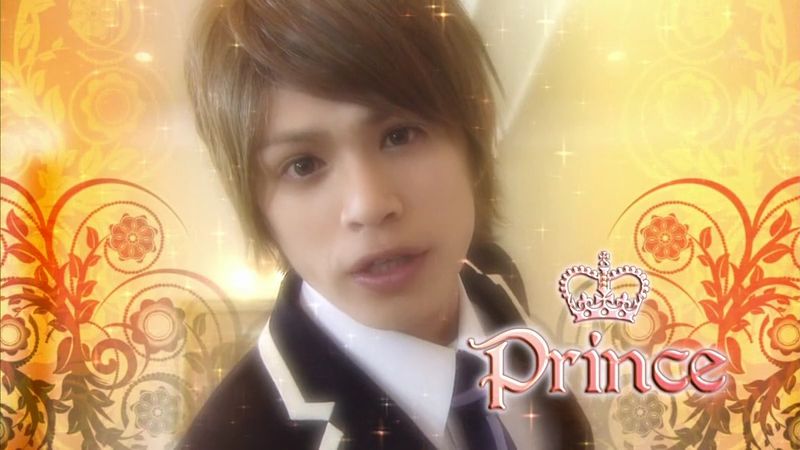 None of the above? Then she must want the prince, Tamaki himself. Yes, yes, I know Yamamoto Yosuke is not very handsome in the usual way, and definitely not the beacon of shoujo perfection that is Tamaki in the manga or the anime. But he is unbelievably perfect playing Tamaki, so accept his face and let's move on. I think he's the second coming of Kame actually. Let me put it this way: Yosuke was born to play Tamaki the same way my Yamapi was born to be Akira (Power!). 'Nuff said.
Haruhi thinks she's wandered into a den of freaks. She backs away ever so slowly all the while yelling "I JUST WANT A QUIET PLACE TO STUDY." But before she can run away screaming, she backs into the priceless vase she admired earlier. Ooops. Vase, meet ground. Say goodbye to the vase, Haruhi, and hello astronomical debt. To pay off the value of the vase, Haruhi becomes the slave of the host club. She asks her dead Mommy in Heaven to help her out.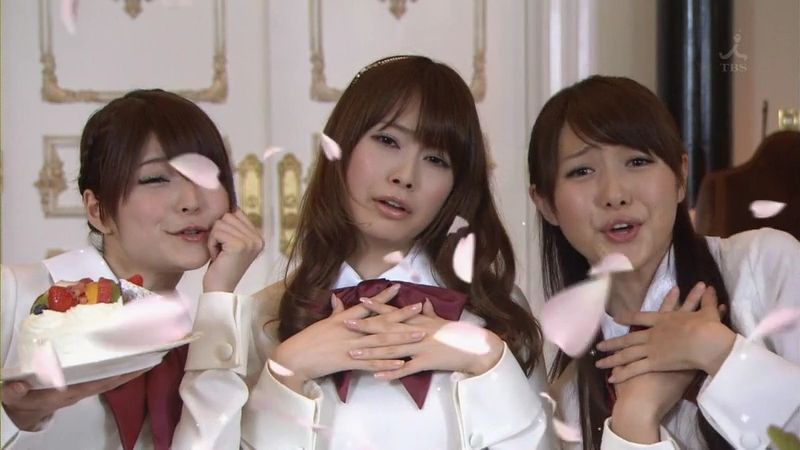 Haruhi goes to perform her first manual labor for the club, returning bearing a bag of groceries. Likely she didn't shop at the Japanese equivalent of Dean & Deluca and went to the neighborhood Family Mart. Kyoya schools her on the various hosting groups in action, showing her what the ladies like.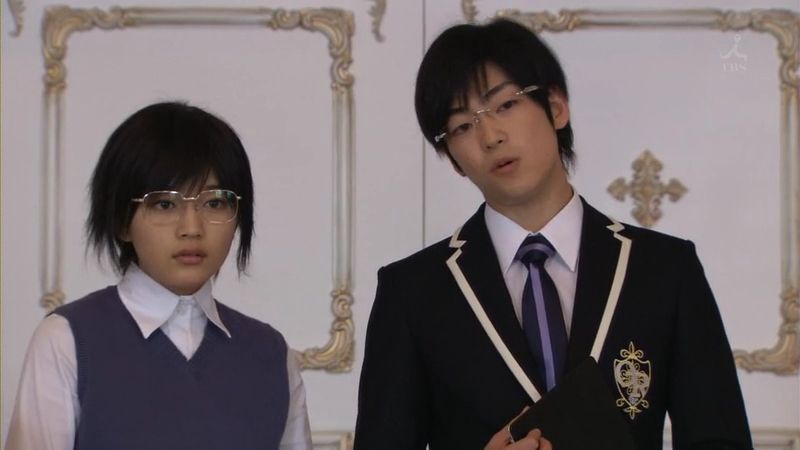 Haruhi looks, but all she can do is make this face. She doesn't understand. Neither does 99.999999% of the human race. I will never get tired of Haruhi's face of incredulous resignation.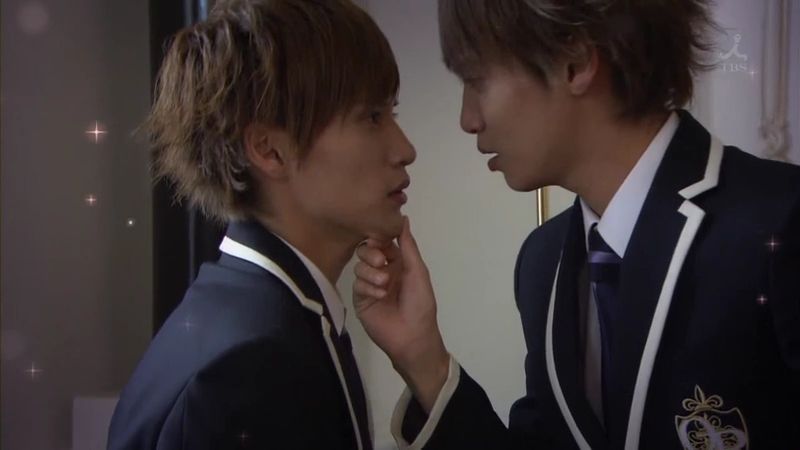 The twins have perfected their routine – Hikaru tells a silly story about Kaoru, who pouts, and the two brothers make up. Cue yaoi music.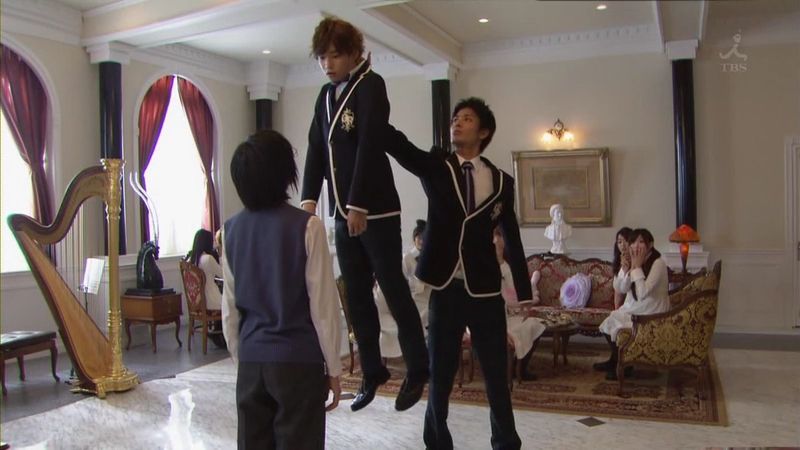 Honey can shrink and become even cuter when hugging Haruhi. Mori plucks him off Haruhi and returns him to his normal state.
Haruhi tries to slink away, but Kyoya informs her that he's got even more trump cards over her. Omo, embarrassing Haruhi pictures! Which are so kawaii actually!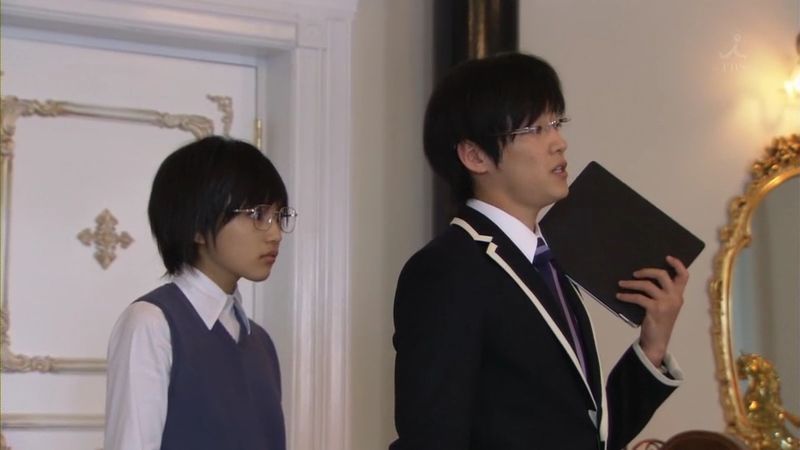 She calls Kyoya's smile – the smile of the dark side of the devil. Ooops, looks like you're staying put for the time being, Haruhi-chan. And how the hell does Kyoya make using an IPad to blackmail a girl look so insanely hot. Yet another wonder that is Ouran.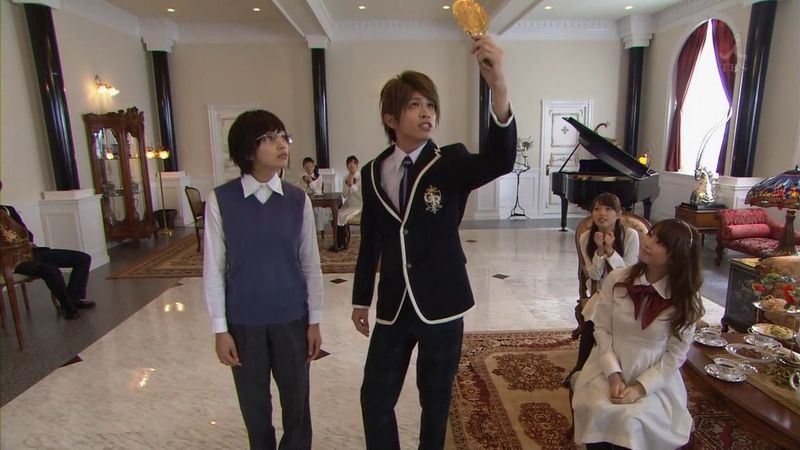 Tamaki pops up to school Haruhi on the three rules of the club: strength, beauty, and bearing. Haruhi wonders why outer beauty matters, shouldn't inner beauty be what's important. Tamaki smiles at her silliness. It's hard for him to be so beautiful, so Haruhi can believe in inner beauty if it makes her feel better about herself.
For example, he needs to worry about which angle best displays his perfection. From the right, it's at the 38 degree angle. From the left, it's at the 42 degree angle. This boy – he learned math just to understand this principle, this I sincerely believe.
Haruhi thinks and thinks as Tamaki gesticulates and blabbers away. How best to describe this "person"? One word: ANNOYING. Bam, Tamaki gets bodyslammed against the wall by the word "usai". LOL FOREVER.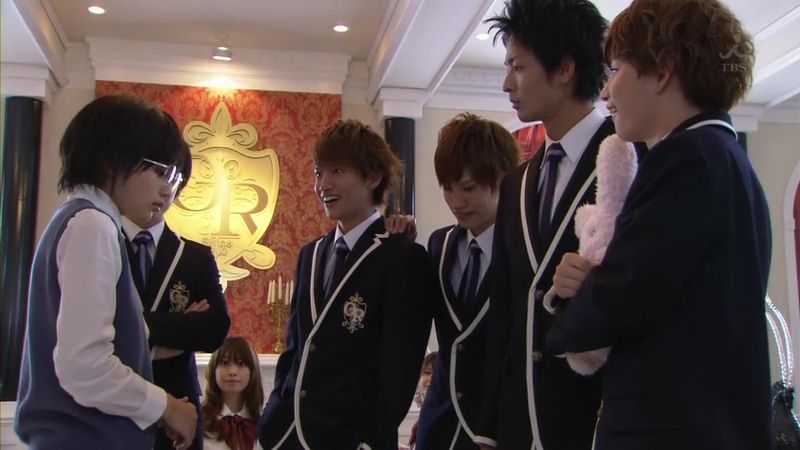 The other host club members realize that Prince Tamaki has met his kryptonite. Everyone compliments her on her attack move. Better yet, the ever silent and stalwart Mori reaches out his elusive hand to shake hers.
Suddenly a jar of instant coffee rolls over and is picked up. Haruhi explains it's instant coffee she picked up at the store. Tamaki breaks free of the "usai" and runs over to see this, this, this, thing called "commoner coffee". The boys marvel over coffee that is cheap and instant. They have only heard about it, but have never even seen it before. Tamaki and co. all want to drink this mythical elixir.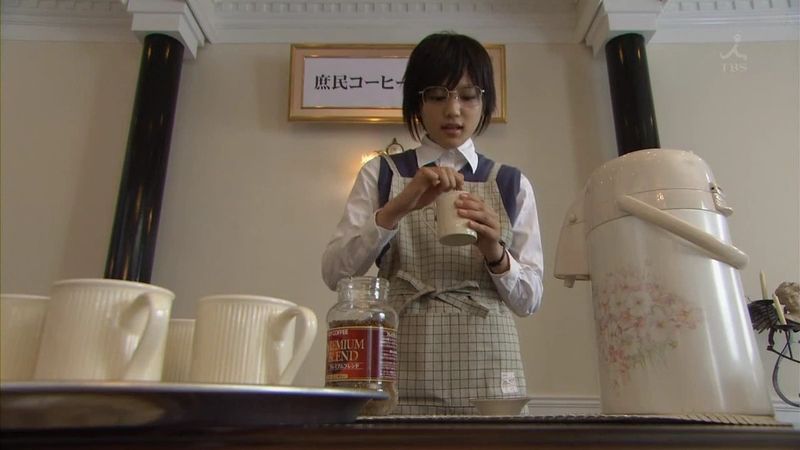 Haruhi is like "how the hell did I end up doing a demonstration of how to make instant coffee?" Add equal parts coffee and hot water and stir.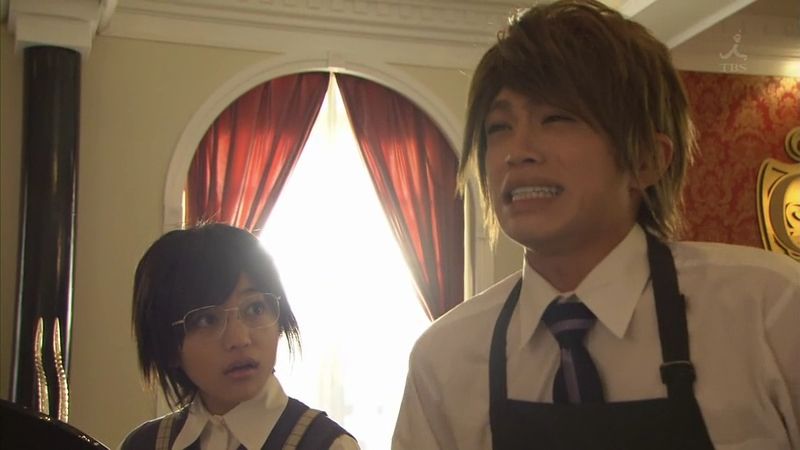 After the guests have left, Haruhi cleans up and mutters that she just wanted to find a quiet place to study. Tamaki overhears and asks why she doesn't study at home. Haruhi explains her dad works nights and sleeps days so she can't study at home. Her mom died ten years ago. Tamaki sobs because Haruhi's background is so sad, PLUS she owes an astronomical debt for breaking the vase. Oh woe is her. Tamaki has a brilliant idea. Haruhi can be a host as well, and she can earn the money to pay back the vase much quicker. He will teach her everything she needs to know.
Tamaki's one very strict coach. The twins say that Haruhi's problem isn't learning the skills, it's that she looks like a wretch. Tamaki takes off Haruhi's glasses. *Gasp* The boys all stare.
Makeover time! Contacts and a custom made school uniform coming right up. Haruhi steps out of the changing booth and THIS IS THE FACE TAMAKI MAKES. With a thought bubble above his head "kawaii". He thinks Haruhi is cuuuuute.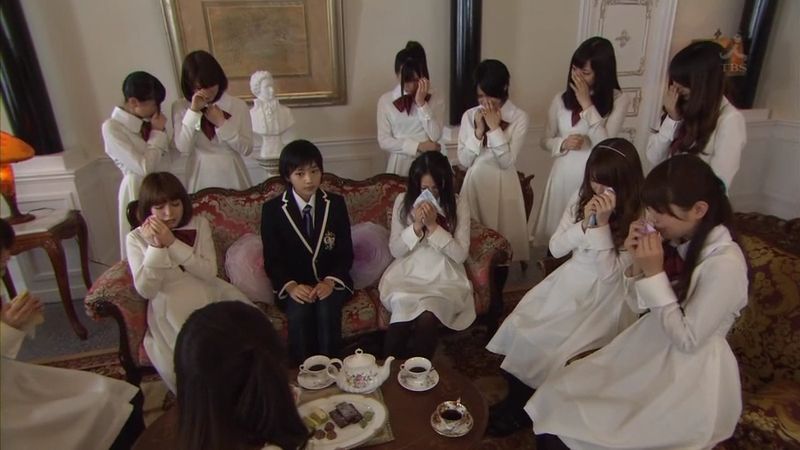 Haruhi is a natural host and immediately becomes the favorite of all the ladies. And all she talks about is her sad, common, ordinary life.
Tamaki doesn't even try to hide it. Why is her conversation so "common" yet so totally cute! He's totally smitten by her, who he still thinks is a him. The other boys say that Haruhi is a natural, and Kyoya points out that someone else is also affected by Haruhi's natural charm.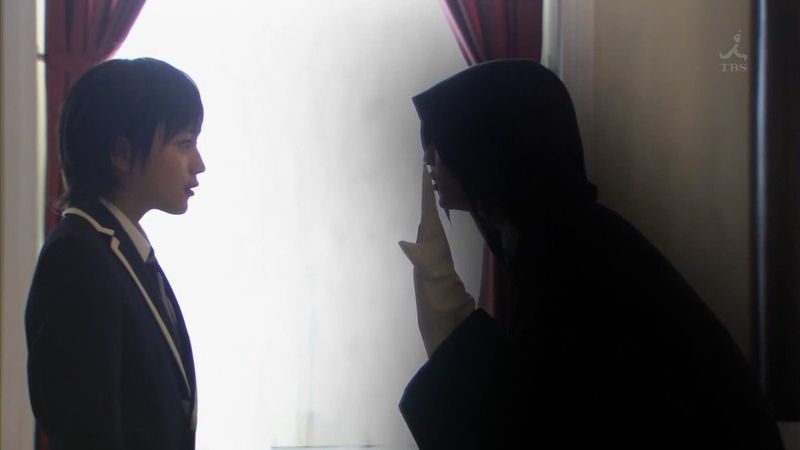 Nekozawa from the Black Magic Club tries to recruit Haruhi to join his club. She takes off his black cloak wondering if he isn't too hot. He runs away screaming.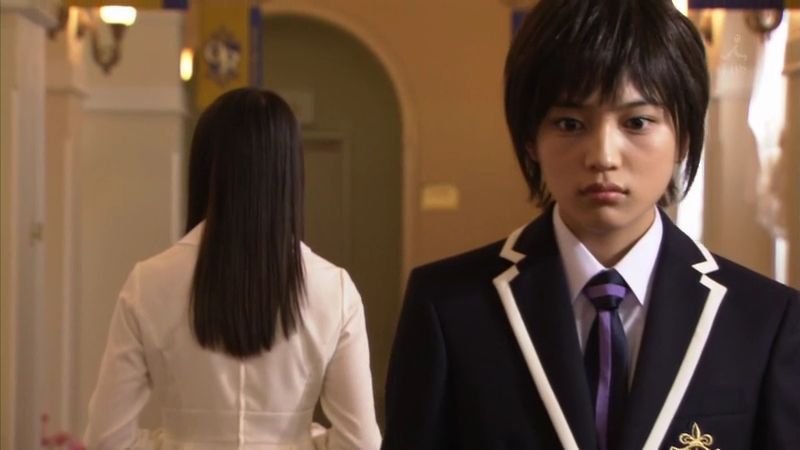 Haruhi's backpack is missing, but she doesn't want her new friends to worry. She walks around looking for it, finding it in the school wading pool. The rich princess from the host club comes to lord it over Haruhi. She tells Haruhi not to be jealous of their rich lives.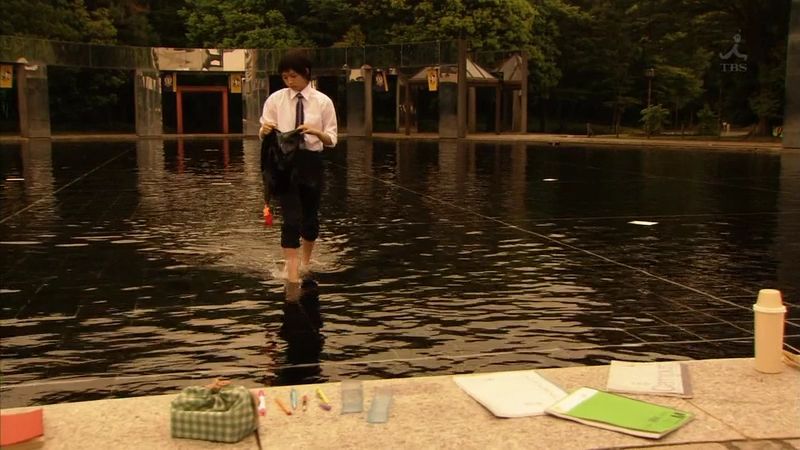 She goes to pick her backpack out of the pool, but she can't find her wallet containing 10,000 Yen, which is her monthly living allowance (equivalent to $120). Tamaki arrives and asks what she's doing. She explains that she's looking for her wallet which has only a meager amount in his mind, but is her entire monthly stipend.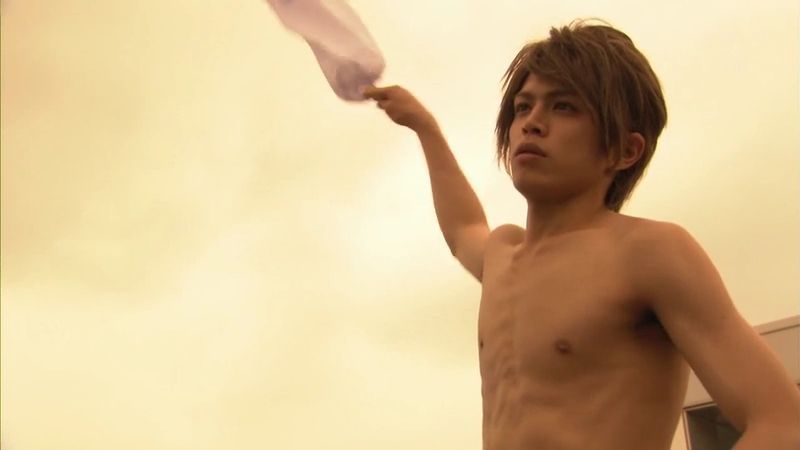 Without a word, TAMAKI TAKES OFF HIS SHIRT AND WADES INTO THE POOL TO HELP HER. Even though the pool is about as deep as his ankles, he takes off his shirt. That is how Tamaki's mind works. I have no complaints. Tamaki-kun, rock on!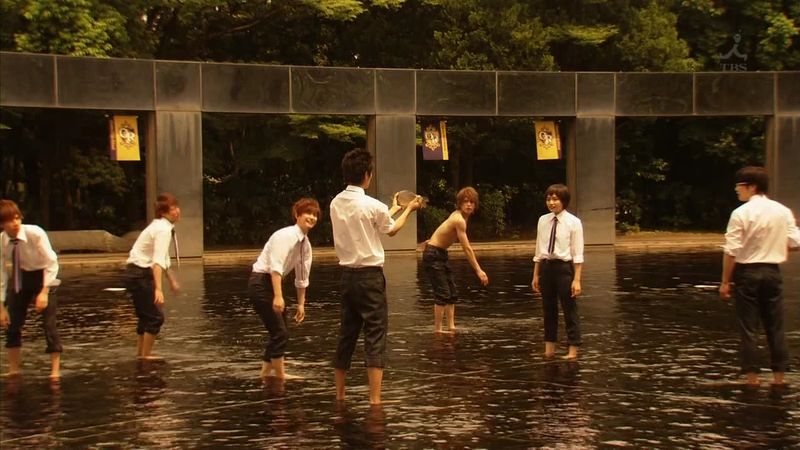 Everyone from the host club arrives and decides to join in the fun of looking for a wallet that contains what they probably spend in a second. They decide to have a competition to see who finds the wallet first. Mori picks up a fish barehanded. He holds it up and says "wrong find." Mori, please continue to be so incredible.
The bitch princess picks Haruhi to host her. She's all passive-aggressive until Haruhi calls her out for perhaps being jealous? She tosses water at Haruhi and Tamaki runs to shield her. From water. Niiiiice. All the boys walk over and say they know what she's been doing. Kyoya's omniscient IPad shows pictures of her tossing Haruhi's backpack into the pool. No one mistreats a member of the host club. She is henceforth banned from the host club.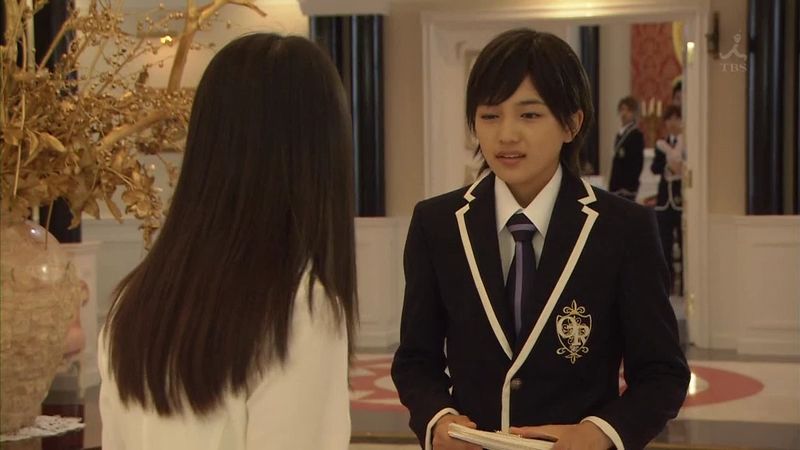 She tosses her purse at Haruhi as compensation for the lost wallet with the 10,000 Yen. Haruhi runs after her and returns it. Princess asks if that's not enough. Haruhi says it's her own fault for not carrying her wallet with her at all times. The boys walks out and smile at her for being having such pride.
Tamaki decides next week to hold a Commoner Coffee Tasting Party. They decide the host club needs to be gracious, and ask the princess if she would like to attend. Princess has the decency to look chastened for her behavior. The next day, a year's worth of instant coffee is delivered to the host club, courtesy of the princess (and her daddy's wallet, but the thought does count).
Tamaki coughs and holds out Haruhi's wallet containing her meager monthly expenses. Kyoya nonchalantly says Tamaki looked for that wallet until sunrise. Haruhi smiles and says thank you very much. Her brilliant, gorgeous smile makes Tamaki drop the wallet.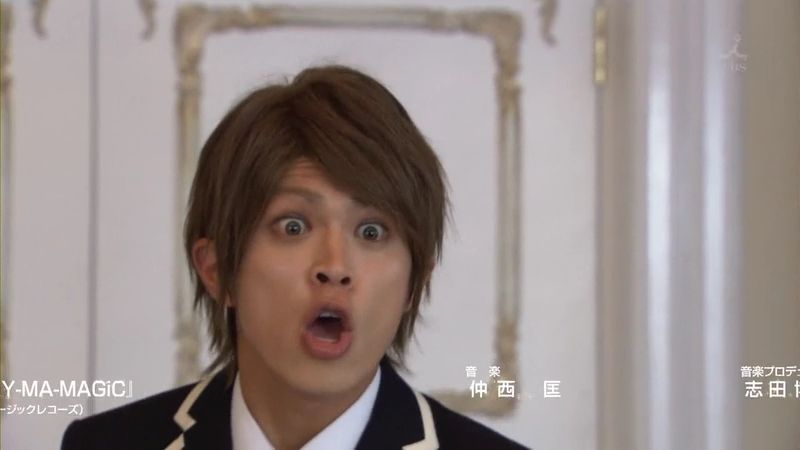 Tamaki picks up the wallet which has fallen to reveal Haruhi's student ID card, which shows her with long hair and identified as a girl. Tamaki asks if she's a girl. Haruhi matter-of-factly says yes. Tamaki makes that face of shock. It is priceless.
All the other hosts ask Tamaki if he's finally figured it out. They all knew immediately upon meeting Haruhi. He asks why they didn't tell him.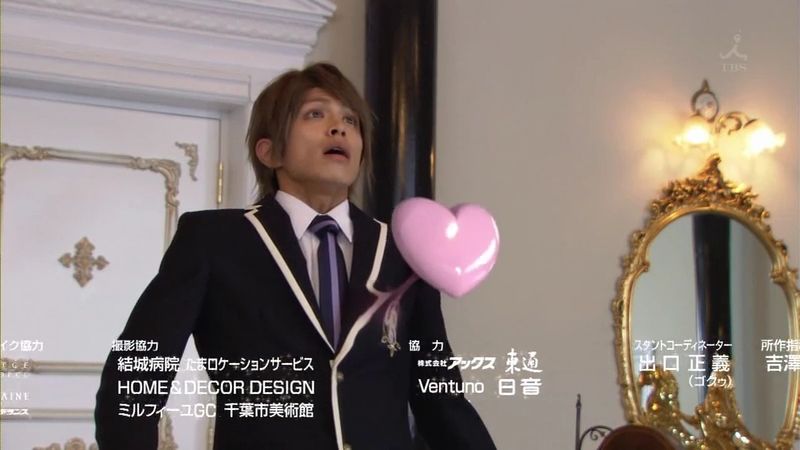 Haruhi apologizes for misleading him. She didn't think it's a bad thing to dress like a guy, and had no intention of misleading anyone. She smiles at Tamaki again and says that he was super cool yesterday. Tamaki looks at Haruhi's smile, and it's an arrow to the heart for the poor smitten Prince.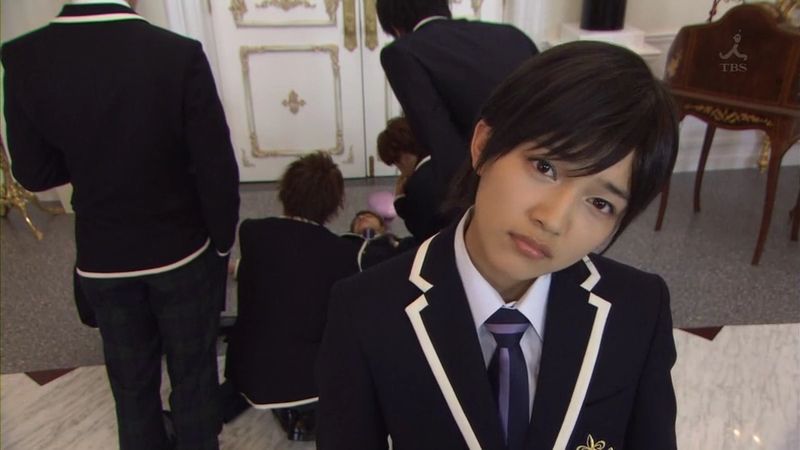 Haruhi looks at the continued crazy and asks dead Mommy in Heaven how she's going to deal with these guys going forward.
Thoughts of Mine:
Ouran is like a Japanese version of Willy Wonka and the Chocolate Factory. With cute Japanese boys instead of Oompa Loompas. Ouran is the delightful factory filled with incredible and unreal things, and Haruhi (and us) are the normal people watching it all with wonder and bemusement. I love how the story eschews the rich-poor angst and instead focuses on creating a world of quirky characters and funny situations.
There is not much to ponder in this drama, and my recap is already brimming with meta so I'll keep this short. It's just a blast to watch and great for the good-natured laughter it generates. I love every single one of the characters, and look forward to spending more time with Ouran for the rest of the Summer.