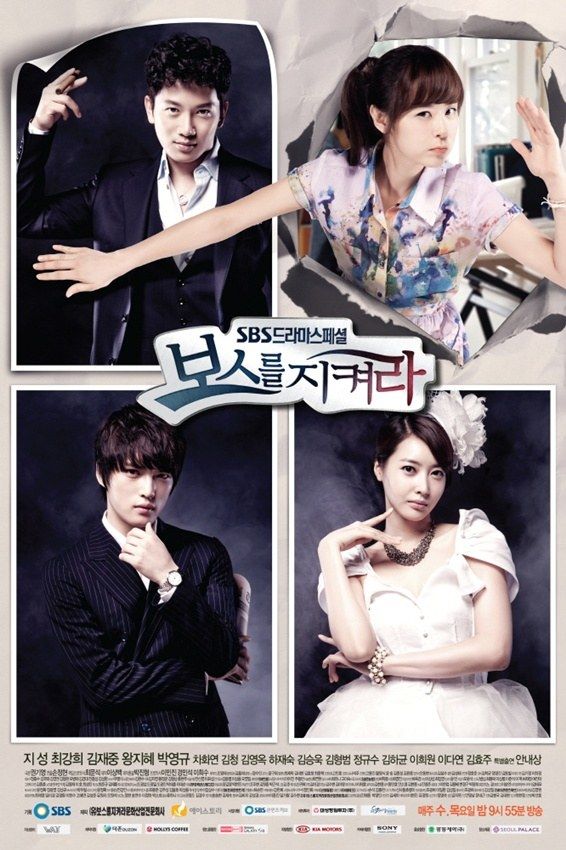 I've been totally excited about Protect the Boss with Ji Sung and Choi Kang Hee, but as the premiere drew closer I worried whether it would be as cute as the trailers made it seem. Episode 1 allowed me to let out a sigh of relief. It was solid, nothing to rave about, but genuinely charmed me and made me want to watch more.
It doesn't feel like a rom-com, but more a mishap of office drama with an emphasis on Korean interpersonal relationships and personal successes all mixed with broad comedy. It's about as subtle as a sledgehammer, but somehow works because it keeps the humor grounded in a kind heart.
Episode 1 recap:
Former teenage delinquent and all-around kick-ass girl No Eun Seol (Choi Kang Hee) recounts the story of when she and another classmate barged into a warehouse and faced off against a gang of rival school bullies. And proceeded to wipe the floor with their smirk. Eun Seol walks off arm-in-arm with her girlfriends, but there goes her high school years.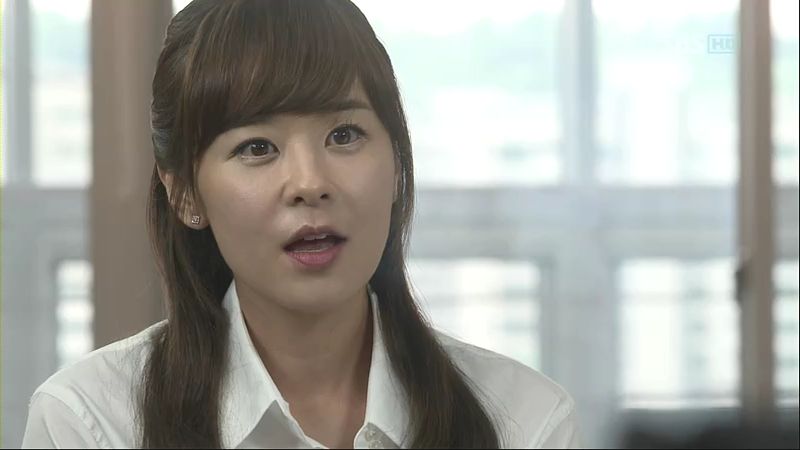 Everyone has things in their past they wish they could change, and since then Eun Seol has been diligently working towards landing a white collar job.
In college she led a protest to lower the tuition and raise part-time minimums for the students. So there she learned leadership. Eun Seol eschews dating (and the poor dude holding the roses with a pathetic heartbroken look on his face) so she can study. Of course she gets the obligatory nose bleed.
Cha Ji Heon (Ji Sung), wearing a mask and sunglasses, sits on stage surrounded by men in hospital pajamas. Each guy takes turns discussing things that frighten them. They ask the "man in the glasses and mask" what his phobia is? Ji Heon screeches and tears off his mask. Turns out it was a psychiatric treatment his doctor wanted him to do, but he's not having it.
Doctor says because Ji Heon is refusing pill treatment, he thought this might help. Ji Heon sees a wadded up tissue on the ground and almost has an attack. Doctor tells him to take a deep breath. Ji Heon picks up the tissue and says he didn't have this phobia before, but hearing those other guys discuss their phobias and now it's added to his.
I think Ji Heon is afraid of germs, because when he walks out, his secretary sprays his hands. Or perhaps it's human contact. I don't know why, but I get the sense PTB is making fun of Kim Joo Won (Hyun Bin's character in Secret Garden) and his debilitating fear of enclosed spaces. But this time it's feels more light-hearted.
Eun Seol works at a restaurant when she gets a call that her last interview wants to hire her. She goes outside and jumps for joy. Her co-workers come out and celebrate with her. I'm happy for her, too.
Ji Heon arrives at work and goes before the management of the company where his father is the President in order to give a presentation. He discusses how the digital age is entering into a Smart (phone) era. Ji Heon keeps stumbling over his presentation and mis-reading phrases. Suddenly he looks out across the audience and starts getting nervous and flustered.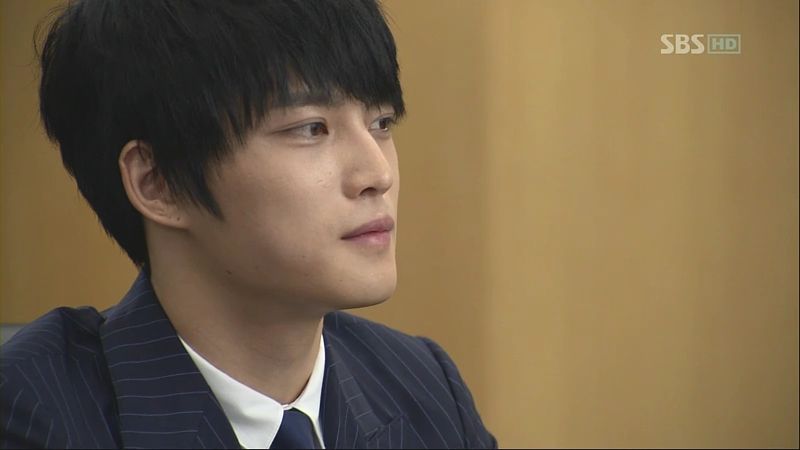 The Chairman (Ji Heon's dad) yells at him to continue which makes Ji Heon even more flustered. Ji Heon cannot continue and runs off, telling the audience that due to time constraints, he's only prepared up to this point. He would rather seem like a loser than admit he has a mental hang up. His father screams at him to finish the presentation, but Ji Heon runs outside, where he can hear his cousin Cha Moo Won (Jaejoong) standing up and offering to finish the presentation because he's not pressed for time.
Ji Heon goes back to his office and tells his secretary to cancel all his engagements for the rest of the day. Ji Heon says he doesn't want to do anything because he's tired of doing it. His secretary asks how he can be tired since he hasn't done anything yet. Ji Heon wonders if his secretary is lecturing him?
Eun Seol heads to her new job, and she's less than impressed with the low rent offices and her new boss (Ahn Nae Sang in a cameo role), who eyes her and her fellow pretty new employee with a little too much enthusiasm. He's also quite touchy feely.
Ji Heon, with his secretary in tow, runs into daddy dearest. Ji Heon runs into the elevator but daddy catches up to him. Daddy is seriously pissed about sonny boy screwing up royally again at work. Commence beat down session. What's hilarious is dad's secretary trying to get Ji Heon's secretary to safety first, and then climbing on the guy's back to use his notebook to block the elevator surveillance camera from capturing this scene.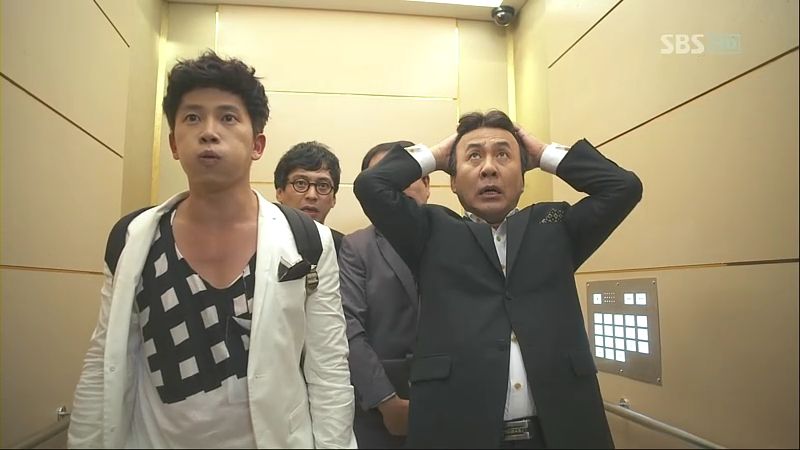 This clearly happens often, because once dad's secretary points out the elevator is almost there, everyone resumes their proper positions and fixes their appearance before exiting. Ji Heon keeps saying "it's over, it's over" with respect to his beatdown. Dad threatens to have Ji Heon's name stricken from the family registry.
Ji Heon's secretary says that he used to think being born a second generation chaebol was the best thing in the world. But he's since changed his point of view after working for Ji Heon for the past three months. He's sure the adage is true that wealth cannot pass through three generations. Ji Heon says he's not a second generation chaebol, he's a third generation.
Ji Heon reluctantly attends a business gathering at a drinking room salon per his dad's demand that he recruit new employees. Some girls are clinging on his arm and he asks the room to turn down the AC, otherwise why are they clinging onto his arm. He's super surly and totally brings down everyone's happy mood. Eun Seol happens to be attending her new employees welcome party. Eun Seol's sleazy boss starts to make a move on Eun Seol.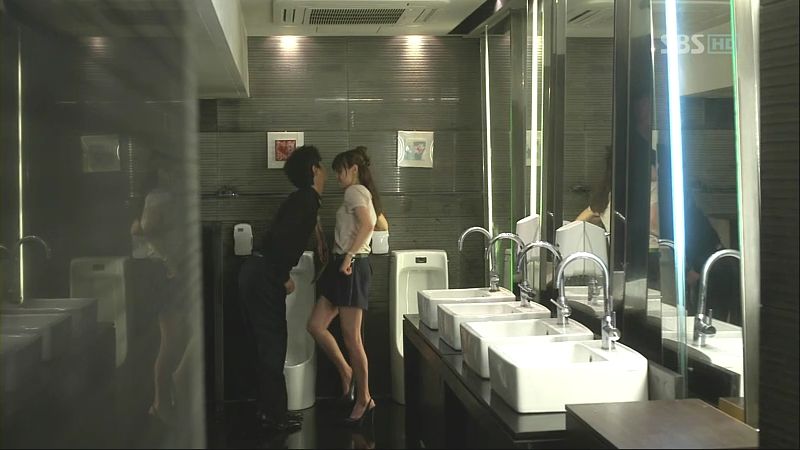 Eun Seol confronts sleazy bosss, who tosses a drink in her face. Eun Seol follows sleazy boss to the mens room, where she calls him out for being a grade-A sleazebag and then proceeds to give him a piece of her mind. She knees him in the groin, knocks him around a few times, and then hog ties him to the sink.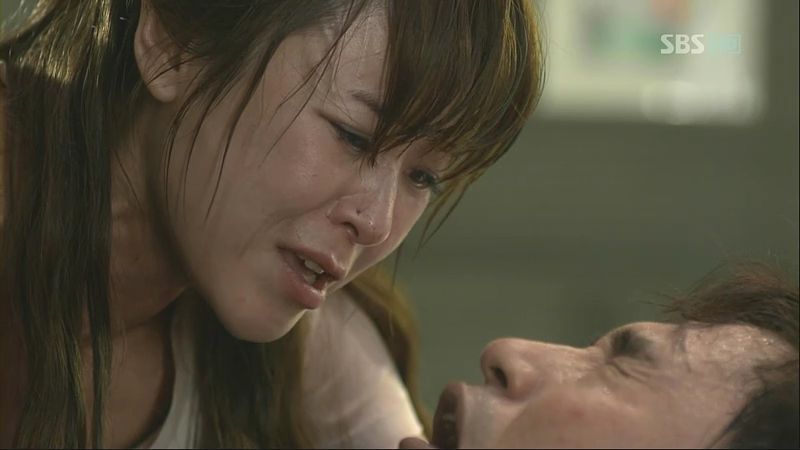 She warns him that if he dares to make a move on weak and innocent women, she'll make sure he pays. He asks who she is, and she says that she used to be the famous delinquent but she's since buried her past and diligently worked towards a proper future. She won't let a guy like him ruin her chances!
Ji Heon leaves the gathering (after disinfecting his hand and then jumping on the table to get out of the room without touching any of the other folks). On his way out, Eun Seol bumps into him in the corridor. He drops his cell phone, and due to his phobia, can't pick it up. She apologizes in passing, but he's pissed so he calls her "hey bun head" and then demands that she pick up his cell phone since she was the reason he dropped it.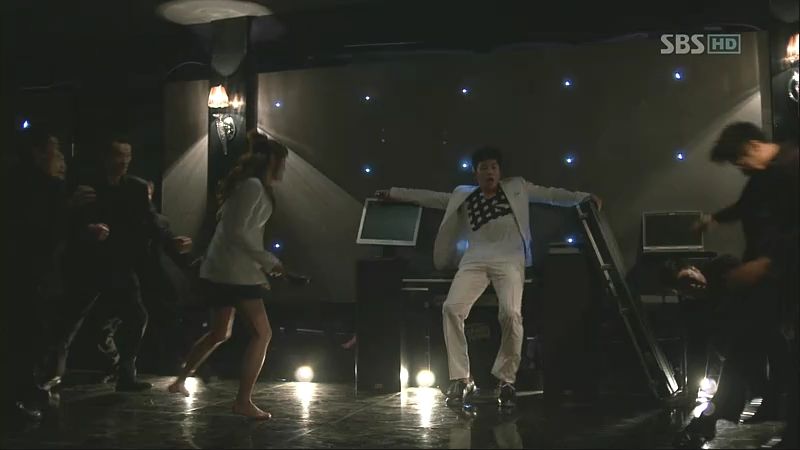 Eun Seol picks up the cell phone but she's not quite ready to just hand it back to the rude and demanding Ji Heon. She tells him to apologize as well, because they bumped into each other. They are starting to bicker when suddenly gangsters show up, here to avenge Eun Seol beating up the sleazy boss in the bathroom. Eun Seol steels herself and fights. One high heel falls off and she decides to use the other one as a weapon. This fight scene was totally a Old Boy homage, but done for laughs.
Eun Seol beats back the gangsters and manages to runs away. Ji Heon is not so agile or so lucky, so he's left to face the gangsters, who naturally think he's with Eun Seol. Ji Heon tries to put up a fight, but resistance is futile.
Ji Heon, bloodied and bruised, comes stumbling out holding a single high heel. His secretary is stunned to see the boss in such bad shape. Ji Heon asks if he saw the "bun head", this crazy woman with dark eyes who looks like a psycho. He didn't see her.
Ji Heon rails at his secretary for not coming within the one-minute Ji Heon requested, arriving on scene after 20 minutes. What if something happened to Ji Heon. Ji Heon demands the secretary take the shoe and find its owner. Secretary scoffs that it's not like a prince looking for Cinderella. Ji Heon refuses to let Secretary get into the car until he finds that chick.
Feeling totally demoralized, Eun Seol goes to see her high school friend, who is now a kick-ass female wrestler, who can also beat up the male wrestlers. The girls sit outside and look out on the Seoul night lights, which are bright because many people are still at work. Eun Seol is envious of people working in offices for big companies, but her friend says there is nothing to be jeaous about since these are terrible work conditions and those people are just automatons.
Her friend tells Eun Seol that a great company will want to hire her some day. She tells Eun Seol to buck up and not let her enemies win. They scream out into the night that they are not envious of people out there working in offices. Eun Seol is cheered up.
Cha family matriarch (grandma) goes to talk to her son (dad). Dad is playing a video game, heh. She rails at her son for beating up her grandson, especially in public at the office. She says Ji Heon is so rebellious because dad keeps beating him up. She tells her son to reflect on how he treats Ji Heon.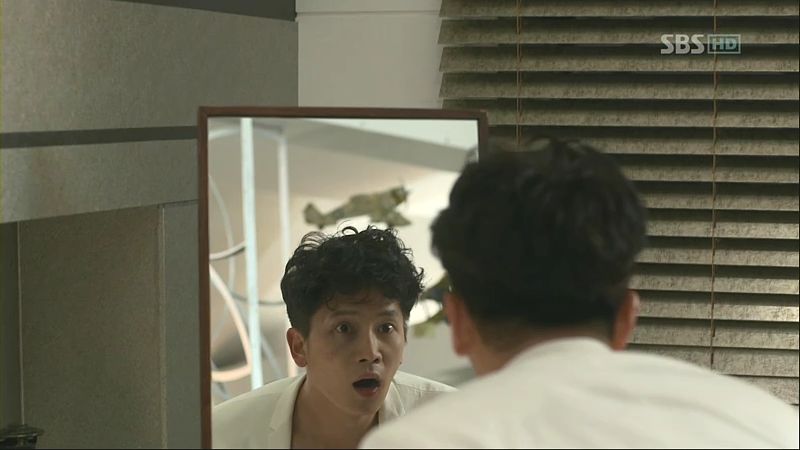 Ji Heon comes home and dad is waiting for him. He apologizes to Ji Heon for being too harsh earlier today. Ji Heon keeps his face averted but dad thinks Ji Heon is being rude or angry at him. Finally Ji Heon turns around and dad sees he's son has been beaten up. Ji Heon says there was an accident, because of a woman……
Dad thinks woman means lady trouble. What makes dad upset is that son tried to fight but got beaten up. Dad thinks the only thing Ji Heon resembles of him is his face only. Jo Heon looks at himself in the mirror and is pissed at bun head. I'd be more pissed at the thing you call your "hair" Ji Heon. It's atrocious. I've tried to avoid mentioning it but I need to let it out once now before it explodes inside of me. That hair do needs to GO.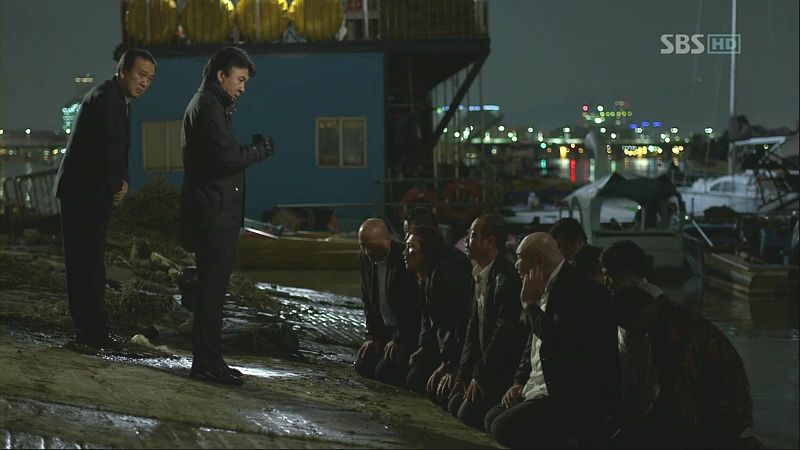 Dad asks to locate Ji Heon's secretary and find out who beat up his son. Daddy doesn't take kindly to gangsters beating up his son. That's an honor he reserves for himself. He goes and teaches those gangsters a lesson not to mess with his Ji Heon.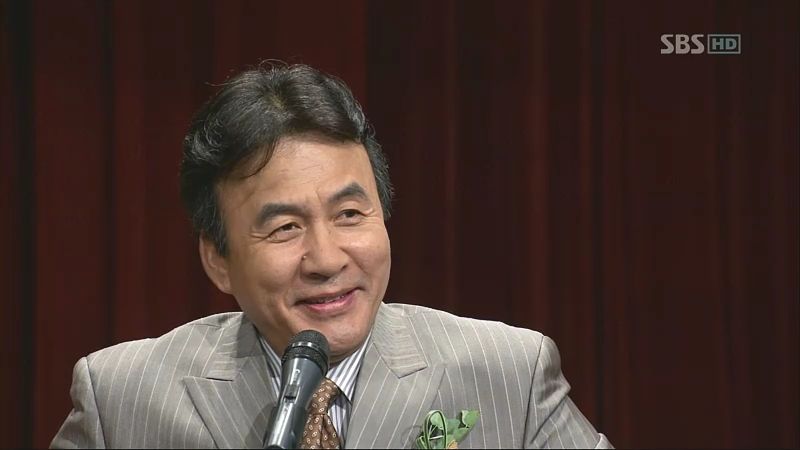 At an awards ceremony where Ji Heon's dad wins a businessman of the year award, everyone is in attendance. Dad gives a speech about treating people with respect in conducting business.
Ji Heon's secretary is getting drunk and on the phone complaining that the exemplar of a respectable business man that is Ji Heon's dad and the Chairman of the company, is in reality no better that a gangster! Just because Ji Heon got beat up a little, he tosses all the gangsters in the water and drags them back out to teach them a lesson. Someone overhears this conversation.
Secretary complains that he's Ivy League educated, and Ji Heon has him looking for some crazy woman. The eavesdropper comes over to offer Secretary a drink and gives him a card that says he is a reporter. News breaks that the Chairman may be a gangster.
Dad speaks with his sister-in-law, the mother of Moo Won. They congratulate each other on running a successful part of the business that makes up the family conglomerate. Moo Won's mother hints that had her husband, the elder of the two brothers, not died, then things might be different.
Ji Heon is trying to locate his secretary when Moo Won approaches to talk. Moo Won tells Ji Heon to treat people right and not be so uncouth all the time. Ji Heon in turn wonders if Moo Won is wearing make up. HAHAHAHA. Moo Won says looking good is part of business and concedes he put on some BB cream. Ji Heon wipes it and say Moo Won ought to have applied it more evenly. Snerk. This round goes to Ji Heon.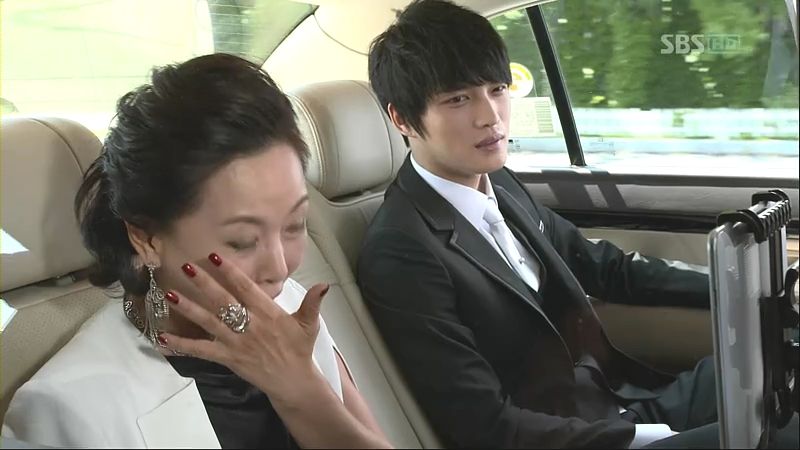 Reporters suddenly descend on the party demanding to know if there is any truth about the Chairman exerting violence against gangsters to avenge his son getting beaten up. Moo Won and his mom laugh about this news. Grandma watches at home and covers her face in frustration.
Dad sits in his office and is briefed about an investigation being launched. The company stocks are tanking as they speak. Dad wants to know who leaked this information. Dad warns Ji Heon that he will destroy Ji Heon if dad can't get out of this scrape unscathed.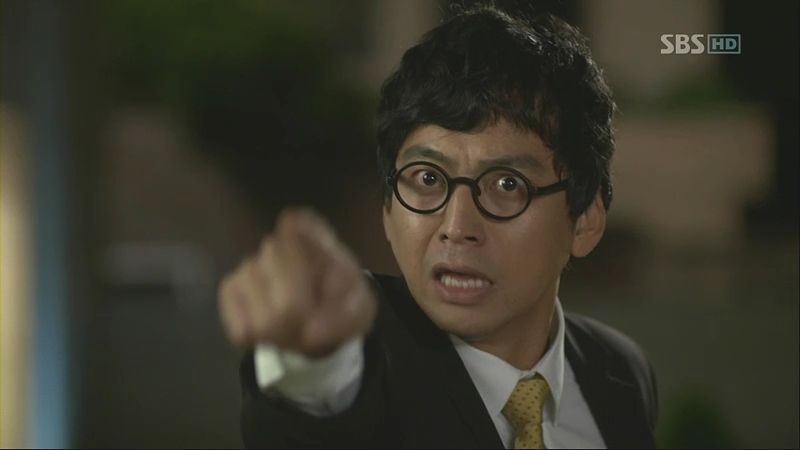 Secretary finally shows up and Ji Heon wants to know if the woman has been found. Secretary says it's impossible to find the woman since the gangsters are all gone. Secretary confesses that he was the one who accidentally leaked the news about the incident. Ji Heon thinks they are both in trouble when his dad finds out. Ji Heon asks secretary to arrange Ji Heon to go abroad.
Secretary quits, but decides to give Ji Heon a piece of his mind. He calls Ji Heon a lousy guy with a genuinely shitty personality. He's driven away so many Secretaries already, and will continue to do so unless he changes his ways.
The court rules that dad is guilty and has a two year probationary period where he has to do community service. Dad is wheeled out in a wheel chair, acting all wan and weak. Dad wonders why he has to do community service when his company provides jobs for the community. Ji Heon is getting ready to leave the country. We see that he has a life-sized card board cut out of Eun Seol with her face missing and a question mark over it.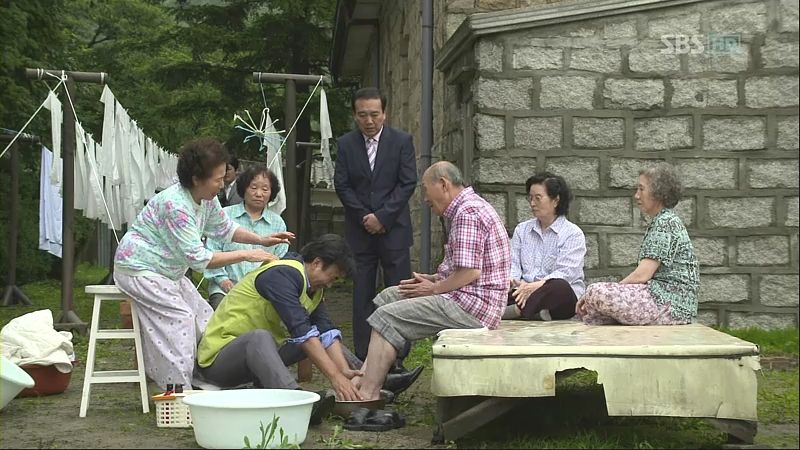 Dad ends up in the countryside helping take care of elders. He washes an old man's feet as reporters cover the community service. Dad cries from the ignominy of it all, and the reporters write it up as he cries tears of regret and shame.
Don't let nothing get Eun Seol down. She's back diligently looking for a job. Eun Seol tallies her monthly expenses and realizes her part time job won't cover it. She wonders if she needs to take out debt, or file for bankruptcy. She looks at her checkbook and imagines all these extra zeros flying around the air and then landing in her checkbook and adding to the total. Cute.
Eun Seol goes to more job interviews. In her cover letter for the company, she writes the truth about her background but states that she's truly changed her life around. Eun Seol goes to a group interview for DN Group, where Moo Won is one of the interviewers on the panel. Everyone around her is highly qualified, even speaking English during the interview.
Everyone is asked questions except for Eun Seol, and she remembers back to all her previous interviews where people ignored her and she had to perform other talents to get their attention. She speaks up now and asks why they won't interview her. One guy says they are looking for a secretary and Eun Seol doesn't have a professional background.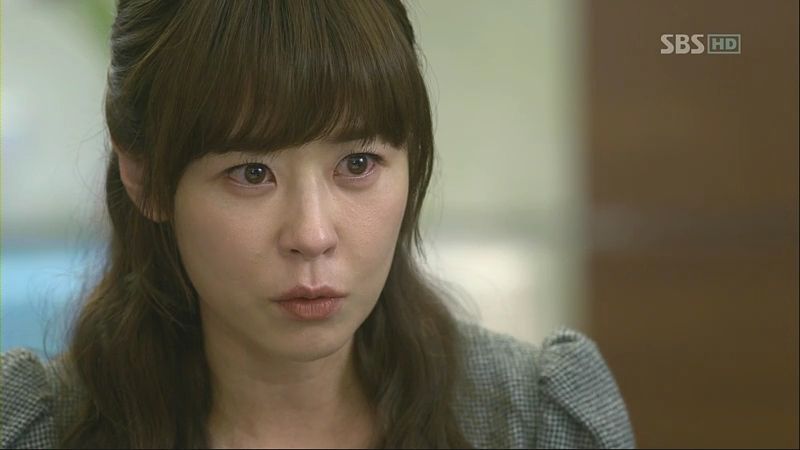 Eun Seol calls them on that bullsit. It's because she didn't go to a top school, right. One guy apologizes and says they will re-start the interview now with her. She says no need, she knows everyone here is very qualified. But she's qualified too and her time is precious. Everyone has different talents. Why did they call her in for an interview if they won't treat her with the same standards. She worries about the future of Korea being run by companies like this.
Eun Seol walks out of that interview with her head held high. She pats herself on the chest for doing well, even as she holds back her disappointment. Omo I already love her to pieces.
Whattya know? Moo Won likes what he sees, a direct, honest, and courageous girl. He reads her resume and cover letter closely again and laughs. Eun Seol is hired!
Eun Seol goes to work at C Group. She's told that Manager Cha personally hired her himself. She goes to the secretary office for orientation but all the other snotty secretaries ignore her. She tries to be polite and introduce herself. She's goes to Moo Won's office and recognizes him from her interview.
She wants to know why he hired her. Does she look like his first love, or he fell in love with her at first glance? He says neither. Moo Won discusses the recent President Cha violence scandal. He wants Eun Seol to be Ji Heon's secretary because it's time for change. He thinks she has the spirit to be Ji Heon's secretary.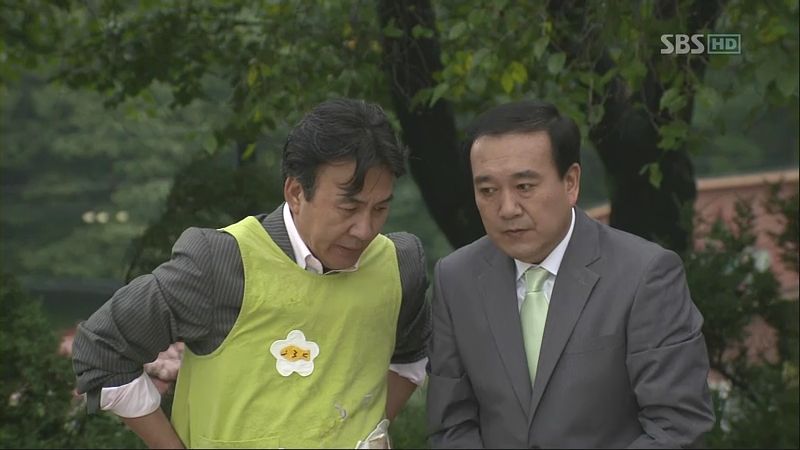 Dad confers with his trusty secretary as he's washing dirty adult diapers as Ji Heon. Secretary offers to wash the diapers for the Chairman but the director of the adult home comes out and says the Chairman has to do it all himself otherwise he'll write him up. The Chairman gets back to work.
Ji Heon sneaks back into Korea after hiding abroad for some time. He gets into the car and is freaked out to see Grandma waiting for him. Grandma has got her errant grandson in tow and drags him straight to the office. Ji Heon pouts but Grandma gestures for him to go in. He sees Dad at the office.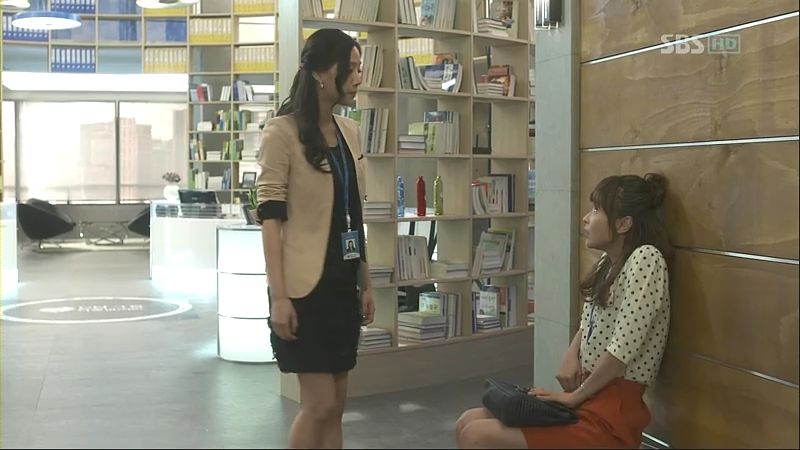 Eun Seol is assigned to work for Ji Heon. She's given her desk and told to watch the other secretaries and learn that way. Eun Seol sits down happily. The other secretary wonders why Moo Won selected Eun Seol, and Moo Won tells her that Eun Seol will likely feel loyalty to Moo Won for hiring her. Plus he finds her cute.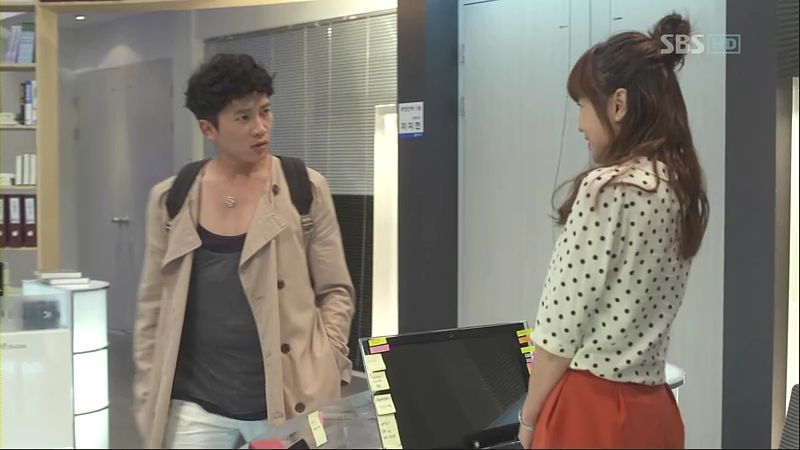 Ji Heon arrives at work and initially walks right past Eun Seol, before heading back to look at the new hire a little more carefully. Eun Seol introduces herself as Ji Heon's new secretary.
Eun Seol's placid and sweet smile for her new boss turns into wide-eyed shock (as she recognizes him), whereas Ji Heon cocks his head and studies her face carefully. Does he recognize her since that night her face was covered in residual juice and it was dark in that corridor? Ooops, looks like it might be a rough road ahead for Eun Seol.
Thoughts of Mine:
The first episode of PTB was a real solid outing. Deftly directed, bright musical cues befitting the comedy of this story, and a fast-paced launch to get all the main characters orbiting each other almost immediately. Choi Kang Hee's Eun Seol is very endearing, with some strong personality traits, yet she doesn't feel like a caricature.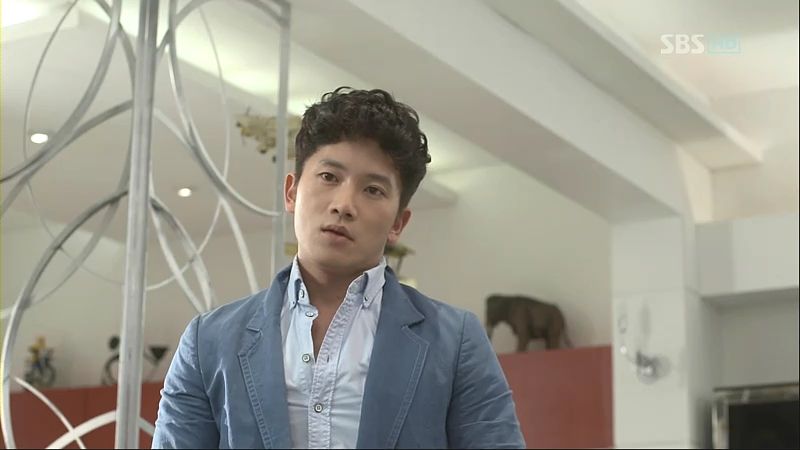 Ji Sung's Ji Heon does feel like a caricature, but one done on purpose, likely to shatter a lot of drama chaebol heir stereotypes, and allow his character to gradually humanize and become less goofy. It's such a pleasure watching two seasoned same-aged actors like Ji Sung and Choi Kang Hee play leads. They never force a scene, instead allowing their characters to propel the story rather than dominating any moment.
I find the story interesting and appreciate how the silliness is well-thought out. Eun Seol isn't just some random girl working for Ji Heon, she actually is the proximate cause of a lot of concurrent and likely future plot threads, and that makes her presence in Ji Heon and Moo Won's lives that much more relevant and interesting.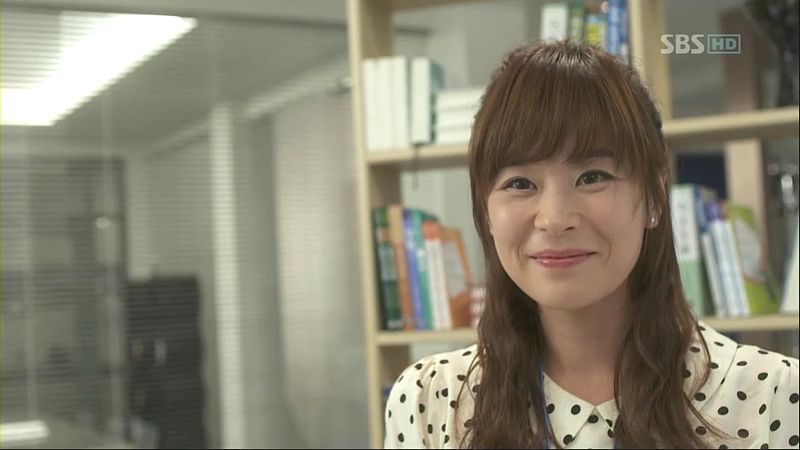 I think the title Protect the Boss is perfect, since Eun Seol's career success is actually directly tied to Ji Heon's career success. They are literally in the same boat together. And while Ji Heon can change secretaries like he changes socks, in truth he's got so many personality issues he needs help to overcome that he is in need of a secretary more than anyone. While Ji Heon appears very immature and irresponsible on the surface, it's clear that it's a combination of various factors over the years that shaped his personality, and not just "he's a jerk".
I'm really enjoying watching this story play out, both the work place antics, the various emotional threads that will develop, and the complicated family issues that the Cha clans appears to carry around. I like that Moo Won doesn't appear to be a greedy or power hungry bastard, but rather someone working hard and biding his time to step forward and be the rightful heir of the company. I'm pleased as punch this drama works for me, and hope that it'll continue to entertain and hook me emotionally as it progresses.