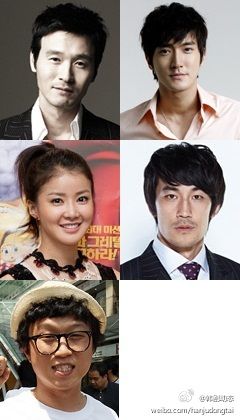 With less than one month to go before its premiere, the upcoming K-drama Poseidon held its script reading yesterday and immediately commenced filming. This means one beleaguered production is back on track, which leaves only What's Up and The Musical still waiting for an airdate.
With the original cast all gone (Eric, Kim Kang Woo, Kim Ok Bin, Yunho), the new cast consists of Lee Sung Jae, Choi Si Won, Lee Shi Young, and Han Jung Soo. I wasn't terribly interested in Poseidon even with Eric, but the new cast is intriguing enough that I'll maintain a watch and see approach on this drama.
The original concept of the drama – two marine police officers of the same age and rank become rivals in love and work – appear to be scrapped with the drama going for older captain and rookie lieutenant dynamic based on the ages of the new leads.
Lee Sung Jae is primarily a film actor so the drama really scored getting someone with his gravitas and acting chops under such tight notice. I like Si Won and Shi Young, so here's to hoping the story, directing, and overall production quality for this drama remains decent and consistent. Part of me has a HUGE worry about the hectic schedule on the cast and crew. I still remember the nightmare that was Wolf (also with Eric) and what happened to that drama because of the tight schedule mixed with heavy action sequences.
Poseidon will premiere on Mon-Tues on KBS following Spy Myung Wol. PD will be Yoo Chul Young, who is no rookie to the action genre having done Swallow the Sun and H.I.T., with the script written by Jo Gyu Won who did IRIS. I just think it's a quirky twist of fate that Eric's current drama will be followed up by Eric's previous drama which he had to scrap when Poseidon got put on hold.