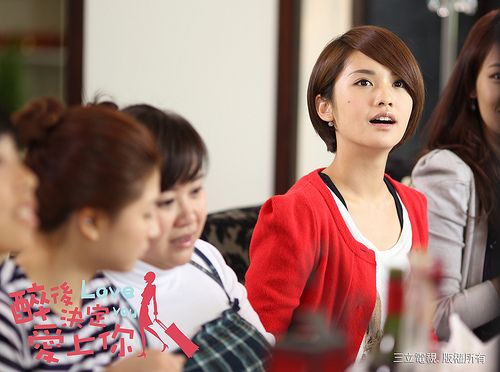 Yay, next weekend is the grand finale of Drunken to Love You! Two more episodes to go before we fondly bid farewell to Xiao Ru and Jie Xiu. I am officially confirming DTLY has 18 episodes, because it's follow up drama Office Girls (小資女孩向前衝) with Roy Qiu, Alice Ke, and James Wen has gotten a premiere date.
At 18 episodes, DTLY is IMO a shade too long, but ultimately the moments between the OTP are so rewarding it didn't derail the story for me. I'm actually really connecting with this last minute angst and possible separation for Xiao Ru and Jie Xiu, because lordy Rainie Yang and Joseph Chang are just tugging at my heartstrings with their performances.
Written preview for episode 17:
Unable to watch Jie Xiu painfully struggling between his closest and his dearest persons in his life, Xiao Ru decides to leave him despite the pain and longing she feels. Initially wanting to quietly disappear, but at the request of the orphanage director, Xiao Ru and Jie Xiu take an orphan child to the amusement park and spend a happy day together.
The two of them enter a bumper car race and vow to win first place! Having being so emotionally tense, Jie Xiu finally is able to smile again. Xiao Ru makes a silent wish in her heart that, once she leaves, this kind of smile will remain on Jie Xiu's face forever.
On the other hand, Jie Xiu continues to mentally encourage himself. With time he believes that he can face Xiao Ru without any reservation and they can face any obstacles together like they have done before. But when he sees the unconscious Samantha on the bed, he feels helpless like a child. Will Samantha wake up soon and allow this nightmare to be over?
Compared to Xiao Ru and Jie Xiu's emotional torment, Avril and Rickie's budding relationship is starting to sweetly foment. But then a nightmare from Avril's past reappears before her, throwing Avril and Rickie into danger, and even Jie Xiu unexpectedly gets embroiled. But what is completely out of Jie Xiu's control is that this accident may have caused him to lose Xiao Ru forever……