So I guess Spy Myung Wol is pretty much chucking every extraneous plot thread it set up in the first few episodes to focus solely on Myung Wol and Kang Woo. That might be a smart move, but I was actually curious about the search for the Goblin and the Four Books conspiracy, and the funny General back in North Korea. This episode actually felt like it was written by five different people, and the only one who wrote anything worth mentioning did the final 20 minutes.
I am worried about the drama possibly getting an extension to allow Poseidon more time to shoot, because Eric looks SO exhausted in this episode, and Han Ye Seul and Lee Jin Wook look no better. I think the story needs to be wrapped up in the allotted 16 episodes, and my prediction for the ending may be that North Korea allows Myung Wol to remain in South Korea as a top Hallyu star (and wife to Kang Woo) because she can produce better entertainment. Who knows, that was just my wholly unsubstantiated guess.
Baby recap for episode 10: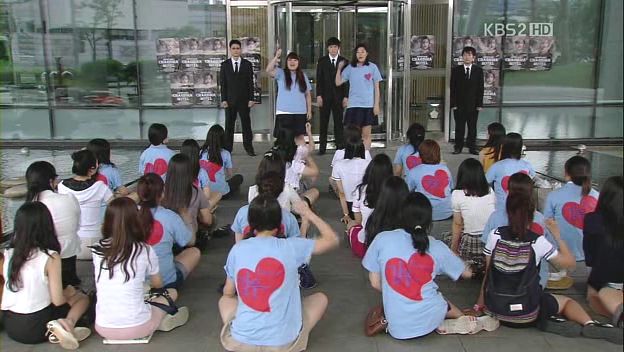 Kang Woo confirms to the media that he is dating Joo In Ah, and they are considering marriage. The next thing we see is Kang Woo fan girls protesting Joo In Ah and fan girls around the world crying that their idol is taken. Chairman Joo is pissed and throws something at the TV news report.
In Ah finds out that Kang Woo told the world they are dating, and that she's suddenly gotten tons of anti-fan speculating that Kang Woo is selling himself to In Ah's wealth. Kang Woo gets called in to meet with the Chairman, who is displeased to be betrayed by an orphan that he plucked from the streets like a dog and made into a top star. Kang Woo says the Chairman got plenty of benefit from sponsoring Kang Woo over the years.
In Ah asks why he did that. He tells In Ah to go ahead and refute what he said, but she doesn't want to. Kang Woo flashes back to when he was a teenager and wanting to break into the industry. Chairman Joo was there to judge him and disparages him. Young Kang Woo speaks up and tells the Chairman that he will succeed one day and show him. The Chairman slaps him for his cheek.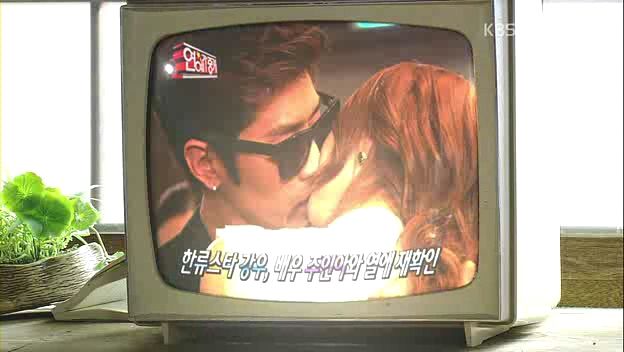 Kang Woo tells Myung Wol that he just wants to succeed, so he too will marry someone to elevate himself, and what better person than the heiress to the Galaxy Group. Myung Wol tells Kang Woo she won't give up either. At an event for Chairman Joo's company, the reporters descend following Kang Woo, wanting to know more about In Ah and Kang Woo. He goes up to In Ah and kisses her. Ugh. The Chairman has no choice but to confirm that this relationship has his blessing.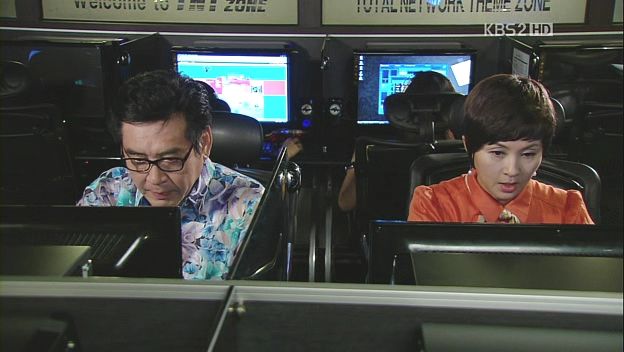 Hee Bok and Ok Soon decide to join the digital age. They adorably go to a PC bang and join the online Joo In Ah Anti-fan club. They have no clue and need the help of the teenagers sitting next to them. Myung Wol and Choi Ryu discuss their mutual assignments, his is progressing whereas hers is stalled. She's pleased for him, and vows to use her dedication and determination to make a dent in the South Korean entertainment world.
Myung Wol, In Ah, and Kang Woo are filming at a mall. Myung Wol can't pretend to be a snotty chaebol wife since she bows to everyone. Kang Woo drags Myung Wol away and In Ah follows. Fan girls are outside protesting her, and Hee Bok and Ok Soon join, wearing placards and holding eggs to toss at In Ah.
Kang Woo takes Myung Wol to a store to buy her a new outfit and then takes her out on a ritzy date so that she can get used to acting like a rich snob. He tells her that the clothes makes the person, and she needs to step being so self-deprecating and constantly telling people sorry and apologizing all the time.
Choi Ryu finds out his elder spies have become antis. Kang Woo sits with a sleeping Myung Wol inside his car. He leans over to lower her seat back and stays there watching her sleep. Choi Ryu is driving In Ah to visit Kang Woo when he sees Kang Woo seemingly kissing Myung Wol inside his car. Choi Ryu quickly backs the car away and convinces In Ah to leave.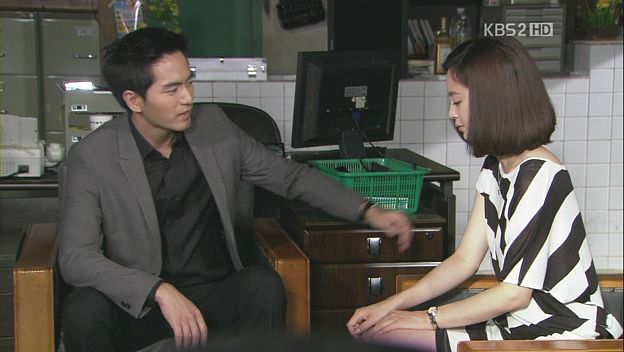 In Ah sees on the news that Kang Woo was seen with Myung Wol holding hands. She gets pissed again. Myung Wol finds out that Choi Ryu's assignment is to get the Four Books, finally understanding why he was in Singapore and tried to attack Kang Woo on the balcony to get the book.
Back on the filming set, the spy parents are visiting and volunteer Myung Wol to temporarily pinch hit for an actress who got sick, playing a stunt double for a North Korean military character. Seriously? Of course she's absolutely perfect for the role, and gets great feedback and PD officially offers her the role.
Turns out it's the character of a female North Korean spy sent to South Korea to approach a important South Korean and seduce him. And in the end she discovers true love with that man. Myung Wol asks what the ending is, and is told tentatively the ending is the woman kills the man and then kills herself.
But turns out the man, played by Kang Woo, doesn't die and wakes up with amnesia. He goes to see a doctor, played by In Ah, and find a second love story with her. Kang Woo and In Ah film their portion of the drama, where In Ah is also the younger sister of Myung Wol and the half-brother of Kang Woo. Finally the man dies of an illness on his wedding day to In Ah. MWAHAHAHA. *wipes away tear*
We see Kang Woo and Myung Wol go on a date, ending with them kissing in the rain. Turns out it was for the drama, and Kang Woo keeps kissing Myung Wol even after the director calls cut.
Myung Wol gets drunk and Choi Ryu finds her and takes her home. Kang Woo is not pleased to see Choi Ryu piggybacking Myung Wol home. Kang Woo asks Choi Ryu if he likes Myung Wol, and if so, to make Myung Wol stop. Choi Ryu says he has no ability to make Myung Wol stop. In Ah goes to Kang Woo's house and watches a DVD of his Singapore Showcase, where she sees Myung Wol is there in the audience.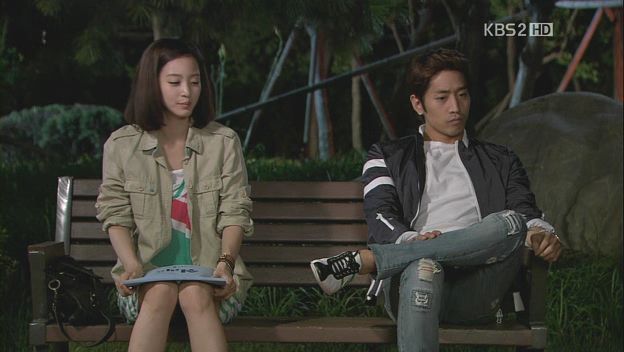 Myung Wol reads a script calling for a scene where Myung Wol shoots Kang Woo and then gets shot. He sits down to chat with her Myung Wol asks Kang Woo what he would do if the events of this script were true? Kang Woo says he will never be able to forgive that woman, no matter how much he loved her. He would kill her first.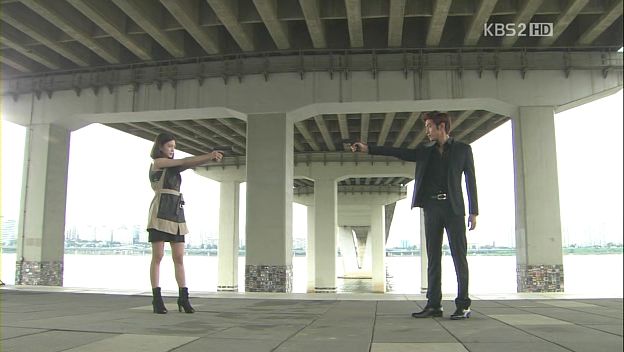 At the actual filming, both of them change the dialogue. Kang Woo asks if she lied to him, and she says yes, it's all lies. But the Myung Wol says that everything that happened between them was real. She was genuinely happy when she was with him. Kang Woo asks if she can live with him here then.
Myung Wol shakes her head. Kang Woo tosses his gun away, asking why she can't if he's already forgiven her. She cries and asks why he forgave her. He shouldn't forgive her. Myung Wol doesn't shoot him, but instead shoots herself in the head. Kang Woo runs forward and shouts her real name, not her character's name, and pulls her into his arms.