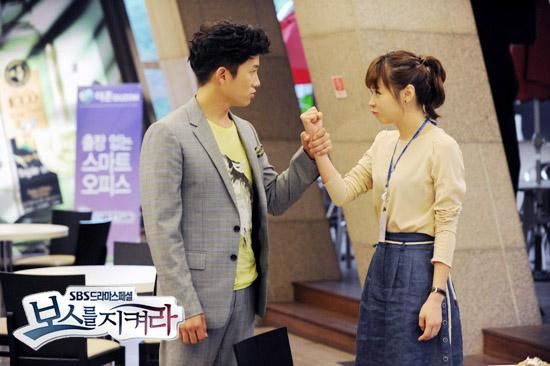 With all the Spy Myung Wol craziness going on in dramaland, it's easy to forget there are like 10 other K-dramas airing right now, some of which are wonderfully sane productions that are delightful to watch. My case in point is Protect the Boss, which brings me such immediate satisfaction when I watch an episode. The written preview for episode 5 is out, leaving me (even more) dying to watch it. Eun Seol hanging out with Moo Won is always fun times. But Eun Seol hanging out with Moo Won AND it gets Ji Heon's goat up? That's the most sublime of comedy.
Written preview for episode 5:
Through the video screen, Ji Heon gets more and more confident as the presentation progresses, finishing the presentation smoothly. While the Chairman watches proudly, Moo Won and his mom have the opposite reaction, looking more and more distressed.
In addition, Eun Seol and Moo Won go out for dinner. Afterwards they happily go shopping until very late. They end up drinking some beer and enjoying a very fun time together. Moo Won gets drunk and Eun Seol ends up calling Ji Heon, who rushes out immediately to meet her. Ji Heon arrives and is furious with Eun Seol, asking why she is out with Cha Moo Won?
[Credit: written preview released by SBS, translated into Chinese by Baidu Protect the Boss bar, translated into English by me]