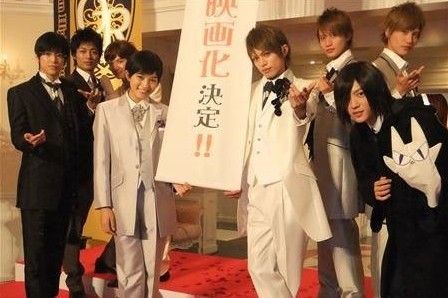 Do you want an even larger scale version of Ouran High School Host Club, a story that has already evolved from manga to anime and now to live-action drama. I want! And my wants appear to be immediately fulfilled, because the cast of Ouran attended a fan meeting in Tokyo last week and announced that they will be starring in a movie version. Huzzah! Though I'm not sure if my heart can take seeing Kyoya on the big screen.
While I've liked lead actress Kawaguchi Haruna since she had a supporting role in Yankee Kun to Megame Chan, it's only now that I've made the startling realization that she is only 16 years old. She doesn't just play a high school student in Ouran, she IS a high school student. Wow, what a talented young whippersnapper. I totally have even more of a girl crush on her now. Especially seeing how she held her own in Yankee kun against Narimiya Hiroki, whose acting resume shows that he can transition from believable high school student to dark lord in a millisecond.
The Ouran movie will start filming this Fall with a scheduled movie premiere in Spring of 2012. I think this confirms that the drama will most likely not have a closed ending in order to set up for the movie. I'm not surprised so many folks are second leading shipping Kyoya with me, though from all accounts his character isn't all that in the manga or anime. Is it Daito Shunsuke's performance that is selling the role? I think Yamamoto Yusuke is brilliant as Tamaki, but I personally also find that Haruhi has more chemistry with Kyoya. I think if I want my ship to come home, I'll need to start reading Ouran fanfiction.