Okay, I take back what I said earlier – I am now officially very very angry with Protect the Boss. Or shall I say I am very very angry with Eun Seol. What the heck, girl? When did you become the "keep secrets from boyfriend because he might not be able to handle the truth" type of brain dead heroine. Where did the candid and bruising girl of the early episodes go? If I were Ji Heon and the Chairman, forget misunderstandings, I'd be pissed at her solely for her trying to keep the truth from them and solving all the problems by herself. Which we all know is a recipe for 99% of all drama disasters. I could see this one coming from a mile away, and boy did it piss me off when it arrived. RAGE.
Episode 14 Recap:
This episode starts with Moo Won and Na Yoon sitting down to discuss her confession that she wants to get back together with him. He doesn't have an answer for her, which she takes as a "no". She wonders if it's because of Eun Seol? Moo Won says that's not it, which Na Yoon smiles at hearing because she figured Eun Seol was an easy excuse, but the reality is that Moo Won may not want her again.
Moo Won doesn't think this is something that can be easily decided. Na Yoon says yes or no, it's that simple. Moo Won asks if she wants to him to decide right now? Na Yoon says there is no need, since he's clearly decided no. She gets up to leave, telling him to use his distant tenderness to go hug another woman in the future.
Na Yoon accidentally bumps into a lady on the street in her haste to get away. The boyfriend gets annoyed and tells her to apologize. She does but is very snappy. Moo Won steps forward make makes the other party apologize as well. He offers to take Na Yoon home, to which she's upset because he's being too nice to her at a time like this.
She takes out her hand mirror to see her mascara has run everywhere. Moo Won drives up to pick up Na Yoon, who is hiding behind a bus sign fixing her make up. He gets out of the car and calls her, driving off when he thinks she's left. She comes running out trying to flag him down, but Moo Won doesn't see her.
Na Yoon goes home and cries on Myung Ran's shoulders that she confessed to Moo Won and got dumped today. She runs to the kitchen to put two spoons in the freezer, showing Myung Ran that her eyes are swollen and putting frozen spoons on her eyes is the best way for the swelling to go down. Moo Won goes home and looks confused.
Back to the resort where Eun Seol has just asked Ji Heon what he would do if she asked him to come into her world and give up succession. He answers that he'll do it, he'll do anything she asks. She ruefully notes that if he does that, they won't have any means to survive. Ji Heon promises to take his checkbook and stock portfolio when he goes over.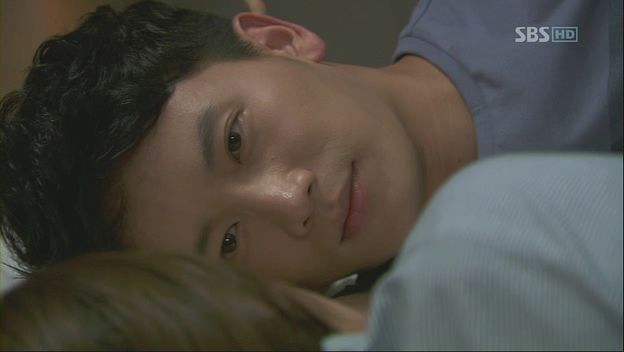 Eun Seol asks Ji Heon if he remembers what she said to him about the type of Chairman she wants him to become? He does, rattling off her list easily. Eun Seol is conflicted, at times wanting him to become a good Chairman, other times wanting him to leave it all behind and live a carefree life. She asks what he wants? He says he'll think about it, telling her not to worry. He asks again what's been bothering her, and not to lie to him.
She agrees not to lie, confessing there is something bothering her lately. But it's not the right time to tell him. She promises to tell him at a later time. He pulls her in for a hug, which she allows but then pushes him off because she can't breathe. He hugs her again, less tightly this time, and then places a gentle kiss on her lips.
Before he can go in for another kiss, she starts giggling and they break apart. She teases him for striking a kiss pose, which makes Ji Heon annoyed. She apologizes and asks for his forgiveness. He smiles and pulls her in for another kiss. Next scene it's already morning time and Ji Heon and Eun Seol are out for a walk. Please don't ask me to guess if they slept together or not, use your imagination.
Moo Won has dinner with his mom, confessing that he's got quite a lot on his mind lately. His mom says all the stresses of life are making her age more. Moo Won says to stop plotting against his uncle and live righteously, she'll live longer and less aged.
Grandma is having breakfast with her son and thinking back to what Eun Seol said to her. The Chairman tells his mom that having a upset face and picking at her food at the table will lead to a loss in prosperity, which is what she told him. He wonders what's wrong with her since she's unusually quiet today. He hopes she's not developing elderly-induced depression and tells her to get checked out.
Grandma goes to intercept Secretary, which freaks him out. She tells him to be honest, what is the Chairman doing these days? Secretary says he doesn't know and Grandma starts getting all up in his face. The Chairman walks out and saves his Secretary from Grandma's wrath. Later he asks if there is something going on he doesn't know about? Secretary says he doesn't know anything.
The Chairman is told that today is the final community service he has to perform. The Chairman is thrilled, but when he flashes back to all the community service work he's done, he has a smile on his face. Eun Soel and Ji Heon leave the resort to go back to Seoul. Secretary Kim picks them up, smirking and asking what the two of them did last night. Both Eun Seol and Ji Heon punch the poor guy before getting into the car.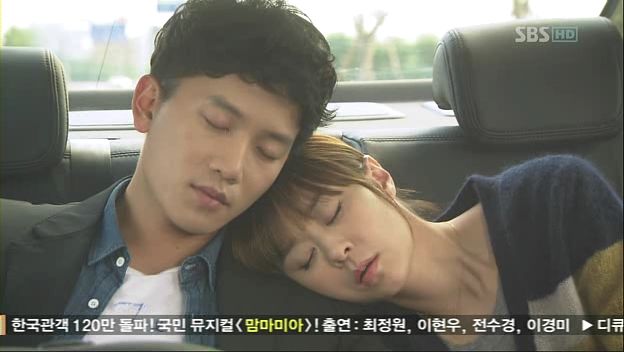 Both of them fall asleep in the back of the car while holding hands. Eun Seol gets a text from the guy she met, Mr. An, asking her to please do the right thing and be a whistleblower.
Na Yoon's mom tells Moo Won's mom that the next scandal to hit DN Group will likely force the Chairman to resign. At that time, she suggests Moo Won's mom take over as Chairman, and she'll use her stock vote to back that nomination. Moo Won's mom is no dummy, asking Na Yoon's mom what her real motive is, because she's clearly not doing this out of friendship and kindness.
Na Yoon's mom says her husband is interested in a DN Group subsidiary, wanting to acquire it and build an even stronger monopoly in that industry. They are going to offer a fair market value for the company of course.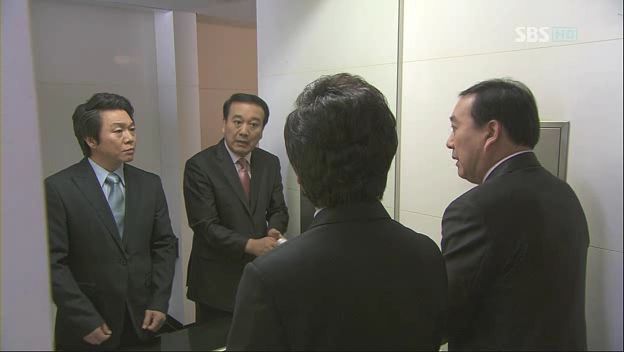 The Chairman's Secretary runs into Director Park in the bathroom. This time it's Director Park who points out Secretary doesn't look so good, and offers to recommend some good nutritional supplements. Director Park calls Na Yoon's mom to ask if Moo Won's mom is willing to take some action. He's getting tired of what he's doing. Na Yoon's mom tells him to hang in there, they have to keep making waves.
Eun Seol goes to a payphone to call Mr. An. She asks him to just listen to her for now. She wants him to not contact her because someone is setting up a trap and any communication between them will be evidence. She wants him to record any calls he gets from whistleblowers pretending to be her and then find out who the caller is. Then he can call her back and let her know. And if he receives anything that supposedly comes from her, please give it to her.
Eun Seol knows her request may seem strange and unreasonable. But someone has the wrong motives for doing this. Eun Seol promises to help Mr. An with his ultimate goal to clean up corporate corruption, but this is not the right way.
Eun Seol sits down to make a list of who the betrayer can be. She settles on Director Park, and then Moo Won and Na Yoon's moms. Na Yoon comes home and Eun Seol asks her whether she's doing it? Na Yoon is confused and Eun Seol knows that it's not her, but this is causing her so much doubt and stress.
Ji Heon thinks back to his conversation with Eun Seol, leading him to go outside and chat with his dad. Ji Heon says his project is doing fine and he'll submit a report in a few days. Ji Heon asks how the preparations are going for Ji Heon to donate his inheritance. He wants to make sure his dad is doing everything according to the law (i.e. not avoiding taxes) because he wants to be righteous in front of Eun Seol. Ji Heon says that he and his dad shouldn't rely on their money to be attractive. He trusts his dad is moving forward as promised. Grandma peeks at this conversation and looks concerned.
Na Yoon confesses to Eun Seol that getting rejected by Moo Won hurts 100 times more than when she pursued Ji Heon and kept getting rebuffed. She doesn't know if it's because she likes Moo Won more than she liked Ji Heon. Eun Seol tells her not to compare the two. Eun Seol thought she only recently liked Ji Heon, and she always thought Moo Won was more handsome.
But maybe when Ji Heon started to like her was when she started to like him back, but just never realized it. Eun Seol says she sees her feelings clearly now when she didn't know it back then. Just like Na Yoon sees it clearly now how much she likes Moo Won, but didn't know it when she dumped him. Eun Seol says she feels sorry for Moo Won, who does everything well so no one pays attention to him.
Na Yoon meets with Moo Won and hands him a revised marketing plan which he is pleased with. Na Yoon asks him to come with her and cancel the rest of his appointments for the day.
Secretary meets with Eun Seol and expresses his concern about who could have tipped off the citizen's reform group. Is Eun Seol just directing and acting out this whole thing? She yells at him to stop suspecting her. He thinks all signs point to her, but she says he's a suspect because he could be doing this to get rid of her. They agree they are on the same side and need to work together.
Both agree to work from the inside to change corporate corruption. Secretary will convince the Chairman not to do what he's planning to do. Eun Seol wonders if she can share this situation with Moo Won. Secretary says to wait until it's all resolved otherwise it'll get more complicated.
Secretary is pretty fidgety in front of the Chairman who notices the odd behavior. He calls Eun Seol and tells her that his final community service is at a center for troubled youth. He thinks Eun Seol would know all about it since she was a badass way back when. She tells the Chairman just to give a lecture on turning their life around. She trusts that if he does what he's always done, that'll be enough, because he is a righteous and upstanding person.
The Chairman's not comfortable with this ironic praise, noting that this elevator sure is going really slow. After he exits the elevator, he rubs his chest and tells Secretary and he almost got jabbed to death back there by the loaded irony. It's clear that a person's conscience can't be discounted. Secretary says his heart beat so fast it hurts as well.
Eun Seol sees Director Park making a call with his mouth covered and then lurking around. She follows him, which is when Ji Heon turns the corner and sees Eun Seol acting all shifty. He pulls her away from where she is peeking at Director Park, who darts around and is worried that Eun Seol now suspects him.
Ji Heon drags Eun Seol back to his office before asking her to come clean about what is happening. She tries to pretend it's nothing but he's not an idiot. Eun Seol says Director Park's conversation was so funny she wanted to eavesdrop. Ji Heon asks if she's disappointed in him, or think he's mentally weak so she can't share important secrets with him. Does she not trust him even the tiniest bit. She keeps telling him to wait, she'll tell him when the time is right.
He's frustrated and she runs to hug him. He pushes her off and her butt hits the corner of the sofa. He's sorry that he accidentally hurt her. Director Park meets with Na Yoon's mom and reveals that Eun Seol may be onto them because she's quite perceptive. Mr. An receives in the mail envelope containing all the secret files of the DN Group slush funds. He tells everyone to get ready to take action.
The Chairman is so excited today is his last community service and can't wait to wipe this blemish off his resume. The kids at the youth center are rude when the Chairman is speaking. He asks the youth center director to leave and he'll make the speech by himself.
Everyone is goofing off during his speech, until finally the Chairman slams his hand on the table and starts yelling at the kids. He warns them that they will destroy their lives if they don't turn it around when they are still young. The teenagers call him the Gangster Chairman and think he is just like them, so how dare he lecture them. The Chairman says he understands what they went through and wants them to change.
Moo Won and Na Yoon are walking and he chides her, asking why she keeps wanting to do things with him. He turns to leave but she grabs his arm, saying they can just emulate a couple on a date. So they end up following that couple and doing the exact same things. They hold hands and go to a bookstore. When Na Yoon sees the couple kissing and teasing each other, she gets excited and remembers that they've done it before way back when.
Moo Won takes her to the park and asks her what her motive is? She says she just wants to come out for a day with him. He says he's a busy guy and has a lot of appointments. He says they should just be candid. Na Yoon asks to start first. She knows that she chased Ji Heon first, and now appears to want Moo Won back, and that doesn't look good.
But she didn't know exactly how she felt back then and now finally sees things clearly. She thinks Moo Won is also confused, not knowing if he still has residual feelings for Eun Seol and Na Yoon. So she's decided to just stick to him like chewing gum. He tells her to be as forward as she wants, but he'll react to her in whatever way he feels like.
Ji Heon drops Eun Seol off but he's still in a snit. She asks him not to leave when he's still angry. She promises she'll explain everything soon and beg for his forgiveness. He says he has no patience and will continue to be angry with her until she comes clean.
Na Yoon and Moo Won arrive and wonder why they are fighting. Moo Won says it must be Ji Heon who did something wrong. Eun Seol says no, it wasn't. Na Yoon pulls Eun Seol into the house, asking what Eun Seol did to upset Ji Heon. Eun Seol doesn't answer, instead asking Na Yoon if she can meet with Na Yoon's mom.
Ji Heon sits down with Moo Won and discuss what to do. Ji Heon laughs as he realizes Na Yoon is going all out to pursue Moo Won, advising Moo Won to just give up now and let himself be led away by Na Yoon. The cousins power walk down the stairs in yet another competition.
The Chairman sits in the yard and thinks back to all the discussions earlier about himself being a righteous person or a Gangster Chairman. He goes to the bathroom and sees his alter-ego in the mirror, who asks if he's not ashamed of what he's doing? He is ashamed, especially when he can't even be righteous in front of those kids at the youth center. He wonders if he's lived his life so that he'll be remembered as a failure of a father and a Gangster Chairman. The Chairman cries in disappointment at himself.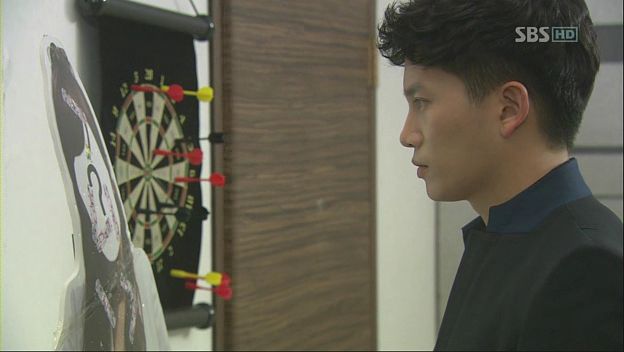 Ji Heon comes home and tells his Eun Seol cut out that he's disappointed in her. The Chairman comes in and promises that from now on, he will do everything with the succession and the inheritance that Ji Heon requested. Everything will be aboveboard and clean as a whistle.
The Chairman tells Secretary that Ji Heon asked him to clean up the company and he has decided to do just that. The Chairman tells Secretary that now it's time for Secretary to come clean with him about what he's been hiding lately. Secretary says that their slush fund ledger has been discovered….by Eun Seol. Chairman is so angry he delivers a swift kick to Secretary.
Secretary says Eun Seol appears to be in contact with the citizen's reform group. The Chairman calls Eun Seol but it's Ji Heon that picks up. Ji Heon says Eun Seol with to meet her friend Uncle Bong. The Chairman says he's Uncle Bong and he's clearly not meeting with Eun Seol. He asks him to call Eun Seol and find out where she is. Ji Heon realizes that Eun Seol lied to him.
Eun Seol meets with Mr. An, who reveals that the slush fund ledger was mailed to him. She confirms again that she didn't mail it. She asks for more time, she can get the Chairman to turn himself in. Ji Heon sees Eun Seol on the street and finds her meeting with Mr. An. After they leave, when it's clear that Mr. An has agreed to give her some time, Mr. An gets a call that the ledger has been delivered to the government authorities.
Eun Seol meets with the Chairman and confesses that she saw the secret ledger. She asks him to handle it and pay all the back taxes. She asks him to please step forward and take care of it. He asks why he should do that. Eun Seol says the prosecutor's office will soon be receiving the documents, so if he steps forward he may get leniency.
The Chairman orders her to leave. He says he liked Eun Seol more than anyone else, so right now his sense of anger and betrayal by her is stronger than towards anyone. He wants her to leave now before he does anything to her, which is the last thing he can do for her. Eun Seol says she saw the ledger and tries to explain she didn't do anything else, but the Chairman screams at her to get out of his face, leave and never show herself again. Eun Seol has tears in her eyes when she gets up and leaves. The Chairman clutches his chest in discomfort.
Eun Seol passes Director Park in the office and drags him off to a darkened corner where she demands to know if he was the one who did it. She reminds him that she's not the kind of person who'll let these things go. If he didn't do it, or if he did it because he believed in righteousness, then she'll forgive him. But seeing how he looks so guilty, clearly that is not the case. She promises to make his life a living hell.
The Chairman tells Secretary to keep this news from Ji Heon, and fire Eun Seol immediately. Moo Won finds out that Na Yoon's mom and Director Park orchestrated a whistleblower attack on the Chairman. Moo Won's mom feels like she was inadvertently involved, and knows they will drag her into it as well.
Na Yoon meets with her mom and happily reveals she's pursuing Moo Won. Which is when Moo Won arrives and demands to know what Na Yoon's mom did. Na Yoon looks confused and follows Moo Won out, trying to ask what happened.
Ji Heon drives Eun Seol home, asking if he still needs to wait, or does she have something to tell him now. Eun Seol hesitates until Ji Heon pulls the car over and makes her get off. He tells her to just go home by herself today. Eun Seol gets out and walks home.
Ji Heon comes home and finds his dad waiting for him in the yard. Ji Heon thinks his dad has been so weird lately. The Chairman turns and tells Ji Heon to break up with Eun Seol. Ji Heon demands to know what is happening lately that everyone is keeping from him. Suddenly Ji Heon appears to have a brief anxiety attack and needs to sit down.
The Chairman finds out from Secretary that the prosecutor's office is already investigating and people should be by shortly to collect evidence with a search warrant. Dozens of investigators arrive at the offices of the DN Group and walk into every office armed with a search warrant. They tell everyone to stop working right now and allow them to collect evidence of having illegal slush funds.
Thoughts of Mine:
Yeah, what more can I say. This episode sucked. Plodding and hit almost every drama cliché in the book with respect to bad people setting a trap and good people falling into it. I respect the drama for showing that the trap was really something the Chairman created by dodging taxes for so long, so the prosecutorial investigation to come isn't like the Chairman is being set up or the company is being destroyed by evildoers. But I hate watching something that ought to be handled in a decent way become an attack on wonderful people like the Chairman and the Cha family by the likes of poopheads like Director Park and Na Yoon's mom.
Moo Won and Na Yoon for me took a backseat in the relationship development. They'll get together, I've no doubt, but I'm not particularly chafing to watch their scenes. I much prefer scenes of Eun Seol and Na Yoon or Moo Won and Ji Heon, because the friendship element of PTB continues to be its core strength. I was genuinely disappointed in Eun Seol's decision to keep hiding the slush fund ledgers from Ji Heon, especially after he directly told her to tell him. She claims her decision is to protect him, but he's right, her decision stems from the belief that he needs protecting rather than trusting he can handle the truth.
I can't fathom why the confirmation of the extension was immediately followed by the first episode of PTB I merely liked, and then the first episode of PTB I flat out hated. Plus this episode had boating! And still I hated it. Yes, they totally slept together at the resort, and I loved how the drama didn't make it a huge deal, but rather let the couple have their intimacy off screen. As for the plot, I really wish Eun Seol told the Chairman and Ji Heon what she suspected was going on. Even if ultimately the authorities were alerted, at least she's not mistaken as the whistleblower, and the people she cared about would not feel like they were blindsided by all of this.
I hope this drama brings back the cute, the funny, the poignant soon, which it had in spades in the early episode even though there was plenty of work place plot and shenanigans going on. But each time it was dealt with practically and without any unnecessarily angst, which is what is happening here. I think there is enough issues for everyone to tackle without throwing in my most hated plot device, the big misunderstanding caused by not communicating. I'll just have to wait another week to see how PTB resolves this bit of sub-par plotting.