The Princess's Man is a few weeks away from ending, so that means it's follow drama Man of Honor starring Chun Jung Myung and Park Min Young is gearing up to take over. Filming has actually commenced already, but today the production released official pictures of the first script reading session. It's always a treat to peek at a drama in the early stages and guess whether or not the cast will have chemistry. Though what I really want to peek at are the scripts, since cast chemistry hasn't been a problem for most drama recently, whereas the "script" has been a huge problem for me.
MoH will be the follow-up drama from the PD-writer duo who made last year's insanely successful Baker King, Kim Tak Gu. Well, it cracked 50% in ratings for the final episodes, though the insanely successful part didn't exactly extend outside the domestic market. MoH is supposedly yet another underdog achieves success story, centering around a washed up baseball player played by PIE who crosses paths with a sunny nurse played by Park Min Young.
Below is a look at the entire extended cast at the first script reading, including Lee Jang Woo, Kim Yun Joo, Lee Jin, and Choi Myung Gil. I'm just going to be candid about absolutely not understanding the appeal of Baker King. It was cracktastic if you liked your drama's soapier than a Mexican telenovela, with some iffy acting all around.
So I'm going into MoH with a cautious wait-and-see attitude, because being from the same PD-writer doesn't necessarily mean MoH will be copying liberally from the Baker King playbook, which included double sets of bastard children and lots of bread standing in for some grand metaphor about life and family. Though baseball is the perfect medium to go crazy on the metaphor overkill….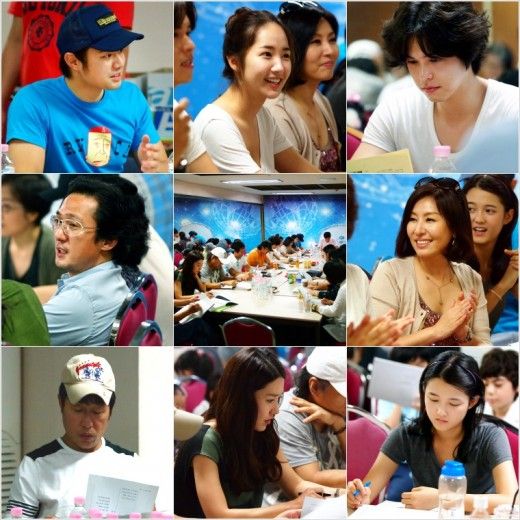 PIE tweeted a picture of him filming at the baseball stadium in the character of baseball player Kim Young Kwan. He looks cuuuuute! I'm so weak when it comes to his dimples and mega-watt smile.