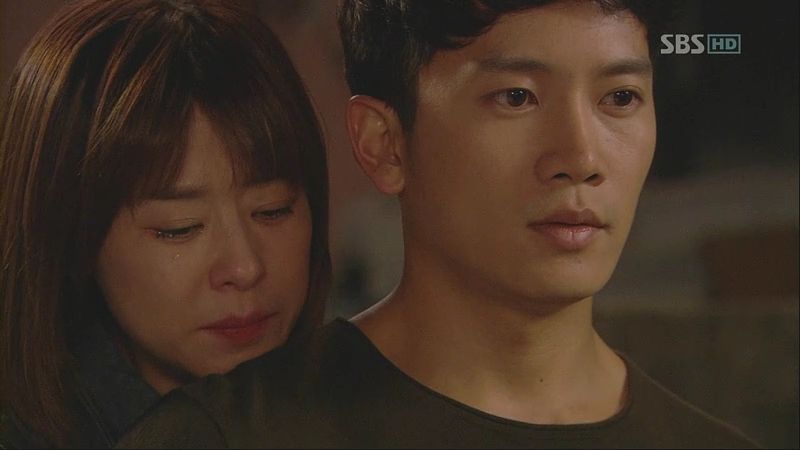 I think it's safe to say that Protect the Boss is indeed floundering in the final third of its run. Last week's two glitchy episodes are sadly not some anomaly, heralding instead a continued stream of plot development that I am really loathe to see.
It's not like PTB has went insane, to the contrary, the drama is still exceedingly solid compared to some other currently airing K-fare. It's simply that the first half of the drama was so damn amazing that it's even more dispiriting to see it descend into mundane angst. It like they all say – the greater the expectation, the greater the disappointment.
Episode 15 recap: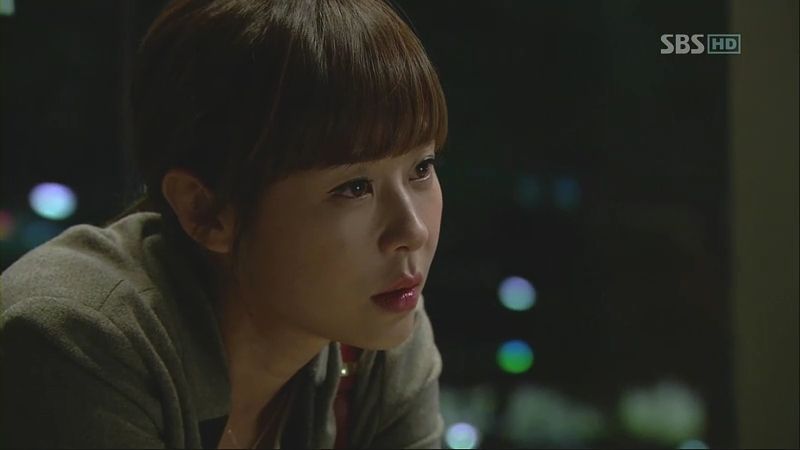 This episode starts with a rewind to scenes prior to the prosecutorial raid on the DN Group. In the car, Ji Heon asks Eun Seol if she doesn't have anything she wants to tell him? When she continues to remain mum, he pulls over and asks her to get out, he needs to be alone for now. Eun Seol walks until she ends up sitting down with her troubled thoughts and worries.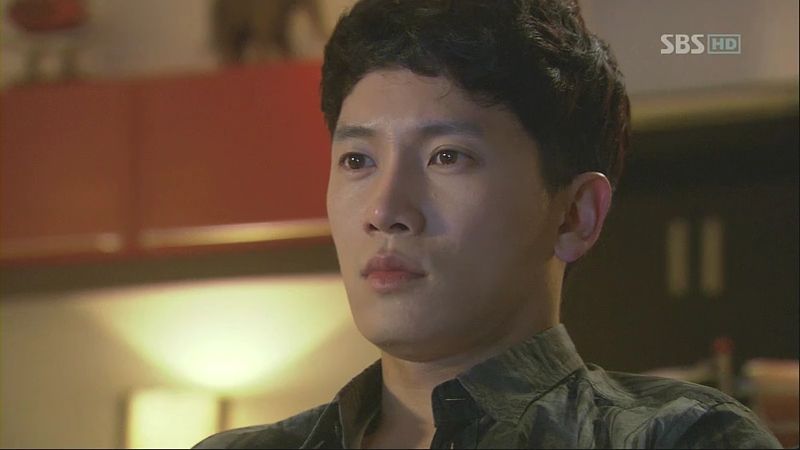 Ji Heon is home playing video games and doesn't see or hear his phone ringing and Eun Seol calling. He goes to ask his dad again why he's forcing Ji Heon to break up with Eun Seol, when it's clear his dad likes Eun Seol very much as well. Ji Heon wants a reason, something he can understand, otherwise he can't accept it. The Chairman reveals that he hasn't been clean in his business practices, Eun Seol found out, and has leaked the information.
Ji Heon is stunned by this bombshell, though he asks if his dad is sure it was Eun Seol who leaked it. His dad's not sure, and is still trying to figure out how to deal with it. Ji Heon tells him to deal with it directly and just accept the consequences. Ji Heon screams that he's had enough of his dad and Eun Seol (treating him like a kid). He goes outside to sit in the yard, continuing to miss calls by Eun Seol.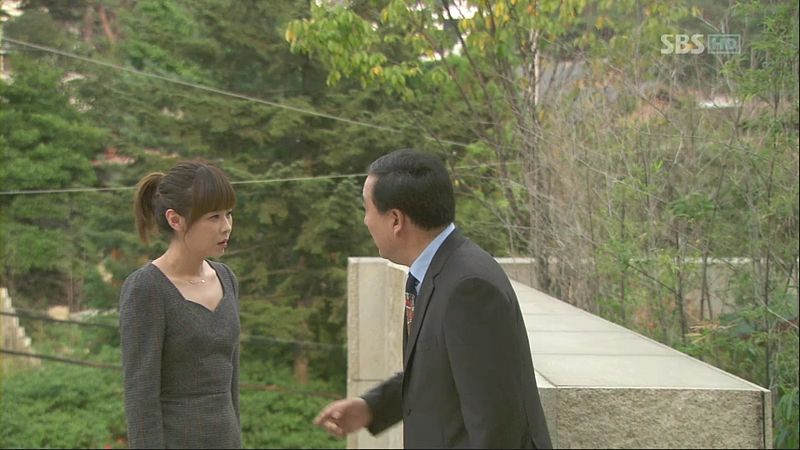 Eun Seol arrives at the house to pick up Ji Heon, telling Secretary that there was a misunderstanding with the Chairman yesterday and she wants to explain it to him. Eun Seol says she didn't report the Chairman, and it was because the Secretary told her not to tell the Chairman and Ji Heon that she's suffering this misunderstanding now. Secretary doesn't give her a chance and just pushes her out of the house.
Eun Seol arrives at work and all the secretaries surround her, telling her that they've received orders that Eun Seol's stuff is to be packed up. They don't want to jump to conclusions and calmly ask her to explain. Eun Seol says there was a misunderstanding. Ji Heon walks into work and completely ignores Eun Seol, which all the secretaries note as being completely out his character for him.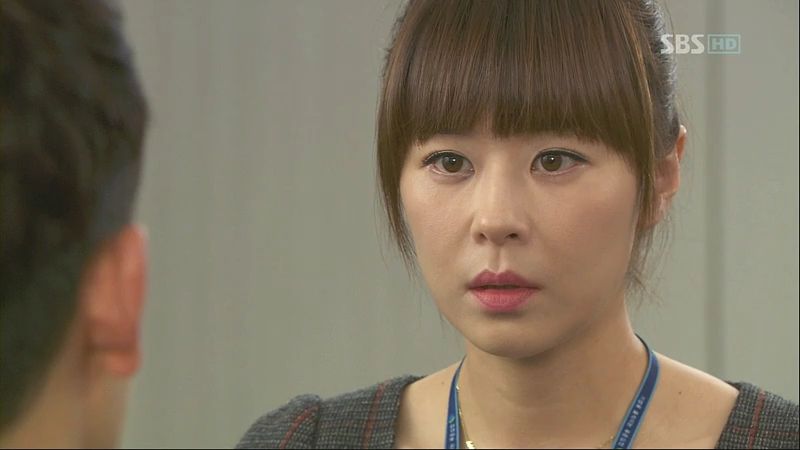 Eun Seol walks into his office and asks if he got her calls from last night. He ignores her, and reminds her that this is work and they need to wait until after work hours to discuss personal matters. Ouch, you are so cold, Ji Heon. Eun Seol apologizes and asks him if he'll hear her out. Ji Heon stands up and tells her to explain. When Eun Seol starts to talk, Ji Heon interjects and fills in the blanks, which surprises Eun Seol that Ji Heon knows.
She tells him that she's been scapegoated as the person who reported this financial misdoing to the government. Before they can talk more, the prosecutorial search team arrives and starts collecting evidence. Grandma watches on TV as the scandal breaks, shaking her head in worry.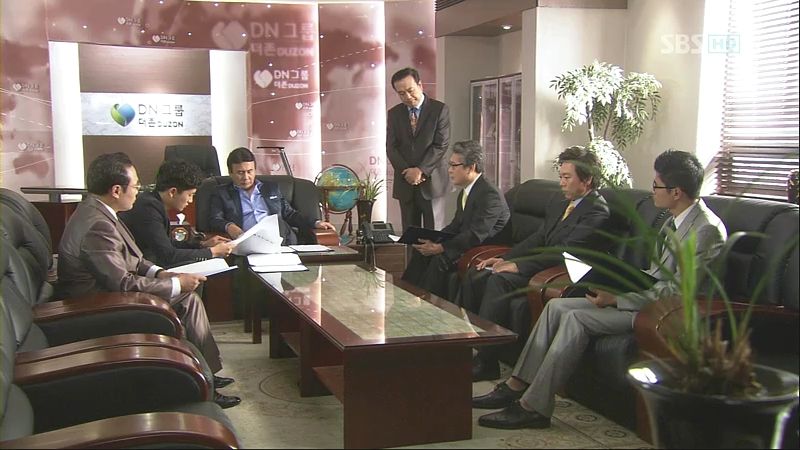 The Chairman meets with his lawyers and company men on what to do. Ji Heon walks out of the meeting. The Chairman reminds everyone that Ji Heon knew nothing about what was going on and he must be protected at all costs. The Chairman looks at Director Park and says if he goes down, everyone goes down. The Chairman announces that he doesn't believe the rumors that Eun Seol was the whistleblower. There must be someone behind the scenes masterminding it all, and that person will be dead if the Chairman sussed him out. The Chairman starts to clutch his heart in genuine pain.
Na Yoon's mom gets a call from Director Park, who begs her to help him stay out of prison. Moo Won's mom asks why Na Yoon's mom investigated her dealings with Director Park and turned him into her own spy. Na Yoon's mom pretends she just ran into them meeting by accident. Moo Won's mom doesn't believe her and calls her a woman with dark depths. She tells Na Yoon's mom to make sure Moo Won and her aren't dragged down into it.
Na Yoon arrives and demands to know if her mom orchestrated it? Moo Won's mom gets up and leaves, whispering to Na Yoon loudly that it sure was her own mom who planned it all. Na Yoon screams at her mom.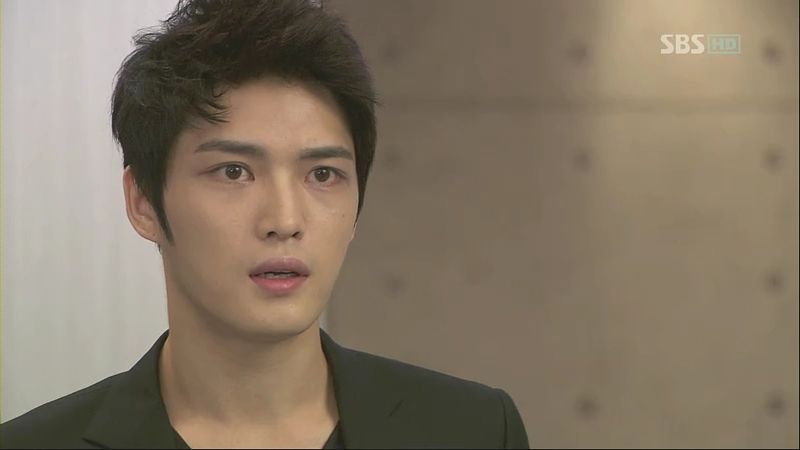 Eun Seol is trying to clean up the ransacked office when Ji Heon walks in. He pretty much ignores her and leaves, ordering a car be brought around. Eun Seol chases after him. The other secretaries mention that the rumor is Eun Seol was the one who reported this. Moo Won comes out and chastises the secretaries for gossiping, telling them Eun Seol could not have done this.
Eun Seol catches up to Ji Heon in the elevator but he continues to ignore her. She begs him to just listen to her explain. She was wrong in not telling him beforehand, but can he listen to her now? He continues to ignore her, and when other people get in the elevator and start throwing back glances at Eun Seol, Ji Heon tells them to look directly at her and start yelling at her if they want.
They arrive in the lobby just in time to see the Chairman get wheeled out to the waiting ambulance. He sees Eun Seol and tells her to disappear like he told her to. Ahhhh, now I see, the Chairman doesn't want her around when the shit hits the fan, in case she gets embroiled in the mess, so he wants her to leave by making it seem like he's angry at her. He probably is disappointed she didn't tell him earlier of the situation, but he doesn't believe she reported the company.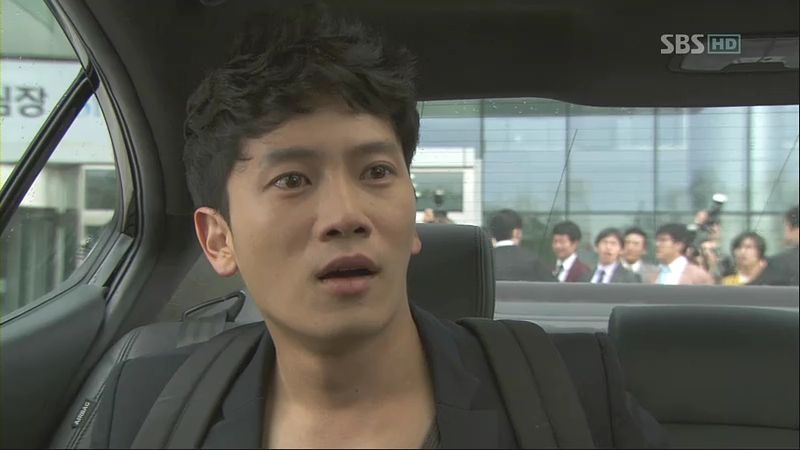 Ji Heon tells Eun Seol not to follow him. It'll be embarrassing out there with all the media camped out. When Eun Seol tells him to take the underground exit, he explains that he's used to this, making front page headlines for scandals and being the subject of national scorn and finger pointing. Before getting into the car, Ji Heon bows and tells the media he'll explain later. They grab him until Eun Seol arrives and makes them move away.
The Chairman is at the hospital when Grandma arrives. She thinks he's faking it, but the Chairman says he's not. His heart really hurt and he felt dizzy, though once he got to the hospital the symptoms went away. Grandma tells him to just use this opportunity to clean up the company practices, to take their punishment and fix it going forward. The Chairman explains that he was planning to do just that, except this whole thing got leaked before he could clean up.
Moo Won's mom is worried they will get implicated in the mess. Moo Won asks his mom again to confirm she didn't do this? She says she thought about it, but she never did it. Moo Won thinks his mom bears some responsibility nevertheless. Moo Won says it's taking all his restraint not to blow up right now at his mom. He can't even face Eun Seol and Ji Heon, that is how horrible he feels about what happened.
Moo Won's mom says she feels guilty towards the Chairman as well, but it's not like an apology is sufficient. If her minor involvement is revealed, she'll be punished by the Board of Directors. Moo Won agrees not to say anything, but warns her that if she did anything ever again, he'll cut all ties as her son.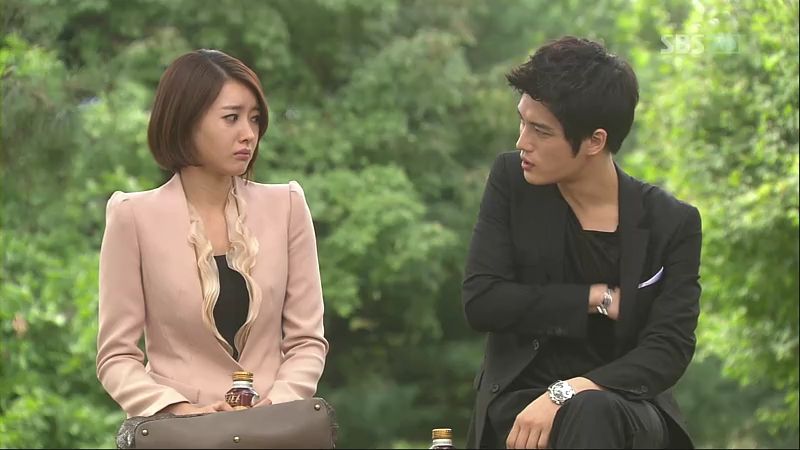 Moo Won gets a call to meet Na Yoon. Both are them are short-tempered with each other, feeling irritable and upset and guilty. Na Yoon confirms from Moo Won that it was her mom that orchestrated this reporting, and even scapegoated Eun Seol as the whistleblower.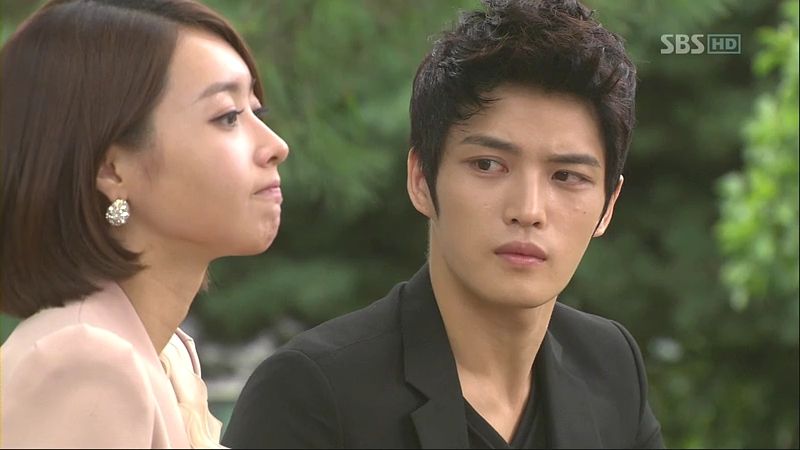 Na Yoon starts crying and asking what they can do. Moo Won chides her for crying all the time, to which she explains that she can't help it, her tears just come. He tells her to save her tears for when it's necessary. He notices that she's giving him moony eyes and wonders why she can feel all romantic towards him at a moment like this. She says romantic feelings don't just go away. Moo Won laughs at her.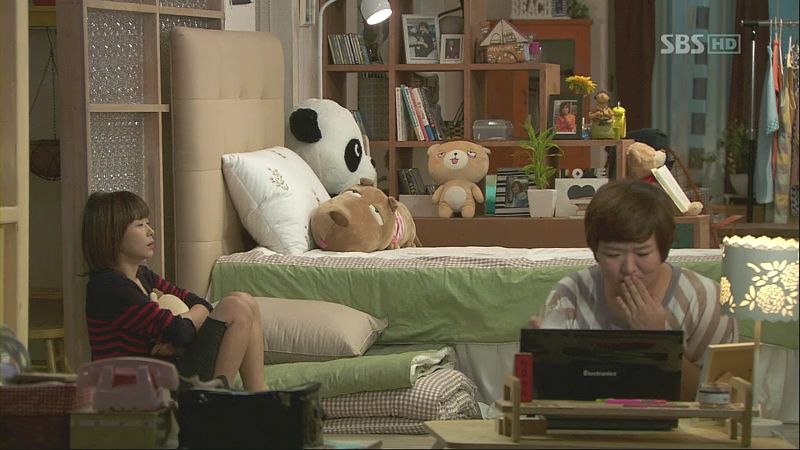 Myung Ran tells Eun Seol that the DN Group scandal is all over the news. Eun Seol thinks she really is a cosmic rock like Ji Heon once described her as. She was afraid of Ji Heon getting hurt so she didn't tell him. She tried to prevent it herself but couldn't. Now all she feels is regret and worry. Myung Ran offers to make her some dinner. Eun Seol declines – even if Ji Heon won't see her, she needs to go see him.
Moo Won walks Na Yoon home, who asks to borrow some money from him. She feels terrible living here with Eun Seol, and wants to move out and get her own place. Moo Won agrees, but will deduct what she borrowed monthly from her salary. Na Yoon asks if Moo Won wants her to get Eun Seol? He's not sure he should see her, which is when Eun Seol walks out. Na Yoon heads inside to allow them to talk.
Eun Seol explains that she's headed somewhere, but Moo Won just wanted to tell her that he believes she's not involved. Eun Seol asks Moo Won if his mom was involved? We see Ji Heon standing at the foot of the stairs watching them. Moo Won apologizes but he can't answer her question. Eun Seol says that is answer enough. But she can't explain to the Chairman the truth now without implicating Moo Won's mom. She cries, wondering what to do now? Moo Won tells her to just tell the truth. Moo Won leans over and lightly reassures Eun Seol with a pat on her shoulder.
They turn and see Ji Heon standing there. He turns to leave, which is when Moo Won tells Ji Heon not to misunderstand. Ji Heon smiles and says there is nothing to misunderstand (and he means it, he's not jealous right now). Eun Seol runs after him and grabs him in a backhug, sobbing into his back and apologizing repeatedly. Ji Heon turns her around and wipes her tears away, teasing her for being so ugly when she cries.
After Ji Heon walks away, Eun Seol continues to follow him, and he lets her. They are in the car driving when Eun Seol tells him to get mad and just yell at her or hit her. He says he doesn't dare. If he hits her, she'll hit him back. Eun Seol asks if he's going to do as the Chairman says and just pretends he's not involved and knows nothing about the company's misdeeds?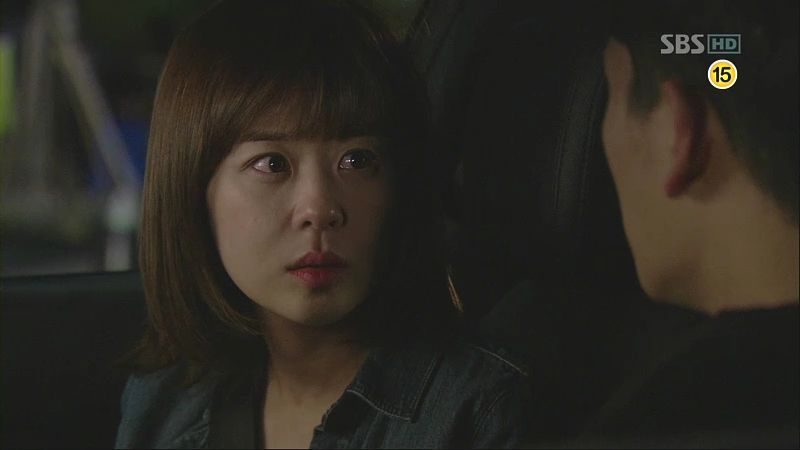 Ji Heon pulls over and calmly tells Eun Seol that he wants her to just show remorse and not do anything unless he tells her to. Even if Eun Seol did report the company, that minor thing isn't what would cause him to be so upset at her. He's angry because……it's not directed at her. He's angry at HIMSELF. He wants to go to Eun Seol's neighborhood, he wants to be a good Chairman one day, but he still can't do enough to get her trust in him.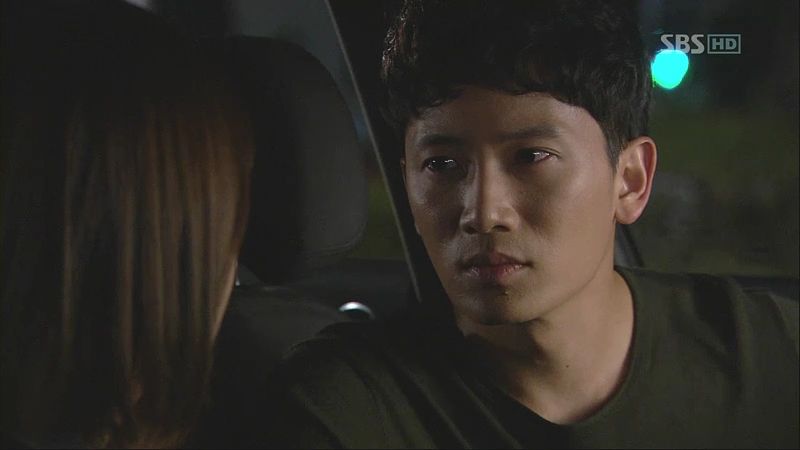 He's really pathetic, unable to gain even his father's confidence, much less Eun Seol. He can't do anything without Eun Seol. Her not trusting him is something he brought on himself. He wants to assess exactly how Eun Seol thinks of him in her heart. So until the first ruling comes down from the court, he doesn't have the time to discuss their relationship. Ji Heon opens the door and asks her to get out. He reminds her that she's so strong, she'll be just fine. Her eyes are filled with unshed tears but she gets out, reminding Ji Heon that next time he has to listen to her, okay?
Everyone Is dragged in for interviews with the prosecutors. Eun Seol says she knows nothing, other than Cha Ji Heon is not involved since she stays by his side 24 hours a day. Eun Seol notices that the police have no evidence, but appear to be trying to get information from her about Ji Heon's possible involvement. The Chairman is wheeled into the police station for questioning, and Ji Heon is accompanying his father. Eun Seol and Ji Heon see each other, and he flashes her a smile.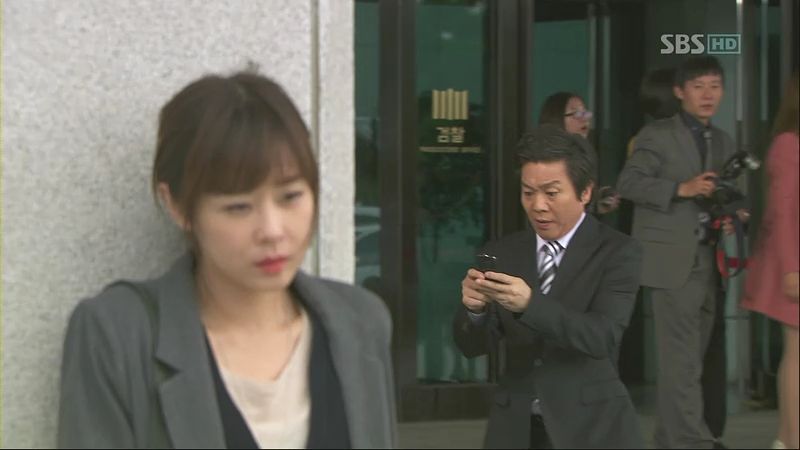 The Chairman says Ji Heon doesn't know anything, and it was all done by the people around him. He pulls the illness card as the interview drags on. Eun Seol waits outside the police station and happens to see Director Park leaving. She accosts him as he's making a call to likely Na Yoon's mom to complain. Eun Seol confronts him and says she recorded that conversation.
Eun Seol asks if he was the one who set her up. Normally she wouldn't strike women and elderly but today she's making an exception. She punches him twice in the stomach, reminding him that she was a teenage delinquent and an eye for an eye is her way of getting revenge. She demands to know who he was talking to, was it Na Yoon or Moo Won's mom? She asks if they are both involved? Director Park refuses to answer, which confirms it for her. She let him go for today, but warns him to beware because she can show up anytime in front of him to get retribution.
Eun Seol sees the media running towards the police station. She runs back and sees Ji Heon walking out. Ji Heon sees her off to the side before he gets into the car. Eun Seol is relieved that Ji Heon looks fine. News reports say that there is no sufficient evidence to charge Cha Ji Heon, and government is requesting a five year sentence for Chairman Cha.
Eun Seol asks what she's going to do since neither Cha will see her. Myung Ran offers to go with her and barge in, she'll knock the doors down for Eun Seol. Chairman Cha and Director Park are prison cell mates. The Chairman asks Director Park who the whistleblower is? He suspects that person will try to escape abroad the second the no-travel restriction is lifted. The Chairman says if he's stripped of his position at work, he'll have nothing to do, and will make it his life's mission to track down that son-of-a-gun.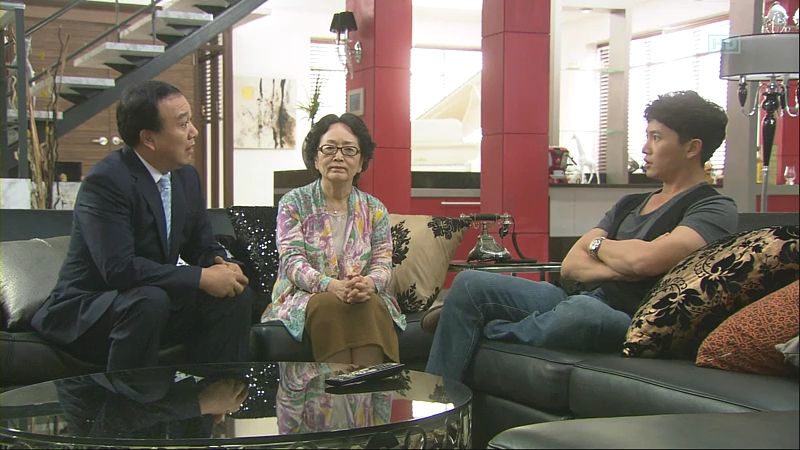 Eun Seol and Myung Ran arrive at the prison to see the Chairman, only to run into him being carried into an ambulance headed for the hospital. Secretary tells Ji Heon to go visit his dad at the hospital, explaining that this time the Chairman isn't faking it, he really does get chest pains from time to time recently. Secretary also tells Ji Heon that the Chairman was already planning to clean up the company before he was reported. Grandma arrives and tells Ji Heon to go visit his dad, and lecture him because he did wrong.
Moo Won meets with Na Yoon's mom and discusses her own shady dealings. He suggests that he can rat her out, too. Moo Won warns her not to do anything like this again, and not to get his mother involved. Moo Won tells Na Yoon's mom that because of her, it's caused him to not liked Na Yoon anymore. He's even thinking about fooling around with Na Yoon. Na Yoon arrives and overhears this.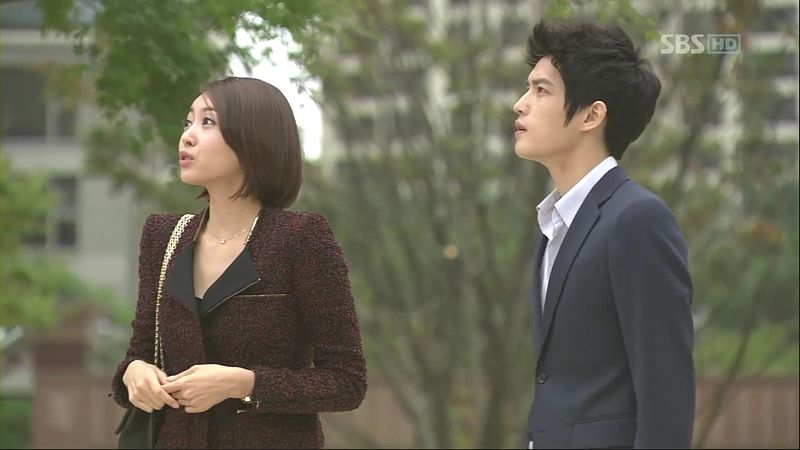 She runs out and Moo Won chases after her to try and explain. He takes her to a building to show her an apartment he found for her. He heads to visit the Chairman and Na Yoon runs to join him. Eun Seol arrives at the hospital and tries to get past the security to visit him but she fails. She puts on a doctor coat and tries to sneak in behind some doctors. Moo Won and Na Yoon arrive to see her.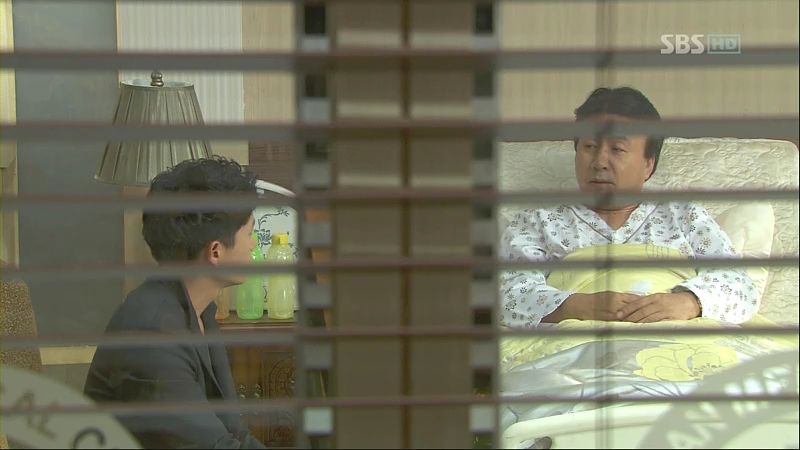 When Eun Seol gets recognized and the police try to detain her, her quick reflexes allow her to evade them and sneak into the Chairman's hospital room. She walks in only to see Ji Heon talking with his dad. Ji Heon tells his dad to stop mentioning Eun Seol was the whistleblower because she didn't do it. The Chairman concurs, he didn't think it was her anyways, because she would never hurt Ji Heon and the Chairman.
But the Chairman continues and says that it just can't work between Ji Heon and Eun Seol. The Chairman says he liked her so much he forgot why she wasn't suitable for Ji Heon. Like that initial violence incident – to which Ji Heon laughs and says that incident was 50% the fault of the crazy bun head, and 50% of the fault of the immature revenge Chairman.
The Chairman says he really loves his job, his company is just like a son to him. And now he might lose it all, and he can't even pass it on to Ji Heon. So if Ji Heon marries Eun Soel, he'd be an even bigger laughing stock. If the Chairman can protect him, this is all that he can do. Ji Heon asks if his dad wants them to break up? Or does he want Ji Heon to break up with Eun Seol? Ji Heon says sure, he'll break up. Eun Seol listens to this entire conversation and quietly leaves the room.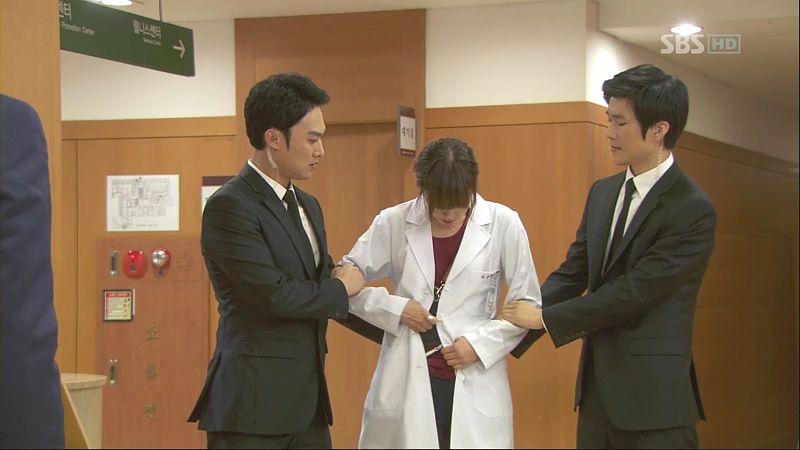 She's dragged out by cops, but she manages to slip away. Moo Won and Na Yoon help block the path and allows Eun Seol to get away. Na Yoon even threatens to bite one of the cops, heh. She's so earnest. Back in the hospital room, Ji Heon confesses to his dad that he doesn't have the confidence to break up with Eun Seol. But if it must be done, he'll do it. As Ji Heon leaves, he tells the Chairman that if he breaks up with Eun Seol, it won't be for the reasons his dad wants him to.
Na Yoon and Moo Won chase after Eun Seol outside the hospital. She asks them both if she can be rude to their mothers for once? Moo Won tells her to go ahead, but Na Yoon wants to make sure no one will get whacked. Both Eun Seol and Ji Heon are deep in thought. Eun Seol talks to herself – she started off as Ji Heon's secretary, protecting and assisting him, so now it's become the way she acts around him. Ji Heon drives past Eun Seol on the side and neither sees each other.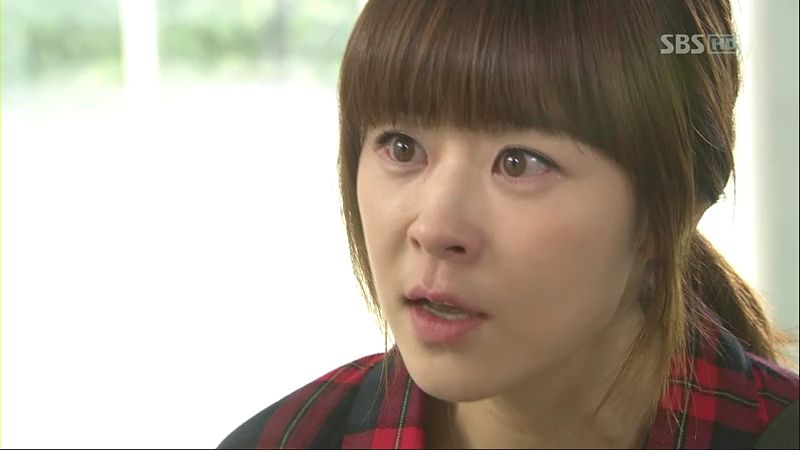 Na Yoon's mom confesses to Moo Won's mom that Director Park really is like a water ghost, always demanding more from her. Suddenly the moms see Eun Seol and Myung Ran waiting for them at the art gallery. They easily subdue the two guards.
Eun Seol demands to talk to them about how they set her up. She knows they are the mothers of people she cares about. Right now she'll restrain herself, but who knows if one day she's not care about anything and just go beserk on them. Before leaving, Eun Seol makes Na Yoon's mom promise not to fire the two guards.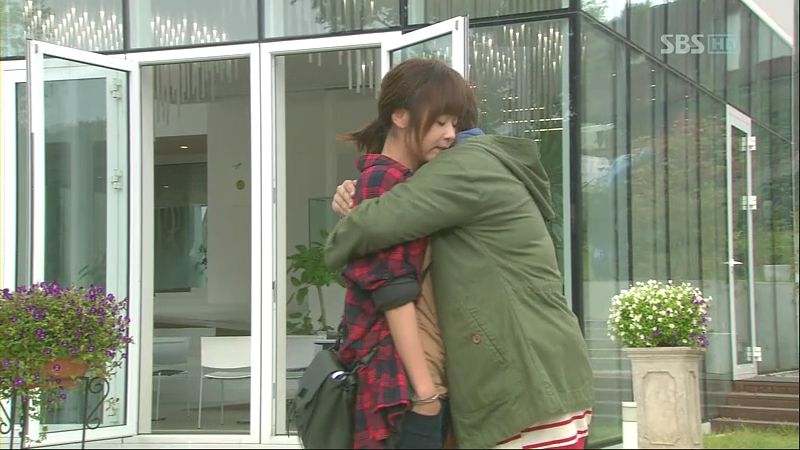 Eun Seol and Myung Ran walk out of the gallery, and Myung Ran gives Eun Seol a hug to comfort her. Suddenly Eun Seol gets a call and she hurries to pick it up. Eun Seol tells Myung Ran that Ji Heon wants to see her, though she senses something is off. Eun Seol goes home and primps before heading out to meet Ji Heon.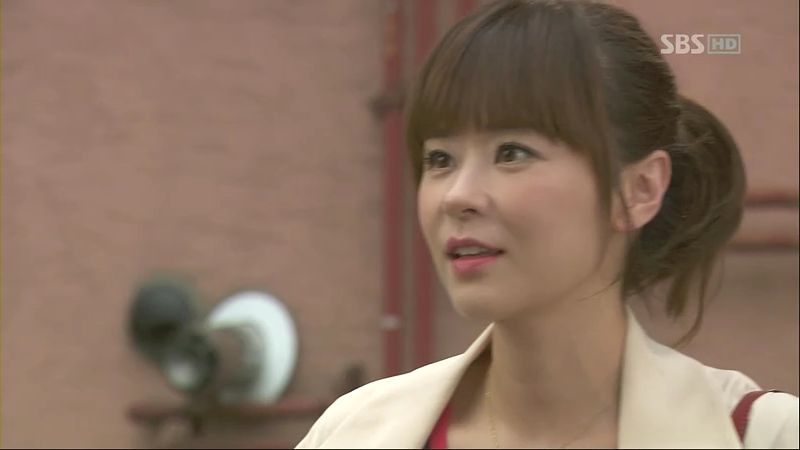 She walks down the stairs and smiles when she sees Ji Heon waiting for her. He turns and is stunned to see how pretty she looks. She tells him that they should enjoy their date and not worry about everything else.
Ji Heon takes Eun Seol horseback riding. He explains that horses react to body language to get to know a human. Ji Heon and Eun Seol have a picnic after they finish riding, taking turns feeding each other and goofing around.
Ji Heon drives a sleeping Eun Seol back to Seoul, stopping the car at the place where Eun Seol once berated Ji Heon after he ran away from home. He asks if she wants to take a walk? They walk hand in hand, until Ji Heon lets go of her hand. He tells her that he needs to stop his relationship with Eun Seol now.
Thoughts of Mine:
WHAT THE………(bleeping bleep bleep). I knew this was coming. From the moment Eun Seol got the call from Ji Heon it was obvious this was one last date before he dumped her. Let me first preface by saying that this was clearly some noble idiot dumping, so Ji Heon isn't being an ass, he's being a moron. There is a difference. An ass would break up with Eun Seol for not trusting him, blah blah blah, putting his feelings first. Ji Heon already said he's not upset with Eun Seol. Even if Eun Seol was the backstabbing whistleblower, which he knows she's not, he still wouldn't be angry at her.
He's breaking up with her because he's not good enough for her, and because he's afraid of dragging her down with his family's current mess. He's worried that the more Eun Seol is associated with him, the more she is the target of schemes and embroiled into messes that she has no reason to deal with. It's all good and fine for Ji Heon to want to protect Eun Seol, at the expense of his own heart, but damn it, he's just doing what she did to him in the last episode. "I'm doing it because I love you" is one of the most annoying plot devices in the book. It only works if the recipient immediately calls the noble idiot on the bullshit and the stupid idea gets shelved. Otherwise it drives me nuts!
I can only surmise this break up is coming so that Ji Heon can learn to stand on his own, clean up the company, and perhaps come back to Eun Seol with his head held high. I feel so frustrated because I feel like the lack of communication between the OTP for the last two episodes aggravates any thoughtful consideration of what each of them need vis-à-vis the other. I'm having a hard time analyzing their relationship at this juncture because both are keeping so much inside.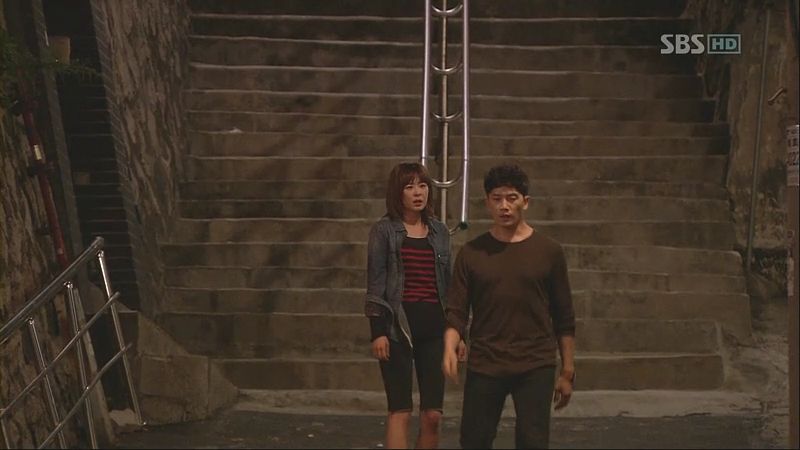 Dealing with such a frustration plot development sucks all the energy out of this drama, taking all the laughter with it. Even the scene of Myung Ran and Eun Seol confronting the mommies at the art gallery didn't elicit the chuckle it normally would have, because I'm frankly so grumpy by everything happening in general. Moo Won and Na Yoon have faded to the background for me, simply because I adore their bickering cuteness but haven't the time to enjoy their interactions much.
I'm not sure what to make of the Chairman either. I'm sure he's really sick, but I don't get the feeling it's some sort of critical illness that'll take him away by the end of the drama. His character felt very detached for me in this episode, mirroring his exhaustion in dealing with the company scandal. At this point I want to blame all the recent PTB woes on the extension, hoping against hope that somehow the drama will right itself immediately so that I can go back to enjoying the heartwarming funny and cute for the final two episodes next week.