I did seriously consider recapping Bu Bu Jing Xin, but ultimately I don't have the time these days, nor do I have the emotional energy to relive every moment of this drama. I've decided to just go with the flow instead, and post about whatever tickles my fancy with respect to this drama, such as recapping a scene or a series of moments. I'd like to share a great sequence from early in the drama that just makes me happy to rewatch over and over again.
It's the birthday party for the 10th Prince, as organized by Ruo Lan, Ruo Xi's sister, and held at the estate of the 8th Prince. Most of the princes show up for the celebration, and what follows is both heartwarming, funny, and rife with lots of foreshadowing. Ruo Xi is about 15 years old at this point, still slightly bratty, very direct, and completely charming. It was an idyllic time for everyone, and one that is worth taking a walk down memory lane.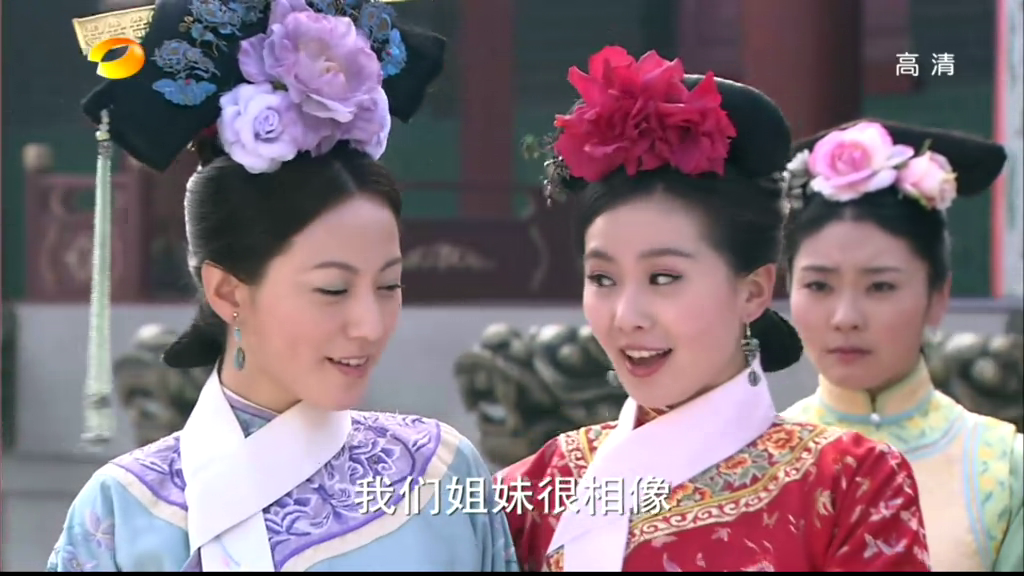 Ruo Xi happily runs out to the courtyard where the final preparations are underway for the party. She shows off her new look to sister Ruo Lan, who notices that Ruo Xi is especially dressed up today with a different hairstyle and make up. Ruo Xi sasses back that everyone says they are lookalike sisters, so complimenting Ruo Xi is like Ruo Lan complimenting herself. I just love their sisterly teasing and affection.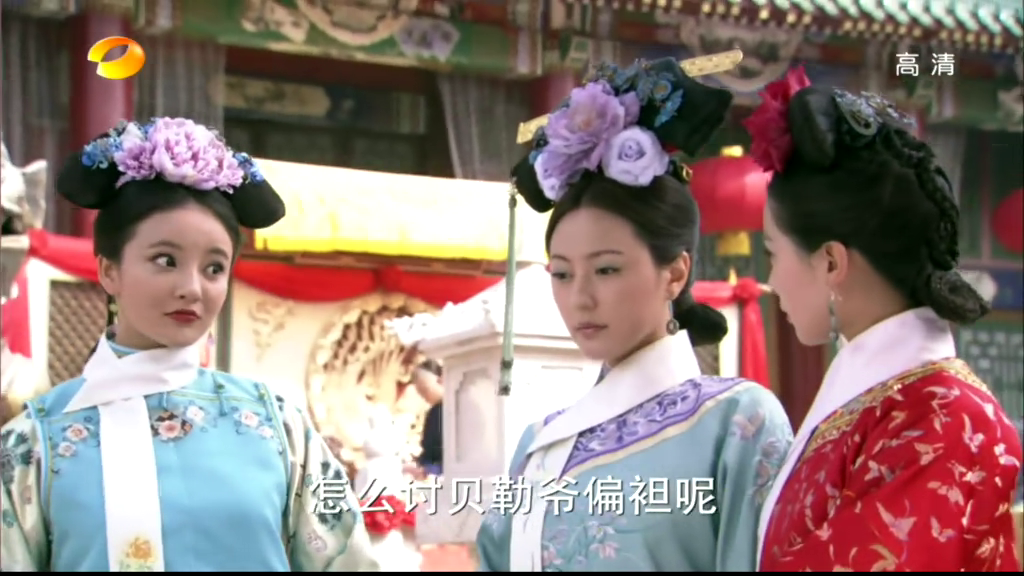 The 8th Prince's first wife Ming Hui, and her younger sister Ming Yu, arrive. Ming Yu uses this chance to send a few barbed remarks over to the sisters Ruo Lan and Ruo Xi. While Ruo Lan just takes it all in stride, Ruo Xi's prickly temper gets the best of her and she spars a little with her nemesis Ming Yu.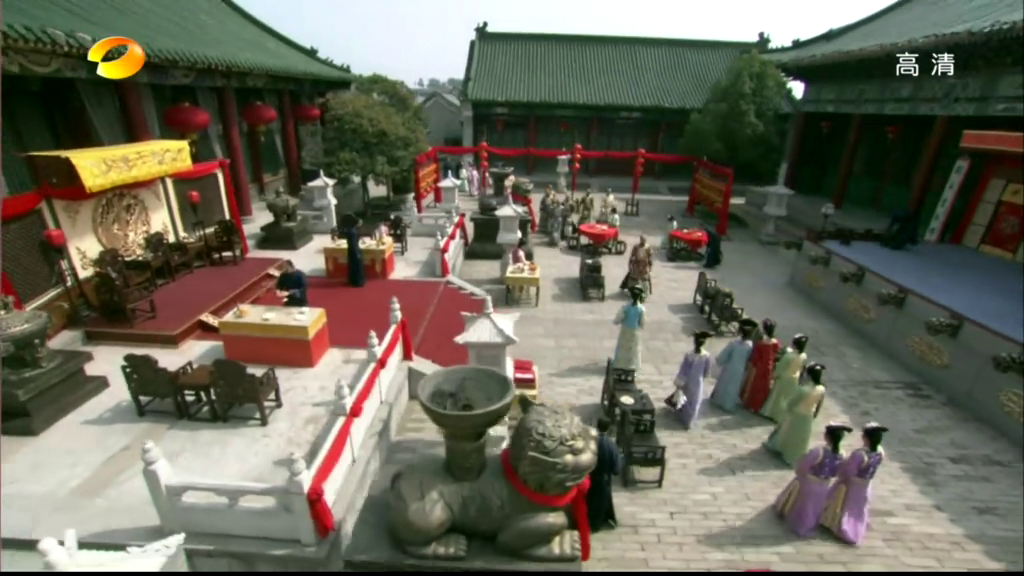 The majority of the princes arrive, minus 13th Prince and the Crown Prince. The princes are happily chatting away about how much they are looking forward to celebrating 10th Prince's birthday. The ladies greet the princes with a courtesy.
10th Prince compliments Ming Yu on being quite pretty today. 12th Prince immediately notices Ruo Xi and surmises she must be the newly arrived younger sister of Ruo Lan he's heard so much about with respect to her beauty and charm.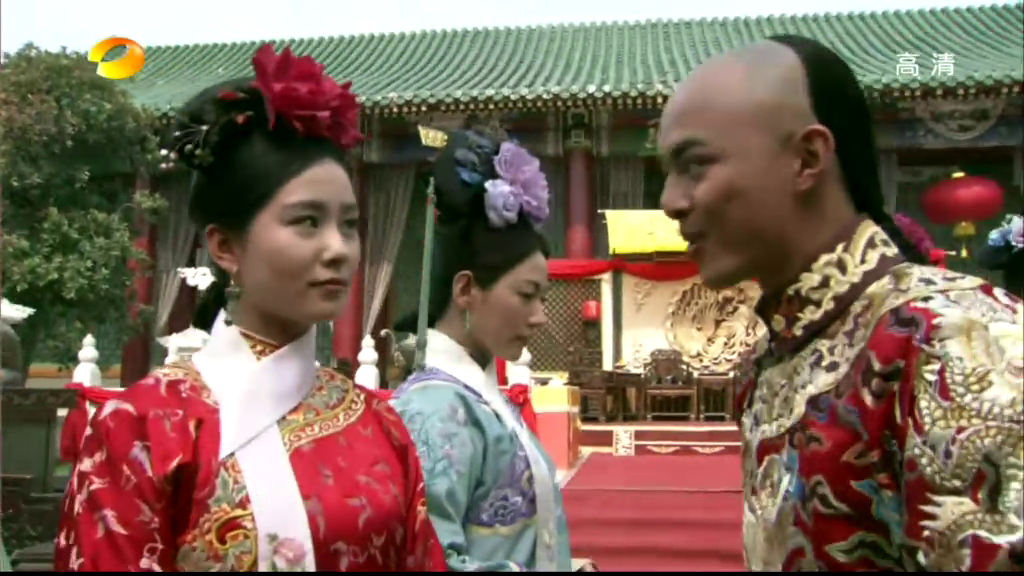 10th Prince toddles over to happily compliment Ruo Xi as well, on being especially pretty today. I love that instead of being demure about receiving a compliment, Ruo Xi replies that he's got great taste.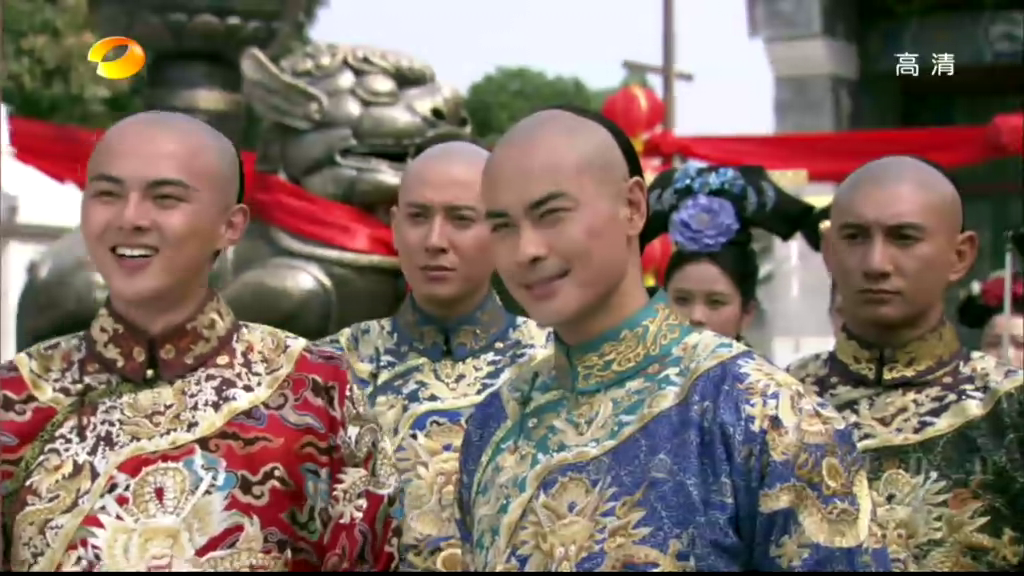 Everyone teases 8th Prince for having such a pretty little sister-in-law. Oh god, the irony.
While waiting for the other princes to arrive, the men retreat to the South tower for some tea. Ruo Xi heads to her room in the North tower for some snacks and to pass the time. She walks out to the balcony munching a biscuit, only to see 4th Prince standing there.
Their eyes meet and they just look at each other across the divide. The way they look at each other already makes my toes tingle. Or shall I say, the way he looks at her, like he is studying her because she intrigues him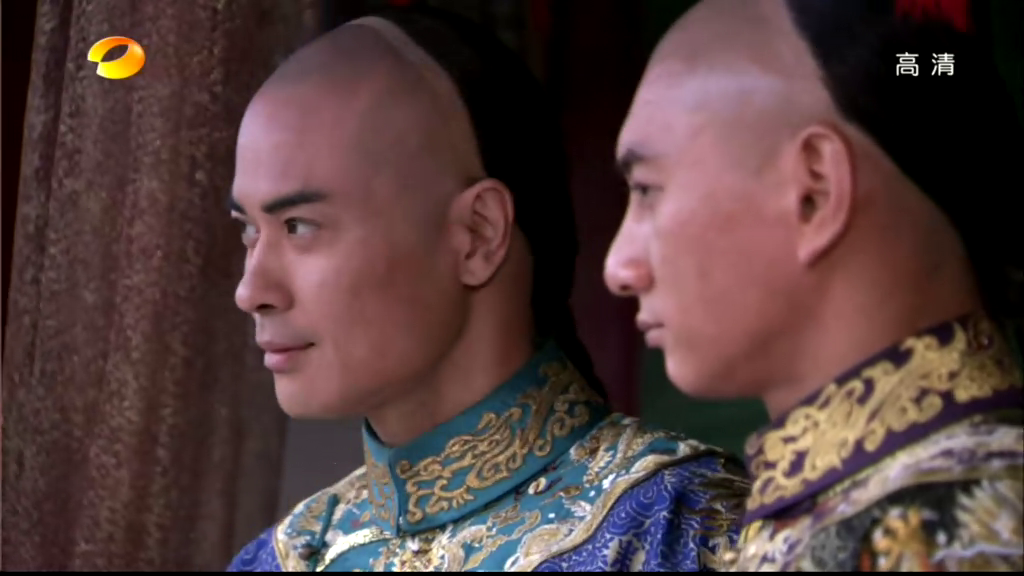 8th Prince walks out and notices that 4th Prince is staring intently across the balcony at Ruo Xi. Ruo Xi makes eye contact with both men. Seriously? The foreshadowing in this scene is so thick I can cut it with a dull spoon.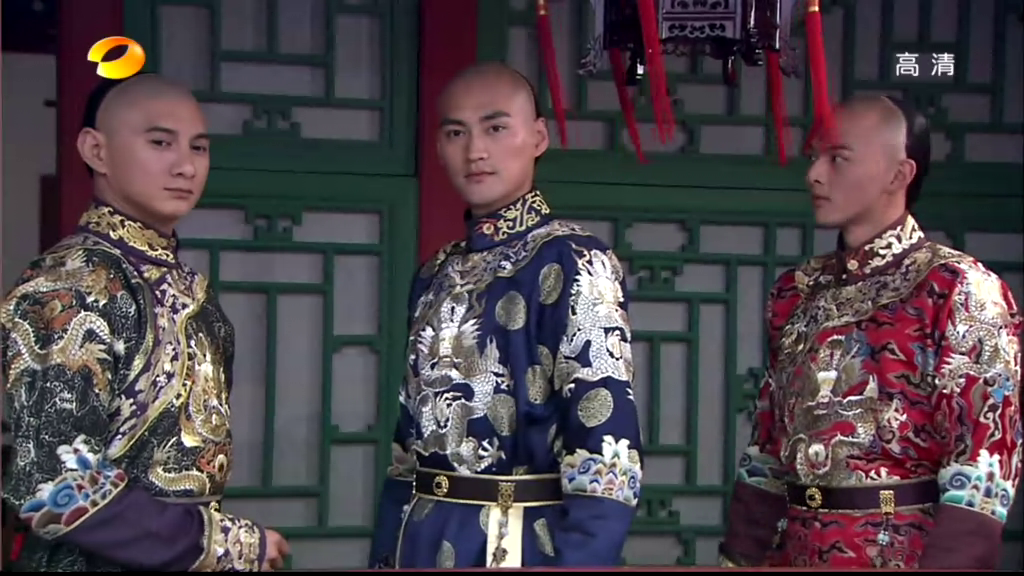 13th Prince arrives and notices the unusual atmosphere with his two older brothers, causing him to look across the balcony to see what they are both staring at. He realizes it's Ruo Xi standing there.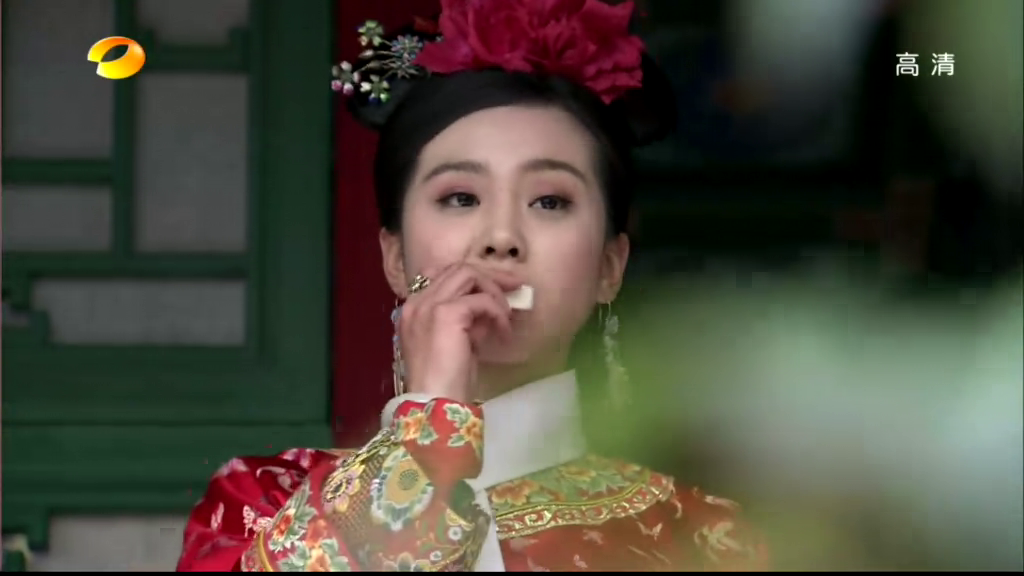 Ruo Xi nonchalantly goes back to munching on her biscuit. LOL, I love her whatever attitude around the princes. She's careful but she's not awed or cowed by them as men or as princes.
The brothers agree that they are all going to get drunk tonight now that the 13th Prince has arrived, with his renowned ability to hold his liquor.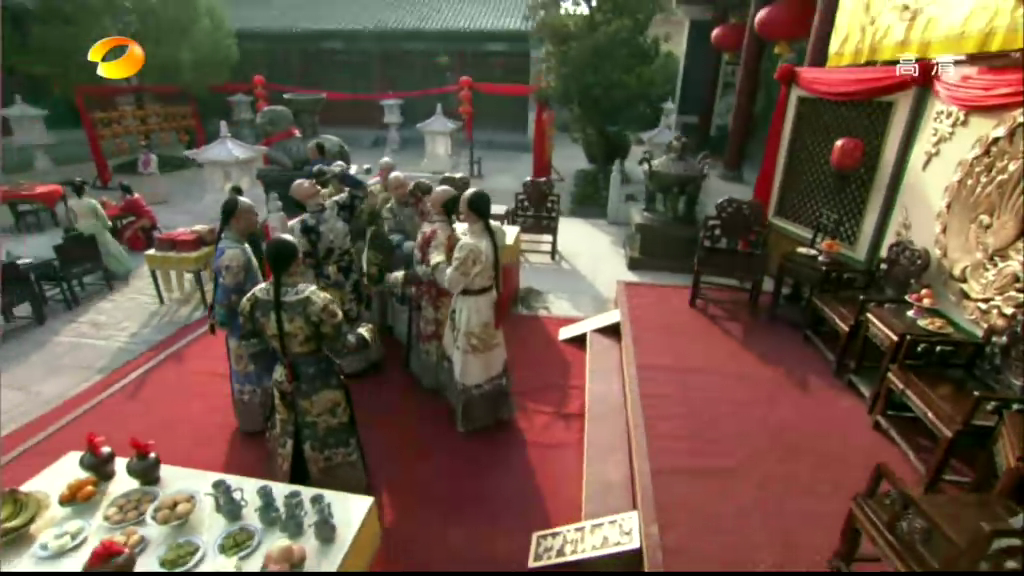 The princes move the party back to the banquet courtyard and start their carousing.
The Crown Prince (2nd Prince) arrives, bearing a gift for 10th Prince that was intended as an offering to the Emperor. The other princes help resolve this awkward situation for 10th Prince.
10th Prince heads to ostensibly change his clothes, but really to start puking since he's already getting drunk. Ruo Xi follows him and then leads him to where she's planned his birthday present surprise.
She's decorated a pagoda with a thousand paper cranes she folded herself. 10th Prince is giddy with happiness. She sings him the modern rendition of the Happy Birthday song.
13th and 14th Prince arrive and tease 10th Prince about hiding here with Ruo Xi and celebrating in private.
Ruo Xi takes off, only to run into Ming Yu on a bridge over the lily pond. Ming Yu decides to be a total bitch and insults Ruo Xi and Ruo Lan as being raised with no manners by their parents, deriding them as being ill-bred wenches.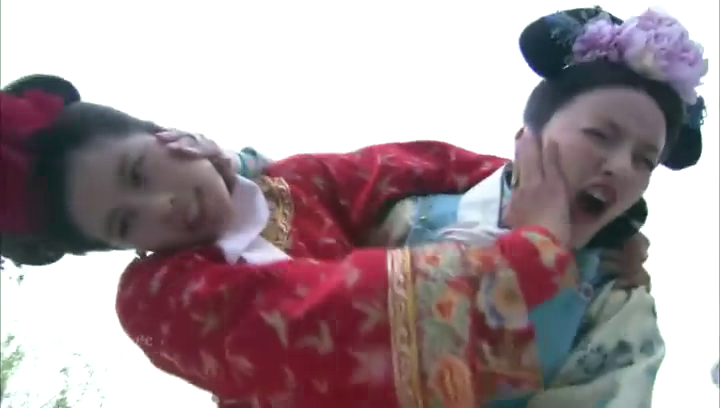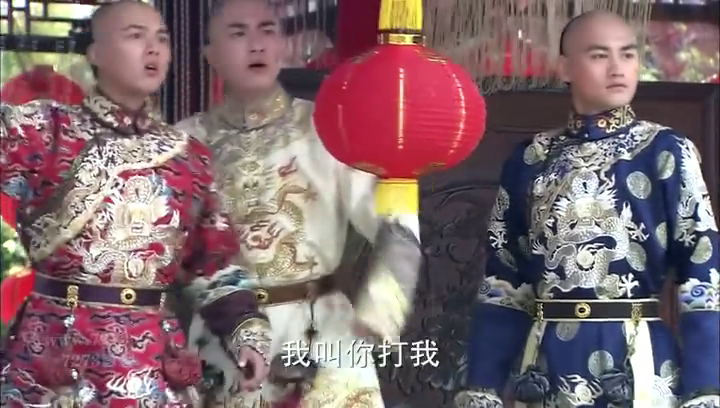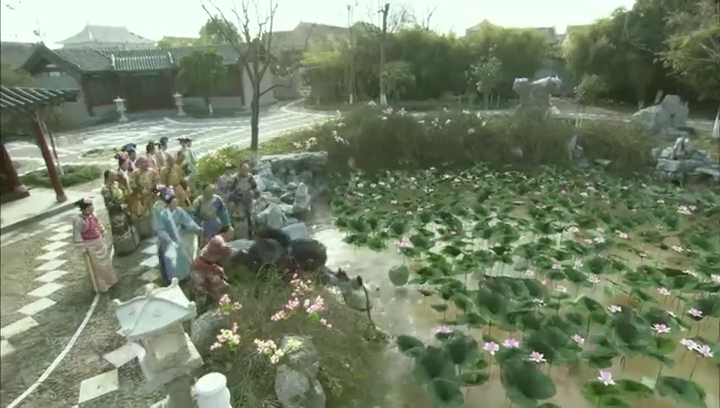 Ruo Xi slaps Ming Yu, who's stunned at getting hit, but then regains her senses and returns a slap to Ruo Xi. The two girls start bitch fighting right then and there, which ends up with both of them tumbling into the lily pond, to the horror of all the princes who have arrived at the scene after hearing the commotion. 13th Prince and 14th Prince immediately jump in and drag the girls back out.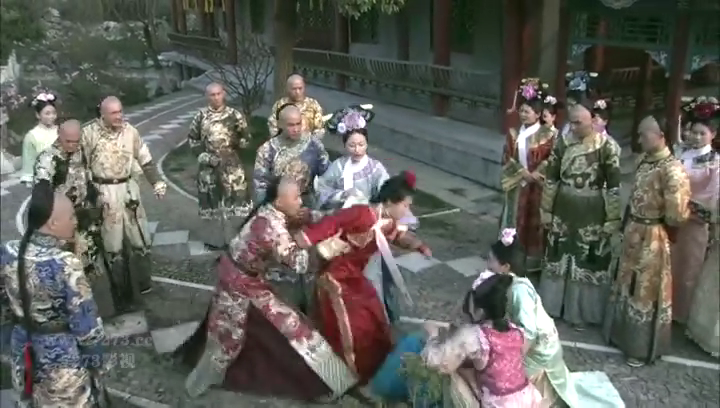 Ruo Lan goes to check on her sister, then Ming Yu, making sure they are alright. Ming Yu is wailing and sniveling about what happened to her. Ming Yu pushes Ruo Lan aside, which causes Ruo Xi to lunge for her again, which leads her to be restrained by the princes.
When Ming Yu can't stop her sobbing, Ruo Xi marches right up to her and tells her to be quiet! Ming Yu stares in shock and her lips quiver, but she ceases her caterwailing.
All the princes stare at the spitfire personality of Ruo Xi in shock, with the 4th Prince secretly grinning to himself.
The Crown Prince steps forward and remarks that it appears 13th Prince has a sister by another father in this estate. 13th Prince, with the nickname Daredevil 13th Guy, appears to have his counterpart Daredevil 13th Gal standing right here. Everyone laughs and heads back to the party.
It is at this moment that Ruo Xi catches the attention of all the princes for her personality, and her notoriety even reaches the ears of Emperor Kangxi. For a modern girl who wants to lay low and not tamper with history, Ruo Xi can't help but be different and unique with her fiery temper and outspoken nature. I love rewatching this scene to remember how much fun everyone had when they were younger and relatively carefree.