There are countless great scenes in Bu Bu Jing Xin, and I'm not planning to run down a list and recap them all. I'm recapping depending on my mood and whim, and really as a way to wean myself off the BBJX exhilaration. I love how this drama refuses to tell you how to feel, when choosing between 8th Prince or 4th Prince, and casting either man into the corner of right or wrong, better or worse for Ruo Xi. Despite not wanting to end up with 8th Prince's fate, one can easily argue that what happened to Ruo Xi was far worse. Or argue that it was far better, because It's not every day, or even any lifetime, that two people can love as deeply as Ruo Xi and 4th Prince. Let's revisit a snowy breakup with 8th Prince leading into a nap in the middle of the lake with 4th Prince.
It's dark already by the time Ruo Xi walks outside. The snow is falling and she looks up into the sky. This scene mirrors the moment in episode 3 when a young Ruo Xi walks outside during the daytime and looks up at the snow flurries. But this time the darkness mirrors her mood. She's made up her mind that she cannot be with 8th Prince should he decide that he cannot give up the pursuit for the throne.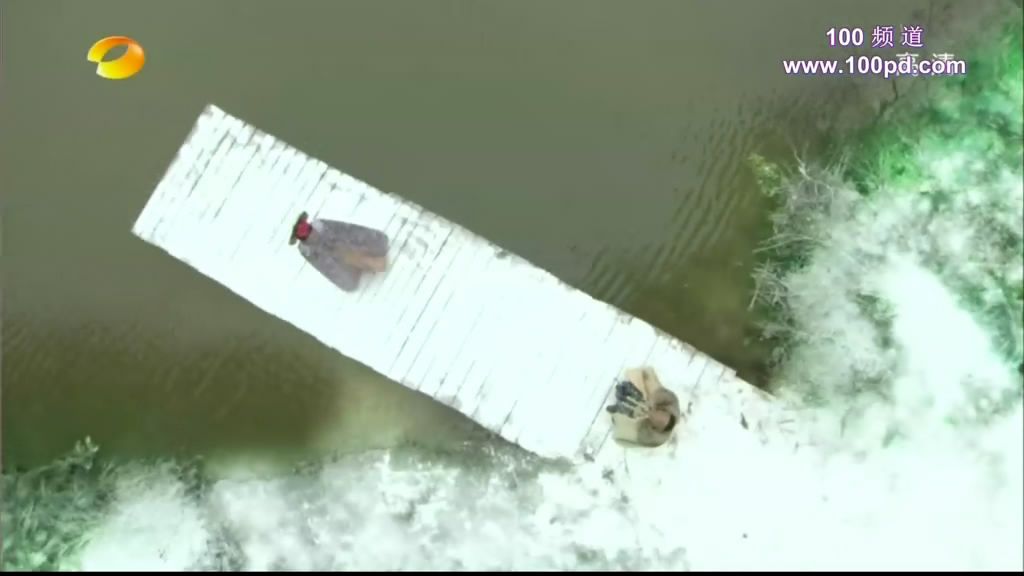 Ruo Xi walks down a small lakeside jetty. She stands at the edge waiting for 8th Prince, who walks up to join her. They stand at the two ends of the jetty, the physical distance mirroring their current impasse.
Ruo Xi cuts straight to the chase and asks 8th Prince whether his answer is yes or no. 8th Prince remains baffled, unable to understand why Ruo Xi would ask him to choose between two things he ought to be able to have, the throne and Ruo Xi.
Ruo Xi takes that as a no answer. Ruo Xi tells 8th Prince to beware of 4th Prince. 8th Prince is like "what the what?", completely confused with this sudden change in subject. Ruo Xi doesn't elaborate, but continues listing names of high officials that 8th Prince needs also beware of. It is at this moment Ruo Xi tampers with history, despite all her attempts to tread lightly and be careful with every step she takes.
She tells 8th Prince that from this moment on, they are over and will have no further relationship to each other. Ruo Xi brushes past 8th Prince as she walks away. He calls out her name and she stops in her step.
Without turning around to look at him, Ruo Xi tells 8th Prince that she is a coward, a woman who loves life and is afraid of death. She does not deserve for him to cherish her. Ruo Xi steels her heart and takes off running, leaving 8th Prince there staring at her rapidly fading figure in the snow.
Ruo Xi runs and runs until she finally slips in the slippery snow. Instead of getting up, she starts to cry as she remembers all her moments with 8th Prince.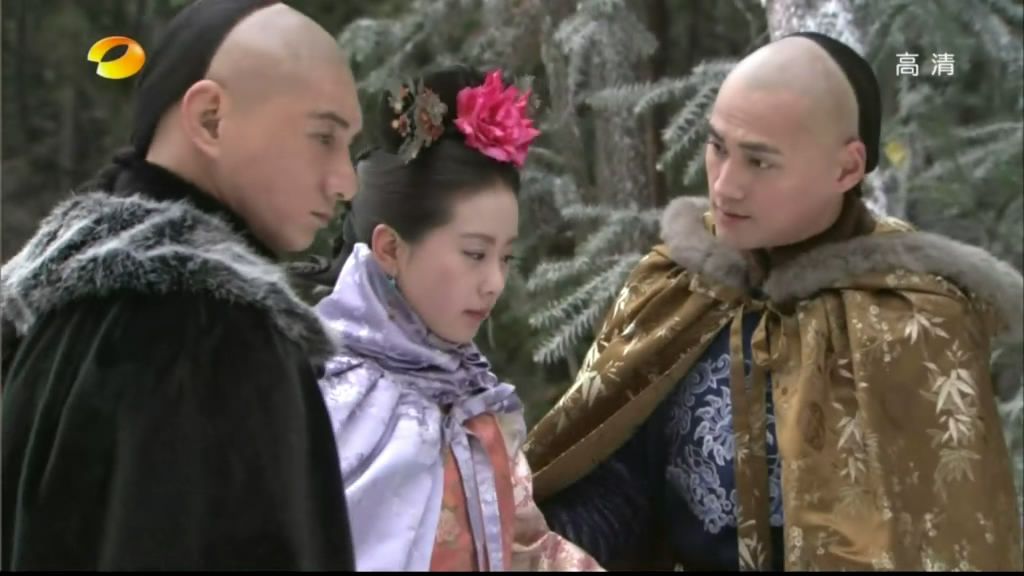 As she is crying, 4th Prince and 13th Prince happen to pass by. 13th Prince wonders who this person is laying in the snow? He walks over, and when he sees it's Ruo Xi, he quickly helps her up.
Ruo Xi has unfortunately sprained her ankle in the fall. 13th Prince offers to piggyback her but 4th Prince stops him, reminding him that it's against etiquette for a prince to be piggybacking a servant girl. What if someone sees? 13th Prince is chastened and rushes off to find help, leaving Ruo Xi alone with 4th Prince.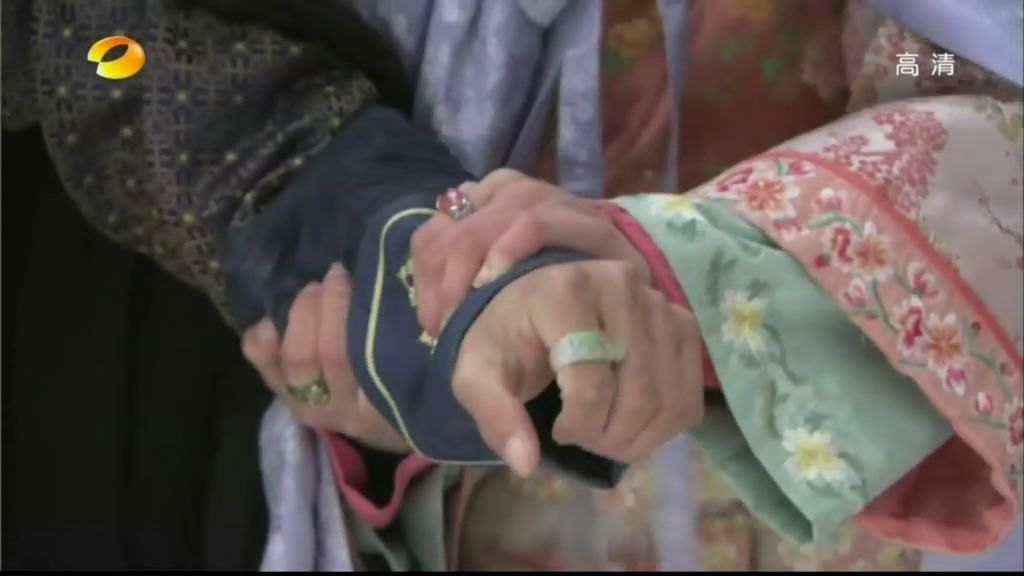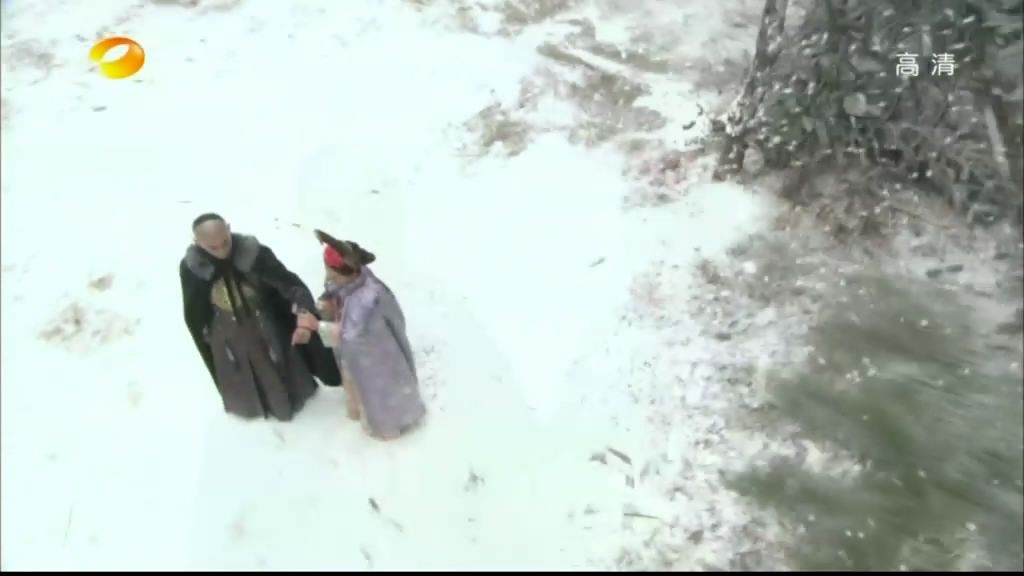 Ruo Xi has a death grip on 4th Prince's arm so that she doesn't fall down. They stare at each other intensely, but Ruo Xi still has tears coming down her face.
Finally 4th Prince tells her to stop. If she intends to thus debase herself, she ought to do it in the privacy of her own room. In her room, she's less likely to be disturbed.
Ruo Xi is so pissed she pushes herself away from 4th Prince, causing herself to tumble back on the snowy ground. 4th Prince tells her that it's because she's got such an attitude, how can she ever expect a guy to treasure her and take care of her? He extends his hand to help her up.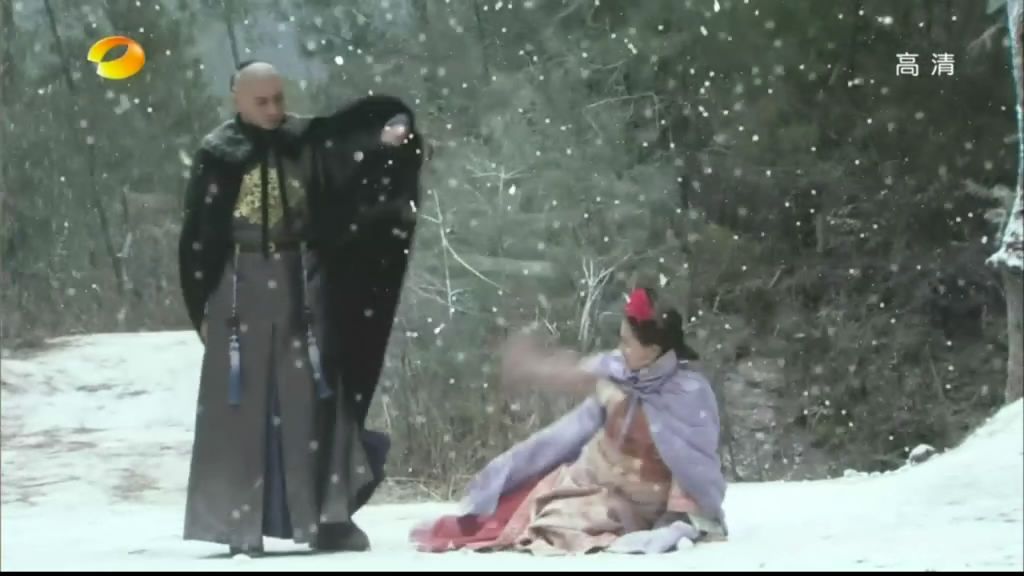 Ruo Xi glares at 4th Prince, and then grabs a handful of snow and chucks it at him. He uses his cloak to block her snowball attack, but she keeps grabbing more and just heaving it at him.
13th Prince returns with servants bearing a stretcher of sorts. 13th Prince adorably wonders how the heck Ruo Xi ended up back in the snow again?
Ruo Xi is helped onto the stretcher and carried away. She turns and sends one final death glare at 4th Prince, before throwing one more snowball at him. 13th Prince is shocked to see it and wonders what the heck happened? 4th Prince doesn't say anything.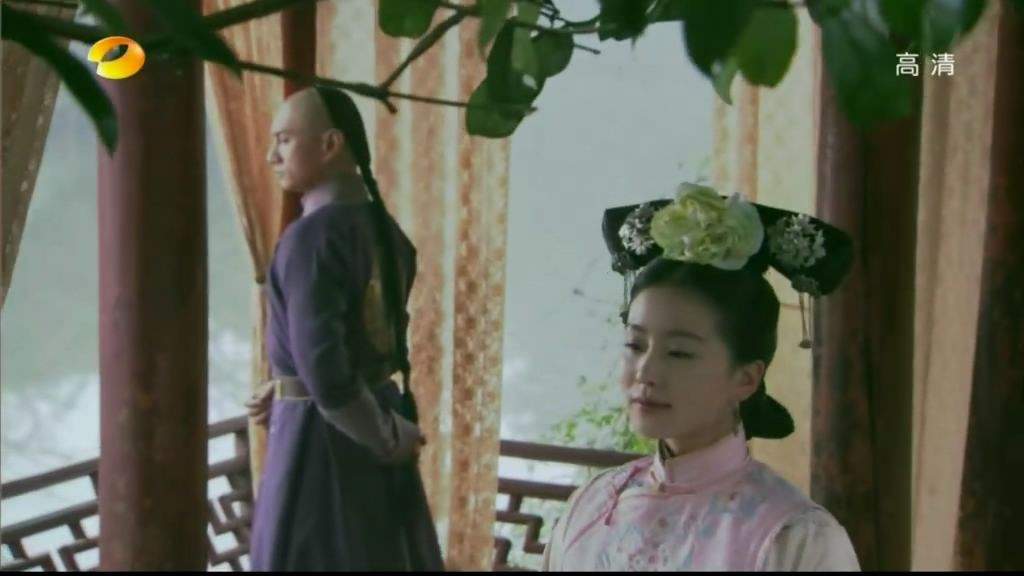 After 8th Prince and Ruo Xi break up, her life gradually returns to normal in the palace. One day she takes a walk to a pavilion by a lake filled with lotus flowers and fronds. She runs into 4th Prince there, and they discuss how they both like coming here for the peace and quiet.
4th Prince offers to take her somewhere that is truly quiet and secluded. He walks down to a small boat he keeps by the side of the lake and tells Ruo Xi to get in.
4th Prince rows the boat with Ruo Xi into the middle of the lake. Please excuse the horrific CGI and just enjoy the piercing stares 4th Prince is sending towards Ruo Xi.
In the middle of the lake, 4th Prince sets down the oars and declares that he's taking a nap now. Ruo Xi can do whatever she feels like. Ruo Xi looks around and confirms she's stuck in the middle of a lake with 4th Prince.
4th Prince lays down for his nap, leaving Ruo Xi no choice but to follow suit. She lays down and then puts her hankerchief over her face. She lifts the hankerchief slightly to peek at 4th Prince but then drops it back over her face.
After some time, 4th Prince suddenly sits up and comes really chose to the still prone Ruo Xi. She pulls the hankerchief off her face and sits up, which literally puts her face-to-face with 4th Prince.
They stare at each other, until she holds her hankerchief up between them. She tells him that he's not allowed to look at her like that.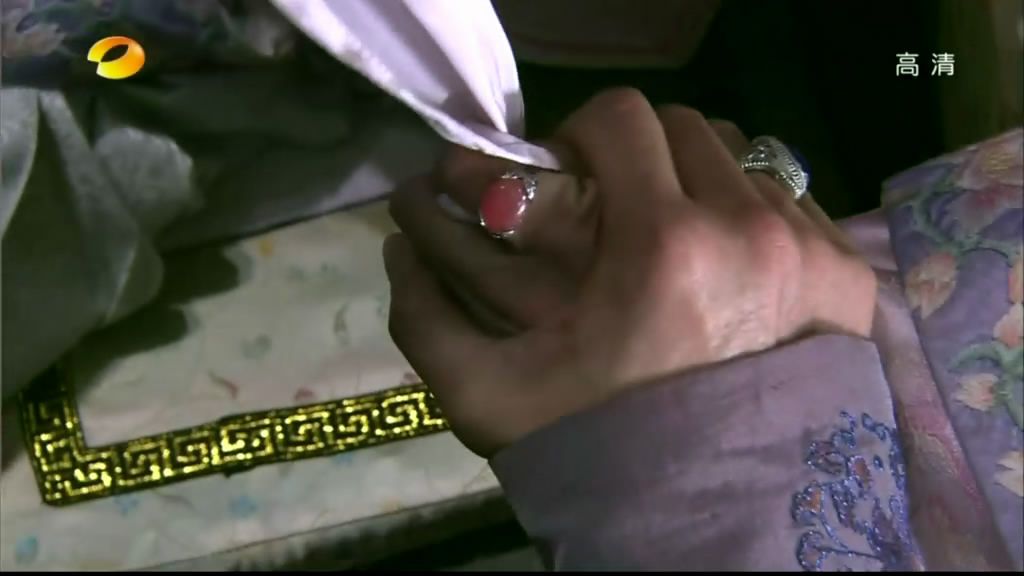 He grabs her hand and tells her to put that hankerchief down. She says he started it first by looking at her like that. She agrees to put it down if he stops looking at her like that. He agrees, so Ruo Xi drops the hankerchief. She then reminds him to let go of her hand.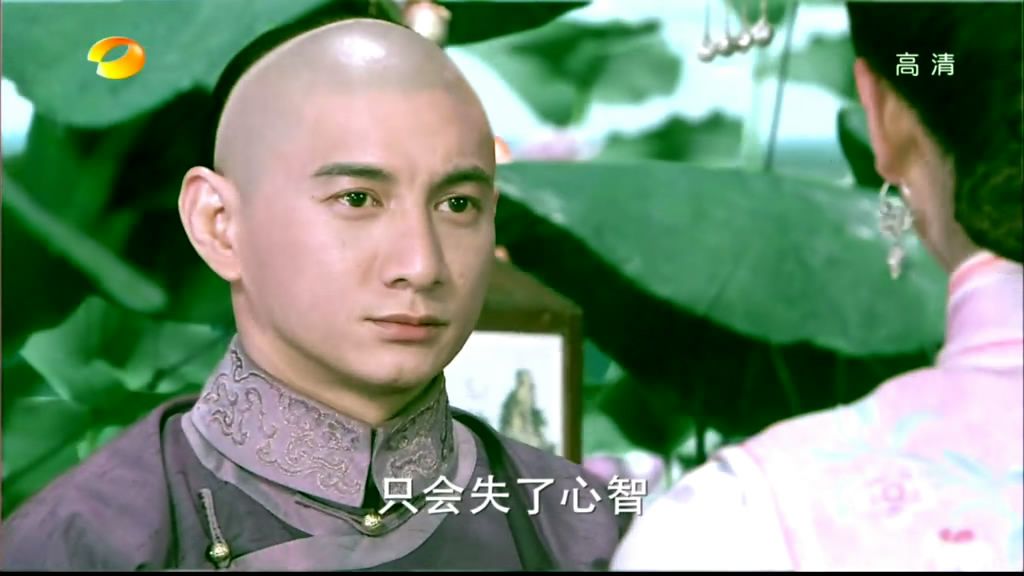 Ruo Xi asks 4th Prince if he comes here a lot? He says that he's come a few times, but he doesn't come often because wallowing in comfort and leisure can dull a person's mind.
4th Prince tells Ruo Xi that they should return now. He grabs the oars and rows her back to shore. They continue to just look at each other. It's like a invisible wall has fallen between them, the moment 4th Prince took her into his private sanctuary in the lake, akin to allowing her into his fiercely guarded heart.