Just when I lavished praise on the cast of Tree with Deep Roots for dressing like the gorgeous stars they are at its press conference last week, and hoping that fashion sense would trickle down to other casts, the gang at Man of Honor's press conference today had to go and hit me with the baseball bat of fugly. What. The. Heck. Are. They. Wearing?
Chun Jung Myung appeared to have raided his great-grandfather's closet (complete with the two-toned dress shiny dress shoes), Lee Jang Woo accidentally put on his father's cigar smoking jacket before leaving the house, and Park Min Young lost some of her hem on her way to the stage (as well as forgetting to iron her dress before putting it on).
As much as this press conference fashion show is a giant FAIL for me, the six-minute trailer for the drama is a big fat WIN in terms of being entertaining. It made me smile the entire time I was watching it, and that's enough for me to check out this drama which premieres next Wednesday on KBS.
PIE! Why so cute! But this outfit? Why so much ugly? Did you run out of clean suits? Since you are playing baseball player Young Kwang, perhaps wearing a cute shirt with jeans would have been a great alternative instead of putting on a suit made from leftover curtain material from the movie set of some BBC movie.
And and and…..it doesn't even fit properly. *sobs* Makes PIE look like three-day old bread pudding. Whatever, smiley faced PIE still looks darling. It is nice to see him so thrilled at a press conference, since he was quite somber at the press conference for The Duo.
Park Min Young, sweetie, your new haircut is precious and looks great on you, but did you really have to wear an awkwardly cut, too-short pink dress that washes out your fresh-faced complexion to this press conference? If the dress was in a different fabric that either draped better or had better form, the pink was a shade or two darker, and the hem a few inches longer, then it'll look great. Goes to show a cute concept (little pink dress) can go horribly awry with the poor execution. This dress looks like something an early bootie from Project Runway thought up during a challenge. Poor Min Young clearly did not take Tim Gunn's advice to heart and "make it work."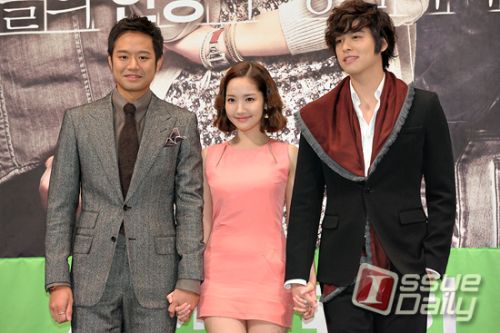 I can't even talk about Lee Jang Woo's outfit. Maybe underneath that hideous jacket is a dashing ensemble. We'll never know, because he didn't take that "thing" off, and even if he did, I might already have been blinded by it. Actually, the more I stare at it, the more I'm thinking it's not a jacket with a huge red velvet collar, but instead a normal jacket and he's wearing a red velvet scarf thing inside his jacket and pulled it out to make it look like the collar of the jacket? Hhmmm, why am I wasting time analyzing it, other than its existence rather offends my fashion sensibilities. Since he's already sporting a fluffly bird's nest of a hairstyle for the drama, wearing an ugly outfit to the press conference does him no favors.
Six-minute preview for Man of Honor:
It can't be just me that finds this preview really cute? I loved the peppy upbeat music, the general feeling like this is some wink-wink modern fairytale with a twist, and the great LOL chemistry between all three leads. Who knew the PD-writer combo for Baker King Kim Tak Gu could create a drama that looked intriguing to me aside from my PIE love. I'm officially excited about this drama now. Long preview, you have served your purpose.