Bu Bu Jing Xin as a story is very well-paced. Not only does it span twenty years in the life of Ruo Xi, the story development reflects her maturation from teenager (cute, immature, and bubbly little girl at the beginning) to an adult learning to navigate the treacherous ebbs and flows of living in the palace and serving the Emperor himself. The little girl Ruo Xi we first met disappears as she learns to love, to lose, and to love again, growing into a fine woman with backbone, loyalty, and honor. This next segment I am recapping is actually almost an entire episode long in length, and is THE most pivotal scene in the drama. It's the moment when the first domino falls, and everything gets set into motion.
Starting with a night of drinking with 13th Prince and leading into 4th Prince getting blindsided in court, by the end of this recap, Ruo Xi will have knelt in the rain for three days and nights for her best friend. And nothing will ever be the same again between the princes, pitting brother against brother irrevocably until there is only one victor and everyone else a loser. This is where this drama shows hand, in poker terms, and it's holding a royal flush as far as I am concerned. Utterly riveting storytelling and acting combined to make this drama turn the corner from intriguing and entertaining to full blown must-see-TV.
Ruo Xi walks down a corridor and hears someone playing the flute beautifully. Of course it's 13th Prince, with a talent for the arts that matches his love of life. Ruo Xi stands to the side and listens to him play, thinking to herself how this young man in the prime of his life, with such depth and promise, could possibly endure 10 long years of house confinement. Based on what has happened recently, Ruo Xi knows that history is slowly creeping up to the day 13th Prince upsets the Emperor so much he will lose his freedom.
13th Prince senses a presence and stops playing, turning around to see that his eavesdropper is none other than Ruo Xi. He confesses that he stopped playing because someone was listening in, not knowing it was her. When asked why he is not spending time this evening with the Emperor, he turns the tables on her, asking why she ought to be the only person who can find a quiet place to have a drink? Without another word, they each grab their bottle of wine and toast each other, with a comfortable camaraderie built from years of knowing each other.
13th Prince remembers it's been much too long since they last drank. Ruo Xi confirms it's been 8 years (since he took her out drinking that night). 13th Prince thinks they have to drink the night away then, it might be another 8 years until the next time they have a drink. Ruo Xi looks at him and repeats "8 years…", and then she chugs her wine with the agreement that they really need to have a drunken night when they have a chance. 13th Prince gives her an assessing look.
Ruo Xi thinks it would be great if he wasn't born into a royal family. 13th Prince smiles and says he was just thinking about that. His dream is to one day ride a horse, armed with a flute and a sword, just traveling the country. Listening to beautiful music in the South, hunting condors in the North, practicing his swordsplay whenever he feels like it. When the inspiration hits, he can write poetry under the flickering candlelight. Ruo Xi looks at him with such affection and sadness as he says this.
13th Prince sighs that his life is already predestined. Even if he can give it all up, he can't leave the one brother who has treated him so well growing up to remain alone suffering the slings and arrows of palace politics. Even though 4th Prince has his own mother and a full blood younger brother, but it's akin to not having any. Ruo Xi looks so crestfallen to hear this, which leads 13th Prince to ask if she's alright? Ruo Xi wipes away her tears and smiles, lying that she drank too much so her wine turned into tears.
Ruo Xi and 13th Prince move their night of drinking elsewhere. He brings up the touchy subject of 8th Prince, saying that he doesn't care about what happened between her and 8th Prince in the past. But since she's chosen to be with 4th Prince, she must treat 4th Prince right from now on. Ruo Xi asks how 13th Prince knows about her history with 8th Prince, and whether 4th Prince also knows? 13th Prince confirms 4th Prince doesn't know, and he was guessing it, but now Ruo Xi confirmed it. 13th Prince reveals that Ruo Xi hid it well, plus everyone thinks she's got something going on with 14th Prince.
Ruo Xi asks him never to let 4th Prince know, and he promises to abide by her request. Though 13th Prince thinks Ruo Xi is making 4th Prince out to be too petty, why can't he accept her past with 8th Prince just like Min Min's husband accepted the fact that Min Min used to love 13th Prince. Ruo Xi says there is nothing wrong with a woman having previous relationships before marriage, and if it was anyone else, she would have told 4th Prince already. Except with regards to 8th Prince.
13th Prince asks why, but Ruo Xi says she cannot explain why. Even if 4th Prince doesn't care that it was 8th Prince, now and in the future, Ruo Xi can't ever take that risk. 13th Prince looks at her before accepting her word. He knows she has a good reason that she can't share, and he trusts her to not press her further. Ruo Xi wonders how lucky she is in this lifetime, to have a friend like 13th Prince.
They sit down on the steps and 13th Prince bemoans 4th Prince as someone who hides his feelings deeply and is hard to get to know. Someone like that is likely to create their own misery in life. Even if 13th Prince can help alleviate some of 4th Prince's worries, 4th Prince remains lonely in the end. But Ruo Xi is different. 13th Prince often thinks that despite knowing Ruo Xi never got a formal education, he keeps getting this feeling that she's actually quite educated, and may have even read books none of the princes have ever read.
13th Prince thinks Ruo Xi can help 4th Prince by being the one person 4th Prince can talk candidly with. Plus she knows his ambitions and motivations, and understands 4th Prince's worries. 13th Prince gives Ruo Xi even more advice. All the favors she's received in the palace comes from the Emperor loving her as a daughter and trusting her because she doesn't take sides and she doesn't have any greed or ambition. But she will lose all of this if she gets involved in the princes battle for the throne.
The princes battle is one waged for glory and their personal gain, to get to the top seat. If they lose, it's a price each must naturally pay. But Ruo Xi should not be sacrificed for their ambitions. He's reminding her of this now because 8th Prince is her brother-in-law and has a history with her, plus she cares for 10th Prince and 14th Prince as well. But now she's chosen 4th Prince, she can't get involved on the other princes behalf even if watching everything unfold gives her great pain. 13th Prince just wants her to stay by 4th Prince's side and not care about anything else, who wins or who loses. Ruo Xi closes her eyes and sighs. 13th Prince sits down and they resume their drinking without further discussion of these issues.
Ruo Xi wakes up the next morning and rushes to serve the Emperor his morning tea. She's told that the Emperor is already in court, and his countenance is thunderous to say the least. In court, all the princes are kneeling before the Emperor. Once they all rise, the Emperor throws his cup of tea directly at 4th Prince. Oh shit. Ruo Xi arrives at court right at this moment.
The Emperor reminds everyone that he's made it a national crime to covet the position of the Crown Prince or plot for it. He's now gotten confirmation that 4th Prince has been secretly plotting for the throne, and even has people spreading rumors about the Crown Prince's bad behavior and getting people to support stripping the Crown Prince of his position. During this speech, 8th Prince and his gang are silent but look rather unsurprised by all this. 4th Prince says these allegations are not his handiwork and he has no involvement in any of this.
Suddenly other officials speak up and say that none of this is the work of 4th Prince. The Emperor says these officials are just loyal to 4th Prince, but all the evidence points to their collusion. 13th Prince listens silently to these allegations. 4th Prince confirms he's met with those officials, but did not authorize them to do any such activities. Ruo Xi realizes at that moment that this entire matter has been cooked up by 8th Prince and his gang, remembering how 8th Prince warned her recently that if she picked 4th Prince, she might have to suffer with him.
Ruo Xi knows this plan is perfect, allowing 8th Prince to attack the Crown Prince by these rumors, and get rid of 4th Prince for being the mastermind behind these rumors. The two officials spread the rumors, making it look like they are loyal to 4th Prince, but they are in truth working for 8th Prince. Ruo Xi looks stricken to realize all of this. She only knows that the Crown Prince will be stripped of his position sometime this year, but she doesn't how what happens to 4th Prince in the history books during this tumultuous time. Suddenly Ruo Xi realizes with a startling clarity what is about to happen. Her mind cries out "13th Prince!"
13th Prince walks up and kneels down besides 4th Prince, who whispers to his beloved 13th brother to quickly move away. 8th Prince turns to look at 13th Prince, who announces to the Emperor that he was the mastermind behind this plot, using his 4th brother's name to do it. 13th Prince says 4th Prince was in the dark about this matter. 8th Prince gives a little smirk. 10th Prince speaks up and questions whether 13th Prince isn't acting on 4th Prince's behalf since everyone knows how close they are?
13th Prince tells the Emperor to question the two officials then. 14th Prince suddenly speaks up and says it can't be the work of 4th Prince, who stays in his residence most of the time and reads buddhist scripture and is the most loyal of the princes. The two officials get the hint and suddenly say it was all 13th Prince's sole actions telling them what to do, and 4th Prince was not involved. Ruo Xi hides behind the beam and cries as she sees all of this unfolding.
The Emperor asks 4th Prince if it's true that this is all the handiwork of 13th Prince. 4th Prince looks stricken and does not immediately answer. Ruo Xi knows this question is a trick, answering yes or no is both the wrong answer. 4th Prince says all he knows is that this is not his work, he doesn't know whether 13th Prince did this or not. The Emperor orders 13th Prince to be stripped of his title and placed under house arrest in this tiny shack in the outskirts of the city. No one is allowed to visit without his permission.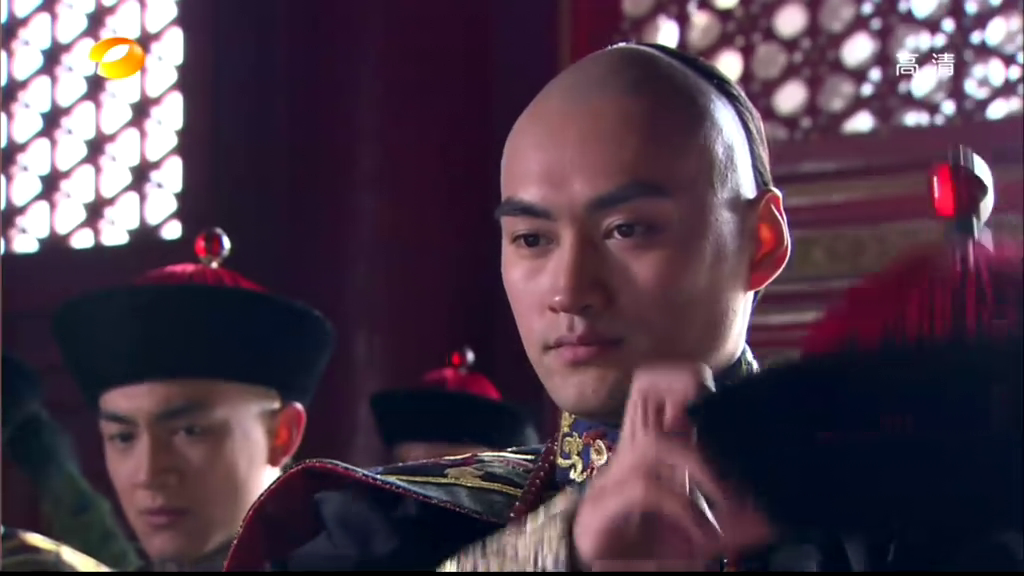 13th Prince takes off his official hat as Ruo Xi cries silently to watch him stoically go to his punishment for a crime he did not commit, to protect the brother he so loves. 4th Prince, always so dispassionate, looks completely about to break down, as his eyes fill with tears he cannot shed.
13th Prince places his hat on the ground, and we see 4th Prince with his fist tightly clenched. 13th Prince bows to thank the Emperor and accept his decree. Ruo Xi cries knowing that today means a separation that is worse than death. 13th Prince walks out and the Emperor announces that court is dismissed. All the Princes bow to the departing Emperor. 4th Prince, with the shattered remains of the tea cup before him, places his hands on the shards of the ceramic as he bows.
All the other princes leave the court except for 4th Prince, who remains kneeling on the floor. Ruo Xi walks up to him, knowing how much pain he must be in right now. 4th Prince finally starts to cry, and OMG I'm sobbing here. Ruo Xi kneels down beside him and watches him cry silently. She finally speaks up and tells him to go home.
She reaches out and puts her hand on his shoulder, telling him to go home for the sake of 13th Prince. 4th Prince takes a deep breath, with tears still streaming down his face, as he straightens his back.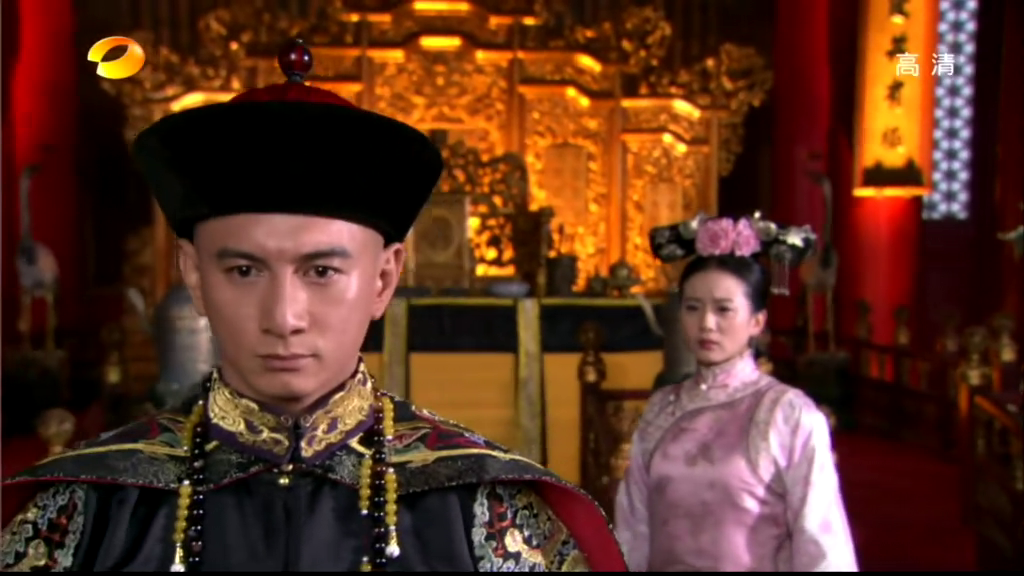 4th Prince stares at the throne before him as he stands up, his face hardening into one of determination. His hand, dripping blood from cutting it on the shattered ceramic of the tea cup, clenches into a fist. When 4th Prince turns around to walk out of the room, he is no longer shedding any tears. All that remains is a man with one goal and one goal only now. The throne. To save his 13th brother and punish those who set him up. Ruo Xi cries as she watches him leave.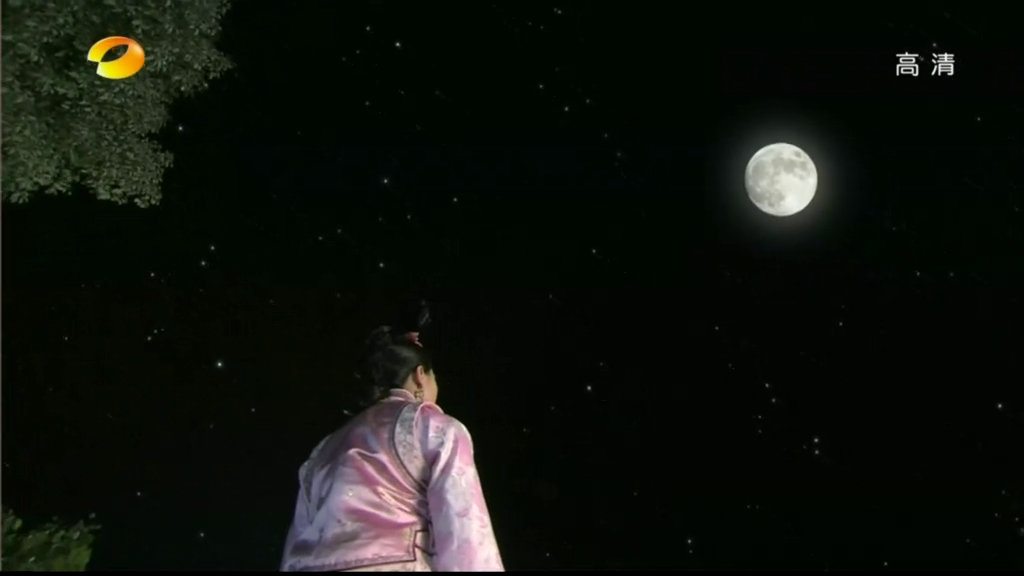 Days pass and 13th Prince remains in house arrest and 4th Prince has not entered the palace to participate in any politics. Ruo Xi, who knows how long 13th Prince's confinement lasts in history (10 years), gets word that Lu Xu, 13th Prince's lady friend, wants to be allowed to join him in house arrest. Lu Wu begs Ruo Xi to help her, so that she can alleviate 13th Prince's loneliness and suffering. Even knowing she will incur the wrath of the Emperor, Ruo Xi nevertheless dares to beg the Emperor to allow Lu Wu to join 13th Prince in house arrest. In anger, the Emperor tells Ruo Xi to kneel outside.
As Ruo Xi's kneeling turns from day into night, she looks up at the sky, thinking that 13th Prince can only look skyward for any measure of company in his solitary confinement. All 13th Prince does is drink himself into a stupor. 4th Prince gets word from a servant that Ruo Xi was begging for 13th Prince and upset the Emperor, so now she's being punished by kneeling in the royal gardens. 4th Prince, who is practicing his calligraphy, calmly dismisses his servant. But then his pen falls from his hand, and his face just looks numb.
He clenches his hand, this pain and rage he feels that the two people he loves the most in this world are out there suffering, and there is nothing he can do. 4th Prince stands up, and remains standing at his table side long after the candles have burnt down, deep in thought. The camera pulls near and we see he's crying silently in his study.
It's raining outside and 8th Prince sees Ruo Lan praying. He mutters that these two sisters are so stubborn they get themselves into a knot. 14th Prince arrives to inform 8th Prince that Ruo Xi has angered the Emperor and is being punished. 14th Prince is anxious to find a way to save her. 8th Prince says no one can save her under these circumstances. 8th Prince tells 14th Prince to lay low and not do anything stupid.
Ruo Xi massages her legs as her kneeling as turned into daytime again. Yu Tan comes running to find Ruo Xi, who shoos her away in case the Emperor gets more upset. The storm arrives over Beijing and 4th Prince walks out in his courtyard and looks up at the thundering sky. His wife walks out and gently drapes a cloak over him. It starts to rain and 4th Prince suddenly rushes off.
13th prince is reading in his leaky little hovel and looks outside at the rain. He picks up a pen and starts writing a poem. He walks outside to his tiny yard and looks at the rain.
Ruo Xi hunches over so that she can avoid a little bit of the pouring rain, if possible. 4th Prince arrives and his hand grabs his cloak in anger and frustration.
Ruo Xi sits up when she senses someone's presence, peering through the rain until she sees him. They look at each other, until 4th Prince tosses his umbrella away. 4th Prince slowly walks over to where Ruo Xi is kneeling. He raises his cloak to shield her from the rain.
Ruo Xi thinks to herself that in this pouring rain, there is someone suffering alongside her. She reaches out to grab his robe and he kneels down besides her. She tells him to go home, she understand his heart and knows he's hurting for her.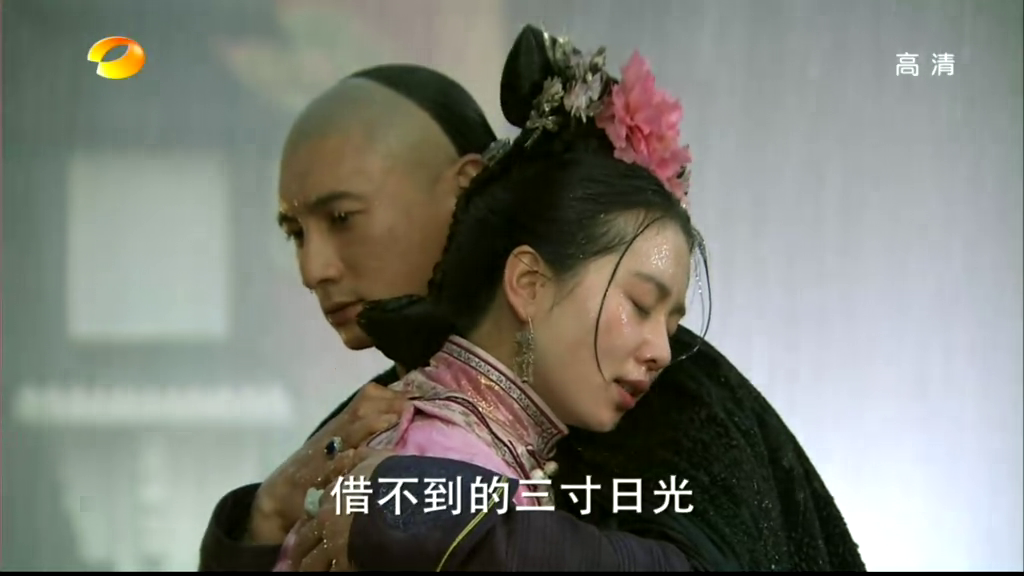 4th Prince grabs her for an embrace, and Ruo Xi melts into his shoulder, allowing herself this tiny bit of comfort. Suddenly the camera pulls away and we see 8th Prince and 14th Prince standing there watching this tableau. 14th Prince sneaks an uncomfortable glance at 8th Prince, who remains impassive. I want to tell these two third and fourth wheels to go somewhere else to ruin the mood.
Ruo Xi and 4th Prince break away, which is when she sees that she's got company. 4th Prince turns and sees them as well, these two brothers of his who have orchestrated this entire fiasco.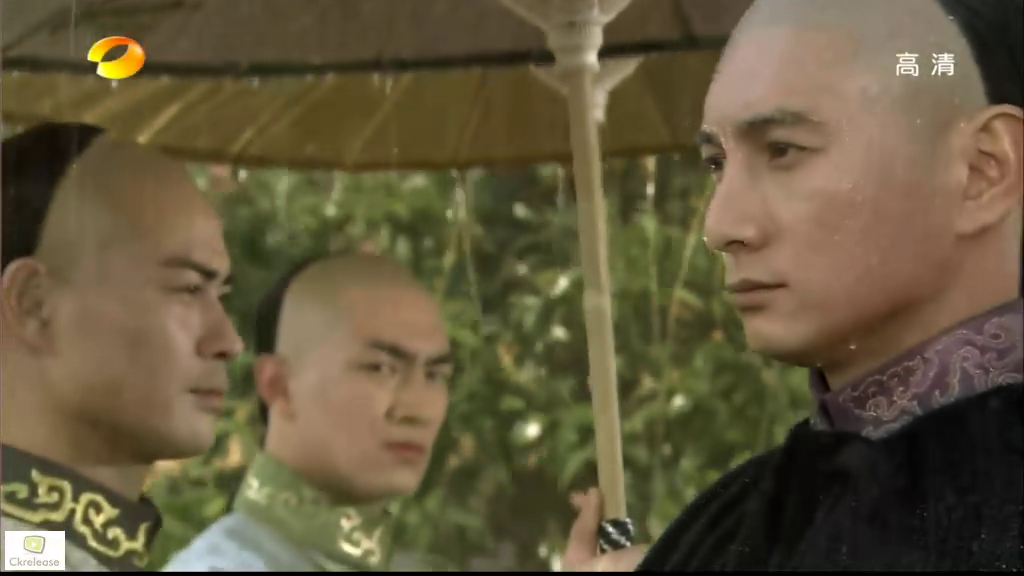 4th Prince stands up and leaves. He pauses as he walks up next to 8th Prince. If looks could kill, his two younger brothers would be dead right now. 8th Prince maintains a pleasant smile this entire time, which he drops the second 4th Prince continues walking. 8th Prince shoots Ruo Xi a look of worry and frustration. But it's 14th Prince who rushes forward and kneels down, asking Ruo Xi worriedly why she dared to do this? He gets up and allows 8th Prince to approach Ruo Xi.
8th Prince looks so sad as Ruo Xi refuses to look him in the eyes. He takes out a hankerchief and gently wipes her face, chiding her for not thinking about Ruo Lan even if she doesn't care about herself. 8th Prince says Ruo Lan has a weak constitution and yet Ruo Xi's actions will cause her sister so much worry. Ruo Xi refuses to answer him, instead picking up his wet robe and handing it to him.
8th Prince knocks his robe hem out of her hands in anger as Ruo Xi still refuses to look at him. He stands up and tells 14th Prince they should leave. 14th Prince says he has something to say to Ruo Xi and asks his 8th brother to leave first.
8th Prince says no one can help Ruo Xi right now. 8th Prince reminds 14th Prince that the chess match is nearly the end right now, but one wrong move and they can still lose it all. 14th Prince understands, but he just wants to ask Ruo Xi something is all.
Once 8th Prince walks away, 14th Prince quickly kneels before Ruo Xi and takes out a packet of biscuits to give her. Oh puppy, why you so sweet? Ruo Xi opens the package hesitantly, then her face lights up and she shoves a biscuit in her mouth. 14th Prince smiles and tells her to eat slowly.
Ruo Xi eats until she suddenly realizes that the Emperor did not say she was allowed to eat. 14th Prince smiles some more and tells her that she's already eaten a piece, what's the difference between one and two. Plus it's pouring rain, who would be out here to supervise her punishment. He also hid the biscuits so no one would know he brought her food.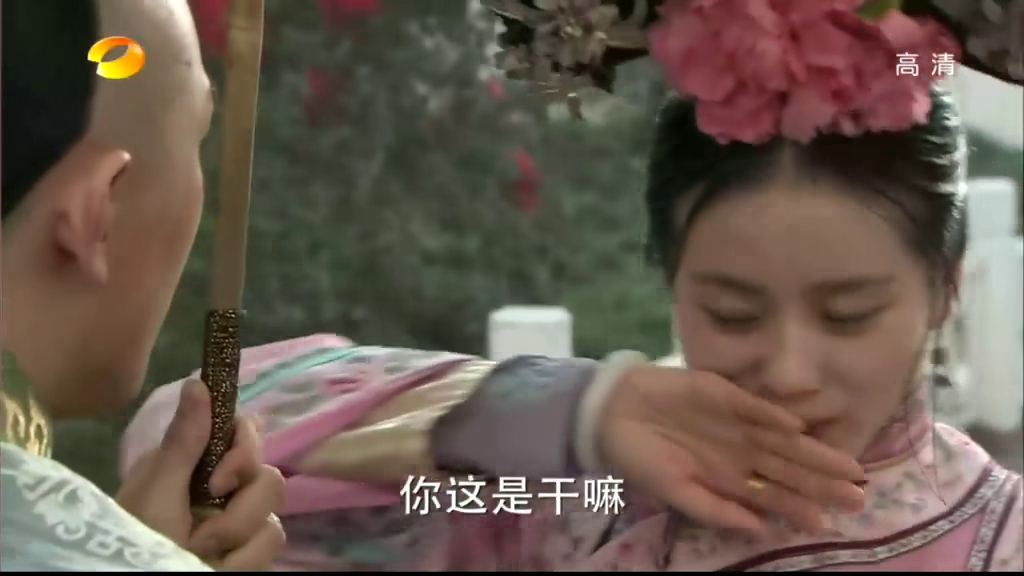 Ruo Xi continues eating until she gets a piece stuck in her throat, which causes her to toss her head back and open her mouth to capture some rain water. 14th Prince is astonished at her behavior but she just tells him rain water is especially clean. 14th Prince teases her for not being very ladylike.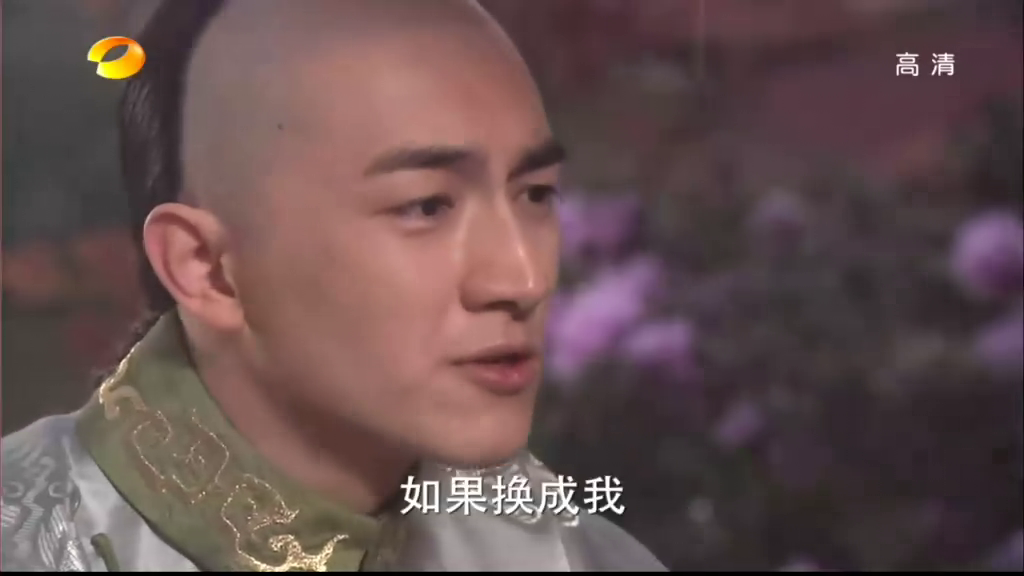 Then he changes the subject and asks her if it's worth it, what she is doing right now? She doesn't answer and he keeps pressing her, until he fairly begs her to answer his question. Ruo Xi says she is doing what she thinks she needs to do, there is no consideration of whether it's worth it. All she knows is that if the situation were reversed, 13th Prince would do the same for her, despite not knowing what the consequences would be. 14th Prince asks whether she would do the same thing if the person in trouble today was him and not 13th Prince?
Ruo Xi stares at 14th Prince, who knows that she's probably thinking that if it was 13th Prince, he would never ask her this question. 14th Prince knows that 13th Prince understands Ruo Xi, but he doesn't understand her, which is why he wants to know what she's thinking. He asks her to tell him the truth, on account of them growing up together since they were kids.
Ruo Xi says she never considered who it was. If it was 10th Prince or 14th Prince, she would do the same thing. Yes, she is kindred spirits with 13th Prince, but her affection for these princes are all the same. 14th Prince asks if this means that day on the Mongolian plains, Ruo Xi would have still raced Min Min to help him, even if 8th Prince's welfare was also not involved. Ruo Xi smiles and nods her head, which makes 14th Prince happy to know that he also matters to her.
She tells him to leave now, everything will be fine once the Emperor stops being angry with her. 14th Prince offers her his umbrella but she declines it. She's already wet, and the Emperor did not allow her to have an umbrella. 14th Prince gets up and leaves. This goes to show how complicated these relationships are between Ruo Xi and her princes. She knows 14th Prince is involved in setting up 4th Prince, yet she doesn't hate him and he still cares about her welfare. They are friends, first and foremost, politics and love comes second between them.
Back at the estate of the 4th Prince, he stands outside in the pouring rain. His wife comes running outside to beg him to go inside. She knows he's hurting right now, but he can't ruin his health this way. 4th Prince is unmoving, even when his loving wife gets down on her knees and begs him to go inside. He tells the servant to take his wife inside, and without his permission, no one is allowed to come outside.
4th Prince looks up at the rain and thinks to himself, that no matter how heavy the rain is right now, he's enduring it with Ruo Xi. The poor girl finally collapses that night as the rain continues to fall.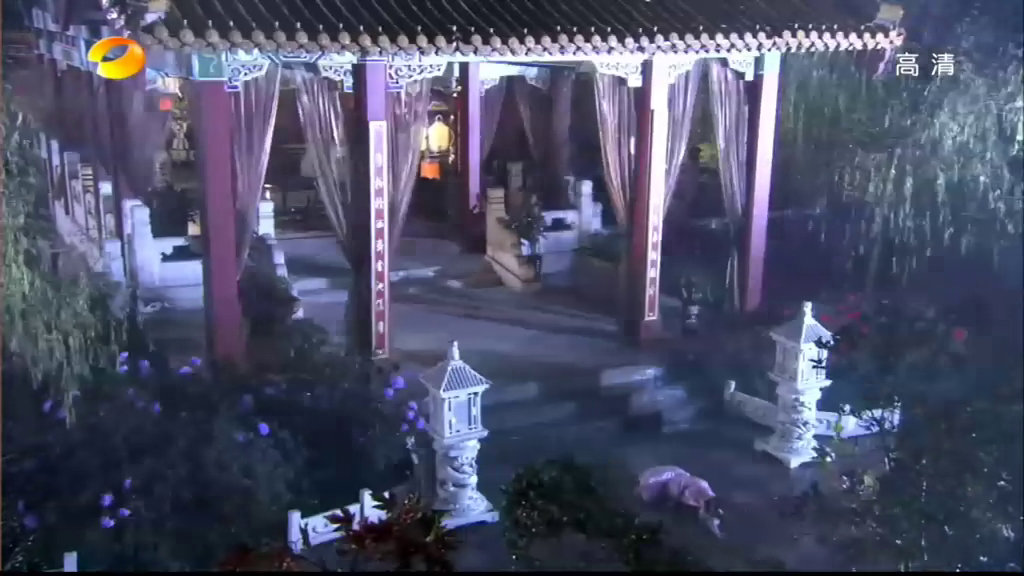 This was the turning point of the drama for me, taking everything that was laid out earlier and tying it all together, and then sending the story into an entirely new stratosphere of intensity. What ties Ruo Xi and 4th Prince together is so much stronger than what she ever shared with 8th Prince. Even if she loved both men with the same passion, the love that she and 4th Prince have for 13th Prince unites them now in one goal. Find a way to free 13th Prince, and if that means getting the throne is the only way to do it, then Ruo Xi is pretty much all in with 4th Prince at this point even if she hasn't yet thought it through. She's not taking sides, she's doing what she thinks is right and saving her best friend from a punishment worse than death for a man who so desires freedom more than any of the princes. This story is so amazingly intricate I have no words but more silent applause for being so well-written.