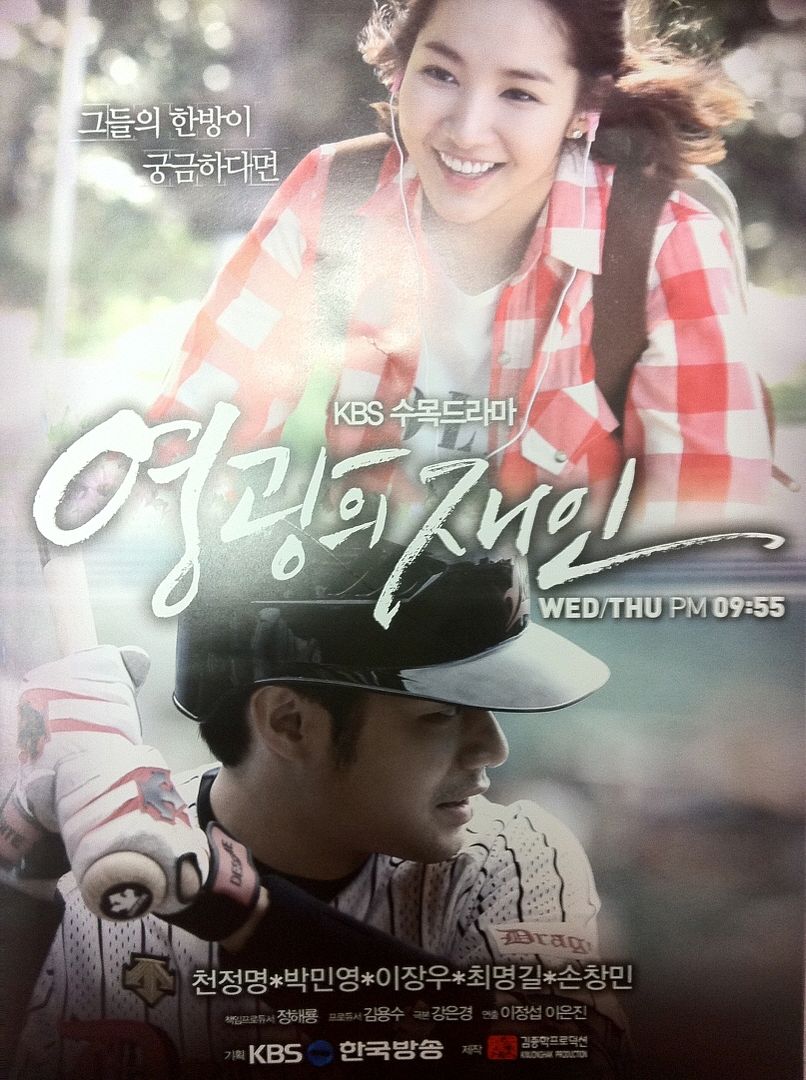 Imagine, if you will, a hot steaming tub of bathwater someone else filled up. You're dying to slip right in but you have no clue if the temperature is right for you. So you dip a hand or a toe into the tub to check the temperature, hoping you'd give a sigh of relief at finding it to your liking so that you can quickly hop in. That experience is akin to what it felt like to watch episode 1 of Man of Honor (Glory Jane), the drama starring Chun Jung Myung and Park Min Young, but created by the PD-writer combo that produced last year's overcooked Baker King Kim Tak Gu.
I was both afraid and excited. A bunch of recent K-dramas lost me on episode 1 (Poseidon, Tree with Deep Roots, Scent of a Woman) that I didn't want that to happen with MoH as well. PIE in a baseball uniform is just so darn cute I didn't want to have to stop watching this drama. The drama gods surely smiled upon me, because I liked the first episode of MoH. While it's not a great or even serious drama by any measure of the book, I was entertained and intrigued. Count me in (for now), but I'm out the second the water gets too hot (i.e. the story makjangs it's way into putting me in a dazed stupor).
Episode 1 recap: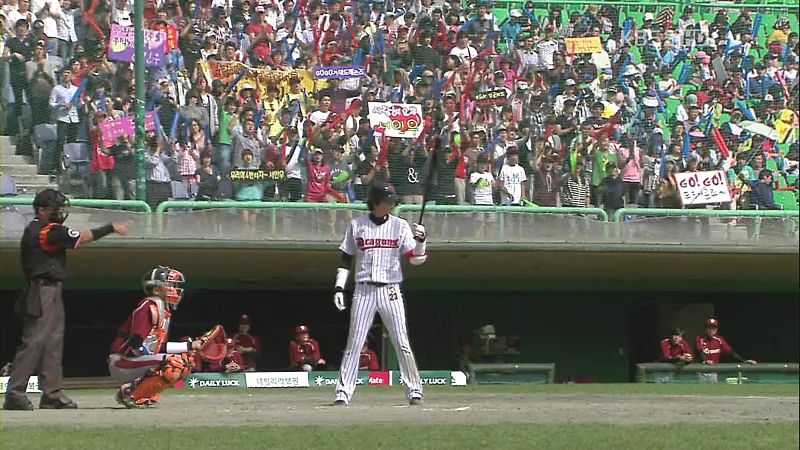 The drama begins at a baseball stadium, in the middle of a game. A batter steps up to the plate to bat, and we see that it's Seo In Woo (Lee Jang Woo), who we learn is the star pitcher and clean-up hitter (4th bat) for the Dragons. The crowd chants his name over and over, clearly he's quite popular.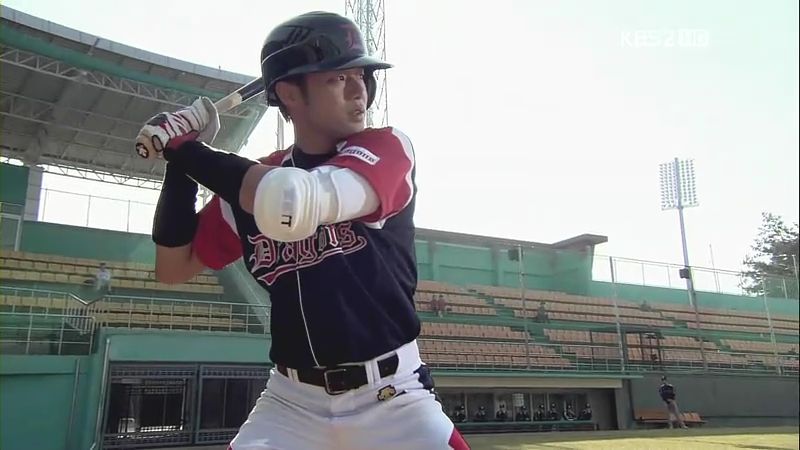 The camera cross cuts to another baseball player stepping up to bat, who instead faces an empty stadium. It's Kim Young Kwang (Chun Jung Myung), self-proclaimed rival to In Woo and recently demoted to the Dragon's minor league club. Ouch.
Young Kwang faces the pitcher and doesn't swing at the first pitch. He looks determined as he remembers what his Coach warned him, that he has two months to get himself back into the swing of things or else he's out of the team. Young Kwang reassures Coach that he can do it, since he's Kim Young Kwang, the guy who hit a bases loaded bottom-of-the-9th two out homerun.
Coach says that was a long time ago, and he needs to be honest with himself. He started the same time as Seo in Woo, and look at how that guy is rising fast in the league. Young Kwang tells Coach not to mention that guy's name, and promises that in one season he'll turn his play around. He can feel it.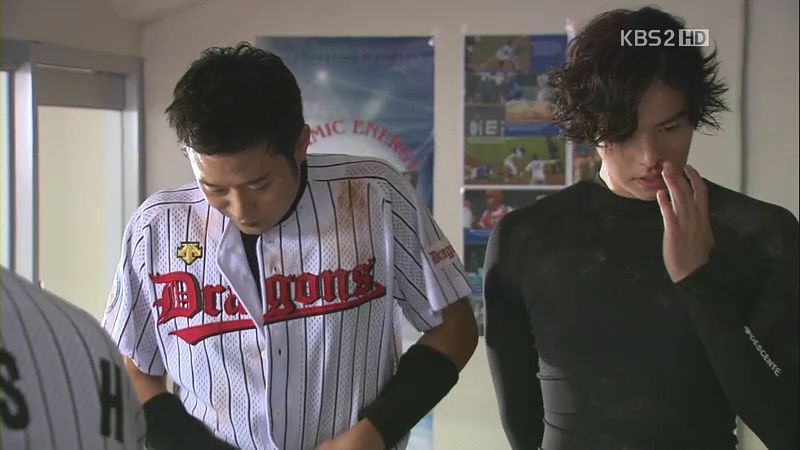 Young Kwang doesn't hit the second pitch, and flashes back to a confrontation with In Woo when they are both still with the Dragons. In the locker room, In Woo berates Young Kwang for not hitting the good strikes and flailing on the one ball. In Woo says he's serious about playing ball, unlike the amateur that is Young Kwang, The latter throws the first punch and soon the two are tussling in the locker room. Young Kwang gets himself demoted to the Dragons minor league team for this fight.
Back to the plate, Young Kwang lets another strike pass him by. But he thinks to himself that he is Kim Young Kwang and he can do it if he puts his mind to it. Both In Woo and Young Kwang hit their respective pitches, with the ball soaring into the outfield as both men start base running. Young Kwang thinks to himself that he just wants to be better than that annoying asshat Seo In Woo. In Woo stops at second base to be safe, which indicates his personality, while Young Kwang tries to reach third base ahead of the throw.
While In Woo is standing on the base, a ball sent towards the second baseman instead hits In Woo smack in the face, breaking his nose and sending blood gushing. Whereas Young Kwang does a hail mary dive over the third baseman to touch the base, but ends up knocking himself out. As he lays on the field in a daze, he wonders why he started playing baseball in the first place. He flashes back to his childhood, and when he first met "her." He thinks to himself "yes, it all started on that day, the day I met that girl."
Young Kwang is woken up by his dad as they have arrived at their destination, a birthday party for a little girl named Yoon Jae In, whose parents are wealthy and Young Kwang's dad works for Jae In's dad, who is the Chairman of the company. They walk into the yard and Young Kwang gapes at the beautiful mansion.
Young Kwang is greeted warmly by Jae In's mom. While Young Kwang's dad wonders if it's appropriate to have brought him, Jae In's mom is happy for the kids to make friends and tells him to go inside to meet the other kids. Young Kwang's dad is clearly the family driver, as he tells Jae In's mom that he's off to pick up the Chairman now. She tells him to drive carefully.
Young Kwang wanders into the house, finding delicious pastries in the kitchen that he happily devours. He grabs two cakes for the road and heads upstairs. At the top of the stairs, he pauses when he sees a group of girls happily chatting. Young Kwang's eyes are drawn to one girl in particular, our heroine Jae In.
It's lurve at first sight for little Young Kwang as he can't stop staring at pretty little Jae In, who makes eye contact and smiles back at him. That causes the poor boy to blush pink and quickly turn around because he's embarrassed. Too bad his sudden movement causes the cakes he's holding to smash right into a snotty little boy who has just arrived with his posse in tow.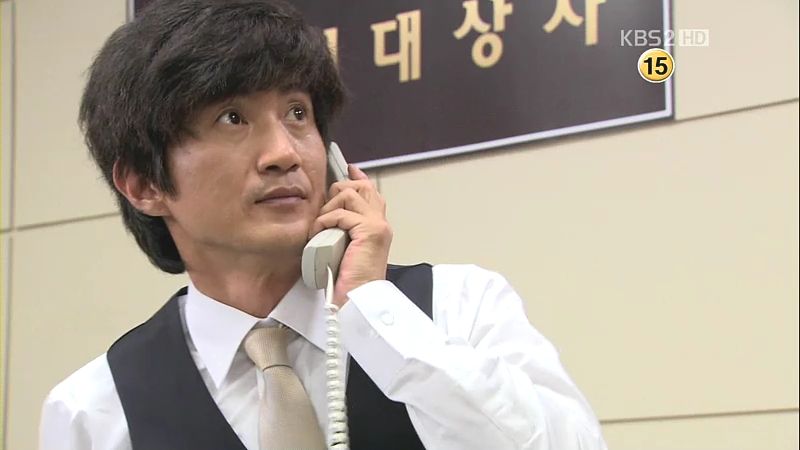 The Chairman, Jae In's dad (a cameo by Ahn Nae Sang), is getting ready to leave the office. He tells his wife that he's headed out soon and grabs the present for his daughter. But he hears the coming storm and wonders why today is such a bad day. When he opens the door, there is a woman standing there.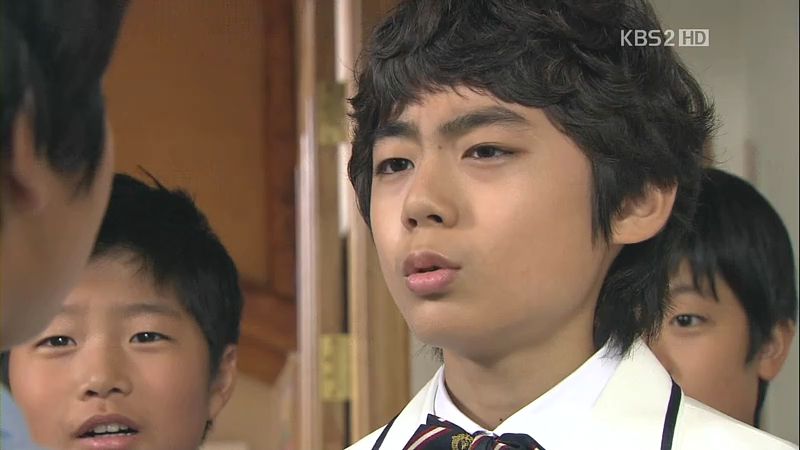 Said snot-faced boy is Seo In Woo, who is none too pleased to have his jacket ruined by some cakes, especially due to some no-nothing boy. In Woo asks what Young Kwang's dad does for the company, as his dad is the Vice-Chairman and Jae In's dad is the Chairman. Young Kwang candidly says that his dad drives the car for the Chairman.
A posse member says Young Kwang shouldn't be here since his dad is just a lowly driver. In Woo announces that his dad told him once that people ought to be mindful of their position in life and not go places unsuitable for them. Young Kwang gets upset and starts to swing his fist at In Woo, but Jae In grabs Young Kwang's arm and announces that her dad doesn't like fighting.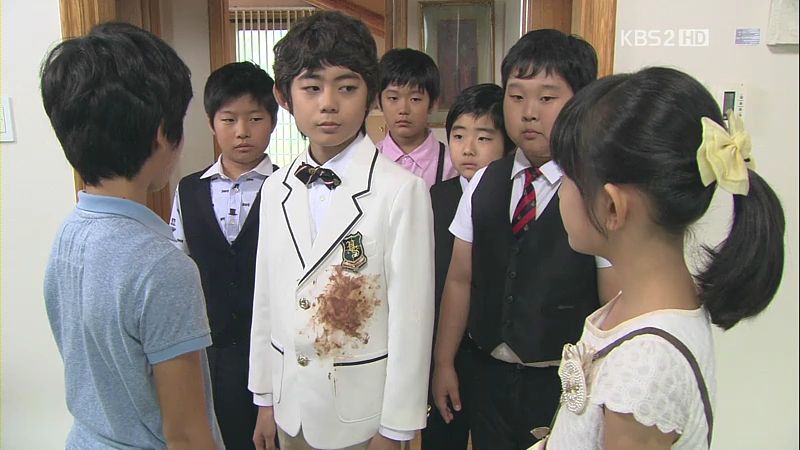 Jae In is happy to meet Young Kwang, since his dad talks about him often. In Woo suggests a game of baseball. Young Kwang CAN play baseball, right? Young Kwang has no choice but to accept the challenge, but his pride gets the better of him and he boasts that he's the homerun king in his neighborhood. Jae In is impressed while In Woo smirks and tells Young Kwang to bring it.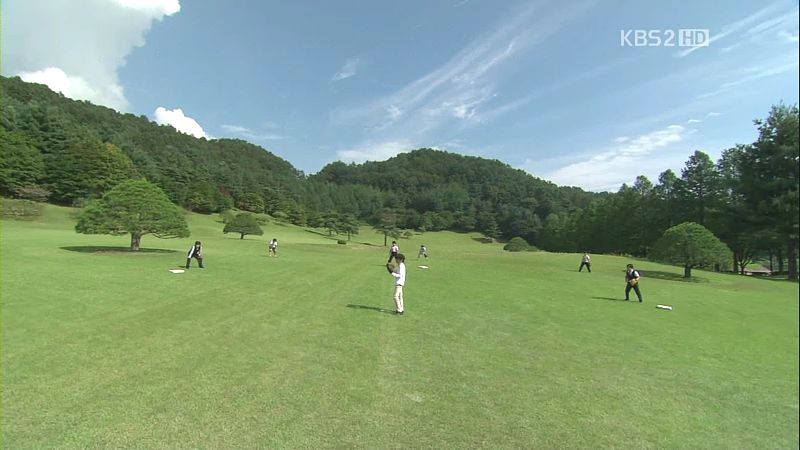 The kids head to a pastoral green field and commence their showdown. In Woo throws a few fast pitches, including one that smacks Young Kwang in the face on purpose. In Woo tells Young Kwang to be mindful of his place in this world.
Jae In walks up and sees Young Kwang has a bloody nose. In Woo says it's a bean ball so Young Kwang gets a free walk. It's clear Young Kwang has never played ball before, and barely knows how to grip a bat. Young Kwang declines the walk and yells at In Woo that he wants to hit the ball. In Woo the asswipe keeps tossing balls that hit Young Kwang on purpose.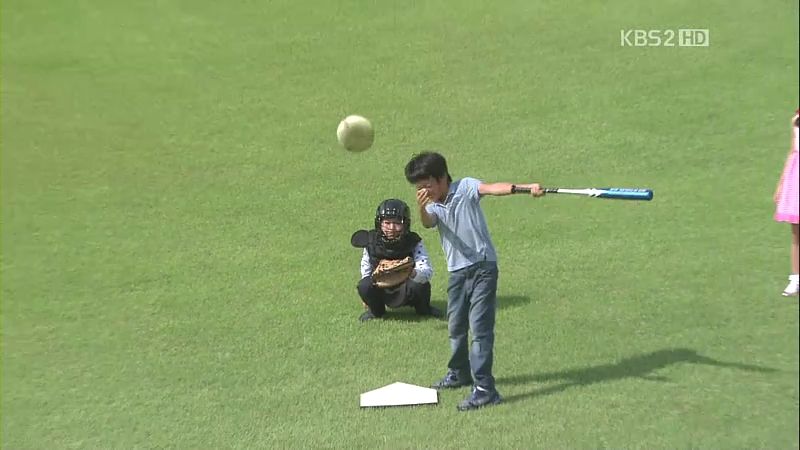 Finally Young Kwang swings at a pitch, which Young Kwang knocks out of the field with his eyes closed and his bat swinging with all his might. Young Kwang stands dumbfounded until Jae In breaks his reverie and tells him to start running the bases.
Young Kwang takes off and starts running, but he's no athlete and starts to get winded after he rounds third headed for home. Stop at third, kiddo. In Woo has gotten the ball back by now and rushes to tag Young Kwang out. The two boys simultaneously touch home plate, but Jae In declares Young Kwang is safe. In Woo gets up and shoots his nemesis a glare and tosses the ball at him, before storming off the field with his minions in tow.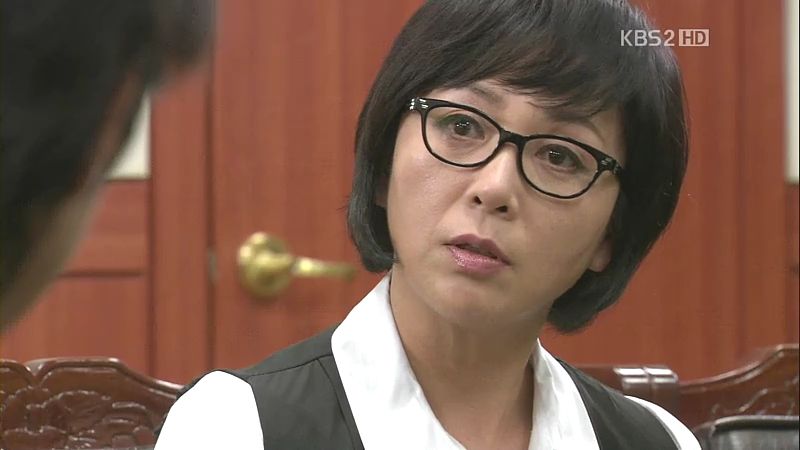 Jae In's dad hears the news from the government prosecutor that their company has been listed as giving bribes. She encourages him to turn himself in. Jae In's dad says he's never given bribes and can't turn himself in since he has no idea what crime was committed. The prosecutor tells him to ask his partner, In Woo's dad.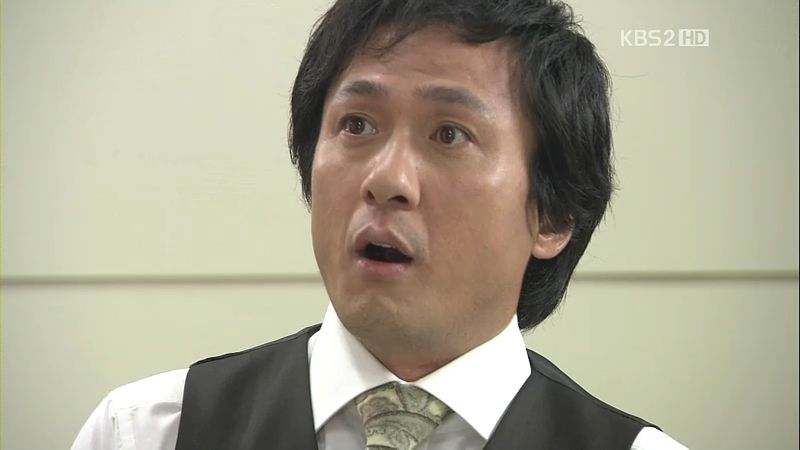 In Woo's dad sits in his office and counts a stack of cash in a briefcase. Jae In's dad walks into his office and In Woo's dad quickly puts the briefcase of illegal cash away. He tries to change the subject to Jae In's birthday. Jae In's dad is not in the mood to be nice and tells In Woo's dad that they have somewhere to go before heading to the party.
Jae In's dad, In Woo's dad, and Young Kwang's dad are in a car. Clearly this is a car of doom and/or great woe. Jae In's dad is silent for a good long while, before speaking up about the prosecutor coming by to discuss the bribes. He's upset that In Woo's dad kept him in the dark. In Woo's dad asks for a chance to explain, but Jae In's dad is furious at him.
In Woo's dad accuses Jae In's dad of turning him in to the prosecutor in exchange for a way out. Jae In's dad will get him a lawyer, but he's on his own. In Woo's dad is furious that his friend would treat him like this, but Jae In's dad says because In Woo's dad is his good friend, he needs him to do the right thing. Young Kwang's dad is listening to this entire conversation as he drives the car. In Woo's dad wants to get out but Jae In's dad tells him to turn himself in. In Woo's dad refuses.
In Woo's dad keeps yelling at Young Kwang's dad to pull over, and when he doesn't In Woo's dad leans forward to grab the steering wheels himself. In the ensuing tussle, the car gets into an accident on the stormy rain slicked roads and flips over the railing to land in the lake below. Poor Jae In daddy hits his head on the window during the collision and faints.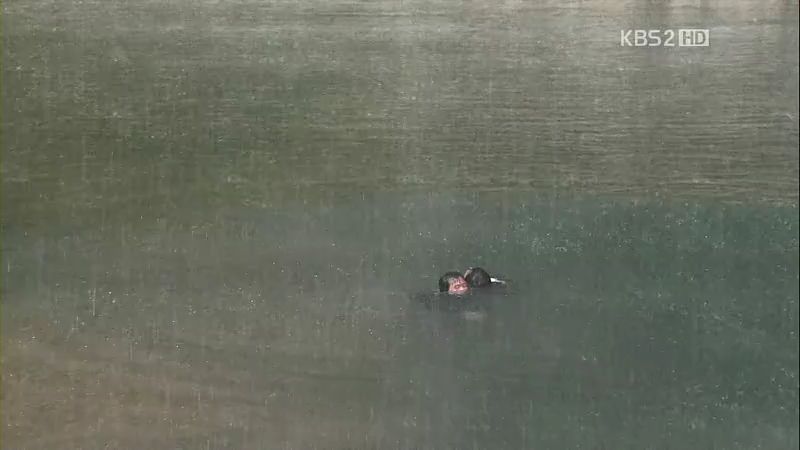 The windows shatter as the car hits the water and gets flooded. In Woo's dad manages to grab another person out of the car and surface to swim to shore. Once he reaches the banks, he crawls over to the other guy to discover that the man he saved was Young Kwang's dad, not Jae In's dad. RIP Jae In's dad, thou seemed like a good man. Those usually don't last very long in K-dramas.
In Woo's dad really thought the man he saved was his best friend and Jae In's dad, because he keeps calling his name. And stares really hard at Young Kwang's dad, not believing that he saved the wrong person. In Woo's dad starts crying for his best friend and screaming "no, no".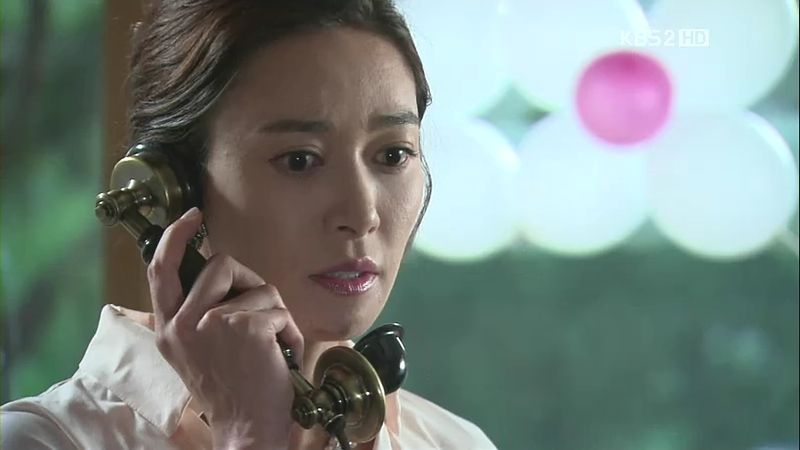 Jae In's mom looks up and sees the coming storm, all black ominous clouds and roiling thunder. Again, subtlety got lost on its way to the MoH set. Jae In's mom goes inside to answer a call, the call every person dreads in the world. A call bringing the tidings that her husband has perished in a watery grave. Oh noes!
Jae In and Young Kwang sit in the gardens facing a beautiful lake (man, the view from Jae In's house is da bomb) while she tends to his cuts and bruises. The boy was fighting for her attention, so girlfriend clearly has to do her Florence Nightingale routine here. Plus this is great foreshadowing of Jae In becoming a nurse when she grows up. And how she and Young Kwang are going to reunite when she tends to his wounds again. These Baker King folks, they are not subtle in the least.
Young Kwang confesses that he's never played baseball before, today was the first time. Jae In says Young Kwang must be a genius then. Jae In puts iodine on a cut on Young Kwnag's arm and then leans down to blow on it. Hhhmmm, this scene would be better if these two were older, like 14 or something, because they are such kidlets it's hard to squee over the budding romance of this moment.
Young Kwang asks Jae In if she'll marry him? One day when he becomes a famous and successful baseball player, will she marry him? Before she can answer, a clap of thunder hits and Jae In's mom rushes over to break up the cute twosome so she can take Jae In away. Jae In's mom bundles Jae in in a car as she hurries to confirm the reality of her husband's demise.
Young Kwang sees Jae In off in the pouring rain (can someone get this boy an umbrella?), handing her the ball he hit today, which he has written a note on it for her. Before getting into the car, Jae In says her answer to Young Kwang's question is for him to become a champion baseball player. He smiles and promises that he will. She turns to give him a smile before the car drives off.
Jae In's dad has been fished out of the lake and In Woo's dad stands in front of his corpse at the morgue. The prosecutor arrives and asks for a recounting of how the accident happened. Young Kwang's dad knows but doesn't say anything since In Woo's dad just saved his life.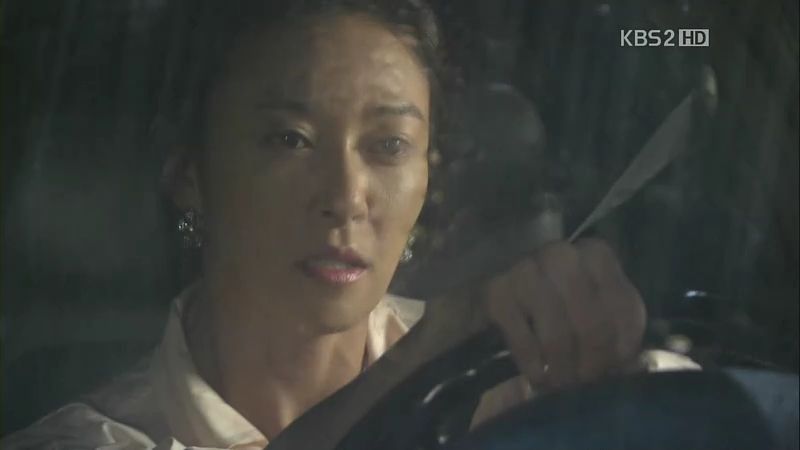 As Jae In's mommy navigates the still treacherous rain slicked roads, clearly accidents happen in twos in this drama, because she gets herself in a car accident. Seriously, what are the odds? In MoH land, apparently the odds are pretty high. This time the car flips over the railing but doesn't land in a watery grave, instead landing in the clearing below.
Young Kwang's dad cries and tells the prosecutor that the accident was all his fault. He holds up his hand and tells her to arrest him. In Woo's dad looks stunned. Suddenly a person runs in and tells the prosecutor that something else has happened.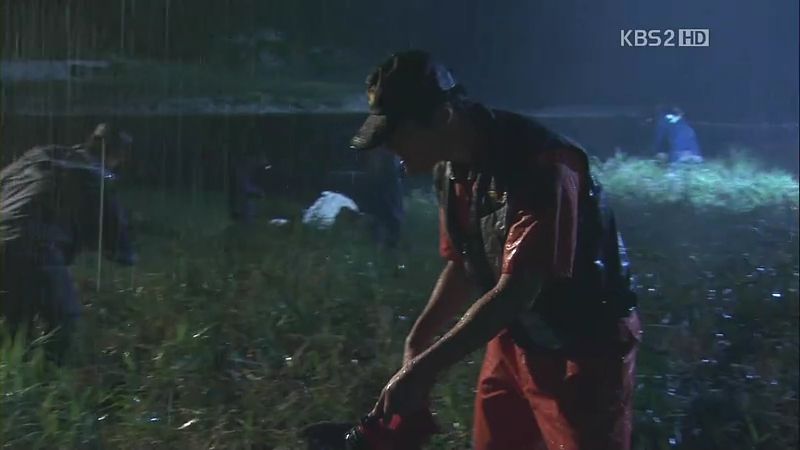 By the time the authorities arrive, they find Jae In's seriously injured mom inside the toppled vehicle, but no sign of Jae In. The authorities are looking everywhere for Jae In, but all they find is a little girl's shoes. They look towards the lake and wonder if perhaps the little girl is lost there.
Young Kwang goes home and announces to his mom that he wants to become a professional baseball player. She tells him it'll cost a lot of money and not everyone can do it, especially in a family as poor as they are. Young Kwang says a baseball champion can make a lot of money, and he wants his mom to invest in his potential. Suddenly they are called outside to watch a news report about two car accidents, a Chairman and then later his wife and daughter. Yang Kwang looks stricken when he sees a picture of Jae In flashed onscreen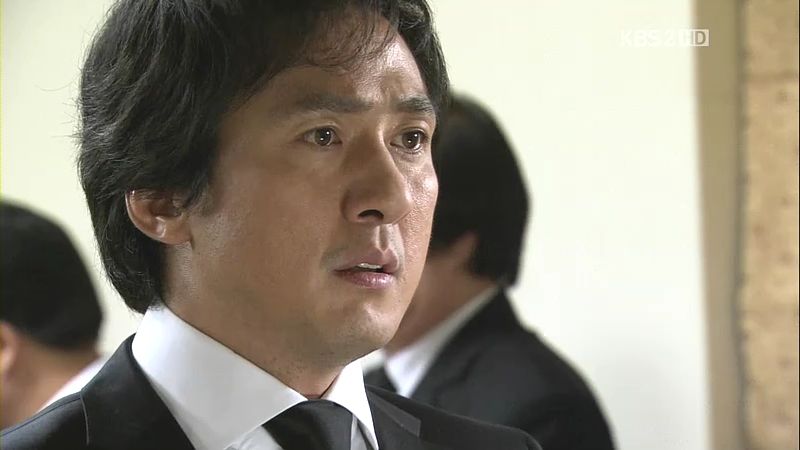 The two remaining daddies and the prosecutor rushes to the hospital. Jae In's mom is in the ER, and no amount of medical attention can revive her. She's in a coma, i.e. to become the great deus et machina for the drama to use later. But effectively Jae In is an orphan overnight. The company directors wonder what will become of the company, and everyone unanimously agree In Woo's dad should become the next Chairman. He looks at the picture of Jae In's dad and remembers his last words about In Woo's dad turning himself in.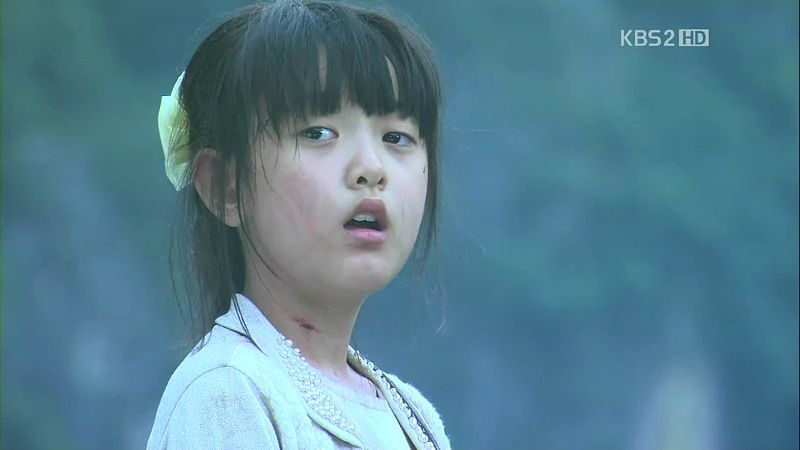 Jae In wakes up in the clearing, having been thrown out of the car during the crash. She's a little dirtied up but suffering no broken bones, gaping head wounds, or any of the conditions one would associate with someone getting thrown out of a flying car. Jae In must have regenerative abilities, or else she landed on a mattress pretending to be grass. Actually, for her to have been tossed so far the rescue teams couldn't find her last night, she ought to be in about 12 pieces. Eh, I'll continue to accept the weird physics of this drama's accidental prone scenarios. Miraculously she's fine, but her life is henceforth not fine.
In Woo's dad gets a call that a girl matching Jae In's description has been found but the kid won't talk or confirm her parents. Jae In is found by authorities and taken to the police station. In Woo's dad says he'll be right there, but asks the cops not to say anything until he arrives. The prosecutor tells In Woo's dad to show himself at the prosecutor's office tomorrow, for the bribery case and the car accident. In Woo's dad decides to pin everything on his dead friend, but even the prosecutor doesn't buy this story. She even flat out accuses In Woo of usurping Jae In's dad's company now that he's dead.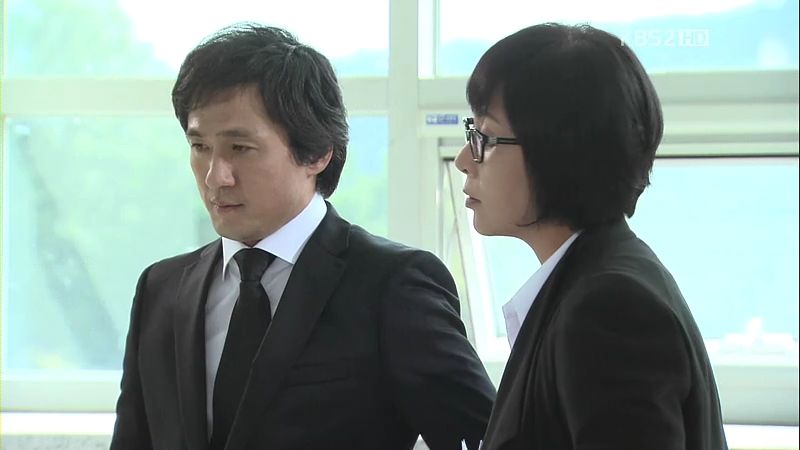 In Woo's dad uses the excuse that he is taking care of the company since Jae In's mom is in a coma and Jae In is missing. The prosecutor says Jae In's dad was the husband of her very close hoobae, so she knew him very well and knows he did not commit any bribery crime. She will not stand by and watch In Woo's dad usurp his company. In Woo's dad tells her to mind her prosecutorial job and not involve herself in his company's affairs. The prosecutor leaves and tells her cops to find the daughter no matter what.
In Woo's dad places a call to Young Kwang's dad, who goes to the police station to confirm that the found girl is Jae In, who is pretty traumatized. Young Kwang's dad cries as he finds Jae In, quickly checking to make sure she's fine. He hugs her, and she hugs him back. The cop says this girl can't talk, but at least she recognizes him.
Young Kwang's dad remembers what In Woo's dad told him, which is not to bring the girl back even if she is Jae In. He promises to give Young Kwang's dad enough money to open his dream motel. Young Kwang's dad has a conscience and refuses. In Woo's dad screams at him, wondering why he told the prosecutor the car accident was all Young Kwang's dad's own fault rather than out In Woo's dad involvement. In Woo's dad uses the lie and the saving of his life to get Young Kwang's dad to cooperate with him, because now they are accomplices. In Woo's dad says to change Jae In's name and take her somewhere no one knows.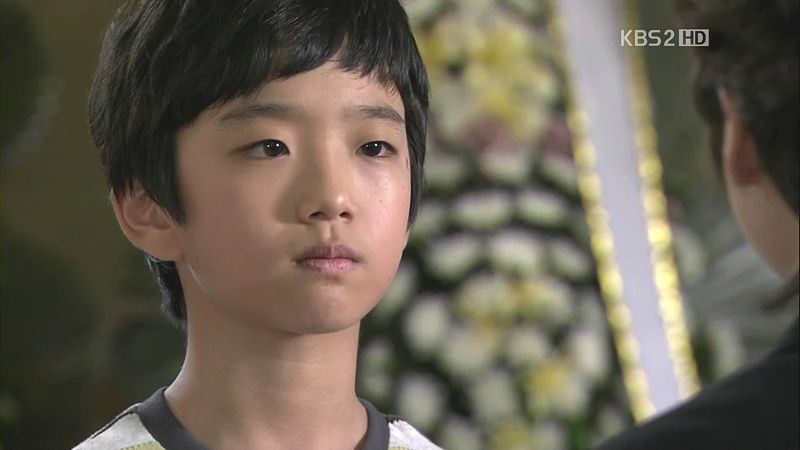 Young Kwang's mom can't find her son, thinking he's sleeping the morning away, but actually the kid went to the memorial for Jae In's dad. He runs into the posse of snot-nosed kids, still following In Woo. Young Kwang wants to know what happened to Jae In, but is told that she's dead as well. They laugh at him for daring to come here since he's just the son of the driver. In Woo says that no matter how hard Young Kwang tries, he'll always be beneath him. Finally Young Kwang hits In Woo and the two kids start fighting.
The two boys are dragged before the daddies. Young Kwang's dad starts to apologize on his behalf, but Young Kwang cries and tells him not to bow his head. He didn't do anything wrong, so his dad shouldn't apologize and bow down to another. Young Kwang runs off and his dad chases him. In Woo's dad strikes his son on the palm, telling him not to belittle a boy who is no match for him. In Woo apologizes but his dad just tells him to get out.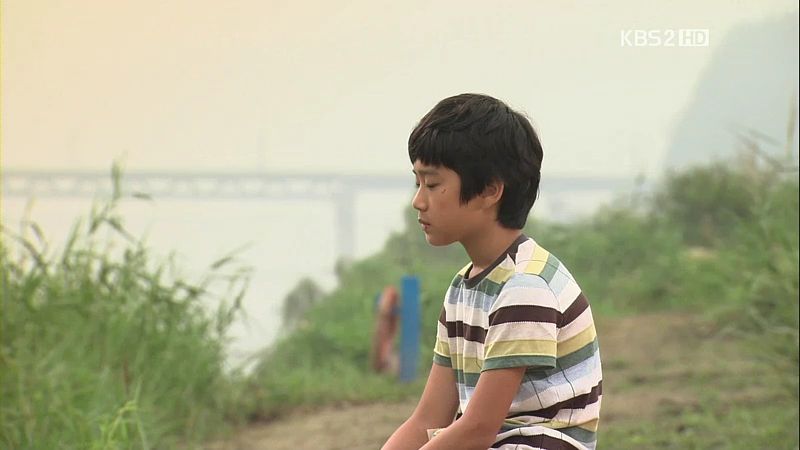 Young Kwang's dad finds his son sitting by the banks, offering him some milk because he hasn't eaten all day. When asked why he went to the memorial, Young Kwang says it's because of that little girl. He wishes she didn't die and can come back to them.
We see that Young Kwang's dad has no choice but to take Jae In to an orphanage and leave her there. As he turns to leave, Jae In speaks up and calls him ahjusshi. He turns back and tells her that her name is Yoon Jae In, refusing to allow her name be changed like In Woo's dad wanted. He cries and asks her to keep repeating her name, reminding her never to forget it. He says that he's really sorry to her, he's a criminal who has wronged her. He walks away while Jae In looks at his retreating back.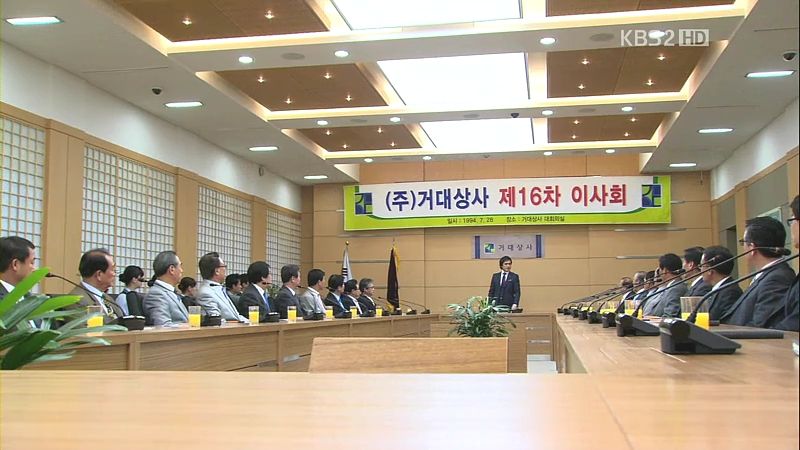 Young Kwang's dad sighs, telling his son not to live like him. Young Kwang needs to become a successful person, not someone like his dad. In Woo's dad leads the funeral procession as Jae In's dad is laid to rest. Henceforth, In Woo's dad officially takes over chairmanship of the company. Jae In's mom remains in a coma, while the prosecutor is told there is still no sign of the daughter.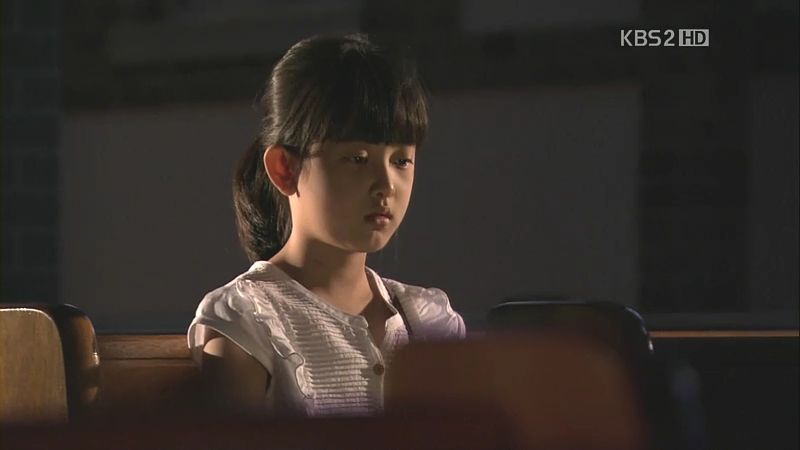 Jae In sits in church and repeats her name over and over again. Young Kwang watches as his dad is now the driver for In Woo's father, which includes having to cater to In Woo.
Young Kwang, holding a bat, walks into a baseball field and points his bat at In Woo. He announces right there that he will beat Seo In Woo. He wants In Woo to remember that promise. Adult Young Kwang remembers now that the promise he made to beat In Woo seemed like something he could do. We see the two boys playing baseball until they are the adult In Woo and Young Kwang.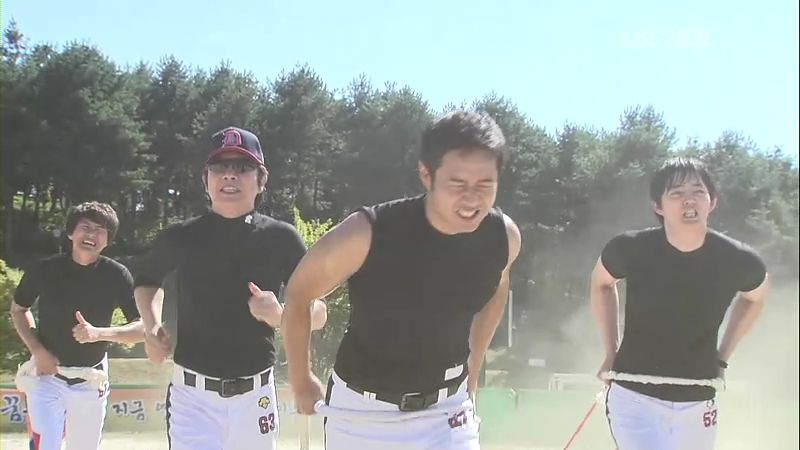 Young Kwang thinks to himself that in reality, he has not beaten In Woo. In fact, he can't seem to beat In Woo. We see In Woo training using the most modern methods while Young Kwang runs while pulling a tire behind him.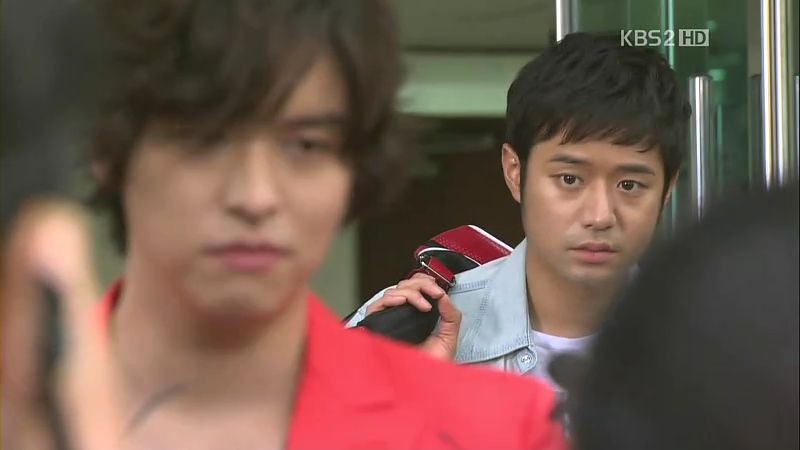 They are on the same team, but it's always In Woo that gets the glory while Young Kwang continues to fail. Young Kwang thinks to himself that the truth is, the poor always lose to the rich, and it's taken him 17 years to reach this conclusion.
Injured Young Kwang and In Woo are rushed to the same hospital. Everyone crowds around In Woo, while only Young Kwang's coach accompanies him inside. Young Kwang is placed on a cot awaiting treatment while everyone works on In Woo. Even his coach gets more nervous hearing that In Woo is hurt.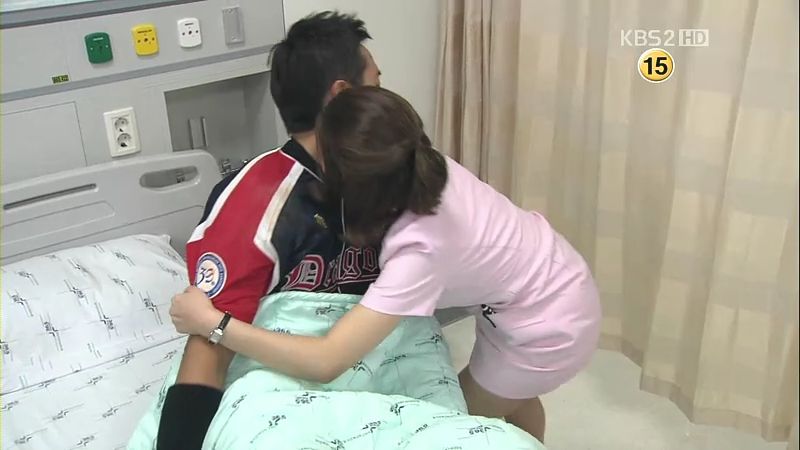 Young Kwang regains consciousness and thinks to himself that this dirty world only cares about Seo In Woo. He calls out for someone, someone to come see a no name person like himself. Young Kwang sits up, but he starts to topple over. Which is when a nurse comes to grab him.
Young Kwang thinks to himself, that there is someone in this dirty and despicable world who will catch him. He opens his eyes and sees the beaming face of nurse Yoon Jae In (Park Min Young). She asks if he's baseball player Kim Young Kwang. He asks if she knows him? She says that she is his fan since he won a game for his team.
Young Kwang asks her what her name is? She smiles and says her name is Yoon Jae In. Young Kwang repeats "Jae In" and thinks to himself that when his life is at his lowest, Yoon Jae In reached out and grabbed him.
Thoughts of Mine:
Let me start with a reminder that I never recap a drama I don't like. I clearly like MoH enough to recap it. But I also see all the flaws of this drama, finding it fun to mock the overwrought elements, but still chuckling at how much I like the fun stuff. This story was clearly constructed to be "dramatic" and "meaningful" and "rewarding", with giant neon signs along each step of the way to light the plot developments. That's okay as long as we acknowledge it and then take it at face value.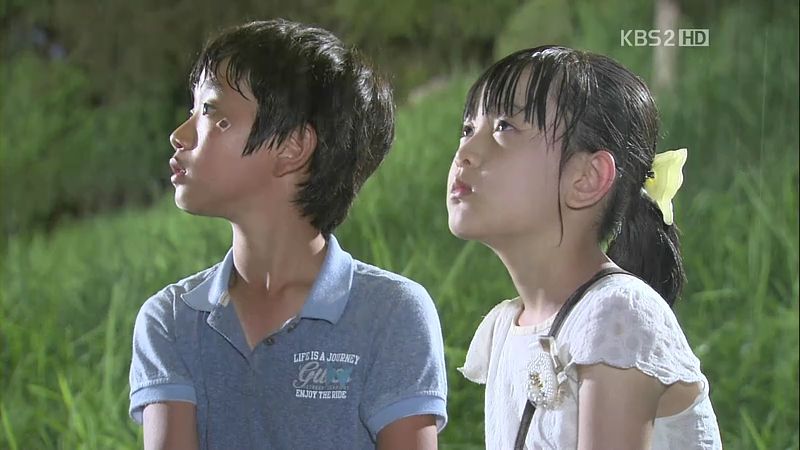 So far MoH is stepping back from the makjang parody that was episode 1 of Baker King, and instead uses the K-drama tropes in a more restrained (comparatively) manner. I appreciate that, even if tropes are tropes at the end of the day. I also like the story making me feel for some of the characters already. I think the story really developed Young Kwang quite well, and to a lesser extent In Woo. Jae In we'll just have to wait until episode 2 to get more of a feel for her, other than she is exceedingly cheerful so far. The kids were solid, as usual for most Korean child actors, but weren't asked to do much except for show the proper emotions when the script called for it, which they all delivered.
Chemistry-wise it's impossible to tell from the few interactions between the three adults leads, but individually I like what I'm seeing. PIE is finally back to being animated, after two back-to-back dramas where he was so morose and restrained all the time. I miss seeing fiery PIE, even if I think Young Kwang needs to take a chill pill and work on his temper management issues in addition to his swing. I do like the fact that Young Kwang isn't made to be some plucky baseball genius, and instead sucks compared to In Woo. Lee Jang Woo is portraying In Woo nicely, with the just the right balance of arrogance and attitude. I find their rivalry believable and nicely developed so far. In Woo isn't all bad, and Young Kwang is no boy scout either.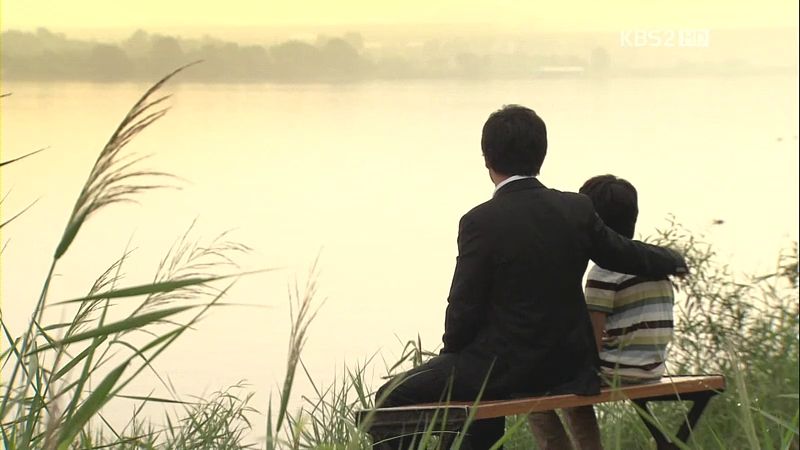 As for the set-up, which is like tragedy piled on top of coincidence smashed into a ball of contrivance, somehow it doesn't annoy me. I like that there is so far very little screaming, wailing, and screeching, with the sole villain, In Woo's dad, not even all that hateful and evil. He's sorta the guy who does wrong when he can get away with it. So while he didn't cause all the tragedy, he compounds it and then profits from it. Sadly, guys like him will continue to dig the evil grave deeper and deeper to stay out of trouble, so I foresee In Woo's dad to slide down the slope of evil as this drama progresses. Which is really too bad, because so far he's doing a good job of playing the villain.
The OST could tone itself down, as the more upbeat scores try way too hard to make this drama pop, but only succeeds in mildly irritating me. The quieter moments are better, which goes to show that restrained in almost all cases is the better option to go. The directing is solid, nothing to write home about, but I do enjoy the slightly enhanced color pop a lot. It's like everything is just one shade brighter – the green of the grass is extra green, the pink of the nurse uniform is extra pink, the grey of the rolling clouds is extra grey, etc.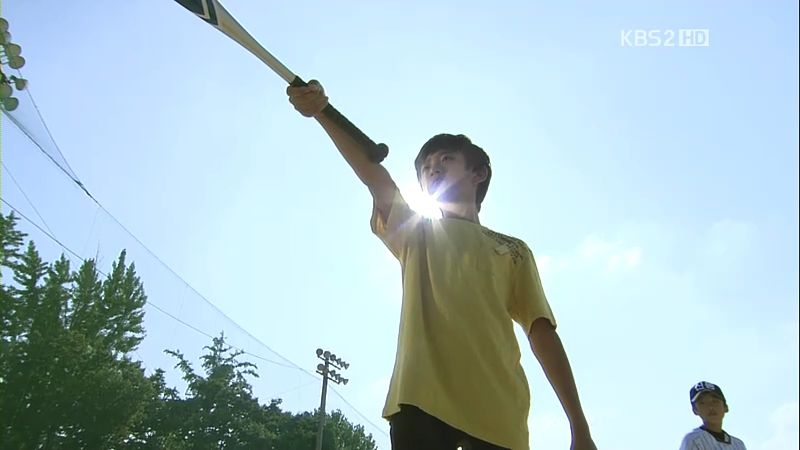 I think the directing matches the storytelling, which is that this drama bears no semblance to reality other than as a dramatic construct. MoH is not telling a story that could happen, or even sharing a tale that has any lasting impact. It's purely entertainment, about characters with things happening to them, and how they rise above the challenges and find happiness, and the bad people get their just desserts. It's not innovative or meant to be taken seriously, but if you like the dish they cook up, by all means enjoy it. And that is exactly what I'm going to do.