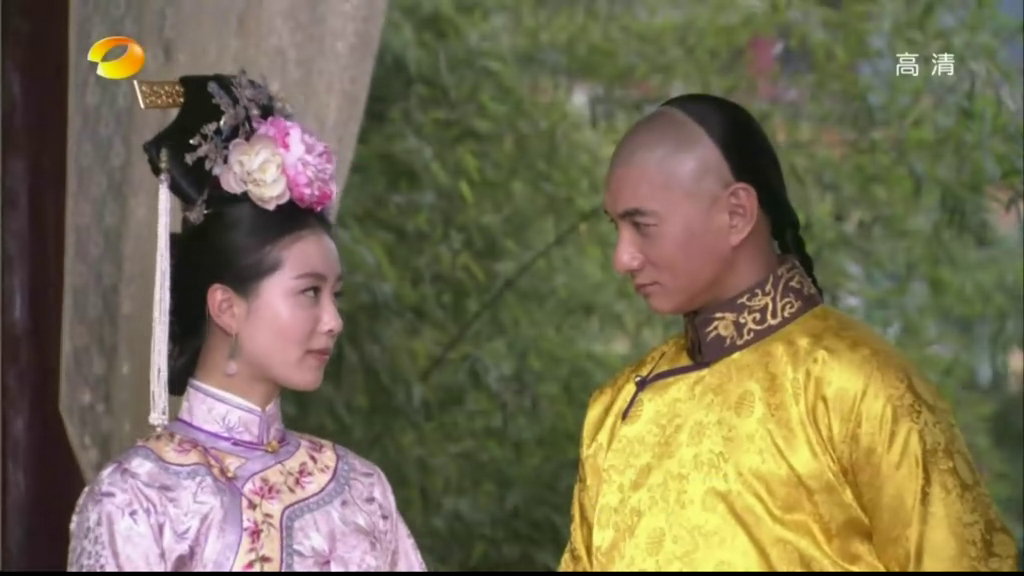 Now that most folks have already finished watching Bu Bu Jing Xin, I find the comments section a fascinating hotbed of discussion. A good drama has the ability to incite discussion because it's multi-faceted. Bad people are not all bad, good people are not angelically good. What happens in BBJX are actions and reactions stemming from people having different interests and different points of view. I assessed all the princes and came to the conclusion that 4th Prince is hands down best suited to be Emperor. He has the intelligence, the foresight, and the patience to govern a country through careful planning and acute observation.
I really wish he could just remain 4th Prince, and have his simple happily ever after with Ruo Xi, rather than the complicated relationship they embark on in the Forbidden Palace. He's the Emperor and she's the woman he loves. But between them stands so much complications that Ruo Xi's hesitation is understandable. But in the end, she makes the choice to pursue her love and the man who loves her. It's probably the first time she's just said "to hell with it" and jumped into the fire.
Ruo Xi and 4th Prince may be finally together, and remain in love with each other, but already the ten-year separation between them is harder to bridge than either had hoped. Throw into the mix 4th Prince just becoming Emperor Yongzheng and has a myriad of political battles to fight and a country to run, Ruo Xi isn't exactly dating the easiest boyfriend in the world. Before they can even resume the flow of a relationship, everyone else's woes start weighing on them as well. First comes 13th Prince, with the news that Lu Wu, his beloved and the mother of his little Princess Chenghuan, has disappeared. A search yields the sad revelation that Lu Wu has elected to commit suicide by throwing herself into a river rather than be a burden to 13th Prince and their daughter. Ruo Xi is devastated to learn of this.
Ruo Xi and 4th Prince hear this news first. 4th Prince decrees that this news is to be kept from everyone, especially 13th Prince. 13th Prince continues his crazy search for Lu Wu in the meantime. Ruo Xi is helpless to lend a helping hand. 4th Prince finds her and asks if she can go visit 13th Prince and counsel him as well as console him. Apparently 13th Prince has locked himself at home and is drinking himself into a stupor. 4th Prince grabs her hand for reassurance, and you can see how they are everything to each other, especially when seen against the backdrop of the expansive Forbidden Palace. Ruo Xi visits 13th Prince and manages to talk him out of his self-destructive streak.
Upon returning to the Palace, Ruo Xi tells 4th Prince that she lied to 13th Prince to get him to give up looking for Lu Wu. Because Ruo Xi has never lied to 13th Prince before, he never doubted her. Ruo Xi told 4th Prince that Lu Wu left him, and he can't go looking for her because it would endanger her life, since she was the descendant of a family accused of treason in the past. Ruo Xi made this story up, but 4th Prince confirms that Ruo Xi's tall tale is actually the truth. They both lament the way things turned out.
One day Ruo Xi happily toddles off to 4th Prince's chambers to bring him some tea. As she is walking in, she happens upon a servant asking 4th Prince to flip a card for which wife or concubine he will visit that night. 4th Prince nonchalantly flips a card, completely uninterested and immediately turns back to work. But Ruo Xi's face freezes and she doesn't enter to give him the tea.
Later Ruo Xi decides to return a present 4th Prince gave her and drops it off in his chambers. As she walks in, she pictures him laying on the bed and happily snuggling up to another woman. She shakes that image from her head and turns to leave. Which is when 4th Prince arrives and immediately senses her sour mood. She curtly tells him she's just returning a present and is about to leave. Before she walks out, 4th Prince back hugs her and smiles, telling her that he likes to see her jealous over him. He asks her what he can do to ease her unhappy feelings?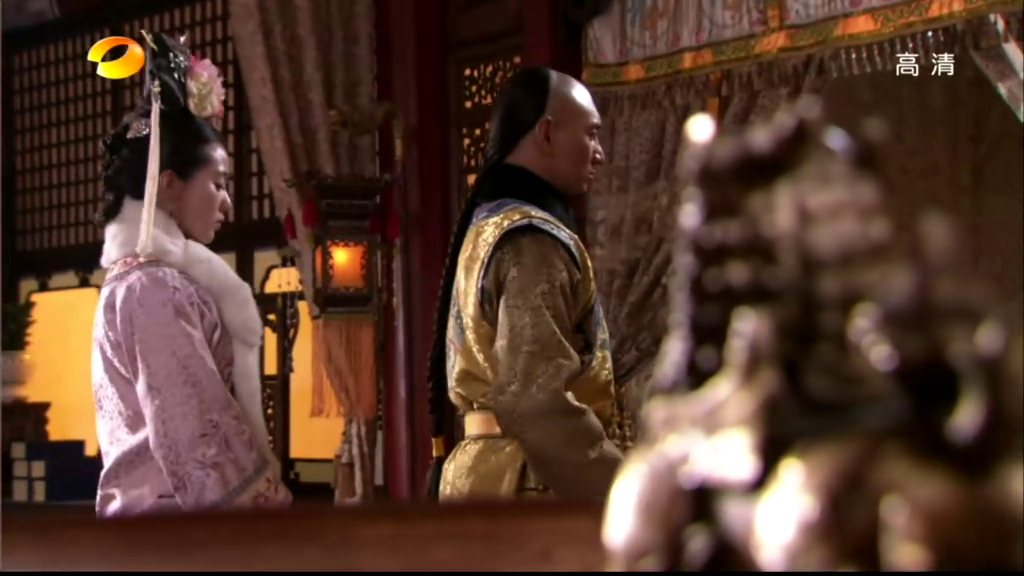 Ruo Xi asks him to turn around. He looks perplexed, but turns himself around. Ruo Xi grabs his queue, which is verboten in Qing culture, and especially with the Emperor. He looks down at her grabbing the end of his queue, and looks back up at her curiously. She smiles and says that only she is allowed to grab his queue, because he never lets anyone do it. He smiles and says only she dares to do it. Ruo Xi asks him to fetch her the present back, the one she had returned.
Some time later, 4th Prince has dinner with just Ruo Xi. He is uncharacteristically drinking heavily and Ruo Xi tries to slow him down. She knows he went to visit his mother today, the Imperial Consort De, and 14th Prince was also visiting. Their mother pointedly accused 4th Prince of stealing the throne away from 14th Prince, and refused to be crowned the Dowager Empress. Ruo Xi tells 4th Prince to let it go. It's not like he doesn't know how his mother has always treated him. 4th Prince laments that it's always been this way, their mother preferring his younger brother to him. And nothing he does is ever good enough for her.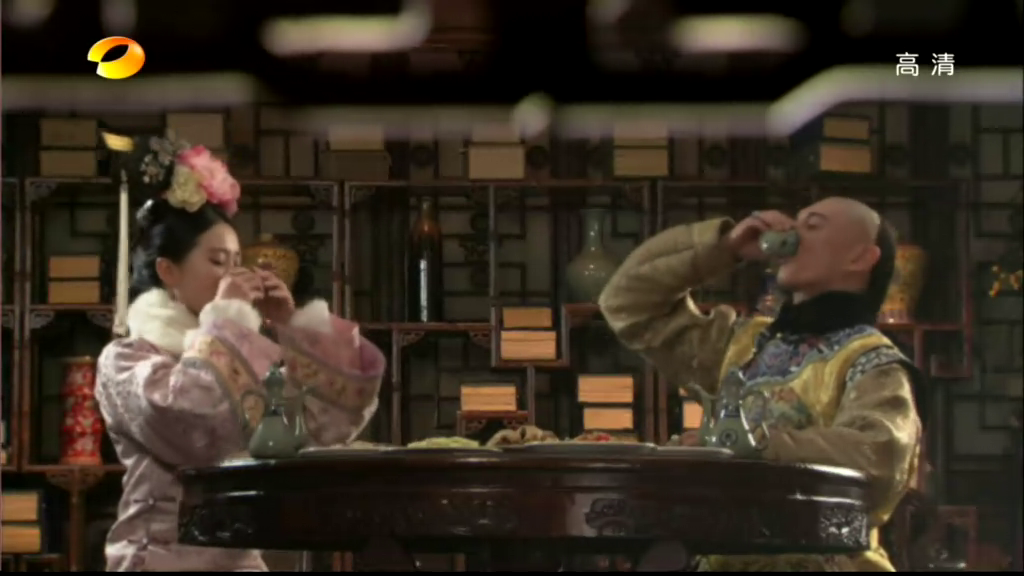 Even though 4th Prince should let it go, and he is now the Emperor and lords over all, at the end of the day he is still a person. He has feelings, weaknesses, longing that he can't always hide. Here with Ruo Xi, he can let his guard down and share things with her that he can't and won't ever discussion elsewhere. Ruo Xi silently cries to hear this, and she reaches out her hand to pour him another glass of wine. 4th Prince finally lets out a smile small, because he knows that she completely understands him, and he has her by his side. They silently drink with each other.
4th Prince wakes up the next morning in Ruo Xi's bed, having overslept because he imbibed too much the night before. He hurries to his robe and looks for something. Ruo Xi walks in with a basin of water for him to wash, and then hands him a box, asking if he's looking for this? 4th Prince asks if she's looking inside, but she says no.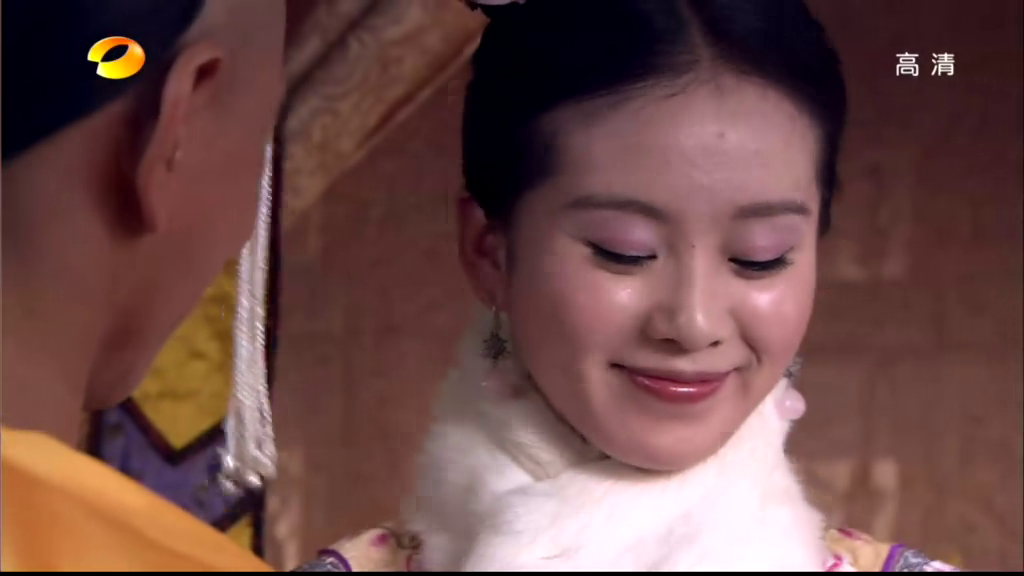 4th Prince hands her the box and tells her to open it now. Ruo Xi opens it and it's a magnolia flower pin, identical to the one 4th Prince gave her years ago. 4th Prince reminds Ruo Xi that she told him the old one was accidentally broken. Ruo Xi remembers telling him that, and also remembers that he didn't say anything else after hearing it. Clearly he filed that information away, ever thoughtful and patient. 4th Prince slips the hair pin into Ruo Xi's updo, and asks her if she likes it. She sasses back that she doesn't know, because she doesn't have a mirror to check it out. 4th Prince smiles at her cheek, telling her that he thinks it looks beautiful.
Ruo Xi may love 4th Prince wholeheartedly, but she still has reservations about consummating their relationship. After hearing from the Empress about how 4th Prince stood out in the rain for her while she was kneeling in the rain, and then later enduring the loss of her sister Ruo Lan in the meantime, Ruo Xi appears to have thought more about her future with 4th Prince. That evening 4th Prince comes to see her. He touches her face, and honestly says that he desires her. Ruo Xi looks down, to which 4th Prince smiles and tells her not to worry. He will wait until she's willing and wanting as well.
4th Prince sits down on the bed and asks Ruo Xi if she remembers their vow to be always honest with each other? She nods. He asks what he needs to do for her to not reject him anymore? Ever since she moved into the Palace, he's felt that she's both emotionally intimate with him, yet physically resists him. That is why he hasn't consummated their relationship, But watching her smiling and happy with Chenghuan, he doesn't want to wait anymore. He wants to have children with Ruo XI, he wants to have a happy family with her.
Ruo Xi thinks to herself: she knows that she can't judge right and wrong, but she resists because she knows everyone's ending. Ruo Xi suddenly asks to be made Empress, but 4th Prince honestly tells her that this is one thing he cannot do. She pulls her hand out of his, leaving 4th Prince to explain that the Empress was his wife from a very young age, and has never once done anything meriting censure. Plus she lost their child when the baby was young, so she has no child of her own, 4th Prince cannot hurt her like that now.
Ruo Xi asks 4th Prince to never see Imperial Consort Nian again then. He grabs her hand and asks if she really wants to make it so difficult for him. Ruo Xi knows 4th Prince needs to treat Imperial Consort Nian well, since her father is one of 4th Prince's most important supporters. 4th Prince reminds her that Imperial Consort Nian has done nothing wrong herself. Ruo Xi asks 4th Prince what he can give her then? 4th Prince sometimes wonders what he has in his life.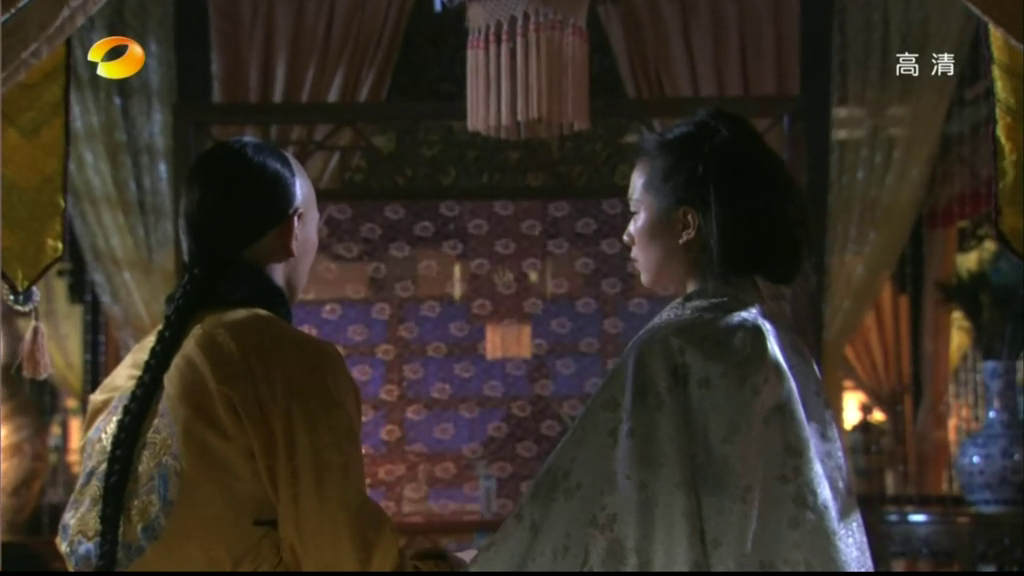 13th Prince was jailed for ten years. Back then he could fight a tiger by himself, yet now he is so old and weak with ills. 13th Prince is younger than 4th Prince, but has a weaker constitution than him. Ruo Xi is no better. He doesn't want to think about these things too carefully, because it frightens him. He has the entire world, but he's always afraid of losing the people who matter the most to him. 4th Prince tells Ruo Xi that he can't give her anything other than his heart.
The reason he hasn't given her an official title is because he wants to be able to see her at anytime, and not have to go through the administrative rules for Emperor's selecting which of his ladies to see. He asks if she understands? She just looks at him. He asks if she still wants to resist him? Ruo Xi doesn't answer.
She simply pulls the magnolia pin from her lightly bound hair, and her hair falls free and cascades down her back. She's answered 4th Prince, and he stares at her, before leaning in to kiss her. The camera pulls away from the long-overdue lovers finally getting their time together.
Ruo Xi stands in a pavilion with 4th Prince and 13th Prince as they watch the children play, noting especially that motherless Princess Chenghuan appears to be happy. Ruo Xi says that children should to be allowed to run wild and play now, because soon they will be required to learn all the etiquette and rules that will restrict what they do for the rest of their lives. 4th Prince laughs, wondering what exactly Ruo Xi has been teaching the kids these days. She smiles and says she merely reads to them and sings songs together.
4th Prince is called away with meet with his high officials. He grabs Ruo Xi's hand and gently strokes it when they were just standing there, so now he reluctantly lets it go before leaving. Ruo Xi turns to see him walk away with a smile. Their relationship has clearly strengthened and deepened now that they have taken it to the next level.