Some folks have asked me if I knew where to find the Ring Ring Bell OST. I haven't responded until now, because I was waiting for the OST to be released, which happened today. While I neither like the songs from the drama that much (I like it much better after listening to the entire OST which is just lovely), and the drama itself had turned from fluffy and cute into stupid and plodding, I still love to help folks new to TW-dramas get their hands on goodies. Below is the download link and track list from the OST.
At this point, I'm barely FF-ing my way through each new episode of RRB, and it's solely for Peter Ho, whose character and his performance are both too good for this maudlin mess. Much as I love Janine Chang, who did deliver a few episodes of solid performance in the beginning, she's since started aping the classic poor plucky hardworking girl stereotype to the max that I have the urge to punch her face when her character shows up. I want to take Jia Kai (and Peter) away from RRB and go drinking with him and hear him crack jokes in English.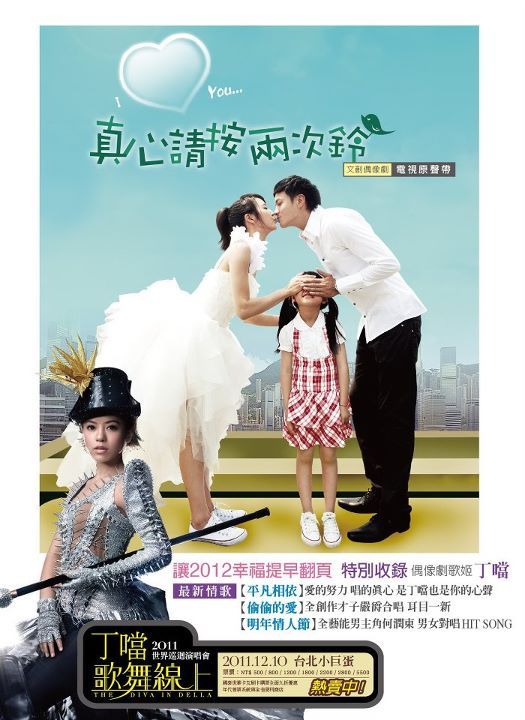 Download the official Ring Ring Bell OST here (filesonic zip file).
Track list:
01.偷偷的愛 (演唱:丁當+嚴爵/片頭曲)- Secretly in love (opening credits by Della Ting and Yen-J)
02.醬菜女的平凡真心 – Side dish girl's ordinary and sincere heart
03.相忘不等於遺忘 – Mutually forgetting doesn't mean permanently forgetting
04.平凡相依(演唱:丁當/插曲)- Ordinary reliance (by Della Ding)
05.接近真相的圓周率 – The odds of getting close to the truth
06.多多 – Do Do
07.知足(演唱:家家/插曲)- Satisfied with enough (by Jia Jia)
08.愛是最好的降落點 – Love is the best landing spot
09.你的笑瞇瞇,我的小秘密 – Your twinkling smile is my little secret
10.讓我罩著你 (演唱:MP魔幻力量/插曲)- Let me shield you (by Magic Power)
11.重要的東西放在心裏 – Important things are kept in your heart
12.小襄的美麗人生 – Xiao Xiang's beautiful life
13.明年情人節(演唱:丁當+何潤東/片尾曲)- Next year's Valentine's Day (ending credits by Della Ding and Peter Ho)
14.平凡相依 哼唱版(演唱:丁當/插曲)- Ordinary reliance (acapella version by Della Ding)
The story may be silly and the majority of the characters annoying (anyone not named Jia Kai and played by Peter), the leads do have great chemistry and their interactions are worth watching. I recommend FF-ing through everything else.