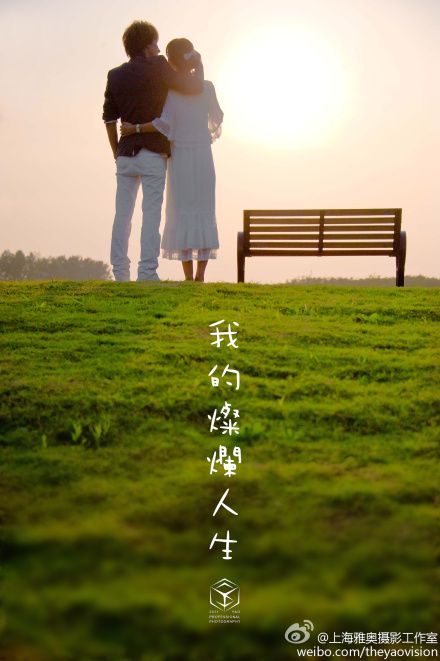 This weekend sees the premiere of yet another highly anticipated C-drama, the remake of the K-drama Shining Inheritance/Brilliant Legacy, this time starring Jerry Yan and Yedda Chen. I posted the two official MVs from the drama here, which made it look decent even if it doesn't arouse my urge to watch a drama based on one I've already seen and was just okay with. But after watching the full length sixteen minute trailer, I'm actually considering checking it out. There is a bit of overacting by Jerry, but Yedda (unfortunate hairstyle aside) is really natural and refreshing as the lead with the heart of gold.
What's even more intriguing is that the young man playing Yedda's younger brother is Liu Wei, the winner of 2010's China's Got Talent. He lost both his arms at 10 years old, and then at 19 decided to become a pianist and taught himself to play using his feet. Two years later he went on CGT and won it after four months of competition. Now he's acting as Yedda's autistic brother in My Brilliant Life, and I'm impressed with his scenes in the trailer. I hope this drama has heart and sincerity, because the original did have lots of that, which made it more addicting and sweet than quality-wise it deserved.
Full length trailer for My Brilliant Life:
http://www.youtube.com/watch?v=NdEjmmkBRKM
Liu Wei in the final round of CGT playing and singing You're Beautiful:
Above is a recording of Liu Wei's final performance on CGT. Contrast his intelligence and thoughtful normalness to his performance as an autistic boy on MBL, then it becomes clear this young man has raw talent unrelated to having arms or lacking any. When asked why he wants to do these incredible things, Liu Wei said "There are only 2 paths in my life for me – either to die as fast as possible, or to live as brilliant a life as I could." He believes a person needs to take responsibility for making their own dreams come true, so if that means he has to work harder than anyone else, that is what he will do. His ultimate dream is to become a music producer, and I don't think anyone has a doubt he'll do it. I think we can ALL take inspiration and just live our lives as passionately and with conviction as possible.