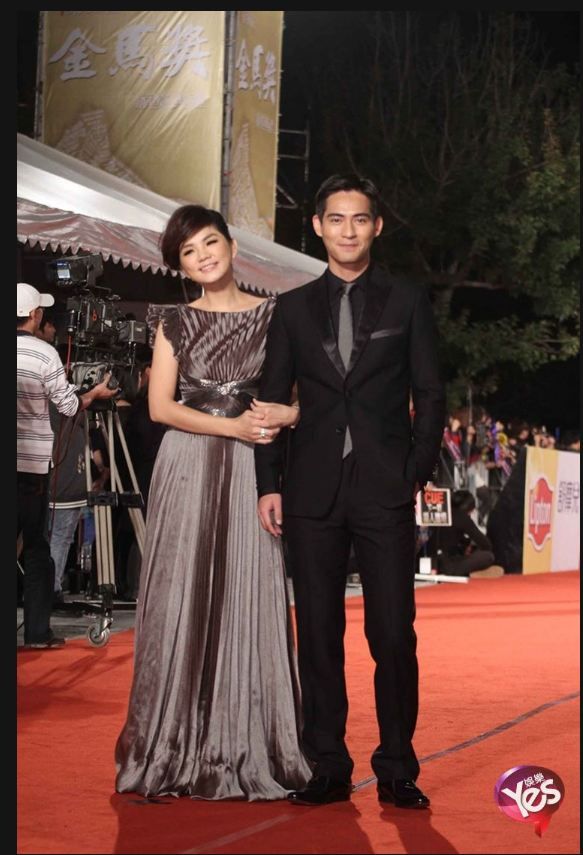 Taiwan's most prestigious awards show came and went, and thankfully the results caused no sputtering outrage and mud flinging the way the Golden Bells did last month. Last night's Golden Horse Awards was a rather muted affair, with some viewers not terribly impressed with the star quality of the nominees and attendees compared to other years. The biggest nomination winner Seediq Bale ended up winning Best Picture, but then lost all the rest of the major awards, including Best Director, which went to Ann Hui for A Simple Life. Best Actor and Best Actress went to Andy Lau and Deanie Ip, playing a servant surrogate mother to a young master duo in A Simple Life.
The movie currently with the most popular acclaim You Are the Apple of My Eye, ended up only winning one major award in newcomer Kai Ko winning for Best Supporting Actor. Since I've not seen any of the nominated movies yet, I just enjoyed the night for the fashion. And my favorite went to the pairing of Vic Zhou and Ella, who walked the red carpet together and presented, all to drum up interest in their upcoming TW-movie Destiny's Pair. Swooooon, they are so adorable together. And bonus points for my Zai Zai shaving off his months long scraggly facial hair. Welcome back, handsome.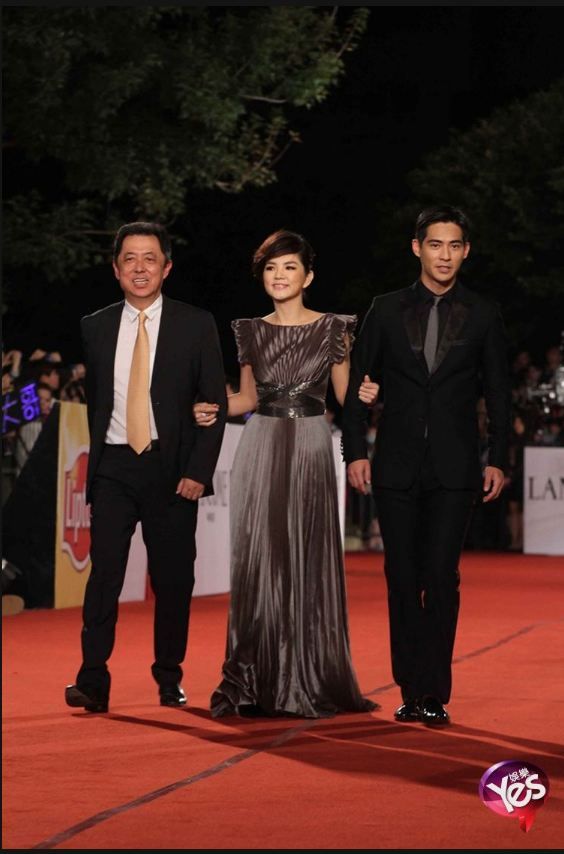 I love Vic's formal wear choice, which was red carpet worthy but not too stodgy with the black shirt paired with the silver tie (which matched his date Ella, so he's just pure awesome in that regard). Plus the suit fit him perfectly, which always goes a long way.
Ella was hands down the best dressed actress of the night. Her dress was just perfection on her – the dark metallic color popped on the red carpet, and the design was elegant and sexy with the satin drape, plus some of the best pleating I've seen outside of Issey Miyake (unless that was an Issey dress, which would explain it). Pleating normally makes a person look wider (it's more fabric, duh), but this dress is so expertly pleated that the top actually makes Ella look curvy yet slim. So jealous, but happy for her. Every girl dreams of showing up at the biggest awards show around looking flawless. Together with hair that was fresh but sophisticated, and makeup that was vibrant without being too bold, Ella was the complete package on the red carpet. Bravo, Ella! Welcome to the big leagues.
Zai Zai and Ella presented the Best Design Award that night, and they bantered and teased each other – Ella said she's would never find Zai Zai's look in their movie attractive since he looked like a hobo and never bathed. Not to be teased laying down, Zai Zai called Ella a "manly girl" (which made everyone laugh considering how drop-dead gorgeous Ella looked at that moment), and then made her turn around to confirm that she was indeed not that womanly. Don't worry, they are very good friends and this is the usual loving banter.
Last year's Best Actor winner Ethan Ruan, looking like he shaved his hair 3 months too early since he's not reporting for military duty until February 2012. But it's his suit that raises eyebrows. You can't tell but his suit legs are clamdiggers and he's wearing dress shoes with no socks. ARGH, how the hell did my most loathed recent menswear trend end up on the red carpet! Plus the fabric pattern is just inexplicably silly, especially for a formal suit. The only thing Ethan did right was the bow tie.
Ethan's LOVE co-star Shu Qi, who was also a Best Actress nominee that night, decided to wear a menswear-inspired outfit on the red carpet, complete with wide-legged pants. For a woman with her assets, I'm baffled by her fashion choice, because the plunging suit neckline aside, the entire look was a miss for me. Her hair is also much too severe, which does pair well with the look she appeared to be going for, its just that it doesn't look good.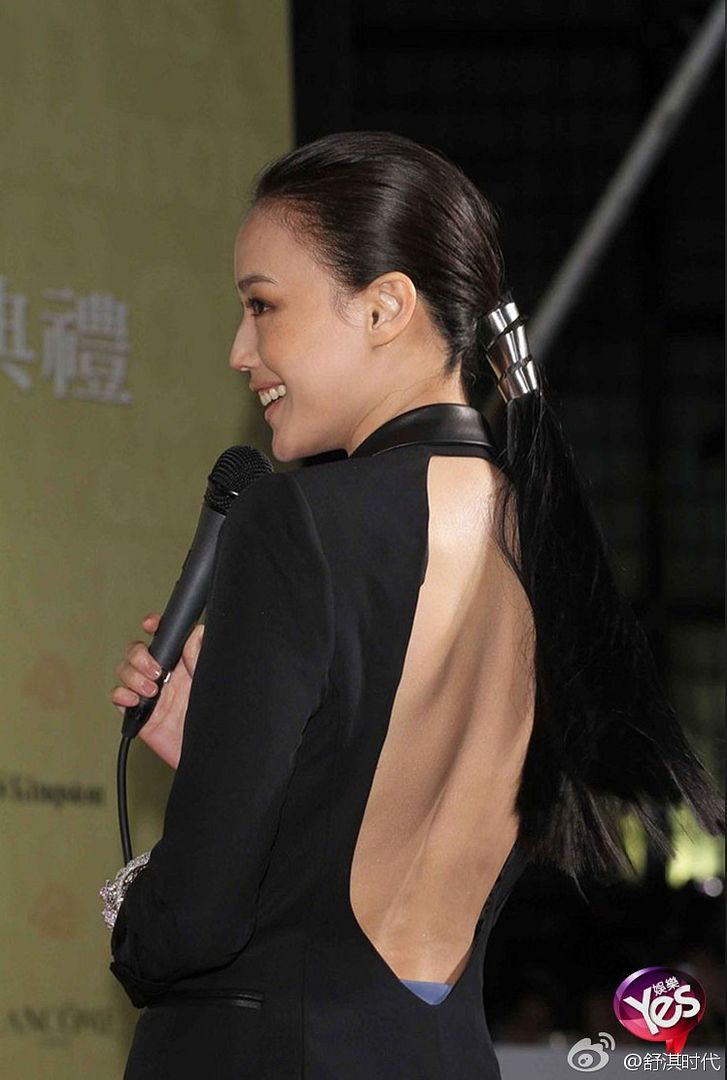 But Shu Qi's outfit has a hidden surprise – a cut out back. It's sexy and all, but does not negate the ugly that is the entire front of the outfit. Is it me, or does Shu Qi look a lot like the Asian Angelina Jolie?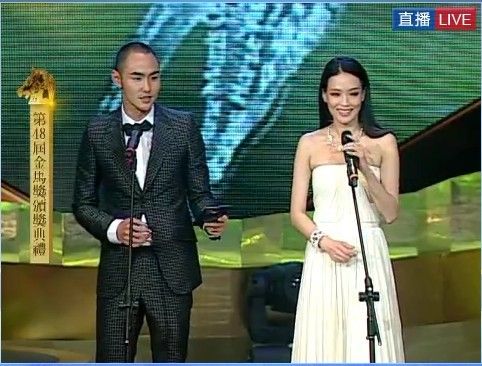 But it does appear she changed out of her hideous red carpet outfit and donned a gorgeous white strapless gown to present an award onstage with Ethan. Now this is more like it, Shu Qi. You looked lovely on stage, sorry you didn't take home an award that night.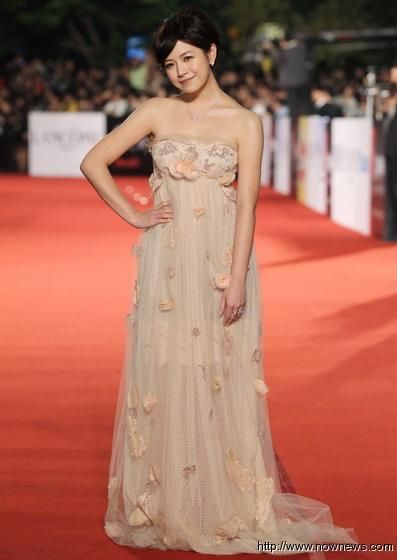 The TW-netizens have not gone easy on Michelle Chen, who was up for a Best Actress award, but ended up leaving with only the universally agreed upon Worst Dressed Award of the night. That dress is hideous alone, and even worse on her. The color washes her out, the cut makes her look squat and figureless, and the dorky flower designs are amateurish. She looks unflatteringly like she's expecting, but for the fact that she is not. I've heard one hilarious description of Michelle as looking like a maxi pad. I know it's mean, but really she needs a stylist ASAP. And if her stylist dressed her, that stylist needs to be fired ASAP.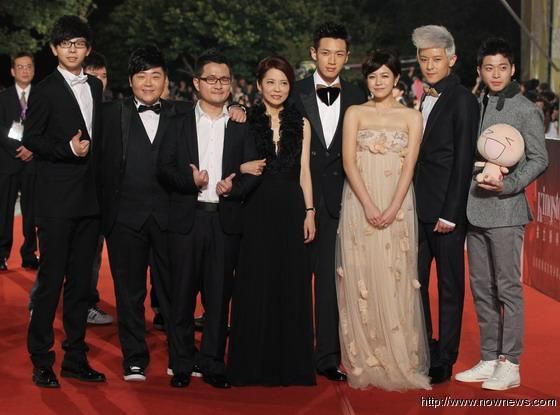 The cast of You Are the Apple of My Eye. Netizens are pretty upset that Giddens lost Best New Director to Wu Er Shan. But since I've seen neither movie, I have no comment either way. All I know is I can't stop staring at that boy with the silver Duckie hairstyle. He appears to resemble a boyish TOP, or am I hallucinating?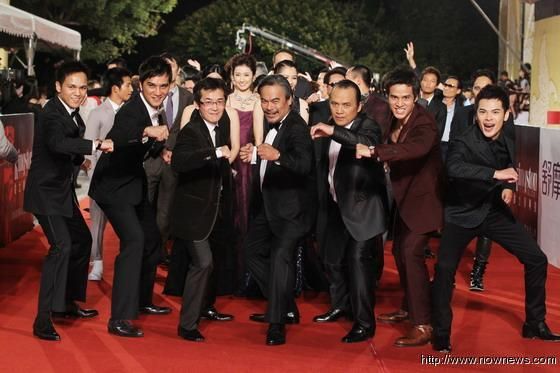 The cast of Seediq Bale, completely cleaned up and totally enjoying themselves. Nice. Love the cast for re-enacting the Seediq warrior pose on the red carpet.
Vivian Hsu, attending with the cast of Seediq Bale, gets my vote for second worst dressed of the night. Her dress makes her look like a lady of the night. Vivian, you are classier than that dress. Wish you had consulted some of your honest girlfriends' opinions before leaving the house. And you're are thisclose to pulling a Sonia Sui with your leg line, so please keep it tucked inside.
Bolin Chen and Blue Lan. It appears Blue's entire reservoir of smiles went to Bolin, hence one is super smiley and the other is extra glowery. Bolin gets an A from me for both the smiling and the well-fitted traditional tux, but Blue mostly gets a fail because his tux is too big. How that is possibly baffles me, since Blue is easily one of the largest leading men in Taiwan, both in terms of height and well-packed muscles. Most clothes in Taiwan are already cut for the generally more petite population, so Blue most've looked far and wide to scrounge up that slouchy suit.
Of course, the two biggest individual winners for the night were Andy Lau and Deanie Yip, who displayed their onscreen surrogate servant/mother-master/son relationship all the way to the awards stage. Andy can't be anymore adorable if he tried, kissing his movie-mom Deanie so warmly after they both won. Congrats to them, and all the winners of the 2011 Golden Horse Awards.