Ariel Lin took time out of her busy schedule to take a walk down memory lane, surprising the 2000 current students at her alma mater high school with a surprise appearance at the school's annual celebration festival. Ariel's teachers revealed that she's never forgotten to call from time to time to keep in touch regardless of how busy and famous she has become. Ariel gifted every student with a movie ticket to her new movie Lovesick, paying for the tickets from out of her own pocket.
This weekend is the anticipated finale for her hit drama In Time With You, but she played coy when asked if You Qing will finally choose poor lovelorn Da Ren. Ariel discussed how she's learning English on her own in anticipation for studying abroad. She already speaks fluent Korean, so I'm sure she'll pick up English in a jiffy since she's got a great ear for languages. Ariel also shared with the media her high school pictures from the school yearbook she flipped through during her visit. She was adorable even as a high school student.
Ariel presenting the movie tickets to the entire student body.
Ariel looking through her high school yearbook.
Ariel in high school. That girl was born cute, plus its always awesome to see confirmation that your favorite star didn't get any work done. Nothing wrong with getting work done, but I still love it when they stay natural and win on talent and charisma in addition to looks.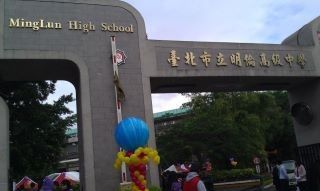 Ariel's high school in Taipei. She also attended university in Taipei where she was a Korean language major.