Led by Director Doze Niu, the leads of the upcoming romantic movie LOVE were in Shanghai today to unveil the latest poster for the movie and continue with their steady promotional activities for the movie which premieres in February. Present were Ethan Ruan, Vicky Zhao, Amber Kuo, Eddie Peng, and Ivy Chen, with Mark Chao and Shu Qi absent due to scheduling conflicts. It's a whirlwind trip especially for Director Niu and Ivy, who jetted back to Taipei immediately afterwards for the Skip Beat press conference.
LOVE marks Vicky's comeback movie since having her daughter and getting married, so she was excited to do a trendy rom-com which isn't her typical role. Director Niu revealed that Vicky's character does an embarrassing pole dance for Mark's character in the movie. LOL, this I gotta see. Ethan was asked about his relationship status and he confirmed everything was fine and he never got a proposal rejected. Good to know, Ethan. Everyone looked darling at this press conference which always makes me happy.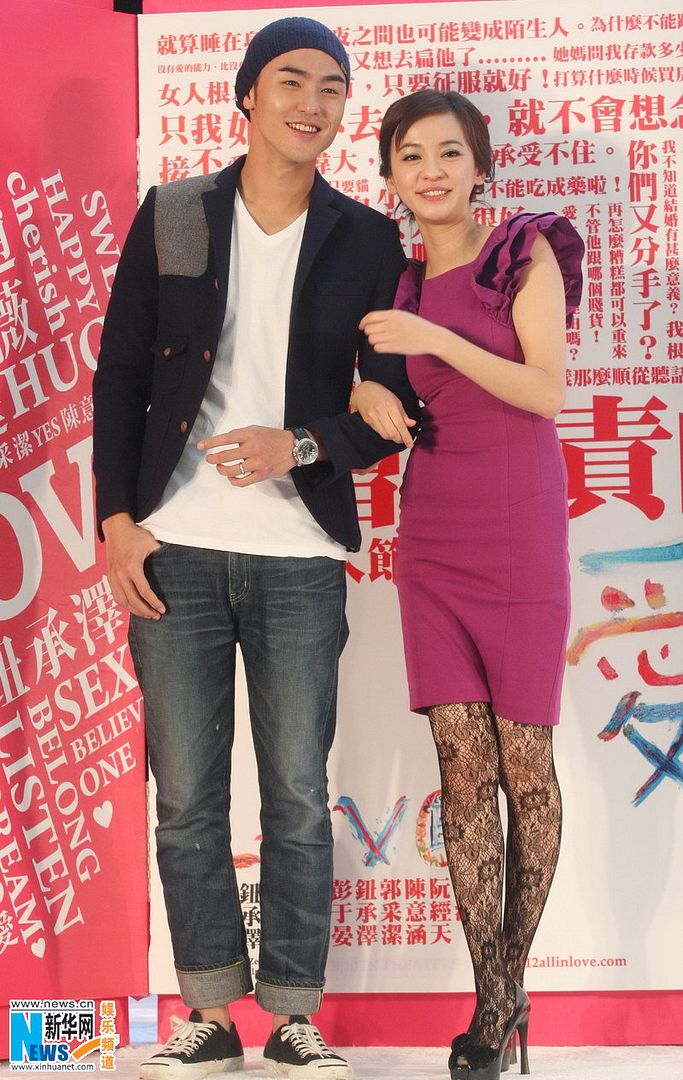 A few random asides: Vicky looks phenomenally gorgeous (marriage and baby suits her), Ivy's stockings are a miss for me, love Amber's dress color but the giant bow in the back and the poor fit make it sloppy, Eddie looks strangely like Hawick Lau in these pictures, and Ethan needs to dress up more AND buy some socks. The newly released poster for LOVE is imageless and instead contains a series of pithy statements about relationships and love. I wouldn't be surprised if these turn out to be actual lines of dialogue from the movie.