New year, new ArJoe. Maybe it should be call ArJoeRain? Both Ariel Lin and Rainie Yang posted pictures on their respective Weibos today showing that the longtime good friends hung out with mutual friend Joe Cheng over the holiday weekend. They dined at a restaurant owned by Joe called Destino located in Taipei, and both ladies were thrilled to have a chance to hang out like old times. Even though Ariel has said she isn't planning to do anymore dramas in the near future, she is looking for movie scripts and plans to release an album in 2012. Director Winnie has also announced plans for a movie version of In Time With You starring the original cast. As for Rainie, she still hasn't settled on her next acting project, whereas Joe is preparing for his upcoming period movie Hua Yang with Jerry Yan, Michelle Chen, and Ivy Chen.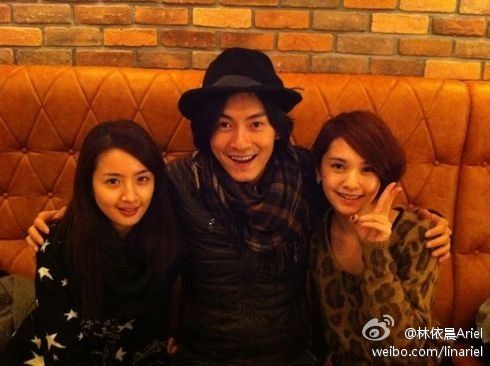 Ariel wrote on her Weibo: Tonight went with Rainie to Owner Cheng's restaurant Destino (You are my Destiny) to test sample the Southeastern/French/Italian fusion cuisine. It was tasty! But I'm even more in love with their bathroom.
Rainie wrote on her Weibo: Tonight has a long awaited getogether with old friends Xiao Zhong (Joe) and Ariel. We've known each other for nearly ten years, Now everyone has grown up, but we're still the same with each other. I loved today's conversation mood. We have to getogether more in the future. I want to recommend Destino, where Joe is one of the co-owners. We had dinner there tonight. The atmosphere was beautiful and the food was delicious. I'm so happy for Joe. Thank you for treating two gorgeous ladies to dinner tonight!