Leave it to two of the biggest C-stars of 2011 to drop a bombshell on the C-entertainment world on a slow weekend. Yang Mi went from promising young actress to the biggest thing since steamed rice last year in China after she started the year off with Gong (Jade Palace Lock Heart), which ensured that she would work nonstop for the remainder of the year on too many dramas and movies to even count on one hand. Hawick Lau (who I have a fondness for solely because his daddy is the forever awesome HK actor Lau Dan) went from solid actor to hottest thing since tofu after turning in a mesmerizing performance in Sealed with a Kiss as a rapist/blackmailer/lover/tortured anti-hero.
Hawick and Yang Mi worked together last Summer on the upcoming epic period drama Ru Yi (set in turn of the century China) and the rumors of them dating have been percolating since. It hit a peak last week with talks that they are living together in Beijing, and Hawick was snapped entering and leaving Yang Mi's apartment building. Both have denied dating for months now, but the apartment pics turned out to be the last straw. Hawick went first and confirmed on his Weibo that he was dating Yang Mi, and she followed suit responding to his post and then giving an interview discussing their relationship. In China, tens of thousands of FengMi shippers are weeping tears of blood right now. As for me, I want to congratulate this couple on courageously going public, and hoping it lasts and they make beautiful babies!
Below are some official stills of the upcoming Ru Yi starring Hawick and Yang Mi. I can already predict this drama will be breaking rating records when it airs later this year.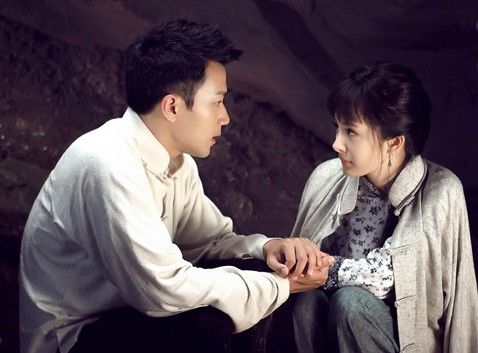 Below is a translation of Hawick's confirmation Weibo posts today:
A relationship just beginning is like a budding plant that needs to be protected. Because of job concerns, hoping for a simple relationship doesn't seem to be easy…..but I just want to say that meeting someone I love hasn't been simple…..I just want to have a relationship and be together. As a man, I will use my utmost to protect the person I am with…..and this little bud that needs protecting @YangMi

I can finally tell everyone that I have a girlfriend! I wanted to tell everyone concerned about me and the speculations, that I am sorry…..to reveal this relationship requires a lot of courage….Little Mi is a girl who is lacking in security, so I hope everyone can help protect her…..a relationship is just between two people…..she hopes that everyone can wish us well much like wishing a friend's relationship well…if we can receive your well wishes we would be forever grateful.
Yang Mi responded to his Weibo with "Hawick, I love You" followed by crying eyes emoticons. Shortly afterwards she gave an indepth media interview about her relationship, but it's too long so I won't translate.
Both Yang Mi and Hawick seem really really happy, and for that I am happy for them. She confessed that the timing was right between them, and she was ready to appreciate how special this relationship is to her. Hawick makes her feel secure and loved, and challenges her to always better herself at her craft. Seeing so many famous couples making it work (like the married Xie Na–Zhang Jie and Deng Cao–Sun Li), Yang Mi doesn't know what the future will bring, but she is serious about Hawick and trusts their relationship completely.
Right now the well wishes from their celebrity friends are pouring forth on Weibo. Everyone is happy for them. Even my loverboy Yuan Hong tweeted his congrats. Heh. Watch on for some MiWei (Hawick's Chinese name is Lau Kai Wei) chemistry from a teaser for Ru Yi and Yang Mi's new MV starring Hawick.
First teaser for Ru Yi
http://www.youtube.com/watch?v=rYaYrA4SfWg
Below is the just released MV of Yang Mi's new single, with Hawick as her leading man. I have to warn everyone that Yang Mi is a dreadful singer. She's about as bad as it comes, and really needs to stick to acting. The song is pretty, but her voice is horrific. I suggest watching this on mute. The MV is quite pretty though.
MV for Thorny Embrace:
As a consolation for FengMi shippers, have some FengMi cuteness. Sorry these two didn't turn reel into real, but if you love either of them, then be happy for Yang Mi in having the guts to go public about Hawick.