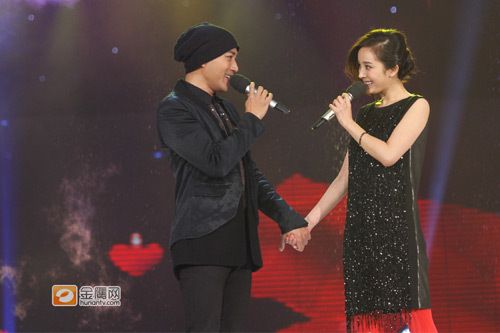 Now this is how you milk a new couple on the biggest stage of the year. For Hunan TV's annual Lunar New Year program, the network got newly outed couple Hawick Lau and Yang Mi to perform the duet theme song "Mistaken Love" from their upcoming period C-drama Ru Yi. While I think Yang Mi needs to stick to her day job as an actress, as her voice is tinny and vaguely birdlike, I actually really liked this performance. Hawick has a wonderfully rich deep voice, and paired with his ladylove, they manage to pull off the song, which is actually quite lovely. I'm surprised I liked it so much, since most C-drama theme songs are dreadful these days.
Of course the couple put on a show for the audience, with plenty of hand holding and deep soulful stares during their song. So cute! What's amusing to hear is the C-gossip rags alleging that the couple went public on account of Yang Mi giving Hawick pressure to out them so Hunan TV would invite them as a couple, rather than the original offer to have Hawick sing a duet with Ying Er, his leading lady in Sealed with a Kiss. If true, talk about "hands off my man" type of meowr going on. I think everyone wins out either way, since this is great publicity for the couples various dramas plus the network gets a hot-off-the-presses real life couple to liven up the proceedings. See more cute pictures and watch the performance below.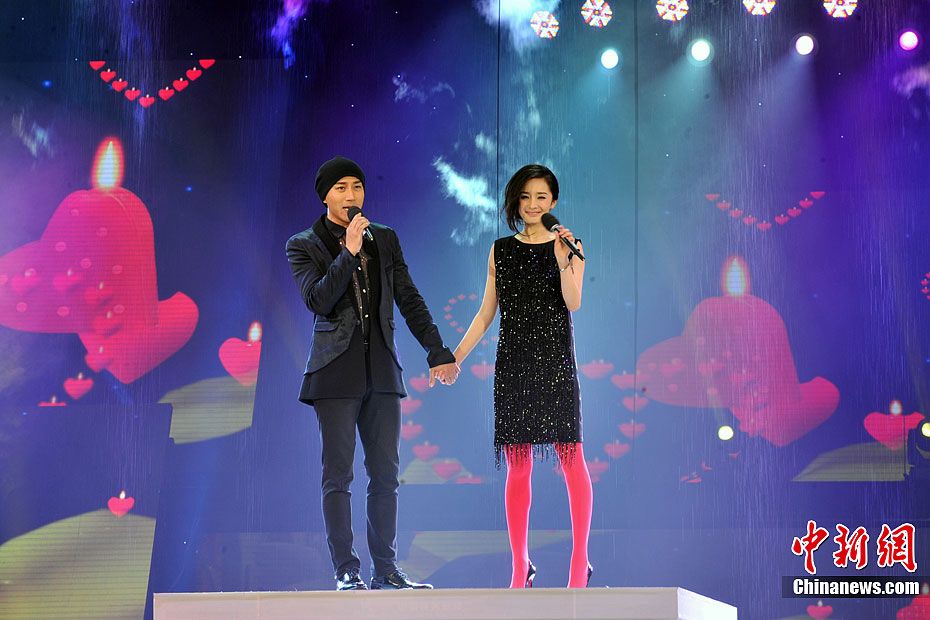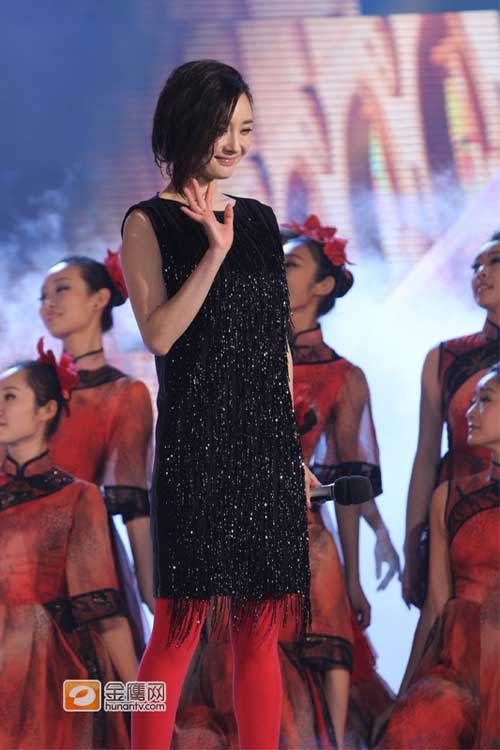 I absolutely LOVE Yang Mi's dress, make up, and hairstyle. She is perfection from top-to-bottom. Normally I would loathe her tights, but it's perfect for the occasion since she needs the red as the color for Lunar New Year. And Hawick's beanie is covering his newly shorn head for a Qing dynasty drama he's filmed, but he can not go wrong with a classy all-black outfit. At least he's dressing his age instead of like a boybander. I dream of the day China will ban backup dancers, but until then, we must all suffer their existence as always.
Yang Mi and Hawick sings "Mistaken Love" from their upcoming drama Ru Yi: