Ahhh, I totally miss Jae Hee, Yoon Si Yoon's character from his last drama Me Too, Flower! While the drama was much better than expected, but fell victim to a splotchy second half, I loved every minute of Yoon Si Yoon's performance as the wounded and valiently trying to survive self-made chaebol who longs for sincere human connection. The drama was such a ratings downer that I hope it doesn't impact his ability to land great leading man roles, because I think he's paid his dues and is ready for the big leagues, with talent to spare. And whatever he did to his face, I like it. I usually bitch about bad or unnecessary PS, but for once I think it made him better looking in a relatively natural way. As opposed to so obvious and off-putting it leaves me sputtering in outrage. Yoon Si Yoon showed up last week at the Seoul Music Awards as a presenter with his M2F co-star Seo Hyo Rim, and together they look outstandingly lovely. Come back soon to the screen, Si Yoon! Noona is waiting for you patiently. As if I didn't already adore him to pieces, I am simply putty in front of a long-legged man in a perfectly fitted tux.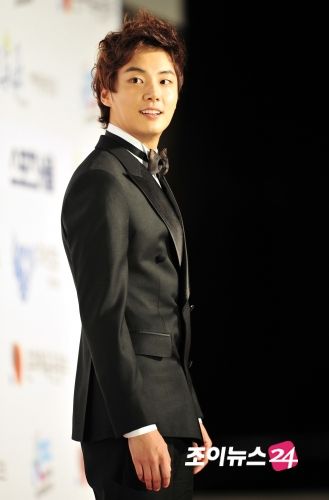 I cannot shower enough accolades on how gorgeous Seo Hyo Rim looked in her flowing blue layered dress. The design is exquisite, modern and feminine, with a color that is fresh and complements her complexion to perfection. Plus the cream wide belt gives it some structure and emphasizes her womanly figure. Now this is how to be classy and sexy all at the same time. And Yoon Si Yoon can do no wrong in a well fitted traditional tux. It is a leeeetle bit odd the two of them are presenting together since their characters did not exactly mesh all that well in M2F, but looks wise they are definitely well matched onstage.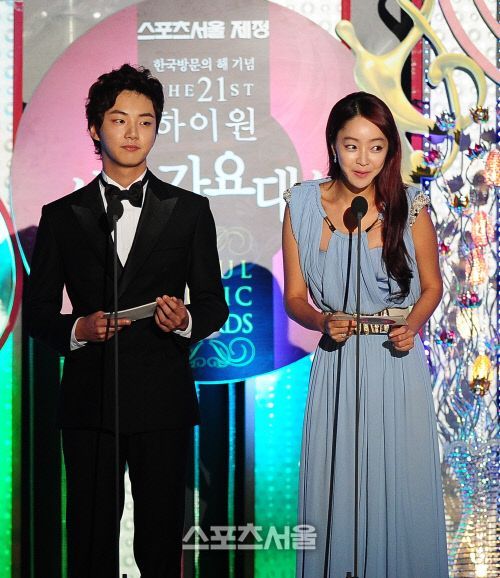 [Credit: all pictures as marked of the respective news agency]
© 2012, ockoala. All rights reserved.