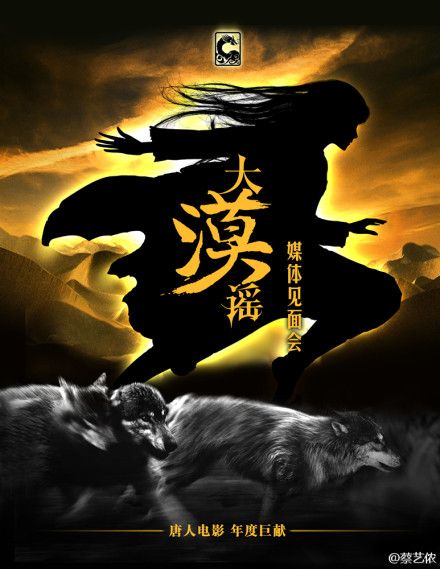 Having read all three of Tong Hua's historical novels, I have to concede that Da Mo Yao is her weakest work. It lacks the intelligent depth of Bu Bu Jing Xin and the emotional range of Yun Zhong Ge. But it's my favorite nevertheless. I've been waiting for Tong Hua to actually start on the final novel of her great desert music trilogy (Da Mo Yao or Ballad of the Desert is the first book, Yun Zhong Ge or Song in the Clouds is the second book, and her final book is supposed to be Xie Yiu Qu or Sorrow Relieving Melody), but it doesn't look likely anytime soon. I'll discuss Yun Zhong Ge at a later time, but first I want to tackle the characterization in DMY.
I was feeling that Tong Hua took inspiration from a very famous C-wuxia novel for her characters in DMY, but I didn't know if this was an anomaly or a thread she was planning to follow. After finishing YZG, I am now fairly certain that DMY was Tong Hua's random homage to Return of the Condor Heroes, turning what is an epically famous love story into a love triangle. Before I get yakking, I just wanted to explain that the desert vista pictures in this post were all just released by Tangren this morning as the first official illustrations of the DMY drama adaptation, and meant in anticipation of the press conference this Friday to kick off the filming.
While I find Yu Er written impossibly fantastical with her wolfy and human sides co-existing in such seamless harmony, taking the leap of faith with her is easy because she's very vividly multi-facted and vibrant. DMY is written in a first person point of view (same as in BBJX), which makes it easy to relate to the narrator because we hear her thought process. What hurts DMY's depth is where Tong Hua chose to write her two males leads, both of whom evoke equally passionate devotion from fans. The problem I have is that Tong Hua pretty much took one of the most famous fictional male heroes in modern Chinese period fiction and spliced him in half to create Meng Jiu and Huo Qu Bing. Hilariously enough, I'm such a Qu Bing fan because he's got the half that I love while Jiu Ye got stuck with the half that makes me roll my eyes. Who is this character? Why, none other than C-literary wuxia fiction's very own epic loverboy Yang Guo from RoCH. Humor me while I pontificate.
RoCH is nowhere near being one of my favorite Louis Cha (his Chinese name is Jing Yong) novels. It is for a lot of folks, but an equally vocal dissent group finds it an wholly self-gratifying display of maschismo on the part of Louis Cha to dump his idea of this epic "love" on us all. I really wouldn't dismiss it so much if he had written a great female lead, but instead he barfed up Xiaolongnu, who to this day and age I find wholly abhorrent and annoying that I take out my sharp knives whenever I talk about her. She's placid, vapid, and completely a cipher – the homage to the perfect goddess of every man's dreams. One who is so beautiful she must be hidden away, doesn't have a personality other than doing whatever her man wants, and completely having no life other than floating through her existence between coveted and/or dismissed.
And into this paragon of female perfection Louis Cha crafts one of his most complicated and compelling leading men in all his novels. Unlike his daddy Yang Kang or his uncle Guo Jing in Legend of the Condor Heroes, Yang Guo is the successful creation of a male lead that has plenty of flaws and faults, yet rises above it all to become an iconoclast hero. He's also not a character I love terribly, but I appreciate his complexity. Tong Hua herself mentioned LoCH and RoCH in her prologue to Yun Zhong Ge, in a self-deprecating attempt to borrow the seamless ties between those two novels and say that DMY and YZG don't have the same epic connective depth of Louis Cha's two seminal works, but is her own version of that type of generational storytelling.
[This poem reads: Wanting only the heart of one person, to never be apart even when our hair is white]
I was already in a period drama mood, and the soundtrack for RoCH83 is just perfectly to listen to when translating DMY, so I was listening and translating when I had my "Huo Qu Bing and Jiu Ye is just Yang Guo spliced in half epiphany" and "Yu Er is Tong Hua's non-annoying homage to Xiaolongnu." I'm not saying Tong Hua lifted characters or even plot from RoCH, but merely that everyone worth their period C-novel salt has read these books and I find RoCH heavily influenced DMY's emotional characterization. In fact, aside from splitting Yang Guo into her two male leads, Tong Hua even threw other RoCH plot drivers over to her other characters, which makes for an interesting read when one knows both source materials.
Huo Qu Bing is the yang to Jiu Ye's ying, and if you take into account Louis Cha managing to write one unforgettable male lead that encompasses both male characters, does highlight the thinness of Tong Hua's characterization. Huo Qu Bing is the side of Yang Guo that is arrogant, cold to those he can care less about, completely and utterly devoted to one woman in his entire lifetime, and a warrior god. Jiu Ye is the side of Yang Guo that is emo, insecure because of his birth, Jiu Ye's leg handicap corresponds with Yang Guo's arm injury in the second half of RoCH, and living decades pining for one woman. It's no wonder I am completely obsessed with Huo Qu Bing, because he got the half of Yang Guo's personality that doesn't drive me nuts, whereas Jiu Ye got stuck with the side of Yang Guo that drives me bonkers.
Jiu Ye's reluctant patriotism in wanting to help the Xi Yu kingdoms because of his background reflects Yang Guo's torn desire to not get involved in the Song/Mongol conflict but in the end he goes back to Xiang Yang and helps defend the city. In many ways, the more immature Huo Qu Bing is the younger version of Yang Guo, willing to defy the world to be with the woman he loves, while Jiu Ye's calm depth reflects the older and injured version, complete with rivers of longing and a lifetime of secretly helping out the world. Jiu Ye also got Yang Guo's excessive tendency to 鑽牛角尖 (this phrase means to hone a bull's horn, i.e. to be so stuck on one issue that you wear it down over time). Jiu Ye's inability to get over his handicap hang ups with respect to Yu Er's pursuit of him was his Achille's heal. Similarly, Yang Guo's insistence that Huang Rong is to blame for his dad's death is something he almost couldn't overcome.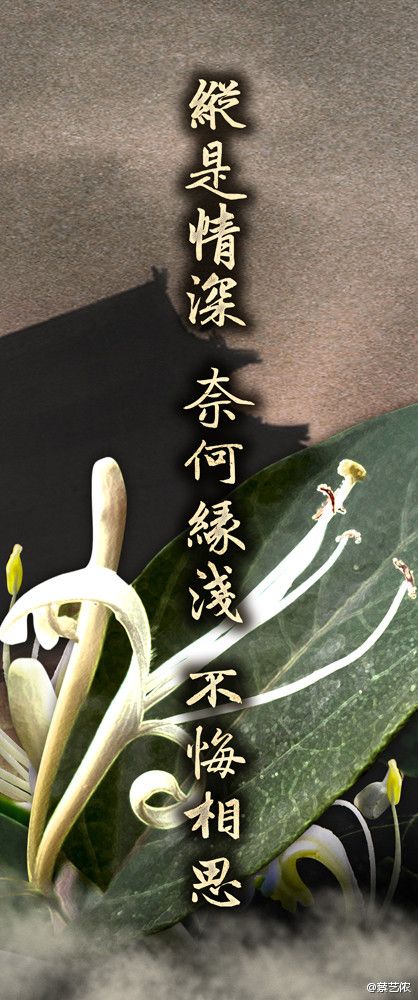 [This poem reads: Even if our passion is deep, who can lament if our fate is shallow, with no regrets and a lifetime of longing]
Similarly, Yu Er is like a bizarro version of Xiaolongnu. Both of them are outliers, freaks if you will, to normal society. Yu Er is an orphan raised by wolves outside the structure of normal human development. Xiaolongnu is an orphan raised by a emotionally scarred master hidden away from society in the Living Tombs. Both of them have a low EQ due to their unique upbringing, though Tong Hua helped turn Yu Er around by giving her a Papa who helped normalize her when she was still young enough to adapt back to human society. While Louis Cha wrote Xiaolongnu as literally the most beautiful woman in the entire world, I find it amusing that Tong Hua merely elected to describe Yu Er in the same descriptor used for Xiaolongnu "icy cool beauty" while bestowing the title of most beautiful woman in the world on another female character in DMY, namely Li Yan.
Because Tong Hua bisected the character of Yang Guo into two male leads, she managed to create a compelling love triangle where there was none in RoCH. But in doing so she thinned out her male leads so that they are presented almost as direct contrasts to each other. Less time is spent on their nuances and they become contrasts in behavior and attitude towards Yu Er. And just like RoCH remains Louis Cha's most "romantic" novel, with the most amount of time spent on the love story compared to his other works, DMY is also Tong Hua's most romantic novel as well. BBJX focused on the fraternal politicking and internal emotional struggles more than any straight forward romance, and Yun Zhong Ge…..I am not ready to talk about that novel yet. I'm still completely traumatized. Though I said only DMY took inspiration from RoCH, the two female leads in YZG are actually also lifted directly from RoCH. Yun Ge is a carbon copy of Guo Xiang, while Huo Cheng Jun is so similar to Guo Fu it freaks me out.
I bring up DMY's more than passing similarity to RoCH because the latter is such a famous novel (with nearly a dozen drama adaptations to date) that I can't believe Tong Hua didn't know she was paying homage to a famous love story. It also matters because the two males leads in DMY are comparatively thinner characters even if one merely stacks them up against the male leads in BBJX and YZG, and for that I posit the reason I stated above. Since they are really one very complicated character split into two male leads, it's hard to flesh them out more than Tong Hua already did. In my second read of DMY for the translation project, I found myself liking Jiu Ye much more, appreciating his quiet suffering. I even came to the understanding that Yu Er will be just as happy with either man, but ultimately it all comes down to timing. The Chinese call it "Yuen" (fate or destiny), and when love is equal and cannot be weighed, fate tips the scale in favor of one man or another, and with that comes a truly unforgettable love story.