Yun Zhong Ge (Song in the Clouds) is Tong Hua's best period novel to date. Bu Bu Jing Xin was exquisite, but then she wrote the simple and sweeping Da Mo Yao likely to cheer herself up afterwards. Everything in DMY worked itself out too easily, but what if there was a love story so thrilling and gutwrenching that it tops anything Tong Hua has ever written, but then it happens in a way where nothing can work itself out. It's just too complicated, too late, too destined to be that way. When I finished YZG I had two reactions: (1) I hate this novel, and (2) how is it possible to cry this much from the pain? But you know what? I think about this novel all the time since I finished. That is a hallmark of a masterpiece, it sticks in your gut and refuses to let go.
I think about the two male leads (OMG, how does Tong Hua write them like this), and I constantly marvel about how she constructed this story within the confines of historical records. YZG is the story about Yun Ge (Cloud Song) and her fated from childhood love story with Liu Fu Ling (her Ling gege, who is otherwise known in history as Emperor Zhao of Han and was Emperor Wu of Han Liu Che's youngest son) and Meng Jue, the adopted son of a certain Meng Jiu. And Yun Ge is no ordinary girl – she's the daughter and youngest child of Huo Qu Bing and Jin Yu. So after all that craziness in Da Mo Yao, Yun Ge ends up involved in the most unforgettable love story with the sons of two men who were inextricably tied to her parents. Talk about fated to be…..and yet fated not to be.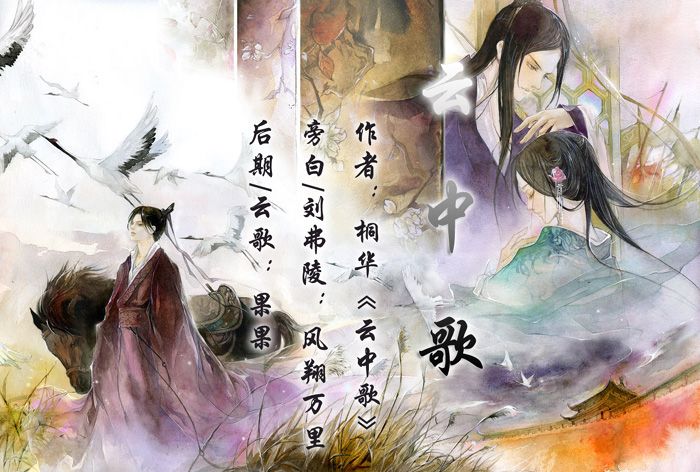 This is Tong Hua's foreword in Volume 1:
In a destined time, meeting the person you miss dearly, is an eye-twinkling type of happiness.

In a hopeless space, meeting someone never once on your mind, is dishearteningly of no use.

In a lost time, meeting the person you dreamed about, is a gut-wrenching type of sorrow.

In a forgetful space, meeting someone never once longed for, is an uncontrollable kind of torture.

Therefore, after a thousand sails have been used and the seas are visible again, the waves will never cease to rock.
I have to first preface by saying I really don't like Yun Ge. She's the first Tong Hua heroine I even actively dislike at times. How much I like her mom Jin Yu is how I much dislike her, while Ruo Xi falls somewhere in the middle. She doesn't really ever do anything abhorrent, but as a character I just don't connect with her. She is actually written almost identical to my favorite Louis Cha female character Guo Xiang, the daughter of Guo Jing and Huang Rong in Return of the Condor Heroes. But while I loved Guo Xiang's vivaciousness, somehow Yun Ge feels more one-dimensional. Conversely, the more I don't like her, the more I love both male leads. How much they both love Yun Ge puts to shame the love shown by Huo Qu Bing and Jiu Ye to Yu Er in DMY. I think Ling gege (Yun Ge calls him Ling gege, where gege means older brother, or "oppa" in Korea) is my most beloved character in YZG, but it's his rival Meng Jue that I find most unforgettable and fascinating when the novel ends.
YZG is Tong Hua's first attempt at writing in the third person narrative, and breaking out of the first person perspective takes her writing to new heights of wonder. With each sentence, each chapter, each volume, Tong Hua lifts YZG higher and higher until the reader almost can't breath. Afterwards, I sat there just drained of all my energy but filled with emotion. I can't believe a love story could be like this, and could be this heartbreaking all around. Unlike DMY where only three characters are fully fleshed out, YZG has eight main leads (nine if I add Shang Guan Xiao Mei, which she deserves to be added), and all of them are written with such depth and nuance that I'm in awe Tong Hua did so much in only three volumes of text.
YZG starts off 25 years after the end of DMY. One of my favorite parts of YZG was hearing Qu Bing and Yu Er's kids talk about them, even though they never once show up in the novel. But through Yun Ge, and her MOST AWESOME BROTHER IN THE WORLD Huo Yao, the little tidbits about the life of Qu Bing and Yu Er is like a balm to my soul. But it also sheds light on the fact that they are really absentee parents, with lots of love for their kids, but ultimately their world is each other. This really shapes who Yun Ge is, and how everything comes to pass. Her parents were always traveling, her second brother was much older and off in his own life, and her third brother (MINE, ALL MINE, *____*) was diametrically opposite in personality to his chatty curious sister. That left Yun Ge always wondering where she ultimately belonged and looking since a young age for her special someone. Too bad fate played a cruel joke on all the characters in this novel.
Fate let Yun Ge meet her two men successively, but there is only one Yun Ge so someone must end up the odd man out. Yun Ge first meets a twelve year old Liu Fu Ling when he's lost in the desert and her parents send an eight year old her to get his group out of the desert. Their meeting is as perfect as childhood love stories can get. He's about to die and she shows up riding a snow white camel, with Snow Lady behind her, and two eagles named Xiao Qian and Xiao Tao keeping watch over her. Innocent and vibrant Yun Ge pierces through the walls Liu Fu Ling, already numbed by bloody politics, has constructed around himself, touching his heart when he thought it was long dead. When they part, she gives him one of her green embroidered shoes as a token for their promise to meet again in Chang An when she grows up. She doesn't know it, but the giving of a shoe is a girl promising to marry a man. But Liu Fu Ling knows this and he accepts it. He goes back to Chang An to wait for her, already in the role of Emperor Zhao of Han, having ascended the throne at the age of eight.
After she parts with her Ling gege, she runs into a young beggar boy being beaten up by bullies and she saves him. Her third brother is threatening to leave her behind if she doesn't get going, so in her haste she shoves her other green shoe at him and tells him to sell it for money so he can see a doctor. This boy is beaten down but not defeated, and her one act of kindness will have long standing repercussions. The boy we learn much later on was Meng Jue, a boy who has suffered through the loss of his family members and is surviving purely on the need to get revenge on those who have destroyed his life. This sequence felt a lot like Yu Er's successive meetings with Jiu Ye and then Huo Qu Bing in the desert. Yun Ge meets her two men when she is a child, though she is really only aware of one. She's made her promise to her Ling gege, and she's going to find him in Chang An once she grows up.
Grown up Yun Ge decides to book it from home one day when she hears that the nth guy has come to ask for her hand in marriage, but this time her daddy agreed. She doesn't even stick around to meet him. In shock that her parents would decide her marriage (they didn't but she doesn't know that), she decides to go look for her Ling gege in Chang An. Since her mom confiscated the token Ling gege gave her (a rope made out of his mother's cut locks), she remembers he wore a jade piece around his waist and the way his eyes looked. Fate starts to screw her over when she arrives in Chang An and runs right into Liu Bing Yi, the grandson of the former Crown Prince Liu Ju (the son of Empress Wei), who is the only one in his entire family to survive when the Wei clan was exterminated in a blood bath by Liu Che.
Since the two cousins look similar and he also has the same jade piece, Yun Ge mistakes him for her Ling gege. She's heartbroken when he doesn't remember her plus he's already got a girlfriend, a simple commoner girl he grew up with named Xu Ping Jun. Yun Ge also meets Meng Jue, in what she thought was a chance encounter, but is in truth much more than that. Oh Meng Jue, I could never do you justice in writing about you or even attempting to describe you. I think even Tong Hua underestimated what she created in such a complex character as you. Believing her Ling gege doesn't remember her and has moved on, Yun Ge falls in love with Meng Jue over the course of a year living in Chang An and there is a tacit understanding that he's going to marry her. But then Meng Jue gets tempted by the possibility that he could marry Huo Cheng Jun, the spoiled daughter of the most powerful official in Chang An, Huo Guang (Huo Qu Bing's younger brother).
Meng Jue's seeming unfaithfulness breaks Yun Ge's heart and she chooses to leave Chang An and go home. On her way out of the city, she runs across an assassination attempt on the Emperor, and is mistaken for an assassin and injured. It is there that Liu Fu Ling finally meets up with his beloved Yun Ge. But when she is finally saved and awakens to discover that the real Ling gege was not Liu Bing Yi, and in fact has been waiting for her this entire time, she cannot reconcile the fact that she fell in love with another man so quickly. Add to the fact that she will soon find out that he's in fact the Emperor of the Han dynasty, and has an Empress already, an adolescent named Shang Guan Xiao Mei who was married to him when she was six and he was just twelve. Yun Ge struggles between her past and present, knowing Ling gege faithfully waited for her while she mistakenly moved on.
This is Tong Hua's foreword in Volume 2:
They are (male use of this pronoun and in parenthesis is my identification of which character this description refers to):

One is a tenacious Emperor, who as a child watched his father order his mother executed. (Liu Fu Ling)

One is a down-on-his-luck royal grandchild, the only one to survive the destruction of his entire family. (Liu Bing Yi)

One is the orphan of a loyal clan, who watched his own brother be the substitute victim on behalf of a royal grand child. (Meng Jue)

One is a brilliant and wild royal duke, always kept just outside the gates of royal power. (Liu He)

They are (female use of this pronoun and in parenthesis is my identification of which character this description refers to):

One is a desert wolf girl, an innocent and carefree master chef. (Huo Yun Ge)

One is an ordinary commoner girl, patient and willing to learn. (Xu Ping Jun)

One is the daughter of a wealthy family, passionate and ambitious. (Huo Cheng Jun)

One is a red-robed mute girl, devoted without ever saying a word. (Hong Yi)

And this one is my add:

One is a child bride, destined to grow up and grow old alone in the Palace. (Shang Guan Xiao Mei)
As a novel YZG is gutwrenching, sometimes reading just a line makes me quiver with emotion. I feel happy, I feel sad, ultimately I feel so touched by these characters. In DMY I fell for the love story between Huo Qu Bing and Yu Er, but in YZG I feel for the lives of every single one of these characters. Even the so-called villains of this tale are so complex and their motivations understandable. Huo Guang is a man who clawed his way to the top of the power chain because he's been suffering since he lost his beloved brother Huo Qu Bing. He worshipped and idolized this brother, who left for war and returned a dead body, and his sister-in-law also dead. With Huo Qu Bing's death, Huo Guang suffered all the jealousy and hatred aimed at his brother which was in turn directed at him. He managed to align with the Shang Guan family and together they consolidated power, and then shoved their baby granddaughter Shang Guan Xiao Mei into the role of Empress.
Despite his need for power and control, Huo Guang is a good official who implemented reforms and looked out for the people. He wanted power not to misuse it, but to make sure his family was always in control and could never be mistreated. His daughter Huo Cheng Jun goes from spoiled princess to ruthless and vicious court lady because of Meng Jue's choosing Yun Ge over her, but she gambles her entire life on enacting vengeance only to find that none of it matters. Liu Bing Yi is the sad orphan of a royal line (the Wei family) wiped out by Liu Che, but when he has the chance to assumed the throne, he decides that power is worth any price to be paid.
When reading YZG, I never got the sense that Yun Ge was the lead, or the story was about her. Meng Jue is in fact the lead of this novel, and Yun Ge and Liu Fu Ling's love story is the romance on which Tong Hua juxtaposes Meng Jue's internal torment. The man has survived by walking over a pile of nails represented by his stubborn desire to cling to life and make those who have wrong him pay. The only thing good in his life is Yun Ge, and he spends his entire life waiting to meet her again. But when he does, he cannot let go of his need for power to enact vengeance, and so he loses her. When he figures it all out, it's too late. The same thing is true of Liu Fu Ling, so we have two men that lead the shittiest life possible all wanting the same girl. But unlike Meng Jiu, Liu Fu Ling's consistency is his strength and his bedrock when everything else falls apart.
I don't like Yun Ge because she's starts off so bubbly and idealistic. She's described vividly, but her pampered and carefree upbringing makes her feel like Mary Sue in a land of three dimensional characters. But then watching her idealism, her hope, her spirit, slowly turn into anguish and despair, it becomes impossible to watch her trajectory without marveling at how well Tong Hua was mapping out her journey. When I read YZG for the first time, I felt like Yun Ge was such a passive character, despite her outgoing personality, because shit was always happening to her. But if I take Yun Ge as not the lead of the novel but merely a side character, then she is the catalyst for Liu Fu Ling and Meng Jue's lives, and for that she serves a monumental purpose.
YZG really affected Tong Hua, and when she was done with the novel, she wrote an open letter to her two males leads. It literally made me bawl my eyes out (again), because her love for them both jumps out from the words and grabs you. I don't recollect any other C-writer being able to write such magnificently memorable male characters. From 4th Prince to 8th Prince, from Jiu Ye to Huo Qu Bing, and now from Liu Fu Ling to Meng Jue. Before I read YZG, I saw a poll somewhere for favorite Tong Hua male lead, and it was a three way neck-and-neck race between Ling Gege, Huo Qu Bing, and Meng Jue. I wondered how it was possible both male leads in YZG had so much love from the readers. Now I understand.
This is Tong Hua's foreword in Volume 3:
At the right time, meeting the right person, is a lifetime of happiness.

At the right time, meeting the wrong person, is an experience in heatrtbreak.

At the wrong time, meeting the right person, is a life full of hopelessness.

At the wrong time, meeting the wrong person, is a path full of torment.
When reading DMY I had my image of the three leads, but when reading YZG I have no such image of any of the characters. In fact, even if I close my eyes, I can barely picture them. Yun Ge is pale but lively, Ling gege is quiet and reserved, Meng Jue is striking and has piercing eyes. That's about it. I don't care who plays them in Yu Zheng's drama adaptation, because I don't think any actor can do the two male leads justice, though I've always felt that a young Yang Mi was literally Yun Ge come to life. So much about YZG is in the details, the writing, the nuance, that I don't know how a drama could possibly capture it all. DMY is inherently an action piece, whereas YZG's mastery is in it's emotional breadth.
Don't get me wrong, YZG is action-packed, but the scenes that linger for me are scenes with little dialogue. Yun Ge and Liu Fu Ling's relationship is so beautiful in it's clarity, these two people who just get each other that no words are necessary. When they do talk, everything they say to each other just imprints on my heart. But really the happy scenes in YZG are in the side details, such as when Yun Ge mentions how her daddy built her an ice slide one year for her birthday, or hearing about how her third brother was laid up with a broken leg once and invented a new martial arts skill involved word battles. I can't help but say again – I LOVE THIRD BROTHER. Seriously, a book needs to be devoted to him. Tong Hua, you make it happen! You can't write this guy and then just have him whoosh in and then zoom out without making him the center of my world. Third brother, or Third young master, real name Huo Yao, is Yun Ge's perfect third older brother.
I actually love the names Qu Bing and Yu Er gave their kids. Yao is a Chinese character comprised of the characters for sun, moon, and stars. Pretty awesome, huh? And Yun Ge as cloud song speaks for itself. Their parents sure love their freedom. When third brother shows up, this is how Yun Ge described him "Right as she arrived at the edge of the oasis, she saw third brother. Her beautiful as a peacock, proud as a peacock, arrogant as a peacock third brother was sitting on a tree branch just looking at the sky." I actually would have read this darn novel just to savor every little mention of Huo Yao, who manages to make me squeal harder than his daddy made me squeal. He's got daddy's arrogance, mommy's je ne sais quoi, and so much charisma he manages to almost a steal a novel where he only has a few pages. Sadly we never meet Second Brother, who I have a feeling is very similar in personality to Jiu Ye. Of Huo Qu Bing's two sons, one resembles him, and the other Jiu Ye, which evens out the fates a bit.
But Tong Hua is not nearly so kind in YZG, where her story is so seamlessly plotted there is not an easy way out anywhere. In BBJX, I always thought Ruo Xi simply refused to accept a reality that may be hard but could at least yield happiness for her. In DMY, Yu Er made a choice and she was able to live with it. But in YZG, none of the characters can find a way to untangle the conundrums that bind them all together. Whether it's love or power, longing or despair. The only way out is to let go, walk away from it all. But how many people can actually do that? And after walking away, can you have the strength to keep living despite having lost it all. When I finished YZG I felt spent, but then re-reading chapters really made me appreciate how amazing Tong Hua's writing can be. It makes me feel nourished, like I'm expanding in my appreciation for emotional narratives that might be difficult to read, but enrich my life after reading it.
What I take away the most from YZG is Liu Fu Ling's selflessness, his love for the people as an Emperor ought to have, and his daring to reach for his own personal happiness in keeping Yun Ge inside his heart from childhood until they meet again. When they finally reunite, he is willing to fight for their love, but always in the most Ling gege of ways. In many respects, he's the very opposite of Huo Qu Bing, and it's funny to have Yun Ge end up with someone so unlike her daddy. I love Ling gege to the depths of my soul, he's a character that is impossible to write because he's a real life Emperor, but Tong Hua gave him a love story for the ages. She wrote Yun Ge for him, just like she wrote Yu Er for Huo Qu Bing. But caught in the middle of these love stories are the two Meng guys, who manage to create their own hard to forget characters.
I don't think I can ever love YZG the way I love DMY, because the story about Yun Ge, Liu Fu Ling, and Meng Jue isn't meant to be loved. It is meant to imprint on your heart so that you have a hard time forgetting it. There are so many amazing written sequences in this novel I can't even find one that would fully capture the beauty of the writing. But let me start with this. I might translate Tong Hua's letters as well, because her thoughts are so touching to read.
……………………………………………………………….
It's already the dead of night, silence all around. Yun Ge suddenly sat up on the pallet and deftly put on her clothes. She looked around the room to make sure nothing belonged to her. As she was moving to leave, she suddenly turned around and took the notebook from the table, the one that Liu Fu Ling would fill out for her.
Yun Ge left the room by flipping through the window. She ran a short distance, running and running, but then she stopped and looked back towards his residence. It was dark there, the lights having been turned off. He's likely deep in his sleep.
All these years in her mind, the Ling gege she was looking for so long, he turned out to be exactly like she remembered and imagined he would be. She doesn't need to say anything, and he already knows everything she's thinking. But then why is he the Emperor? If he's the Emperor, does that make him not her Ling gege anymore?
She held onto "His heart understood my heart." But she wasn't able to do "She shall never forsake his wishes"
Yun Ge didn't want to answer her own question. Call her cowardly, call her selfish, but right now she just wanted to escape from it all. Since she was injured, it felt like her mind was never fully clear. Before one shock was absorbed, another shock arrived. Right now she just wanted to be far away from the people and the things that were happening.
She finally made up her mind and turned to leave. She didn't know when, but Liu Fu Ling was silently standing behind her. In the dark night, his eyes are also dark, unable to show what he's thinking. Yun Ge stared numbly at Liu Fu Ling, and after some time, she abruptly lowered her head and tried to walk past him.
"Yun Ge" Liu Fu Ling was holding something which he handed to her. In that moment, Yun Ge's heart thumped and she couldn't take another step. A tiny leek green embroidered shoe rested in Liu Fu Ling's palm, on top of the shoe was a pearl the size of a thumb. It was glittering a soft light under the stars.
Yun Ge slowly reached out and took it, the warmth still remaining, likely he kept it against his body always.
…………………………………………………….
"Okay, I'll wait for you in Chang An."
"Pinky swear, promise, one hundred years, it won't change."
"Do you know what it means when a girl gives an embroidered shoe to a man?"
"I accept it. Yun Ge, you also must remember!"
"With the stars as witness, no regrets or change."
………………………………………………………
That night was also like tonight, the sky full of stars. Under the same star-filled sky, the same person standing there. Such stars, such a night, wasn't this what she had imagined countless times. But why, why was it so bittersweet.
Liu Fu Ling's eyes landed on the embroidered shoe in Yun Ge's hand "Yun Ge, I just want one year's time. I've waited for nine years, please at least give me time to hear your stories. In these nine years you must've been to even more places. I just want to know and understand the things you've done. And give me a chance, to tell you what I've been doing here for the past nine years. Don't you care?"
"I……"
Yun Ge couldn't finish. How could she not care? Countless night she laid on the roof looking at the stars, thinking of what Ling gege was doing. She even purposely kept track of what she was doing on specific hours of specific days of specific years, so when she reunited with Ling gege, she would ask him what he was doing at the exact same time. And whether he was thinking of her? There were so many words accumulated over the years she wanted to say to him……
Liu Fu Ling took the embroidered shoe back from Yun Ge "Just one year. If you still want to leave after one year, I will return this pearl embroidered shoe to you. At that time you and I will no longer have any promise to each other. But right now, I want you to fulfill the promise you made years ago."
Yun Ge suddenly laughed "Ling gege, you are so smart. It's my fault for being such a dummy years ago, and now that I'm all grown I'm still a dummy. Fine! One year's promise." She turned towards her residence "One year from now when I leave, you don't need to send me off."
Liu Fu Ling stood there, with his hands tightly gripping the embroidered shoe, staring as Yun Ge's figure slowly disappeared into her room. Long after she had entered her room, he was still standing in place. He raised his head and looked at the night sky. The darkness was low and it was dotted with stars, an everlasting type of beauty. Such stars, such a night.