Since news broke last week that Roy Qiu had a picture of Tang Yan in his race car as his good luck goddess, a slew of inside sources and sleuthing have emerged to pretty much confirm that the two are likely dating. And have been dating for the past year. Awww, another real life couple have emerged for the RL-shipping fans. I wanted to hear what either side said before I posted about it, and yesterday Roy's manager said "He has a crush on her, that is why her picture is in his race car. But they are not dating." Oooookay, manager-nim, please go back to PR school. I take that as a "they're totally dating but don't want anyone to know about it so back off." Late last year, Tang Yan's good friend Hu Ge (my adorable White who is pretty spacey during interviews) accidentally let slip that Tang Yan has a boyfriend and it's someone Hu Ge approves of and likes. This coming from Hu Ge and Roy just doing Invincible together. Sigh, another one off the market. Koala be feeling bittersweet.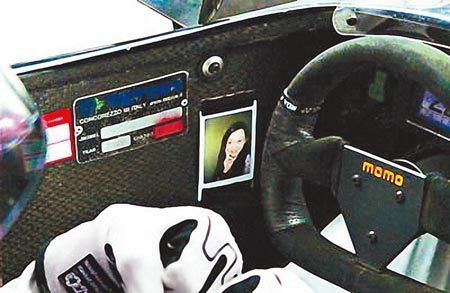 Here's the incriminating race car picture, and that is clearly Tang Yan's picture. There is no way Roy could deny it. Heh. And get this – he was the one who put it on his website. I can only shake my head and laugh. Either they want to go public, or Roy is even spacier than Hu Ge. I don't dislike Tang Tang as his girlfriend, even though I'm not a fan of her acting, and I hope they are happy and make it work. Unnamed sources claiming to be Roy's friend have told the newspapers that he refers to her as his "girlfriend" to his friends in private, and that his career took off like a rocket since he did The Daughter and Waking Up Love with her, hence he also sees her as his good luck charm which is another reason why her picture is in his race car.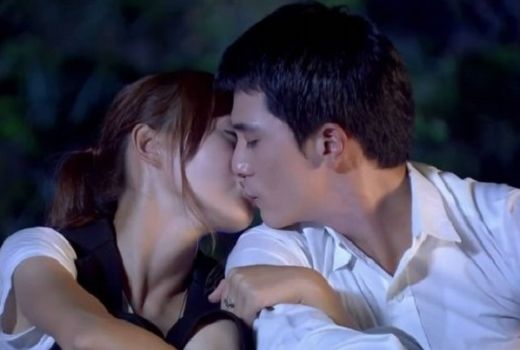 There have been rumors for quite some time that Roy and Tang Tang have more going on than just co-stars, so this comes as no surprise to me. Especially since Roy has a track record of dating his co-stars (Rainie Yang, Chen Qiao En, and now Tang Yan). And Tang Tang is totally his type – the sexy yet aegyo sweet girl. Check out their real life chemistry when they did a skit when promoting The Daughters.
Roy and Tang Tang "kissing" for a variety show:
[Credit: Now news]