My gripes towards the Da Mo Yao novel-to-drama adaptation and casting may seem quite fervent, but in truth its really just small fry. Tangren may make a lackluster DMY drama, but its nothing compared to the insanity Yu Zheng is cooking up for his drama adaptation of Smiling Proud Wanderer (also known as Laughing in the Wind, State of Divinity). In what is my favorite Louis Cha novel (nothing else comes close), which has now gone over a decade since the last drama adaptation, I was praying the latest iteration would be as stunning as the story deserved. Hearing Yumama got the rights, I already weeped tears of blood, but then came the casting.
I've known about this cast for over a month now, but Yumama just weibo'd his concept vision of the character stylings, so it's time to share with everyone. Wallace Huo declined playing Jiu Ye in DMY to play Linghu Chong (such a no brainer choice, c'mon, it's the best male lead EVER in wuxia-verse), Han Dong will be our resident pervert Tian Bo Guang, Yuan Shan Shan gets the coveted role of Ren Ying Ying, and in the most headdesking casting and sure-to-be-plot butchering, Chen Qiao En has been cast as Dong Fang Bu Bai. Yes, you all heard that right. And she's the first female (male?) lead over Ren Ying Ying. I need to go lay down now.
The concept pictures show me that Yumama is going for his usual visual eye candy over anything remotely resembling authenticity. I can see Wallace rocking either the look on top, or the one right above. I prefer his character without the Taoist looking hat. C'mon, Linghu Chong is the eldest disciple of a swordsman sect. He needs to look more dashing and less the period version of suit and tie. This second look above is much better, though his bottom does look like a skort.
My super soft spot for Chen Qiao En has gradually been eroding over the years as she takes bad project after bad project and also never shows any acting growth since her Prince Turned into Frog days. For her to play Dong Fang Bu Bai is just ludicrous, for her career and for the story. If Yumama throws in anything even hinting at a love line between Linghu Chong and Dong Fang Bu Bai, I guarantee an entire fandom will be spitting up blood. And no, Swordsman II doesn't count, that was just Bridgette Lin fan servicing going on with zero semblance to the story.
As for the rightful female lead character, I can't stand Yuan Shan Shan, who to me is that deadly combination of can't act and not pretty. She's like Crystal Liu except without the looks. I could deal with Yuan Shan Shan playing Yue Ling Shan, but as Ren Ying Ying imma going to say NO. But then again, this means Yuan Shan Shan can't be Yun Ge in the upcoming Yumama adaptation of Yun Zhong Ge. Such a Solomon's choice for me, really.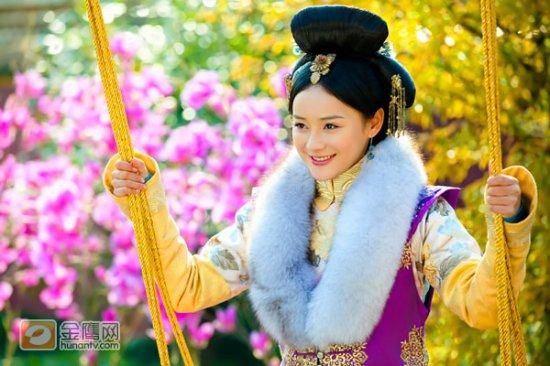 Hang Dong is going to be wasted here, but he's got charisma to pull it off. I'm kinda digging the look he's going to be saddled with, the updated version of the sleazy hobo. I'm sure following along with this drama production will be a barrel full of laughs. If only I didn't love the novel so much, then it wouldn't hurt as bad. Le sigh.