Wait for it……and now the other shoe drops. Tangren touted loud and clear four months ago that Bu Bu Jing Xin 2 was a go with the same cast but set in a modern era, back then I was innocent and trusting and believed everything they said. Forget no contracts were signed, no script was written, and some nebulous August 2012 start date for filming. I wasn't overly concerned that it sounded like a money sucking endeavor just to piggyback on BBJX's popularity. I missed the cast and characters, and would gladly suffer through crap to have them back on my screen. Then I started hearing murmurings that the salaries were too high now that some actors hit the big leagues, and that Ladyboss was just using them to drum up publicity. Whatever the case may be, rumors are flying that Nicky Wu is not going to be in BBJX 2 and the story will be about Ruo Xi and 14th Prince getting another chance at love in modern times. I've heard for awhile that Yuan Hong was in fact never invited to be in the drama, and looks like Kevin Cheng won't be back either. So BBJX 2 will be just another Tangren home cast project.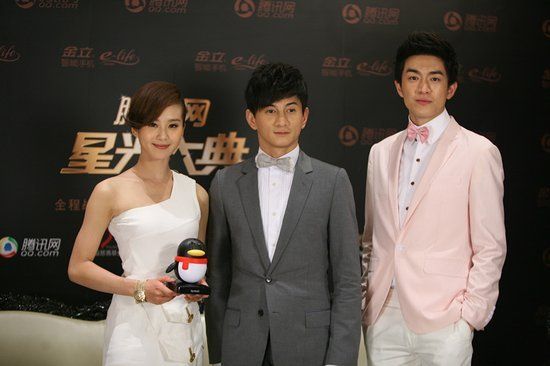 So, uhm, take out the guy in the middle and that's your OTP for BBJX 2. I'm sure Karen will couch Nicky's non-participation in terms like he couldn't make it work due to his busy schedule, but I bet my money she never wanted him back anyways since his salary has quadrupled since he did BBJX. When asked recently, Nicky revealed that no one has given him a script or a set start date, and he's got both a drama (Bride with White Hair) and a movie lined up.
That fact that Lin Geng Xin is going around saying already that BBJX 2 is about Ruo Xi and 14th Prince (as if he's gotten a script) adds credence to the fact that the story was never going to be about 4th Prince. Which is all sorts of ironic since the only reason people even clamor for a sequel is because the original left the fate of Zhang Xiao and the man who looks like 4th Prince so nebulous. Like anyone cared about 14th Prince and his sad unrequited love for Ruo Xi. Looks like I'm out on this one now, which is a shame, because I did love the drama so. Without Nicky's 4th Prince (and to a lesser extent Yuan Hong as 13th Prince and Kevin as 8th Prince), why even call this upcoming drama BBJX2? Ah yes, it's all for the money's sake.
[Credit: Tianjing net]