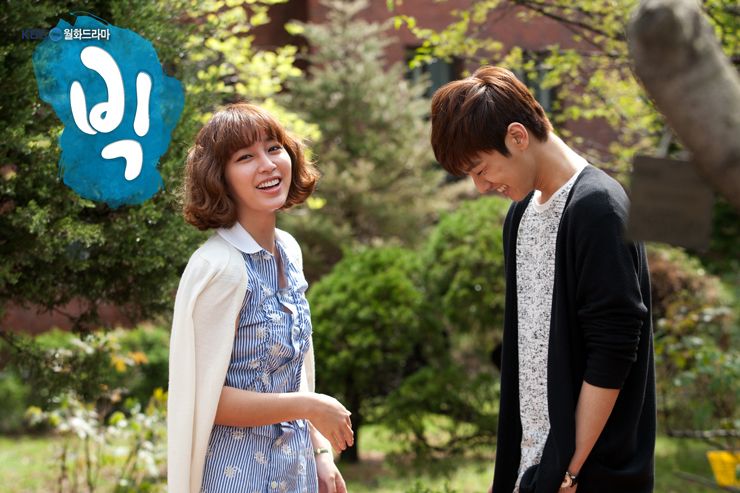 I wonder if I got with a Big heatstroke some time between last night and tonight, otherwise I simply have no explanation why I'm this taken with this drama. I'm probably one of only a handful of the non-Gong Yoo fangirls in existence (everyone's weird fixation on his body leaves me amused), and Lee Min Jung I adore for her screen presence more than her acting ability. There is just something sucking me into Big, and when I watched the official MV for Davichi's "Because It's You" track from the OST, it confirmed for me that the love triangle is going to be a kicker. The MV shows scenes we haven't seen before of how Yoon Jae and Da Ran fell for each other, and HOMG are they cute. It still doesn't excuse Yoon Jae's constantly blowing Da Ran off in episode 1 and his shady travel abroad plans, not to mention seemingly nebulous relationship with his ex-girlfriend, but I can finally see a glimmer of possibility that Yoon Jae and Da Ran could be the end game. I still firmly believe it's Kyung Joon and Da Ran, but now at least there is a viable other side of the love triangle.
The first part of this MV shows the missing courtship scenes between Yoon Jae and Da Ran, which helps to fill in the blanks. Yoon Jae clearly fell for Da Ran at first sight when he spotted her at the wedding, and his little gestures for her were adorable. I betcha money he was trying to help her catch the bouquet when he instead bumped her and caused her to fall off the stairs. I like Yoon Jae's reserved dorkiness around Da Ran, but then I'm still really skeeved out by his shady behavior in episode 1 that I'm not quite ready to lay out my welcome mat for him yet. But he's clearly not with Da Ran out of obligation, so that clears up one obstacle for me eventually liking him.
The first half of this MV is all Yoon Jae-Da Ran, while the second half is all Kyung Joon-Da Ran. There is a scene in this MV that shows what happened on the bed after Da Ran broke it. I love the face Kyung Joon makes, and then he grabs her hand. Why did they cut out that scene! Argh, Koala rage. What makes this MV awesome is that it paints both guys as the past, and ends with Da Ran meeting Kyung Jae, Yoon Jae's body with Kyung Joon's soul. Which is her endgame? That's for the Hong Sisters to torment me until the very end, I'm sure.
Official Big MV for Davichi Because It's You:
http://www.youtube.com/watch?v=ED_NxkoylIg
The preview for episode 3 shows us Suzy is finally in the game as well. I've read that she likes Kyung Joon, but will she also fall for Kyung Jae? I actually want any romantic skinship between Da Ran and Kyung Jae to wait for later. From the very beginning Kyung Joon has been so casual and informal with Da Ran, and this continues both ways now that he's become Kyung Jae. What I loved about his "Gil Da Ran, I love you" statement in episode 2 was that he made it because he could see how sad she was feeling learning that Yoon Jae really was brushing her off. Despite how much he teases her, contrasting to the hospital scene when he pretended to have soul-switched back with Yoon Jae, here he just elects to be Yoon Jae to buoy her spirits up. It was such an easy thing for him to do, and he did it so simply and meaningfully, without pretending to be Yoon Jae or saying it jokingly. Guh, this OTP already rocks my socks. I can't wait for episode 3.
Preview for episode 3: