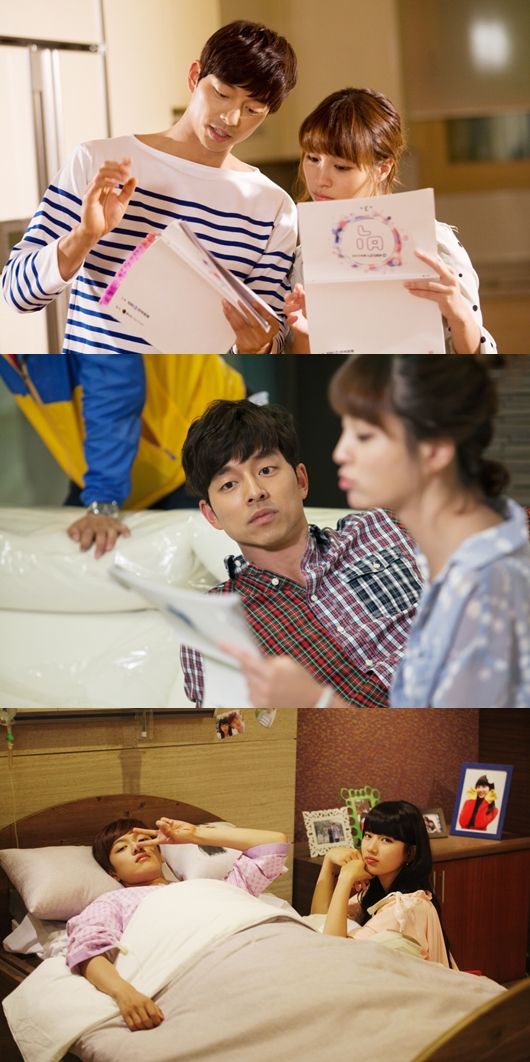 Waiting for new episodes of Big is like a drip drip water torture, but good news is that KBS hasn't been stingy in releasing information about the drama. Recently there has been lots of BTS stills released, and many of them show the actors hard at work studying the script of goofing off. The vibe is decidedly animated and happy, with the cast revealing that it's a challenging drama to make but they are having a blast doing it. I totally get that vibe, and despite the low-ratings, I think the Hong Sisters have earned enough good will and name cred that they will be allowed to let this drama play out the way they intended (as opposed to studios pushing for rewrites to placate the ahjumma hordes). I love looking at BTS pictures, which is always good for passing time until the next dose of cracktastic drama arrives.
The production revealed that the scene that had the most NGs was the infamous "rocks" scene. Apparently Gong Yoo could not get through the scene with a straight face for the life of him. That scene was such a brilliant bit of subversion with biting humor not in the slap stick variety but in the deadpan and understated delivery and reception.
On Lee Min Jung's Me2Day, she posted two pictures of her and Gong Yoo on the computer, enjoying some down time. I think Gong Yoo's chemistry with Lee Min Jung in Big feels fluid. I don't blame folks for being confused as to who to ship and how it's all going to play out. As Yoon Jae, he's reserved and mature, leaving me to read between the lines of his dialogue and facial expressions to try and figure out what he's really thinking. But Yoon Jae's chemistry with Da Ran is lovely, albeit bland. Like white cake paired with white frosting – it goes well but doesn't give anyone the savory oomph.
As Kyung Jae (Kyung Joon in Yoon Jae's body), Gong Yoo effortless shows a myriad of emotions, many of which are conflicting. Kyung Jae's chemistry with Da Ran is less straightforward, leaving me to look at the totality of the story to try and figure out what I'm suppose to feel. And the answer isn't so cut and dry. I stick by my first impression that Kyung Joon and Da Ran (whatever the age difference and baby-faced Shin Won Ho) was decidedly a guy-girl thing. But Kyung Jae isn't nearly as easy to parse, because even Kyung Jae is confused.
He's Yoon Jae to the world, and sometimes Da Ran sees him as Yoon Jae (though this is happening less and less). But the body swap also allowed the pretending-to-be-an-adult Kyung Joon to allow his real personality to emerge. I bet money that before his mom died, Kyung Joon was much more like Kyung Jae in personality than the Kyung Joon Da Ran met at the beginning of the drama. This is confirmed by Mari meeting Kyung Jae and immediately getting the odd sensation that he's a Kyung Joon clone.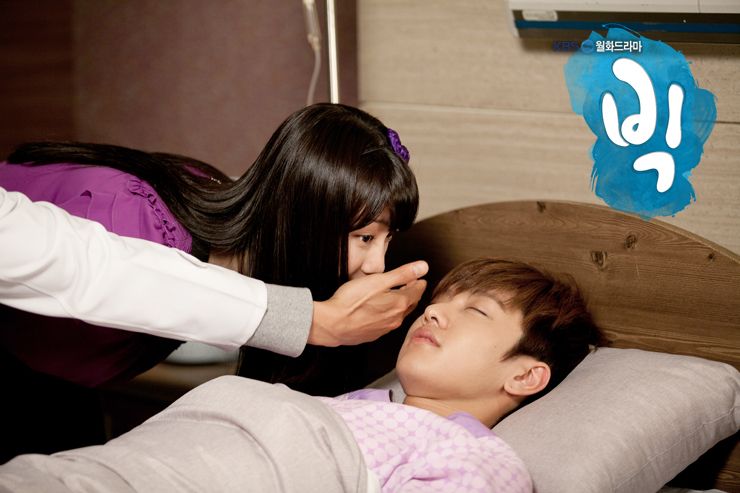 I love this picture because you can see Shin Won Ho suppressing a grin. It must be hard to be the character in a coma in a drama, because you have to keep a straight face while everyone is acting circles around him. I seriously have no clue what's going to happen with the body switch (if it did switch, because we have no confirmation that Yoon Jae's soul is in Kyung Joon's body), but if the Hong Sisters really want to develop the love story between Kyung Jae and Da Ran, then the souls aren't switching back anytime soon. While I adore Suzy (my Hye Mi!) and her Mari is cute in the drama (in real life she'd be a stalker), right now she's just a great foil for Kyung Jae and a love interest for Choong Shik. But I can see her stepping up once she starts suspecting the body swap, and she'll be a great source of information of Kyung Joon's life back in the US.
In the recent news articles, Big has been described this way:
"Big is about a teenager's soul-swap heart thumping romantic drama, leading to the untangling of complicated secrets between people."
"Big is the love story between a teenager's soul in a mature doctor's body and a naïve school teacher."
I don't know if those newspaper writers have more 411 than we do, but the consensus view is that the narrative is about Kyung Joon's soul and Da Ran. Sigh, I wish I could time-travel 6 weeks ahead and see how it all ends, then I can come back and watch this drama without wanting to gnaw my arm off in anxiety.