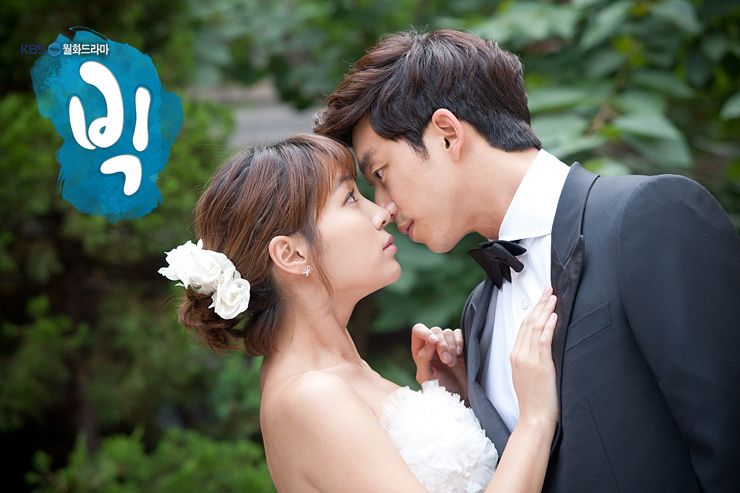 When the Hong Sisters said they were doing a drama about a boy growing up, episode 5 of Big proves that they weren't kidding and they are willing to expand their narrative considerably. Just as I was expecting more body switch hijinks, this episode takes me for twirl and then deposits me in jaw-drop land. I was floored by the final 10 minutes, and then giddy with the possibilities this opened up. Suffice to say, the emotional and intellectual distance between Kyung Joon and Da Ran are being pulled closer and closer, and for that I can only thank the lucky stars I boarded this ship from the get go.
Episode 5 recap:
Kyung Jae pulls Da Ran towards him to prevent her from opening the door, and then he uses his other hand to keep Se Young from opening the door from the inside. Da Ran struggles with him, demanding that he let her go. Kyung Jae keeps shaking his head and trying tor restrain her, but Da Ran's tears are falling and she's frantically trying to get confirmation.
Kyung Jae wrenches the key from Da Ran and tosses it away, and when she runs to retrieve it, they struggle a bit more before he hoists her over his shoulder and takes her away. Se Young opens the door and finds the hallway empty, and her house key on the ground.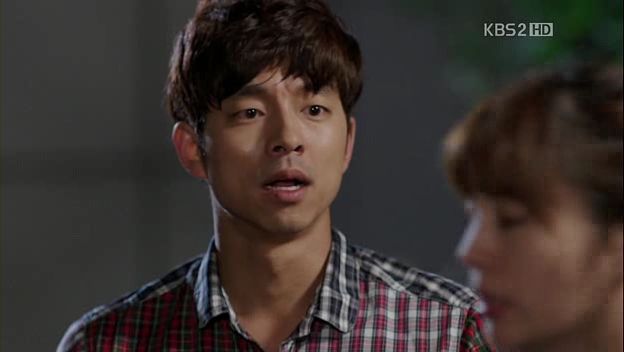 Kyung Jae lets Da Ran down outside of Se Young's building. She tries to run back and he grabs her neck like he did last time, and she bites him on the arm again. He tells her that she's going to be in a lot of pain, so he doesn't want her to go back and open that door. Da Ran angrily says that this is none of his business.
Kyung Jae grabs a rock from the bushes and puts it in Da Ran's hand. From behind the trees, they see Se Young walk out of her building looking around. Kyung Jae tells Da Ran to go all out then. Throw a rock at Se Young's window to make her come out, and then beat her up, warning her never to come by to see Yoon Jae or ask him to make tea.
Da Ran cries and stares at Se Young standing in the entrance to her building, and then she releases the rock which falls on the ground. Da Ran turns and walks away. Kyung Jae quietly follows a distance behind Da Ran and they arrive at the hospital. Da Ran sits in Yoon Jae's office so Kyung Jae grabs a white coat and says he's going to check on Kyung Joon's body. If the coast is clear, he'll come get Da Ran.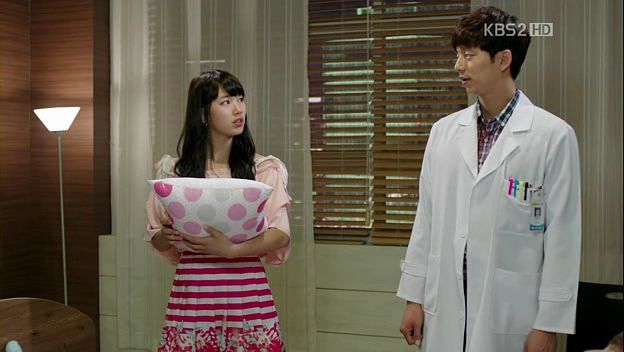 Kyung Jae walks into Kyung Joon's room and sees that Mari has plastered her picture everywhere. She even made a pillow with her face on it and placed it next to Kyung Joon's head. He tosses it at the foot of the bed when Mari comes storming in. Kyung Jae argues that Kyung Joon's area needs to be kept sanitary and pulls his doctor credentials on her. Mari mutters that this ahjusshi was supposed to be leave.
Kyung Jae sees the blue heart sock on Kyung Joon's feet and recognizes it as the couples socks Da Ran bought for her and Yoon Jae. Mari demands to know why those socks are on Kyung Joon's feet and wants to know where to buy the same ones. She wants to buy the matching set and wear couples sock with Kyung Joon. Kyung Jae says there is no matching pair. When Mari wants to take it off, Kyung Jae says she can't and allows her to leave her face pillow next to Kyung Joon to satisfy her for the time being.
Da Ran looks on Yoon Jae's tack board and finds the picture of herself and Yoon Jae missing. She looks around the floor and the bookshelf for it. She comes across the Miracle book with a plane ticket sticking out on top. She reads the plane ticket which is a flight for Yoon Jae to LA on June 19th. Da Ran realizes that Yoon Jae was planning to leave her before the wedding. Da Ran texts Kyung Jae, telling him that she's going back to her parents house and not to worry.
Kyung Jae stands over his body while Mari sits there talking to Kyung Joon. Mari tells Kyung Joon that she will find him (his soul) and bring him back so they can be together. She tells Kyung Joon not to like Gil Teacher, because she doesn't like him, she likes someone else. Mari tells Kyung Joon that if he likes Gil Teacher, he'll just get his heart broken again. Mari tells Kyung Joon to forget about Gil Teacher.
Kyung Jae goes to Da Ran's parents house and finds her drinking alone. She is so drunk she calls him Yoon Jae. He tells her to get herself together and to stop crying. He warns her that if she keeps crying, he'll leave. This triggers Da Ran's crying fit, as she grabs Kyung Jae and begs Yoon Jae not to leave her. Kyung Jae has no choice but to allow her to vent.
After Da Ran has cried herself to sleep, Kyung Jae covers her up with a blanket. He then lays down on the ground across from her and quietly watches her sleep. The next morning, Da Ran is woken up to get to school. She looks around and realizes Kyung Jae left already.
Kyung Jae goes home and stands in Da Ran and Yoon Jae's new master bedroom. He looks at the bed and remembers Da Ran laying in it and rolling around, pretending which side is hers and which side is Yoon Jae's. Kyung Jae kicks the bed hard and then he pulls down on the railing, breaking it again. He walks out muttering that this bed really is quite shoddily constructed.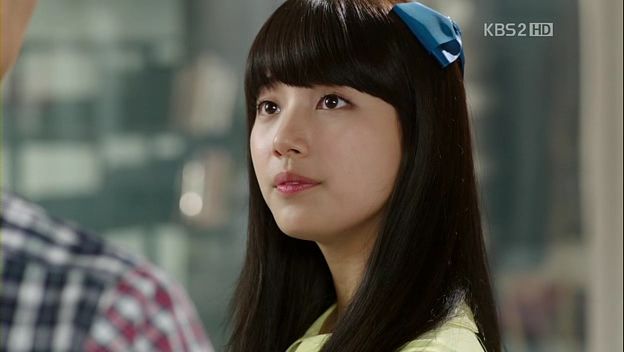 Mari calls Kyung Jae and tries to make him go to the hospital, finally using the lie that Kyung Joon has woken up to lure Kyung Jae out of the house. When Kyung Jae runs out, Mari goes storming in. She demands that Kyung Jae return Kyung Joon's very important belonging, his wallet which contains something of utmost importance to Kyung Joon.
Kyung Jae tries to distract Mari from searching the house (she can't see Kyung Joon's bed which she will recognize immediately), so he randomly brings up this chick named Amy and tells Mari that Amy was Kyung Joon's first kiss. Mari heard the rumor but says its not true. Kyung Jae says its true and it happened at the birthday party. Mari begs him to tell her if he has the wallet, otherwise she'll have to turn the hospital upside down looking for it because its that important to Kyung Joon. Kyung Jae shows her the wallet with the angel picture, telling her that he's keeping it safe for Kyung Joon.
Mari pretends that she knows a secret about Kyung Joon that even Kyung Joon doesn't know. When Kyung Jae leans forward to hear it, Mari kicks him in the groin and makes off with Kyung Joon's wallet. Ooph.
Da Ran's teacher friend catches Teacher Na peeking secretly at Da Ran and realizes that he has a crush on Da Ran. When Teacher Na tries to shush her, their interaction looks a lot like they are making out. When the Vice Principal sees it, she gets outraged and tells them to behave with decorum at the school.
Se Young calls Da Ran out for a chat at the coffee shop. Se Young acts all confident with Da Ran, who isn't cowed by her. Se Young says that Yoon Jae totally buys Da Ran's weak and pitiful act. Since they were in school he's always been powerless against the sad sack folks in life. Da Ran says that Yoon Jae fell for her at first sight. Se Young reveals that Yoon Jae was rushing to meet her from the wedding when he accidentally bumped into Da Ran, causing her stair accident. Se Young had left the wedding first and called Yoon Jae to tell him that she just broke up with her boyfriend.
When Se Young gets up to leave, Da Ran rudely says "Ya!" to Se Young, who sits back down. Da Ran stands up and yells at Se Young the very words Kyung Jae told her to say. Da Ran tells Se Young to watch out for a rock flying through her window, and maybe one day she'll beat up the black tea so hard she'll turn it into green tea. LOL, go for it, Da Ran!
Kyung Jae finds Da Ran standing over Kyung Joon's body. He thinks she's about to break up with Yoon Jae and offers to give her some privacy. Instead Da Ran says she's going to continue as if nothing has changed, and asks Kyung Jae for a favor. She was supposed to take wedding pictures tomorrow with Yoon Jae, so she asks Kyung Jae to do the photo shoot with her.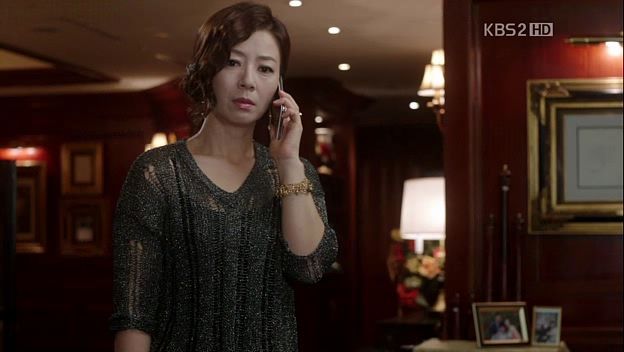 Se Young finds out from another doctor how to contact Yoon Jae's mom. Se Young reaches Yoon Jae's mom and reveals that Yoon Jae was recently in a car accident. Yoon Jae's mom immediately books a trip back to Seoul.
During dinner with her family, Da Ran tries to say something about the upcoming wedding but can't. She doesn't eat much before going back to her room. Her dejected attitude makes her parents wonder what is going on. Did Da Ran and Yoon Jae fight? When Da Ran's mom goes to her room, she finds Da Ran's pink pair of heart socks. The socks are thick Winter socks which confuses Da Ran's mom, who then makes the leap of assumption that Da Ran must be pregnant.
At the wedding studio, Da Ran's friend tells Kyung Jae that his mind will be blown when he sees Da Ran in a wedding dress. Da Ran walks out and she's gorgeous. Kyung Jae stares at her and his eyes are totally full of emotion.
They proceed to take wedding pictures, which are hilarious since Kyung Jae looks so stiff and awkward. He has to make himself smile like Yoon Jae did in the doctor posters, though he balks at taking pictures with pigeons. When he picks Da Ran up, he can't hold her for very long. Their pictures are wonderfully awkward.
Choon Shik is hiding behind the bushes and taking his own pictures. He texts them to Mari, who is shopping in a store for clothes that a young teacher would wear. Mari is pleased to see Gil Teacher taking wedding pictures, but then her keen eye notices that Kyung Jae is exhibiting a lot of the same body gestures as Kyung Joon. Such as sitting with one leg up, leaning against the tree, and drinking a beverage tipping it all the way over.
Kyung Jae sits on the bench and stares at Da Ran taking solo shots off in the distance. He looks contemplative.
Da Ran looks at the first batch of pictures during a break and she looks very happy. Kyung Jae asks if she's happy now? Da Ran says she is, and then reveals that this is the end, the wedding won't be happening. Yoon Jae is too nice and couldn't end their engagement despite all signs pointing to him wanting an out, so she'll be the one to let him go.
She tells Kyung Joon that he doesn't need to pretend to be Yoon Jae anymore. She knows how hard it must've been for him these past few days. She hands Kyung Jae the plane ticket and tells him to run away. Once the engagement is broken, it'll be tough on him to stick around and deal with the fall out.
Kyung Jae stares at Da Ran before asking why she did this if she wasn't planning on getting married. She wanted to do this photo shoot so she could make a wedding memory with Yoon Jae. Kyung Jae points out that all of this, it was Kang Kyung Joon that accompanied her taking these pictures. He carried her, made her laugh, posed with her, but she'll only see Yoon Jae when she looks at these pictures. Da Ran says that is why she is so grateful to him.
The photographer calls them over to take a final set. As they are standing face-to-face, suddenly Kyung Jae pulls Da Ran in for a deep kiss. When he pulls away, he tells her to remember that this memory was made with Kang Kyung Joon, since this is Kyung Joon's first kiss. Omo omo omo. Da Ran gets angry and chases after him but he manages to dodge her, though she trips and gets a bit of a bloody nose.
Yoon Jae's mom arrives in Seoul and calls him but there is no answer. Da Ran asks the photographer not to include the kiss picture in the album but is told that the picture came out so well it would be a shame. When Choong Shik is looking at the wedding pictures, the photographer hands him Yoon Jae's plane ticket which was dropped on the floor.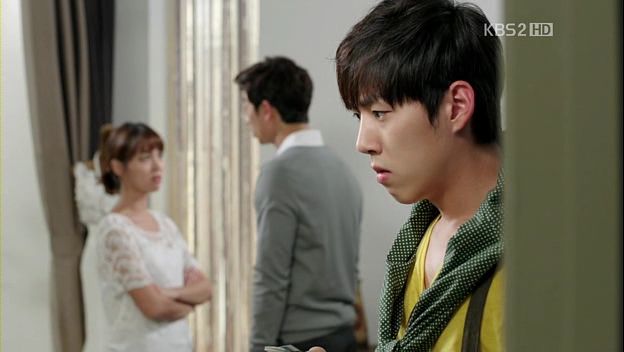 Da Ran and Kyung Jae are bickering about the kiss still. He says it was a goodbye kiss, his grand finale in this role playing as Yoon Jae. Da Ran lectures him and he sasses back that he will leave like she wanted him to. He tells her to remember Yoon Jae's body and forget Kyung Joon's soul, and he doesn't want Da Ran to try and hang around him anymore. Choong Shik arrives and overhears this last bit. He thinks Yoon Jae is dumping his sister so Choong Shik jumps Kyung Jae and beats him up. After Choong Shik is pulled off, Kyung Jae runs off and Da Ran follows.
Kyung Jae grouses that he keeps getting beat up for bad things Yoon Jae did. Da Ran and Kyung Jae sit outside and they discuss what to do now that Choong Shik knows the wedding is off. Da Ran apologizes to Kyung Jae for getting beat up. He wants her to blame Yoon Jae's cheating on the wedding being called off but she won't do that. She tells him to leave and she'll handle the rest. She worries about his cut and tells him to put some medicine on it.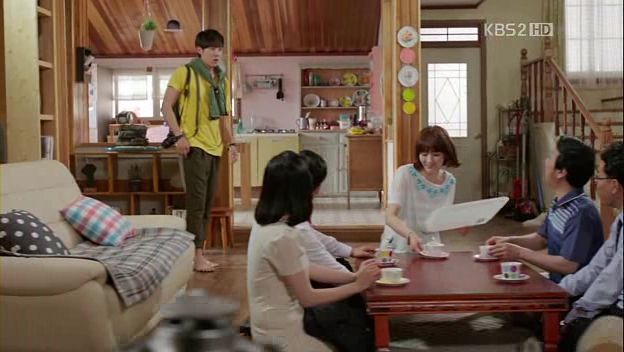 Choong Shik runs home ready to spill the beans to the parents, only to find guests at the house celebrating Da Ran's impending nuptials. He doesn't say anything, which is when Da Ran comes home and her mom brings out a cake to celebrate her being pregnant. LOL, this family jumps to conclusions so readily.
Once the family is alone, Da Ran gets up her courage and tells everyone the wedding is off. She gives the excuse that Yoon Jae can't be a doctor after the accident and since she wants to be a doctor's wife, therefore she doesn't want to marry him.
Da Ran's mom is furious and grabs a mop, ready to beat her for being so shallow and immature. Mom announces that when she was in the prime of her youth, she begged her dad to allow her to marry the love of her life. She was so true to her heart, and yet her daughter is so flighty with her heart. Her dad and brother try to restrain Mom, who ends up walloping on Da Ran with her hands.
Kyung Jae arrives and runs into Da Ran, who ran out of the house to escape her virago of a mom. When Mom runs out and chucks a slipper at Da Ran, Kyung Jae turns her around and the slipper hits him on the back instead. He turns back and smiles, saying "surprise!".
Kyung Jae and Da Ran kneel before the parents and this time Kyung Jae takes the lead. He tells the parents that Da Ran called off the wedding because he did something bad. He takes out a bunch of flyers for strip joints and lies that Da Ran caught him going to these seedy places. Both parents are disappointed with Kyung Jae but now understands why Da Ran is calling off the wedding. Kyung Jae can barely get up after kneeling for so long, but he endures it.
Kyung Jae and Da Ran return to his house and discuss what to do now. Da Ran says she'll act like she can't forgive Yoon Jae, and Kyung Jae can leave for the time being. He asks when he can return? When she's gotten her emotional affairs in order, or when Kyung Joon's body awakens? What if Kyung Joon's body never regains consciousness. Kyung Jae wonders how he can live the rest of his life in Yoon Jae's body. Suddenly he gets a call and its Yoon Jae's mom announcing that she's back in Seoul. Kyung Jae and Da Ran go to meet Yoon Jae's mom, who hugs Kyung Jae and asks why he didn't tell her about his accident?
Mom notices something is off about Kyung Jae, who blames the accident for causing him to feel not himself. Mom reveals that Se Young called to tell her about the accident. Mom appears to not like Da Ran, especially since Da Ran knew about the accident but didn't tell Mom. She wants Kyung Jae to come back to the US with her so he can properly recuperate.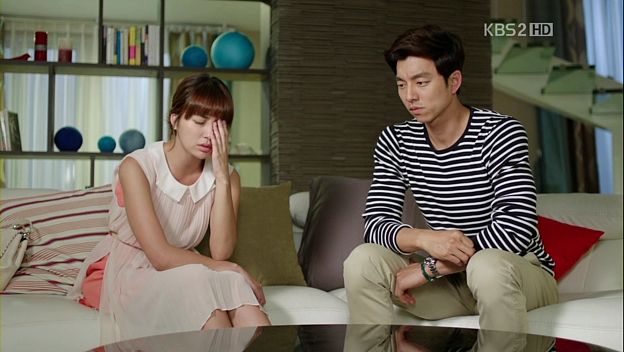 Da Ran and Kyung Jae are back at his house and discussing what Yoon Jae's mom wants. Kyung Jae suggests that he and Da Ran get married now so he has an excuse not to go to the States with Yoon Jae's mom.
Kyung Joon's body at the hospital appears to be dreaming about the accident, but the person who wakes up from the dream is Kyung Jae. He goes to the hospital and takes Kyung Joon's body out in the car. Mari arrives and finds Kyung Joon missing. She calls Da Ran to demand to know where Dr. Seo took Kyung Joon.
Kyung Jae drives him and Kyung Joon's body to the edge of the same lake but he slams on the brakes before the car goes over the railing. He brings Kyung Joon's body back and finds Da Ran, Mari, and Kyung Joon's aunt and uncle all waiting in the room. He confesses that he was trying to find a way to bring Kyung Joon back (awake).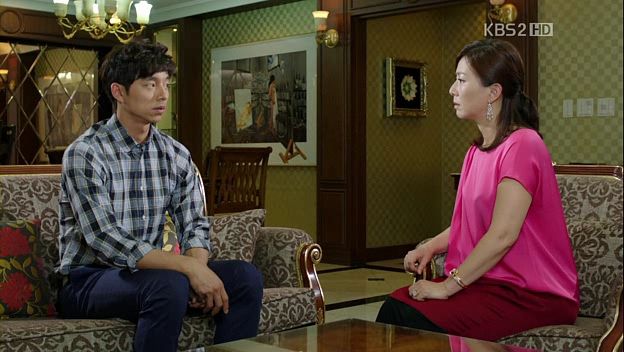 Kyung Jae meets with Yoon Jae's mom and tells her that he's lost bits of his memory since the accident. She pushes him to come back to the States with her so that she can take care of him.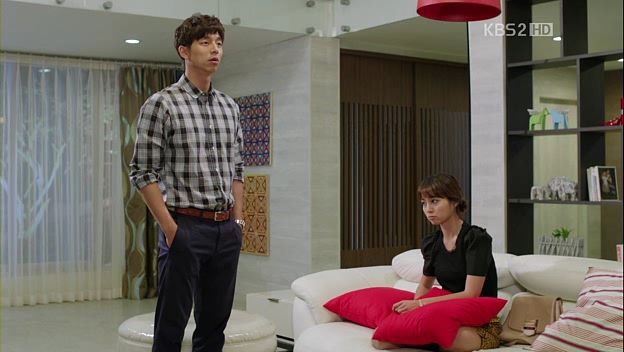 Kyung Jae discusses this with Da Ran, who wants to find a way for him to stay. Da Ran says for him to stay, she'll take care of him. This time she suggests they get married. Kyung Jae says in all seriousness that he can't be an 18 year old student and he can't pretend to be a 30 year old doctor. To live in Yoon Jae's body, the only way is for him to bridge the twelve year gap between Kang Kyung Joon and Seo Yoon Jae. He can't relieve all the experiences Yoon Jae did (like going to the army, graduating, etc.), but he can fill his mind with enough information to fill the missing 12 years.
Kyung Jae stares at Da Ran and says that he's leaving so that when he comes back, he can marry Gil Teacher. She stares at him and asks if he's crazy. Kyung Jae says he likes her, he likes Gil Teacher, so he's going to get an upgrade so that he can be with her when he returns. This time Da Ran calls him crazy as she smacks him upside the head, laughing at his marriage proposal. She says this is the funniest thing she's ever heard, being proposed to by a student. This hurts Kyung Jae's feelings and he apologizes for making her laugh so hard. He says goodbye and leaves.
Kyung Jae covers up his kid bed and says goodbye. I love how his decision to become a full adult involves him letting go of the only bed he can ever sleep on, which is his child bed. Kyung Jae goes to visit Kyung Joon's body in the hospital and say goodbye.
He runs into Kyung Joon's uncle and tells him to take good care of Kyung Joon's body. Kyung Jae reveals that Kyung Joon has another inheritance once he comes of age and only Kyung Jae knows how to access it. So he asks Kyung Joon's uncle to take good care of Kyung Joon until he returns.
Mari is outside of the hospital looking at pictures of Kyung Joon and Kyung Jae, noticing all the similarities. Kyung Jae arrives and holds her head still while he takes his wallet from her purse. He promises to take good care of it. He taps Mari's head like Kyung Joon used to do, which leaves Mari all confused and flustered. After he walks away, she wonders if she's gone crazy, why did she blush.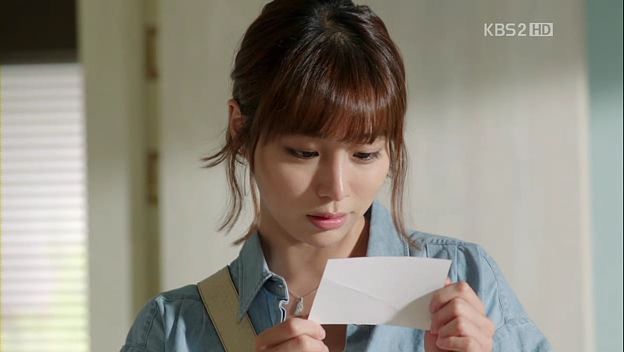 Da Ran goes to Kyung Joon's house and finds it empty, he's already left for the airport. She wonders if he ate before he left? She looks around and remembers all their moments together (Kyung Jae, not her memories with Yoon Jae). She remembers that Kyung Jae said the souls could switch at any time despite the two men being physically away from each other. Kyung Jae asked Da Ran if she would know who he was if she saw him again? Yoon Jae, or Kyung Joon in Yoon Jae's body?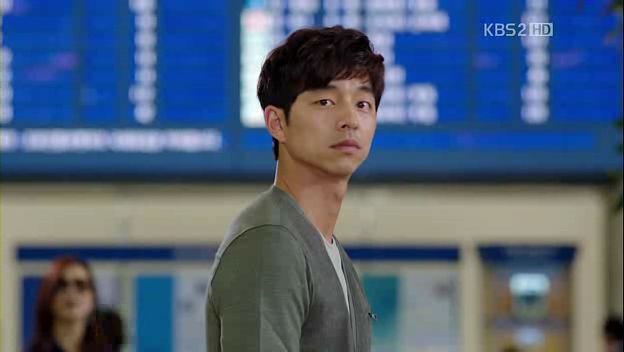 Da Ran looks at the picture Kyung Jae left for her on the table, the picture of their kiss from the wedding shoot. Da Ran smiles and says that is Kyung Joon. Kyung Jae walks through the airport and stops to look back. Yoon Jae's mom calls him and he leaves with her.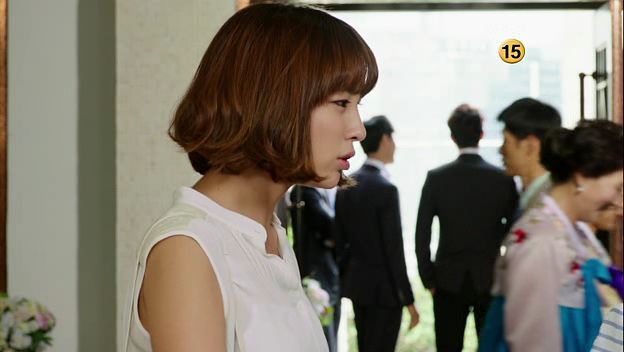 One year later. Da Ran runs into a wedding and takes pictures with the bride. She's more interested in the food than checking out the single men, despite her teacher friend encouraging her. Her teacher friend appears to see Yoon Jae's back standing with a group of guys chatting.
Da Ran waits for an elevator when a guy walks up to stand next to her. She turns and her eyes widen when she sees him. She calls out "Kyung Joon-ahh" but he doesn't acknowledge her. She calls out again "Kang Kyung Joon!" but he still ignores her. She stares for a few more minutes before tentatively asking "Yoon Jae-shhi………?" He finally turns his head and stares at her.
Thoughts of Mine:
That is totally still Kyung Jae standing in front of the elevator or I'm not a marsupial. It's Kyung Jae testing Da Ran to see whether she recognizes who is inside Yoon Jae's body, and she does! If anything, the way they look at each other after he turns around is a complete redux of the way they looked at each other when they first met off the bus. See picture proof.
This is also a turnaround of when Da Ran first encountered Kyung Jae outside and morgue and back then she kept insisting he was Yoon Jae. But now she knows in her gut that he's Kyung Jae, still Kyung Joon in Yoon Jae's body. I know theoretically I ought to feel bad that Yoon Jae's body has been magically hijacked while his soul is either in Kyung Joon's body or god knows where else. But I feel like this body switch has a much deeper purpose that will illuminate why it was necessary for it to happen for both guys involved.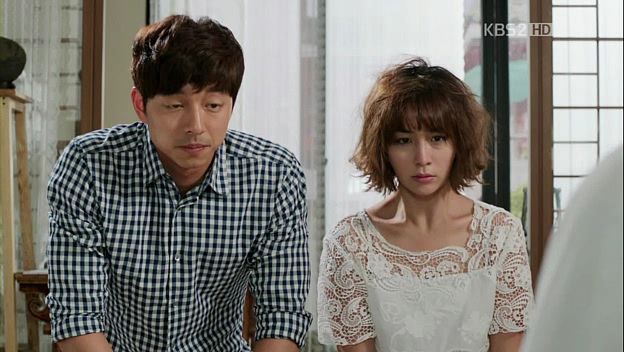 I agree with the Hong Sisters that this story isn't just a love story, though the way they are developing Kyung Joon and Da Ran's emotional connection is just lovely. Da Ran's presence is what's spurring Kyung Joon to mature. He's not maturing for HER, he's maturing because she makes him realize that being an adult requires him to take responsibility and find the solution to tough problems. Watching him give Da Ran space to get over her disappointment with Yoon Jae, watching him take full responsibility for the broken engagement to Da Ran's family, watching him step up time and again to do the best he can in the current predicament. He assessed the situation and realized that the worst cast scenario is that he'll have to live in Yoon Jae's body forever. If that is the case, then he needs to learn to be Yoon Jae, not to impress Da Ran or win her over, but for himself. It's his life, and he's going to have to take responsibility for it.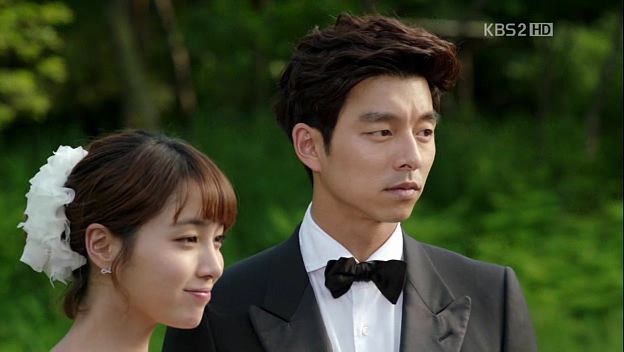 The time jump really look me for a loop, but it makes sense if the Hong Sisters want to tackle the maturation of a teenage boy that isn't going to happen in days or weeks but will require months and even years. Kyung Joon has done nothing wrong, the body switch is as much distasteful to him as it must surely be unfair to Yoon Jae. Since he has no clue when he's going to switch back, if ever, then he made the most mature decision to go to the US with Yoon Jae's mom to "recuperate" but ostensibly learn enough information to pass himself off as a guy who has lived thirty years already. The time jump confirms for us that Kyung Jae's decision to go to the US was the correct one, since otherwise he'd be puttering around Seoul for the last year not being either Yoon Jae or Kyung Joon. I'm not sure he ought to be practicing medicine, because even if Kyung Joon is a genius, I doubt he can cram enough medical knowledge to be treating patients. But I'm sure the Hong Sisters will deal with that issue when it arises.
I think it so cute and sweet that Mari's Kyung Joon-radar is pinging out of control when she's around Kyung Jae. She's probably going to learn the truth soon, and I'm totally game for how she reacts. Se Young is about as interesting as a staring at a white wall, so I hope her character doesn't take up any more screen time than absolutely necessary for whatever purpose she serves. I'm more and more certain that Yoon Jae and Kyung Joon have some familial relation to each other, because having Kyung Jae spend a year with Yoon Jae's mom likely will have some significance further down the line.
I love that the story isn't about people changing or maturing to win someone else over. Da Ran was always so meek and passive with Yoon Jae, and he was likely only showing her one side of himself. That is sad and the marriage will never work out. With the interjection of Kyung Jae, suddenly the adult polite facade is slowly being torn down and people are revealing their true selves.  Kyung Jae is maturing on his own terms, because he's stuck in Yoon Jae's body and he doesn't know when it'll get reversed. But his feelings for Da Ran are real, and I love how he tossed out an "I'll marry you when I get back" at her. He's serious but only as a kid can express it. No wonder Da Ran thought he was being glib with her. I think Kyung Jae is back to make everything right, now armed with more information, and I sure hope he pulls it off. I don't how it's possible, but I continue to love this drama more and more.