Big may be about the maturation of a teenage boy, but it can be used to showcase the maturation of the Hong Sisters writing style. They dropped a stunning time jump at the end of episode 5, and all of episode 6 left me feeling like I was watching a completely different drama. Episode 1 was all sorts of dreamy and lustrous, with the subsequent episodes full of equal measures angst and hilarious hijinks. But this episode turns the corner, much like a teenager hitting majority and showing the world that adulthood is really all about careful thought and deeper reflections. Kyung Jae returns from the US a year later a man-boy no longer, but a young man who is much wiser than his years. Da Ran sheds the shackles of an insecure engagement and shows us that when she looks at Kyung Jae, she sees only Kyung Joon. This time around, Kyung Jae is in the driver's seat of this adult body, and he's poised to live Yoon Jae's life but pursuing the things Kyung Joon wants.
Episode 6 recap:
Da Ran stands in front of the elevator and Kyung Jae walks up next to her. She stares in shock and calls him Kyung Joon a few times, but elicits no reaction. She finally tentatively calls him Yoon Jae, and finally he turns around to face her. He says long time no see, Gil Da Ran-shhi. When she asks if he's Kyung Joon and why he didn't contact her all this time and why is he here, he calmly says this is his friend's wedding. This confuses Da Ran so she asks if he's Yoon Jae then. He says its been a year since they've met and she's gotten less pretty. Her face has more wrinkes.
Da Ran is sure this is Kyung Jae before her, but then he says that when he first met her, he thought she was so pretty and he chased after her. This confuses Da Ran and she asks again if he's Yoon Jae. Kyung Jae gets in the elevator and asks if she's not coming in. Da Ran runs into the elevator and stares at him. She asks again if he's Kyung Joon, but he just smirks. He asks if he's changed so much she doesn't recognize him anymore? When he gets out of the elevator, he says "uh oh, you're speechless."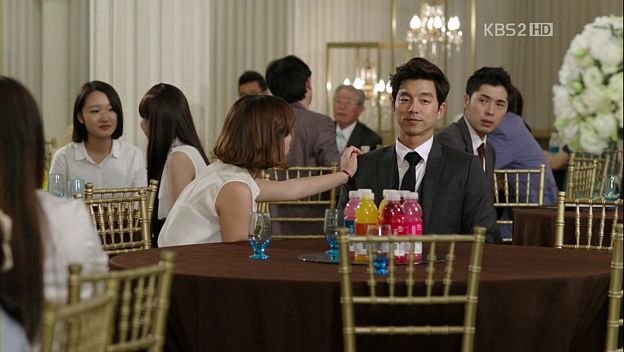 Da Ran walks into the banquet hall and her teacher friend Ae Kyung runs up wanting to alert Da Ran that her ex-fiancee Yoon Jae is also here. Da Ran says she knows. They look towards where Kyung Jae is chatting with some of his guy friends. Da Ran tells Ae Kyung she's fine and the goes to sit down next to Kyung Jae.
She asks again if he's Kyung Joon, and then says she was really worried about him? She puts her hands on his cheeks and turns his face towards her, wanting to make sure he looks well. Kyung Jae remarks that when he was first Yoon Jae, Da Ran always reminded to behave properly so as to not affect Yoon Jae's reputation. Yet look at her now, she's the one causing people to stare and talk. Da Ran mutters that all she sees is Kyung Joon before here, so she forgot everyone else sees Yoon Jae. OMO, yesssss. FINALLY!
Da Ran looks around and realizes the entire wedding banquet is staring at them. Kyung Jae points out that the person who gets up and leaves will preserve their pride in this situation. Da Ran says they ought to stand up at the same time and leave. She wants them to count to three and stand up together, but Kyung Jae counts to 3 immediately and then gets up to walk away.
Da Ran is left alone at the table and her girlfriends quickly run over to ask if she's alright. Suddenly Kyung Jae dramatically opens the door to the banquet room and walks back inside. Everyone stares as he walks up to Da Ran. He counts to three and tells her to get up. Da Ran stands up and he grabs her hand before walking out with her. Omo, I think I swooned.
Outside the wedding, Kyung Jae points out that people will think they got back together. Da Ran shakes his hand off when she realizes this. Kyung Jae says he needs Da Ran. Their souls haven't switched back and he's being forced by Yoon Jae's mom to get married. So he wants Da Ran to be by his side.
Yoon Jae's mom meets with Se Young, who reveals that she wants to get back together with Yoon Jae. Yoon Jae's mom is supportive and wants Se Young with her son, who she thinks has been acting cold towards her.
Kyung Jae explains that Yoon Jae's mom thinks that if he gets back together with Se Young, the old Yoon Jae's personality will return. Da Ran thinks Kyung Jae is still a kid, which you can see still upsets Kyung Jae but he holds it in. He informs her that he's a 19 year old kid now. He tells her that if he has to get married (or pretend to be engaged), then he needs her because she's the only one who knows the truth.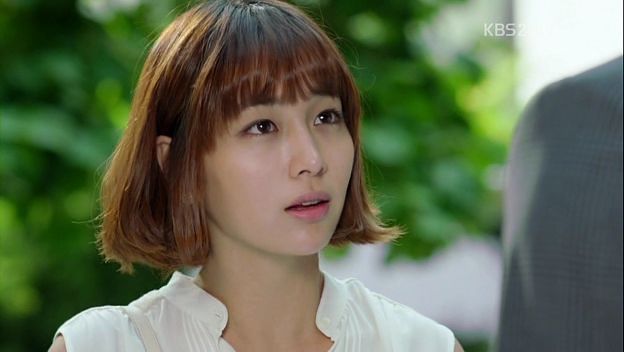 When Da Ran asks if he still likes her, Kyung Jae lies and says he doesn't. He claims that he was just a kid back then but now he's moved on. He asks her for a favor – just like he pretended to be her fiancée Yoon Jae, now he needs her to pretend to be Yoon Jae's fiancée to the public so he isn't forced to be with Se Young.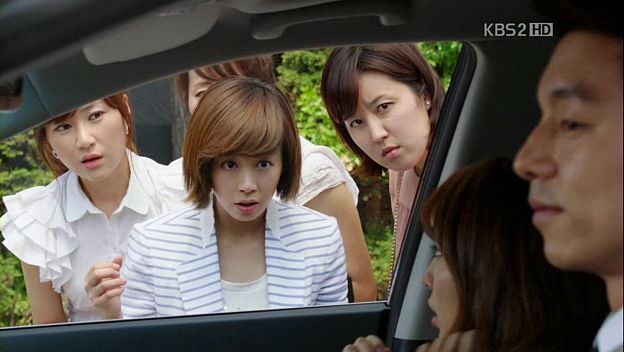 Da Ran rushes off because folks are leaving the wedding, saying she'll talk with him later alone. As she's walking down the street, Kyung Jae drives up and honks loudly until she has no choice but to get in. Hilariously, he purposely backs the car up so that her friends see clearly that Da Ran is in the car with him. Da Ran tries to explain that he's just giving her a ride but the implication is clear.
During the car ride, she yells at him for being a punk and tells him to find girls his own age. Kyung Jae points out that if he picked up a teenage girl, he'd go to jail. But then he doesn't need to get married. Da Ran realizes he's right, but reveals that she's finally let Yoon Jae go, its going to be hard if she has to stare at his face all the time again. Kyung Jae mutters that she still hasn't gotten over Yoon Jae.
Kyung Jae pulls over and tells Da Ran to get like, obviously giving her space from staring at Yoon Jae's face. She can't help him on this, but tells him to call her anytime he wants to talk since she's the only one who knows he's Kang Kyung Joon. When Kyung Jae asks about the mandoo restaurant and her family, Da Ran warns him not to come by. In her family's eyes, he's their former Seo son-in-law, and if her dad sees him, he'll chop him up into mandoo filling.
Before Da Ran leaves, Kyung Jae asks her to call his name. Da Ran says Kang Kyung Joon, and Kyung Jae has her repeat it twice more. He then tells her to go, and she waves goodbye. As she walks away, Kyung Jae leans on the steering wheel and stares at her. He confesses that he's missed her. She is the only one who calls him Kang Kyung Joon.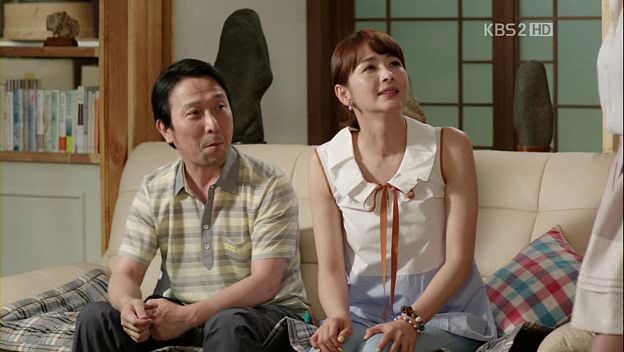 Back home, Da Ran's parents are worried about her future. They know she is doing well and has lots of friends, but want to suggest that she go on matseon dates. They agree that Seo Yoon Jae will never be allowed to date her again.
Da Ran flips through her drawer and finds her wedding pictures with Kyung Jae and her pink pair of the couples socks. She stares at it.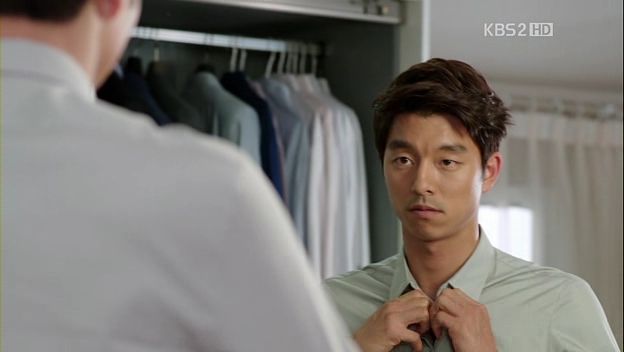 Kyung Jae walks up in Kyung Joon's child bed and gets ready to go out. We see medical textbooks everywhere and notes strewn around the room. He is so rawr looking like a mature adult.
Kyung Jae goes to the hospital and meets with Yoon Jae's doctor colleagues. He confirms that he's almost ready to resume working, though inwardly he mutters that it's a big problem that he can't stand the sight of blood.
Kyung Jae visits Kyung Joon's body and runs into Mari. She doesn't seem surprised he's back, and he thanks her for the information she gave him. Ahhh, so that's how Kyung Jae "ran into" Da Ran at the wedding. Cute. Mari asks for an exchange of information, he needs to tell her about Kyung Joon.
Mari takes notes as Kyung Jae reveals Kyung Joon secrets – like how Amy wasn't his first kiss and some girl name Seri wasn't Kyung Joon's first girlfriend but spread the rumor she was. When asked why Mari is so persistent in liking Kyung Joon, she reveals that her liking Kyung Joon resulted in the death of his mother. So she's decided she's never going to stop liking him so that she can stay by his side.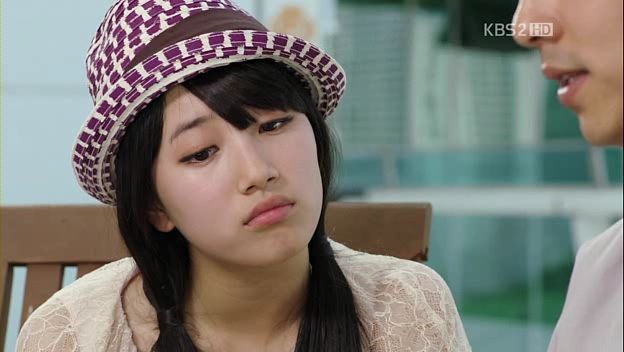 Kyung Jae notes that Mari is definitely loyal. She reveals that she's attending school in Seoul to stay by Kyung Joon's side. When Kyung Jae taps her on the head the same way Kyung Joon used it, Mari notes that he really does have a special connection with Kyung Joon. Mari has watched too many dramas because she wonders if he's Kyung Joon's father. Kyung Jae makes an "oh hell no" face and says its not possible since they are 12 years apart in age.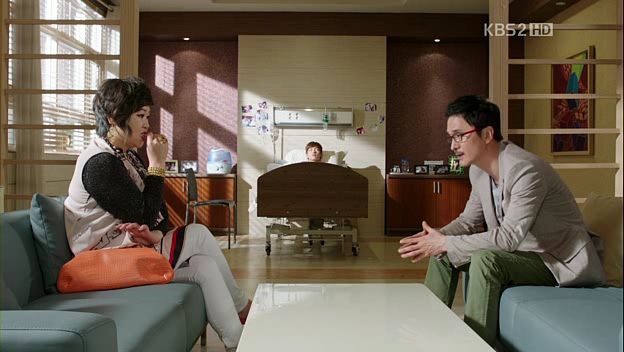 Kyung Joon's aunt and uncle are discussing the possibility he can't wake up. Uncle notes that he wanted to use the inheritance money to buy a restaurant and take care of Kyung Joon for the rest of his life.
Da Ran leaves school when she runs into Kyung Jae waiting for her outside. He's perched against the car in such a hot and sexy way I'm seeing stars. He greets Da Ran and then walks into the school. Da Ran follows him and this is seen by Ae Kyung and Teacher Na, both of whom are stunned.
At school, Kyung Jae meets with the Vice Principal to discuss Kyung Joon's current state. The VP asks if he's no longer Da Ran's fiancée and he confirms it, even going so far as saying he has to pretend not to know her. When the VP says Da Ran must so so hurt, Kyung Jae says he's even more hurt. He reveals that Da Ran dumped him (not the rumored other way around).
Kyung Jae reveals that he proposed to her, saying he'll leave to recharge himself and then come back and marry her. But Da Ran found that absolutely hilarious so she turned him down. When Kyung Jae is saying this, he's staring at Da Ran the entire time. After he walks away, the ladies wonder why Da Ran pretended she was the one dumped?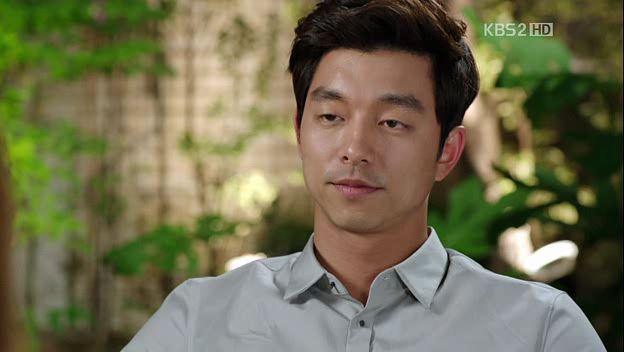 Da Ran asks what Kyung Jae is doing and he reveals that he's getting her pride back so she can once again come to his side. They go to dinner and Kyung Jae asks Da Ran to meet with Yoon Jae's mom. She refuses and wants him to just oppose Yoon Jae's mom. She calls him a kid again which leads him to remind her that to the world he's not a kid so folks will think she's crazy if they hear her say that.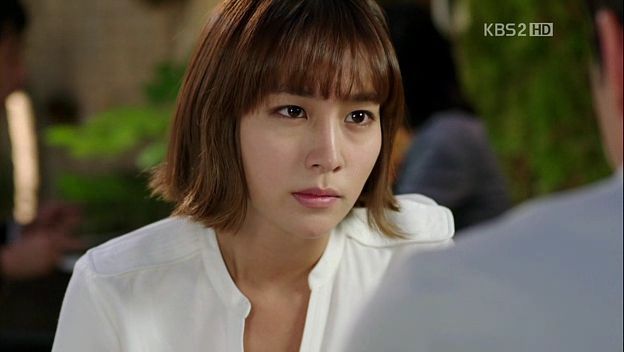 Kyung Jae asks why she's kept all the newlywed furnishings in the house? She explains that she can't sell it and get her money back, so she's keeping it until the day she moves out of her parents house and then she can use it. Kyung Jae suggests they use it as a newlywed home since he's back but she says no. He says that if she doesn't want to help him, then she needs to move her stuff out immediately. Da Ran wonders when Kyung Jae turned so mean.
Kyung Jae meets with Yoon Jae's mom and tries to explain that he's found the person he wants to be with, to try and get her to back off about Se Young. Da Ran goes to the house to pack up the furnishings. Se Young drives over with a box of Yoon Jae's belongings from his office at the hospital. Mari is out sneaker shopping with Choong Shik, who is clearly her adoring slave. She offers to buy him a pair which makes him ecstatic. They discuss the possibility Kyung Joon might never wake up.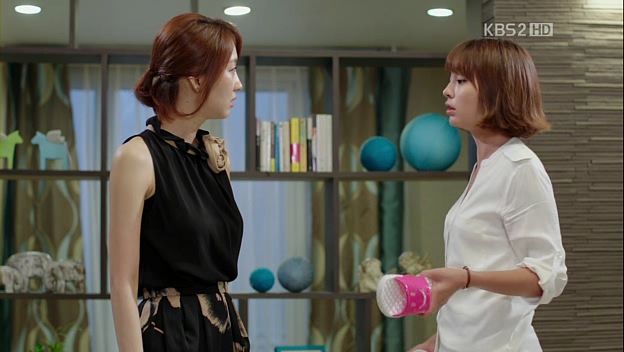 Se Young walks into the house and runs smack into Da Ran in the living room. Se Young announces she's planning to start over with Yoon Jae. Da Ran tells Se Young that Yoon Jae is a kid inside and totally immature. Will Se Young like a teenager? Se Young thinks Da Ran is trying to get rid of a rival and announces that she won't give up on Yoon Jae. Se Young knows about Yoon Jae's personality change since the accident but unlike Da Ran who gave up, she still likes Yoon Jae and wants to be with him.
When Se Young sits down on the sofa to wait for Yoon Jae, Da Ran sees Se Young showing a lot of leg. She mutters that young boys shouldn't see this, so Da Ran acts like her temper is up and kicks Se Young out. She says the sofa is hers and she doesn't want Se Young sitting there. Da Ran warns Se Young not to come by here at night or else she beat her black tea until it turns into green tea. SO AWESOME! Kyung Jae is at the store buying cleaning suppliers for Da Ran to clean with. He asks for the worst brand, clearly so she will have to clean longer and not be able to finish fast.
Se Young runs into Kyung Jae outside as he's coming home. She reveals Da Ran got mad and kicked her out, which makes Kyung Jae smile. Se Young claims Da Ran said Yoon Jae was an immature teenager on the inside to try and get Se Young to give up on him. Kyung Jae confirms that he is an immature teenager on the inside. When Se Young says that she'll wait for the Yoon Jae of old to return, Kyung Jae says that when things go back to its original place, she can have Yoon Jae.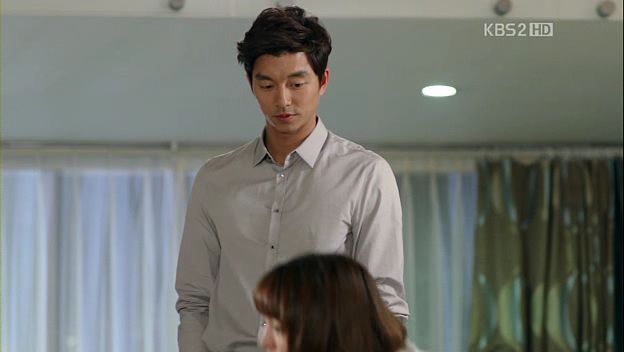 Kyung Jae happily goes into the house only to see Da Ran staring at Yoon Jae's pictures with his parents. Kyung Jae doesn't want these items but Da Ran tells him not to throw it away, she'll put it up somewhere. Da Ran sees all the medical books and notes and realizes Kyung Jae really did spend the past year filling up his brain. He's fine living the life of Yoon Jae and trying to make it work, but he doesn't want to have to get married.
Since Se Young showed up, that means the situation is more serious than they realized. Da Ran huffs that he will surely be attracted to sexy Se Young, though if Se Young knew he was a kid she wouldn't want him. Kyung Jae leans in close to Da Ran and confirms that she won't be attracted to him. She says for sure. He smirks and says that is why she's the perfect person to protect his youthful virtue.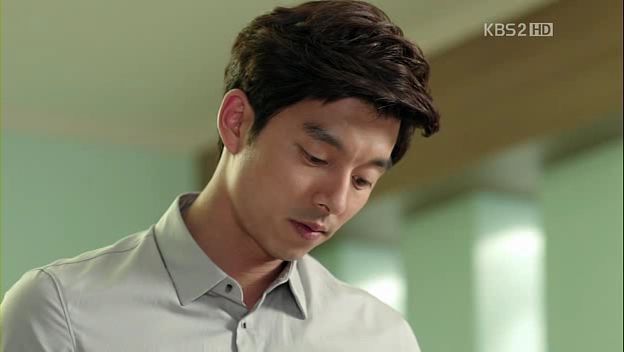 Da Ran goes home and lays down on her bed, thinking of Kyung Jae's predicament. She realizes that she can't got ignore his situation. Kyung Jae looks at a picture of Yoon Jae and his mother and sighs that Da Ran still shoots hearts out of her eyes when she looks at Yoon Jae.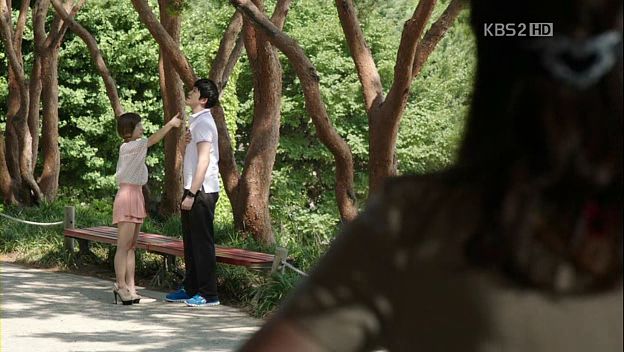 At school, Ae Kyung is encouraging Teacher Na to step up and pursue Da Ran. Ae Kyung says Da Ran is so pitiful and with Yoon Jae returning, someone needs to save her. Their interaction once again is accidentally seen by the VP who thinks they are having yet another amorous encounter at school and chides them.
Kyung Jae goes to the mandoo restaurant and then remembers Da Ran's warning that her dad will turn him into mandoo filling if he sees him. Kyung Jae decides to sneak out with a fan blocking his face when Mari arrives. She doesn't out him but instead buys some mandoo and the two of them go eat at the park.
While munching on mandoo, Mari sees Kyung Jae taking two pieces of pickled radish per mandoo and says only Kyung Joon is allowed to do that. He finishes and walks off, telling her to clean up. She chases after him to get him to do it, which is when a gust of wind blows sand in her eye.
Kyung Jae turns back and tells Mari not to rub and it'll get better on its own. Mari remembers Kyung Joon saying the same thing to her and she sees Kyung Joon with her blurry vision. When it clears, she realizes she's staring at Kyung Jae. He goes to take out the trash and tells her not to follow him.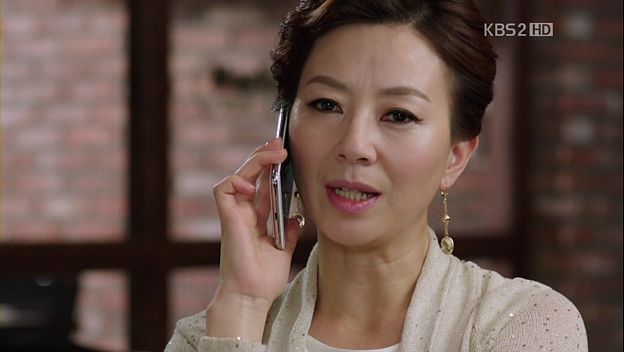 Da Ran gets a call from Yoon Jae's mom, who demands that Da Ran remove all her things from the house immediately since she's planning to sell the house. Ugh, what a witch. Da Ran tries to explain that the house means a lot to its owner (Kyung Jae), but Yoon Jae's mom coldly tells her that this is none of Da Ran's business.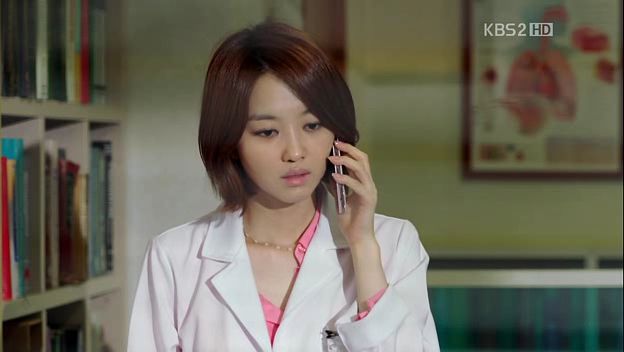 Se Young hears from the nurses that Kyung Jae visits Kyung Joon's body. She goes to see Kyung Joon and wonders why he doesn't wake since he doesn't have any external injuries. She looks into his accident and discovers it was the same accident Yoon Jae was in. Uh oh. Da Ran thinks about Kyung Jae telling her that this home was bought by his dead mom and is his only possession in this world. She gets a call that Teacher Na is at the mandoo restaurant and she rushes over there.
Da Ran's parents are pleased with the well-mannered Teacher Na. Kyung Jae arrives and sees this from the door, which annoys him that another man is pursuing Da Ran. When Da Ran arrives, Kyung Jae stops her from going in and says he's here to discuss a problem with her like she told him to. She hesitates so he says never mind.
Da Ran ends up going after Kyung Jae and gets into his car. She asks what his problem is but he asks who that guy was? Is Da Ran close to him? Kyung Jae fabricates some sort of identity crisis so Da Ran emphatically says he's Kang Kyung Joon. He's still a kid, he can't drink or smoke yet. Kyung Jae smiles at hearing her so sure about who he is, adorably responding with a yes to everything.
Mari is in a daze recollecting all the Kyung Jae words and actions that are just like Kyung Joon. She wonders if two people in this world could be so alike? She finds out from Kyung Joon's uncle that Dr. Seo Yoon Jae bought Kyung Joon's house. Mari talks with Choong Shik and finds out that Yoon Jae was in a car accident and his personality totally changed afterwards.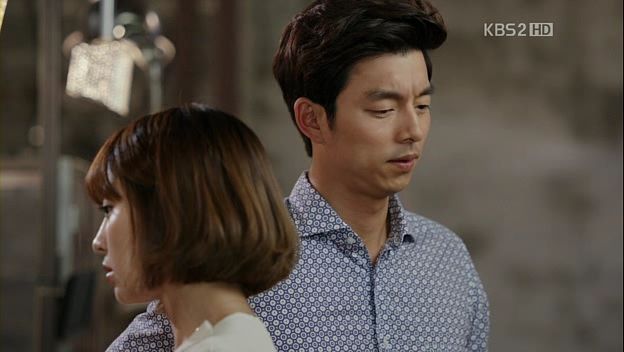 Kyung Jae and Da Ran are at a coffee shop. He makes her go buy the coffee because someone was injured that there is blood which he can't stand. She overhears the waitress all chattering about how good looking Kyung Jae is. A girl walks past Kyung Jae and purposes spills her drink on him. She asks for his number so she can pay for his dry cleaning bill.
Kyung Jae takes out his phone which pisses off Da Ran, thinking he's going to give his number to that girl. Instead Kyung Jae calls Da Ran and tells her to come over and protect him. Da Ran walks over with the coffee and when the girl asks if she is his girlfriend, Da Ran stammers a bit but neither confirms nor denies it. After the girl walks away, Kyung Jae asks what kind of answer was that?
Kyung Jae and Da Ran sit down to talk. He asks if she's decided but she hasn't. He tells her not to drag it out, which will just cause more complications. There is a bowl of candy on the table and he grabs it to illustrate for her. He takes out one piece and says this represents Kang Kyung Joon. This piece of sad bait candy is just a lure waiting for only one person to bite. He pretty much tells her that she's the only one for him.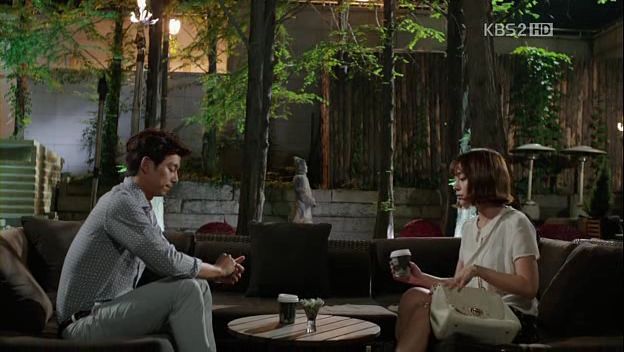 Da Ran says she wants to help, but she can't because it's too hard for her to stare at Yoon Jae's face all the time. She's not sure she won't fall for Yoon Jae again. Kyung Jae takes that as Da Ran deciding against being with him so he gets up and leaves, telling her that they won't meet again. As he walks away, he stops but she doesn't call him back.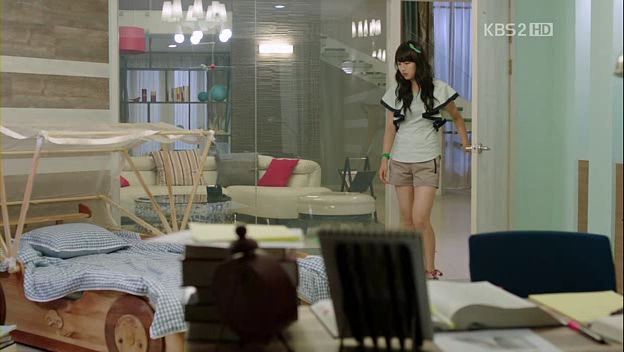 Mari has broken into Kyung Jae's home and entered his bedroom. She sees Kyung Joon's bed and his toys. When Kyung Jae comes home, Mari confronts him and shows him her bloody arm from breaking the window to climb inside. She asks him to treat her since he's a doctor. Kyung Jae turns his head since he's afraid of blood.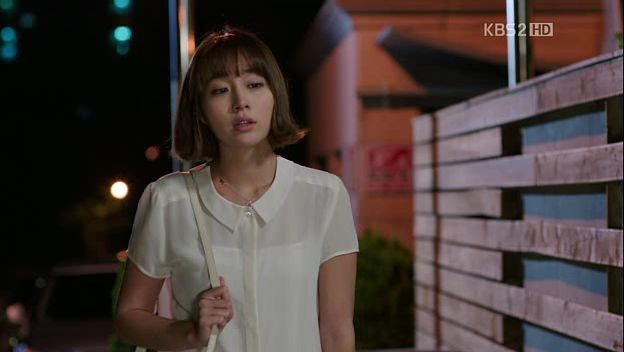 Mari says Kyung Joon is afraid of blood. She asks if he's Kyung Joon? We see Da Ran walking up to Kyung Jae's house. She pauses outside the door and then walks in, clearly having changed her mind.
As Da Ran walks in, she calls out "Kyung Joon-ahhh". Mari and Kyung Jae both turn to stare at her, and this is the confirmation Mari needed. She cries and embraces Kyung Jae and calling him "Kyung Joon."
Thoughts of Mine:
This episode was such a magnificent turn of events. Sophisticated and restrained, it takes all the characters and the time jump and blends it perfectly in pushing the story forward. Kyung Jae has returned after one year and feels like he's really matured yet retained his original personality. He's neither teenage Kyung Joon's gawkiness in Yoon Jae's body, nor does he affect the pretense of being cool and calm Yoon Jae. With the lost memory excuse, he's free to be just who is he – 19 year old Kyung Joon in Yoon Jae's body. I foresee so much angst when Da Ran returns his feelings, because in truth she's falling in love with someone who may or may not disappear at any time. If Kyung Joon's soul goes back to his own body, I feel like he'll need to rebuild whatever relationship developed between Kyung Jae and Da Ran. Oh my poor heart already tingles in anticipation of the pain.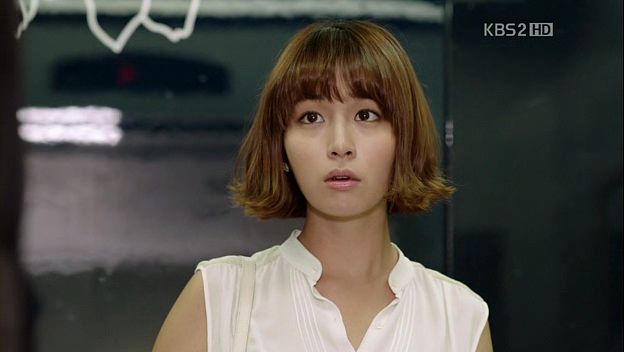 I was ready to give the Hong Sisters the benefit of the doubt with a sudden and early time jump, yet they proved they have their ducks in a row and know exactly what they are doing. Kyung Jae has bridged some of the gap between him and Da Ran, and the separation allows us to ascertain that she sees Kyung Joon when she looks at Kyung Jae. I think her worry about staring at Yoon Jae's face is misguided. She missed Kyung Jae when he was gone, not Yoon Jae, as evidenced by the picture she looked at in her box (not the one with Yoon Jae and her, but her wedding pictures with Kyung Jae). I really appreciate how the story isn't trying to force Da Ran to like Kyung Jae, but instead allows her understanding of him to grow with their time spent together.
Gong Yoo is doing such a ridiculously amazing job playing three different iterations so far. As Yoon Jae he was gentle and reserved, as immediately post-body switch Kyung Jae he was animated and confused, and finally as 19 year old gap-bridged Kyung Jae he is like the best of both worlds. He has Yoon Jae's confidence and comfort in the body of an adult man, but still his youthful bravado and playful side. I especially love how Kyung Jae continues to see Se Young as totally whatever to him. It's nice to see an annoying second lead get completely overlooked by the main character. It's a shame Kyung Jae can't ignore Yoon Jae's mom the same way. No wonder Yoon Jae turned out to be somewhat of a stick-in-the-mud, what with having a mom like that.
I'm loving the fact that Mari has found out the truth, though I'm worried about Se Young finding out as well. But Mari knowing will add new dimensions to the narrative and make it so much more fascinating for Kyung Jae. Obviously Mari can't drape herself all over Kyung Jae, plus she will need to keep guarding Kyung Joon's body in hopes that one day he can return. She will clearly try to keep Kyung Jae from falling more for Da Ran, and will likely be upset when Da Ran returns his affections. I'm looking forward to seeing Mari mature as well, for her to love Kyung Joon the way she described to Kyung Jae. He's all alone so she wants to keep him company forever. Will she back off when she realizes someone else has that place?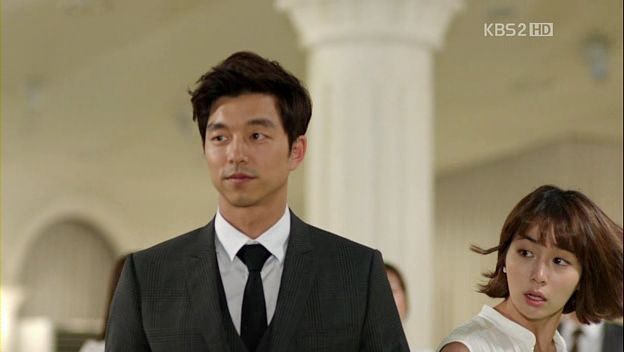 It's so refreshing for a drama to make me feel wobbly on my feet, without any firm ground to stand on in terms of anticipating what will happen. Seeing Kyung Jae rise above his situation and take control of his life using his own ability is really a clear sign that he's matured and capable of being a man in Da Ran's eyes. It adds a twist to it that Yoon Jae and Da Ran have a broken engagement behind them, so that makes Kyung Jae trying to win Da Ran's heart so much more fraught with complications. But I appreciate that the drama isn't about the love story, but instead focusing on how Kyung Joon is living his life in Yoon Jae's body. And through it all, we're watching the people around Kyung Joon mature as well.