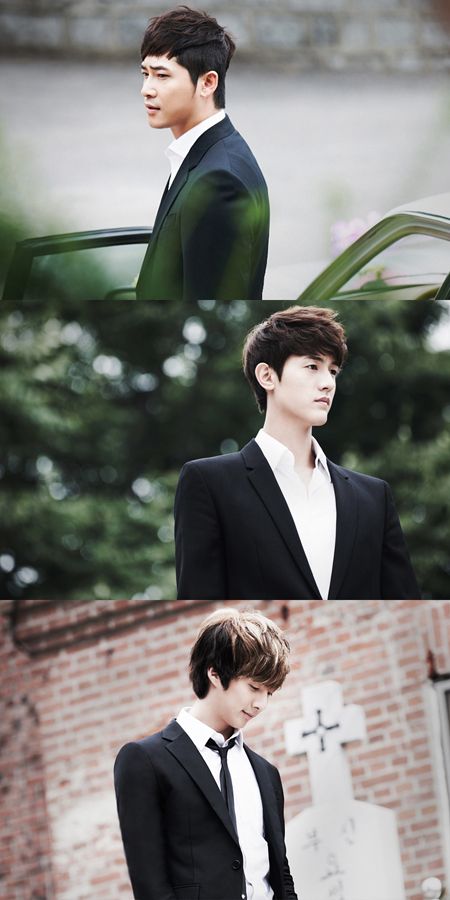 Talk about a case of bros-got-your-back. SS501′s Kim Hyung Jun is releasing a new solo mini album titled "Escape" in July, and for his first single also called "Escape", he's joined by his friends and same agency hyungs Kang Ji Hwan and Lee Ki Woo in a 25-minute long music video mini movie. The first stills released show the three men wearing suits. SOLD. Soldsoldsoldsoldsold. Just give me my Ji Hwan in a suit and I am putty in their hands, toss in two more hot guys and this is a no brainer. Kim Hyung Jun has the nicest voice, his track for the Lie to Me OST is one of my faves. This should be such a blast to check out.
Apparently the music video is premised on three men who escape prison to go seek their love. That's seriously the description! Don't flay me, but I'm going to assume that the three guys are escaping together but seeking their own loves, so bring on three lovely ladies as well. Because even if they go all Brokeback Mountain on me, that's still a love triangle so can you imagine the messy brawls that will ensue. Hahaha, I'm just having a bit'o'fun teasing about the premise. I'm sure it'll involve guns, car chases, lots of brooding by the Han River. If they toss in a Thelma and Louise ending, I'll be ready to call this MV epic. The MV will be released in early July.
© 2012, ockoala. All rights reserved.