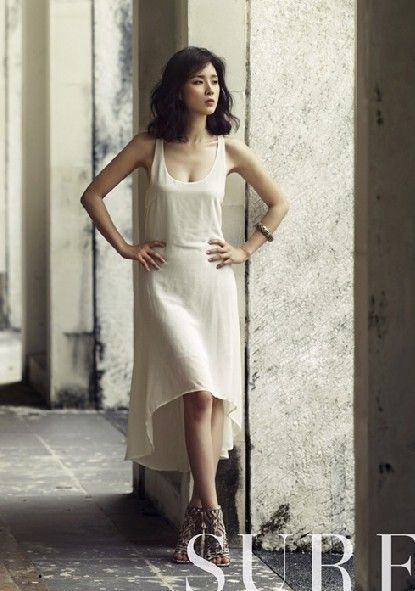 Lee Bo Young just wrapped up a successful drama in The Equator Man with Uhm Tae Woong, so obviously it makes sense for her to jet to Bali for Sure Magazine to do a Summer photo shoot. Rumors have been fast and flying for the last few months that Ji Sung and Lee Bo Young have been secretly planning an imminent wedding, which isn't so far fetched since they've been dating for 7 years now ever since they co-starred in Save the Last Dance for Me. I find it so cute that the leading lady in that drama Eugene married her own co-star Ki Tae Young from Creating Destiny a few years later. The co-star dating thing is common enough that I don't blink an eye anymore when I hear about new dating news. Anyways, back to the maybe wedding, which Lee Bo Young shoots down in her interview with Sure Magazine, saying that she and Ji Sung are concentrating on their careers still but have definitely thought about it and is waiting for the right time. Awwww, I can't wait for another gorgeous wedding event to moon over. I still have TEM banked but hearing all the mehs have left me uninspired to watch.

[Credit: Sure Magazine]
© 2012, ockoala. All rights reserved.