Da Ran and Kyung Jae end up spending a night in jail in episode 13 of Big? I'm sure its for a laughable infraction, but seeing them tightly holding hands and sleeping nestled against each other is surely worth sending the OTP to the clink for a night. I'm glad to see that Da Ran and Kyung Jae will have their own situations to deal with in the upcoming episode aside from learning out that the two soul-swapped guys are brother and diabolical mommy is looking to pillage a comatose second son's cells to save her first. By the way, unless the Hong Sisters are living in Lala-Loopsy land, whatever nefarious intentions Yoon Jae's mom has cooking up clearly can't possibly come to fruition. I like seeing her expose all her evil ways to the world, such as asking Se Young to help her commit medical malpractice and assault and battery, because I would love nothing more than for this Not-mommy to get her comeuppance in the end. Read on for what the accompanying news article has to say about this Da Ran-Kyung Jae in-a-jail-cell scene.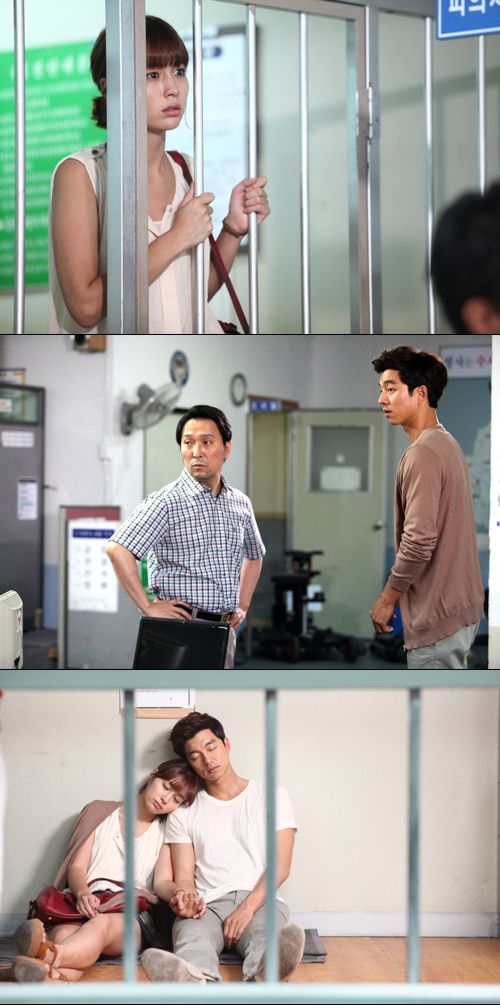 Da Ran gets put in the slammer for some reason, and all Kyung Jae can think about is Da Ran so he elects to be locked up with her for the night. Once again, I have to emphasize, little bro seriously knows how to express his love for his girl. These news stills show Da Ran gripping the jail bars looking out with concern, Da Ran's dad looking angry, and Kyung Jae very worried. The production said that the couple, who had just confirmed their feelings for each other, immediately falls into a dire situation which leads to them reaffirming their feelings for each other. We'll have to watch to see what misunderstanding led to Da Ran in jail, and whether our couple will safely get released.
If I may throw out yet another thought about the body-switch-donor-surgery issue – I really hope Kyung Joon decides to save Yoon Jae, regardless of anything else that ties them together, because that is the right thing to do. With a few cells he can save a life, and with a few cells he can save a brother. I want him to be able to be with Da Ran without any regrets, and he's such a sensitive guy I know he'll regret if Yoon Jae died because he was angry at the parents for discarding him as a child. I feel like the two issues are distinct from each other. Whatever evil mommy and loser daddy did, is not a burden Yoon Jae should bear, and really Kyung Joon's very happiness is predicated on the soul switch with Yoon Jae in the first place. Guess what I'm saying is that I really really want a happy ending for all – Yoon Jae goes off with Se Young, and Da Ran and Kyung Joon can be together with any regrets or guilt.