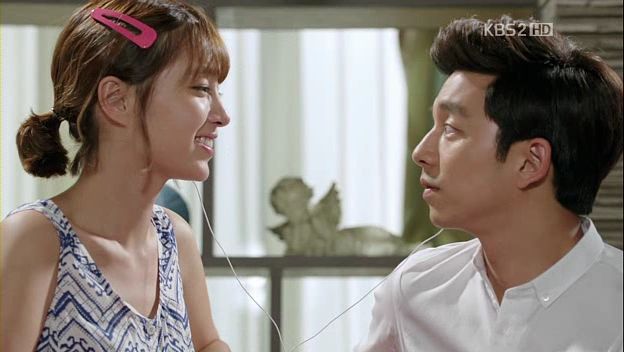 I should call episode 14 of Big: tears, fears, and emotional jawdrops. After a dizzying episode 13 full of machinations and revelations, Big returned to form today with an episode that was beautifully heartfelt. Kyung Jae and Da Ran talked, and talked, and talked some more, even if sometimes they said angry and contrary things neither meant. But in the end they understood how each other felt, and made decisions knowing all the facts and taken everything into consideration. There is still the BIG unknown to come – will the souls return to their rightful body, and then what happens afterwards – but for now, Da Ran took the courageous step forward and said "I love you" to the beautiful young man who loves her with all his heart. I seriously wept like a baby during that airport scene. And lest we think all the bombshells have been dropped, a new one came to throw even me for a loop. Technically Yoon Jae and Kyung Joon are fraternal twins! Read on to understand how this story continues to climb to dizzying heights of bewilderment and heartache.
Episode 14 recap:
The episode doesn't start with where we left off in episode 13. A clock reads 10:10. Da Ran walks down a light-filled corridor and sees Yoon Jae's body standing at the end. She calls out "Kyung Joon-ahhh", her first instinct now is that the body houses Kyung Joon. He doesn't respond, turning to smiles at her, so she asks if he's Kyung Joon or Yoon Jae. He asks which one she hopes he is?
They hold hands and walk to Kyung Joon's hospital room. She sees Kyung Joon laying on the bed, and is told that the person she doesn't pick will disappear.
Da Ran turns and sees the real Kyung Joon standing next to her, staring at her. She looks towards the bed where now Yoon Jae is laying in it, and when she turns back, it's Yoon Jae standing there looking at her. She wakes up in consternation at this bad omen dream.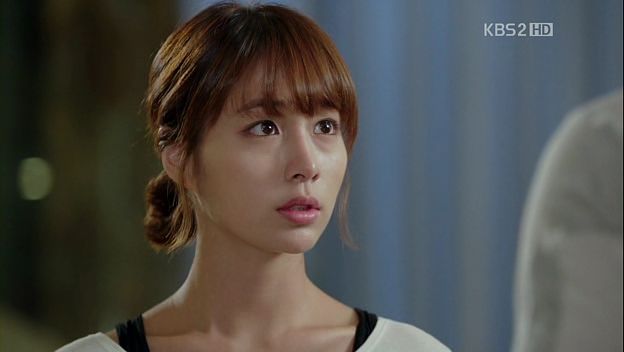 Da Ran walks out to the kitchen and finds Kyung Jae there. She asks why he's not asleep, and he points out that it's clearly because of Yoon Jae's sick body. Da Ran tries to take him to the hospital but he shakes her off. He's clearly angry at her and doesn't want to be seem as a sick patient since the one who is sick is Seo Yoon Jae. Da Ran says she cares if Yoon Jae's body is sick and she tries to pull him off to the hospital again.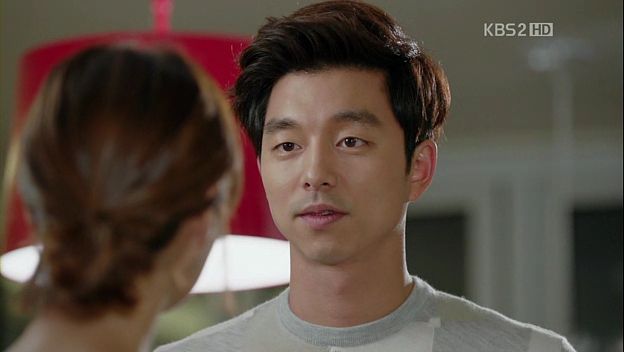 This pisses off Kyung Jae even more, and he tells her to not touch him. If she upsets him, he'll run away and she can't save her precious Yoon Jae. Kyung Jae then looks at his watch and sarcastically says he can't run away since she put that watch on him. Clearly she intended to keep him around so that her Yoon Jae could be saved. Da Ran refute his angry assumption, only calmly telling him to stay beside her like she wants.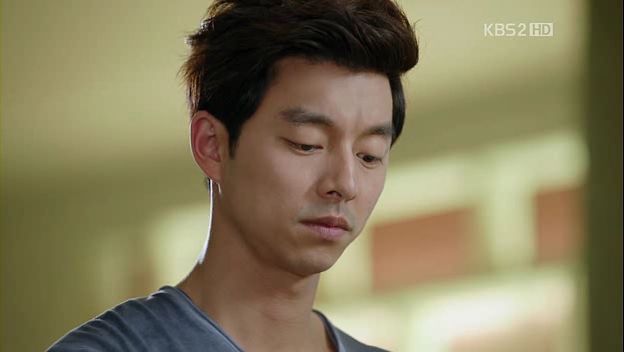 The next morning, Da Ran leaves breakfast and a note for Kyung Jae, reminding him to eat the meal she left. He reads the note and wads it, tossing it on the ground. Mari arrives and happily asks if he confirmed with Da Ran everything. Kyung Jae says yes, Da Ran claims to have known from the beginning. But he asks Mari if she asked Da Ran to lie, to push him away from her? Mari continues her lying streak by lying that she didn't.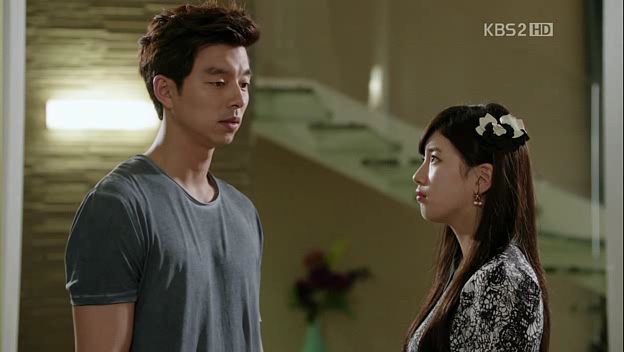 Kyung Jae says it doesn't matter anymore. Since Da Ran tossed him aside first, he'll never cling onto her or want her beside him. Mari is happy to hear that Kyung Jae doesn't want Da Ran anymore. Kyung Jae understands why Da Ran cares about Yoon Jae and he knows the situation is dire right now. But he's angry that Yoon Jae was born first. She's just like his real parents, tossing him aside for Seo Yoon Jae.
Da Ran meets with Yoon Jae's mom, who wants her to convince Yoon Jae to start treatment immediately. Da Ran is more concerned about Kyung Joon, wanting to know what Mom intends to do about her other son? Yoon Jae's mom tosses the responsibility to her husband, but Da Ran is sure Kyung Joon will awaken after Yoon Jae's surgery. At which point he'll need his parents.
Da Ran tells Yoon Jae's mom to face Kyung Joon and admit her grievances against him, and ask for his forgiveness. Then they have to take care of him for the rest of his life as pay back, so that he's never alone in the world again. Yoon Jae's mom brushes Da Ran's concerns for Kyung Joon aside, telling her to just be concerned about Yoon Jae. Da Ran refuses, asking Yoon Jae's mom to promise that Kyung Joon will come first from now on. If she promises, then Da Ran will convince Yoon Jae to have surgery. Yoon Jae's mom concedes that she can't keep ignoring Kyung Joon's existence going forward. Da Ran reminds her to be thankful to Kyung Joon. She agrees, so Da Ran asks her to first say she is grateful and sorry to Kyung Joon while in front of Yoon Jae.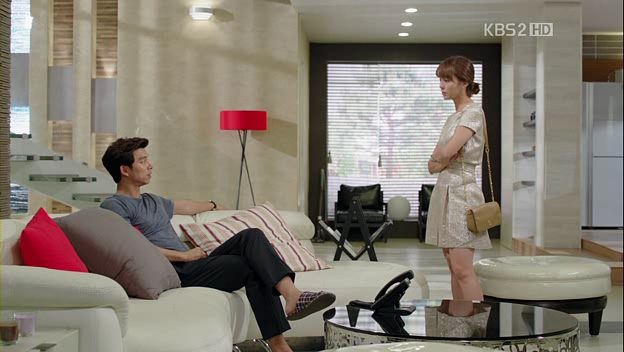 Da Ran asks Kyung Jae to attend a dinner with Yoon Jae's parents to discuss treatment options. Kyung Jae doesn't care if Da Ran is playing the part of the wife and daughter-in-law, he's not interested in playing the part of their son Yoon Jae. Da Ran goads him, saying only a kid would throw a tantrum about this. If he wants to be an adult, he needs to act like one and meet to discuss the situation. Kyung Jae agrees to go but warns her he'll act like a kid.
Yoon Jae's parents are at a restaurant waiting and discuss how Da Ran wants them to apologize to Kyung Joon when he wakes up. They get a call from Da Ran about changing restaurants. Turns out Kyung Jae insists on eating elsewhere. The parents hurry over to the new restaurant.
Kyung Jae wonders what to order, should he eat what Yoon Jae likes? Da Ran tells him to pick what he likes, but he is angry and thinks he should do everything for Yoon Jae's sake the way their parents had him for Yoon Jae. Da Ran tries to get him to stop being so angry, saying that Yoon Jae's parents are his parents, too. Kyung Jae wonders if he should reveal the soul switch truth to the parents?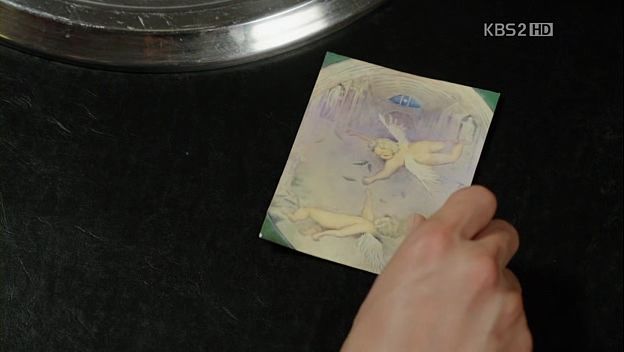 Kyung Jae takes out the Miracle picture in his wallet, as proof he can show them, along with Da Ran as witness. Da Ran says he will switch back soon so he shouldn't shock his parents like this. Kyung Jae wants to stun them with the truth that inside their precious Yoon Jae is the son they threw away. Da Ran tells him again that these people are his family and he shouldn't make things more difficult in the future. Kyung Jae doesn't want family like this, and he intends to cut ties with them after he switches back. RIght now he want them to deal with the shock for the rest of their loves.
Kyung Jae thinks that the truth will get his parents to stop asking him about the surgery and will also torture them mentally. Da Ran puts her hand on his to ask him not to do it. Kyung Jae spots the ring and asks if she is worried about losing Seo Yoon Jae? Da Ran says yes, clearly to goad him not to do something that is wrong. Yoon Jae's parents arrive and Da Ran manages to get Kyung Jae to turn the Miracle picture over and put it away.
Yoon Jae's parents ask Kyung Jae how he's feeling. They ask if he's upset about Kyung Joon's situation. They are grateful to Kyung Joon and feel bad about what they did. They want to make it up to him when he wakes up. Kyung Jae says they should leave Kyung Joon alone, he won't want them. Yoon Jae's mom says the parents will stick by Kyung Joon regardless, as Da Ran asked them to do. Kyung Jae turns to stare at Da Ran.
Da Ran quickly changes the subject to the hateful beans, pointing out that both Yoon Jae's mom and Kyung Joon both dislike beans. Da Ran uses the beans to explain that Kyung Joon may hate something, if he's told sincerely that it's good for him, he'll eat it. To her, Kyung Joon is a kind kid who will listen to adults. Yoon Jae's dad says Kyung Joon's surrogate mother raised him well indeed.
Da Ran boasts about how smart Kyung Joon is at school. His parents think that even if they didn't raise him, Kyung Joon takes after them in ways like hating beans and being smart like the dad. Kyung Jae is pissed and says they are not Kyung Joon's parents since they did nothing to raise him. Mom drops the bombshell that she could have given birth to Kyung Joon instead of Yoon Jae. She had two eggs extracted at the same time because she couldn't get pregnant. One egg was fertilized and implanted in her womb, and she gave birth to Yoon Jae.
The other egg was frozen, but after the tough delivery she could no longer bear children. Hence she could never go back and carry the second egg. When Yoon Jae was sick, she had no choice but to have the egg fertilized and implanted in Kyung Joon's surrogate mother. Hence Yoon Jae and Kyung Joon are technically fraternal twins, despite their difference in 12 years. Mom says that if the eggs were switched, she would have carried Kyung Joon instead.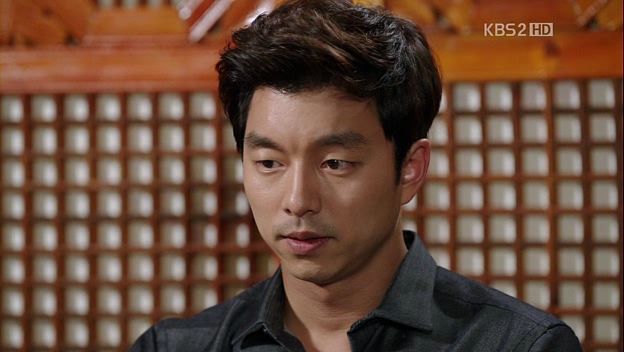 This upsets Kyung Jae even more, asking how it was decided that Yoon Jae would be born first and Kyung Joon stayed frozen, to wait to be unthawed when Yoon Jae needed him. Da Ran moves to grab his hand to calm him down, but he's had enough and shakes her hand off. Kyung Jae stands up and grabs his wallet as he storms out. He says now its Yoon Jae's turn to wait.
Da Ran chases after Kyung Jae but he's not in the mood to talk with her. He mentions how she always felt Yoon Jae's hand was warm, whereas when he first got into Yoon Jae's body, she said his hand was cold. That was because he was frozen for so long. He congratulates her on picking the right guy in her life, the chosen one that is Seo Yoon Jae.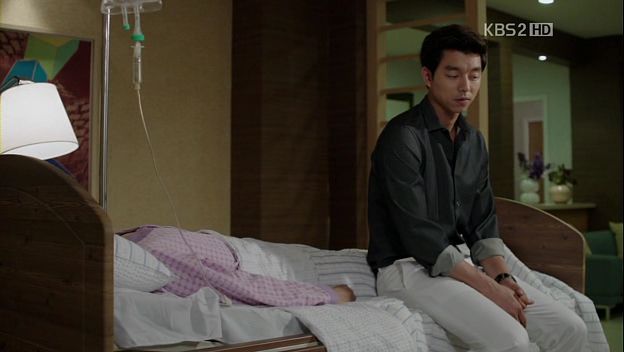 Kyung Jae sits on Kyung Joon's hospital bed and looks at his sleeping body. He wonders how much there is he never knew. Da Ran looks at the Miracle book and says to herself that if everything that is happening is a miracle, then all she wants at the end is for Kang Kyung Joon to find happiness.
Choong Shik is eating with his mom, who asks if Da Ran found the ring. Choong Shik avoids explaining about Mari and the substitute ring, only saying Da Ran is wearing it again. They wonder who the man with the initials KKJ is? Choong Shik tried looking around in school and the neighborhood and there is no one with those initials, other than Kang Kyung Joon, the boy laying in the hospital.
Kyung Jae meets with Kyung Joon's uncle and reveals Seo Yoon Jae has legal guardianship over Kyung Joon. He informs them that Yoon Jae is Kyung Joon's older brother. Aunt is pissed they don't get the rest of the inheritance, but Kyung Jae wants them to keep running the restaurant well. Uncle wonders if Kyung Joon's dad lied to them, since last time he said he just wanted to take care of Kyung Joon and didn't want any of the inheritance.
Kyung Jae finds out that his dad loved his surrogate mom, which he thinks is a lie. He says the surrogate mom took money to carry Kyung Joon, she didn't do it out of love. Uncle stands up for his sister, saying she would not have done this for money. She would have done it only for love. His sister was raised in a loving environment and would never do anything for financial gain. She suffered for being a single mom because of love.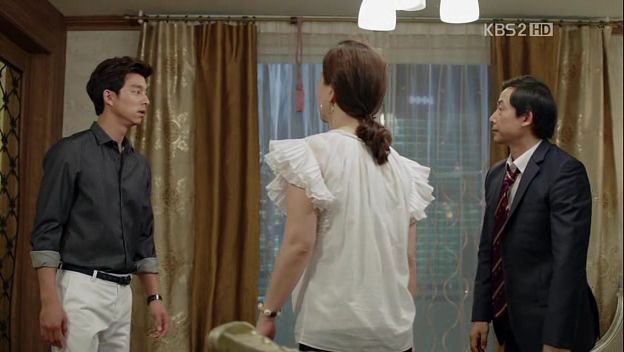 Kyung Jae storms out just as Mari arrives. He's furious at his real parents for using his surrogate mom and ruining her life for their own needs. He storms to his parents' hotel room and demands to know if Yoon Jae's dad loved his surrogate mom? Dad admits it, and Yoon Jae's mom pipes up that she was the one who asked for her to carry the child. Hee Seok agreed because the child was of the man she loved and because she was a nice person.
Kyung Jae cries and asks his dad why he didn't stop her from doing this, if he claimed to love her. How could he have let her be used like this? Yoon Jae's mom takes responsibility for being the instigator of this, saying again that there is nothing she won't do to save Yoon Jae. Kyung Jae has had enough and he tells his parents that there is nothing he won't do either then. He storms out.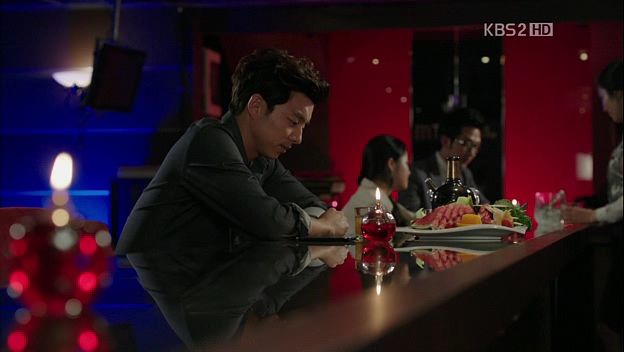 Da Ran can't reach Kyung Jae, who is off at the bar drinking away his sorrows. He flashes back to being called a good and nice kid by Da Ran, and how Yoon Jae's mom said Hee Seok was a nice person. Mari tries to go into the bar but is barred since she is underage. She goes to find someone older. Da Ran finally reaches Kyung Jae and hears that he's at a bar drinking. He tells her to come ask him sincerely to stop.
Da Ran arrives and tries to get him to stop drinking. Kyung Jae asks Da Ran whether she thinks those people are his parents? She says yes, but Kyung Jae drinks and says those people aren't his parents. He asks whether she thinks he should accept as parents people who don't even behave like parents. He keeps drinking. He's not going to accept everything like they want him to. Da Ran tells him not to act like a kid, but her entreaties don't work on Kyung Jae. He asks if she thinks he should give Yoon Jae everything, to which Da Ran says yes, because that is the only way for Yoon Jae can live.
Kyung Jae thinks he'll die, and he wants Da Ran to tell him to put himself first. He yells at her, asking why she can't put him first, why she can't tell him to do whatever he wants. Da Ran says she can't do that, because she knows Kyung Joon is a good person inside. Kyung Jae asks if she thinks that believes in him that must, he'll do whatever she asks. Da Ran believes he'll do what is right. Kyung Jae stops drinking and gets up, brushing Da Ran's attempts to help him off.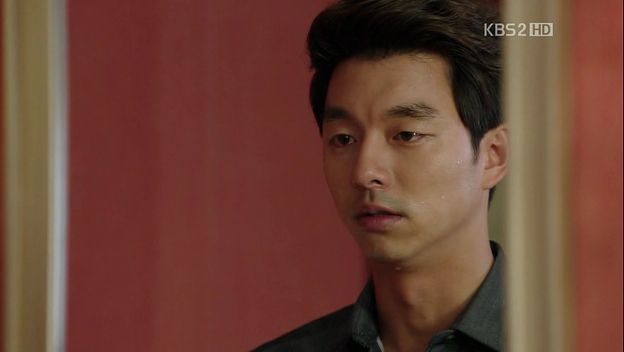 Kyung Jae stumbles to the bathroom and splashes water on his face. He looks angry and determined, saying that he won't be used like his surrogate mom was. He takes off his watch and leaves it on the counter.
Mari returns with an adult but is told that Kyung Jae has left already with another woman. She's given Kyung Jae's watch and she promises to give it to him.
Kyung Jae tosses the Miracle book aside, scoffing that it's no miracle when its used to save Yoon Jae and use him. Da Ran retrieves the book and takes it to her room to read. She thinks back – to save Yoon Jae, Kyung Joon was born; then Yoon Jae saved Kyung Joon; and now to save Yoon Jae again needs Kyung Joon. Da Ran wonders how Kyung Joon can ever find happiness if the story ends right here.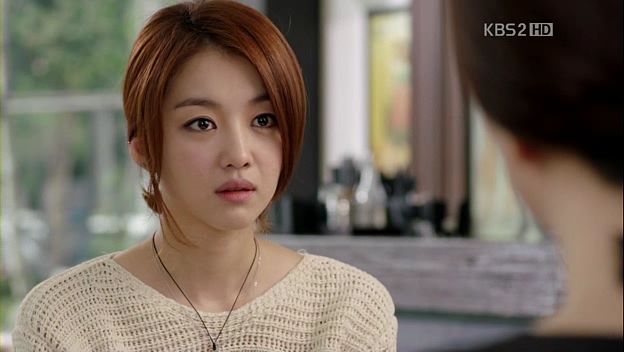 Yoon Jae's mom meets with Se Young to discuss how Da Ran is convincing Yoon Jae to get treatment. Mom mentions how Da Ran made her promise to put Kyung Joon first, which is odd to Se Young since Da Ran ought to be most concerned about Yoon Jae in this situation.
The next morning, Da Ran makes hangover soup for Kyung Jae, who is polite and drinks it. He tells her to go to school and he will do as she asked. He will go to the hospital and get checked up. They both notice that the watch on his wrist is gone.
Kyung Jae searches for the watch in his room. He sees Da Ran on the phone with Yoon Jae's mom updating her on Kyung Jae taking care of his body by eating well and will go to the hospital later. Da Ran asks about his missing watch but Kyung Jae plays like he doesn't know where it went and doesn't care. After she leaves for school, he wonders why he needs to find it if he's planning to leave.
At school, Da Ran thinks to herself about the watch. When Ae Kyung asks her for the time, Da Ran says 10:10 and starts to cry. When asked, she reveals that it will be 10:10 to her for the rest of her life. Both Ae Kyung and the Vice Principal wonder what's happened to Da Ran? Mari sees Da Ran crying and she looks at the watch while vowing never to return it.
Kyung Jae is at the hospital and this time he administers the prep shot to Kyung Joon's body. This time there is no reaction from Kyung Joon. Kyung Jae thinks Yoon Jae is in his body so he mutters that this past year he's laid there setting up Kyung Jae to study medicine so he could be useful at this time. Se Young hears and wonders what he means.
Kyung Jae says Seo Yoon Jae is an unfair person. Se Young points out that Kyung Joon is Yoon Jae's younger brother, and he won't wake up and think it's unfair that he could help save Yoon Jae's life. Kyung Jae retorts that Kyung Joon will indeed think it's unfair. Se Young explains that Kyung Joon's body will continue getting the prep shots for a week and then his blood can be extracted for Yoon Jae's surgery. Se Young thinks all will work out, Yoon Jae will recover and Kyung Joon will wake up.
Kyung Jae tells his parents that he is willing to get treatment, but he wants to do it at the hospital overseas where his dad works. The parents are fine with it, and Mom wants to go with him. Kyung Jae doesn't want Mom or Da Ran to accompany him, he wants to go alone. He asks Mom to stay by the side of the son in the hospital, at the request of the son Yoon Jae that she loves above all others. Afterwards Da Ran wonders why he doesn't want her to accompany him either? Kyung Jae reminds her of the promise she made to be by Kyung Joon's body's side when he wakes up.
Da Ran tells her family that Kyung Jae is going overseas to receive treatment, but she won't be accompanying him. When Mom asks if this is true that she cheated, Da Ran promises to explain to them later about what is really going on.
Mari finds out from Choong Shik that Yoon Jae is going overseas. He thinks finding the ring didn't help keep his sister and Yoon Jae together, but Mari says it worked (in keeping Da Ran and Kyung Jae apart). She tells Choong Shik she's going somewhere as well and tells him to forget her.
Kyung Jae keeps Da Ran from taking him to the hospital. He also tells her that he's planning to sell this house, so she needs to move her things out. He'll toss his own things. He jabs at her that all she gave him was a watch and since its lost, he has nothing to discard from her. Despite saying this, Kyung Jae later goes to the bar and finds out Mari has the watch.
When asked, Mari lies and insists she doesn't have it. Kyung Jae doesn't press her since he rather let it go at this time. Da Ran also goes to the bar to find the watch and hears that Kyung Jae was by earlier.
Da Ran comes home to find Kyung Jae packing up his belongings. When asked about the watch, Kyung Jae says he doesn't take back what he tossed away, emphasis on Da Ran throwing the ring away and then putting it back on.
Kyung Jae stands over Kyung Joon's bedside with his Miracle picture. He walks away and lets it fall on the ground. After a moment, the picture appears to fly away on a gust on wind. Kyung Jae says goodbye to his parents, declining their offer to take him to the airport. He gives both parents a hug.
Kyung Jae offers Da Ran a hug, too, if she wants to hug Yoon Jae's body. Da Ran asks why he is so angry. What happened was a Miracle so he could become an adult and find his family. She hopes he is happy when he returns. Kyung Jae says the Miracle was for Yoon Jae's happiness, not his.
Yoon Jae's mom stand over Kyung Joon's body and discuss how the dad will bring Kyung Joon's blood overseas for the treatment. Mom confesses that she couldn't accept Kyung Joon because he was born of the woman her husband loved.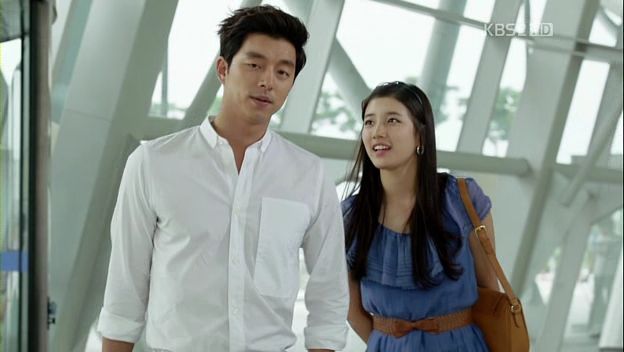 At the hospital, Kyung Jae tells Mari to stop following. He's not planning to head to the hospital overseas for treatment, he's actually taking off for parts unknown. Mari says his body is in danger of failing, but Kyung Jae doesn't care. He has Mari play errand girl to tell everyone he is not going to do what they want from him.
Mari calls Da Ran and frantically tells her to go to the airport to stop Kyung Jae, who is planning to run away. Da Ran takes off for the airport. Kyung Jae stands at the gate with a LA boarding pass. Da Ran catches up to him before he passes customs. She calls out his name and he pauses, standing there with his back to her.
Da Ran tells Kyung Jae that she will speak with sincerity about her feelings, asking if he will listen. She explains how Yoon Jae's dad did love Kyung Joon's surrogate mother, but he made the difficult choice to abandon them so he could save his son Yoon Jae after he was given an ultimatum. But in the interim, he was intensely unhappy.
She asks him not to run away and stay to save Yoon Jae. If he doesn't, then he will come to regret it. She asks him to stay, and the price she will pay for it is to be unhappy for the rest of her life. Which will probably happen, because Da Ran loves him, she loves Kyung Joon.
We see tears falling from Kyung Jae's eyes. He turns around and asks Da Ran why she is choosing this path knowing she will be unhappy. Mari stands in the distances and watches the two of them.
At the hospital, Teddy Bear gives Kyung Joon's Miracle picture to Rabbit, saying that it will make her not sick anymore. Rabbit recognizes it as the angel doctor.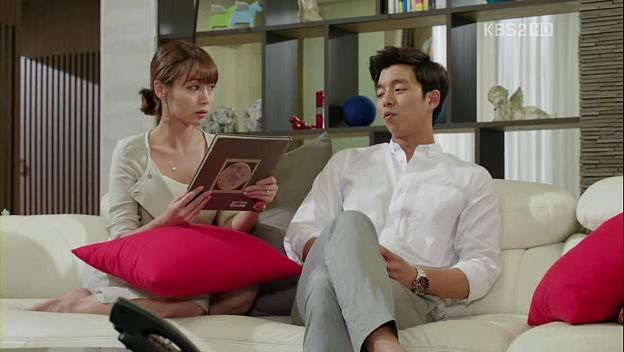 Da Ran and Kyung Jae sit at home and read the Miracle book. They discuss why Yoon Jae has not woke up in Kyung Joon's body? Kyung Jae asks his dad about the book and finds out that while his dad drew the angel picture on the cover, Kyung Joon's surrogate mom actually wrote the story inside.
Kyung Jae meets with the art professor and finds out that his surrogate mom had the book made and gave a copy to Yoon Jae. She wanted a miracle to happen and both boys to be happy. She is thankful that because of Yoon Jae, she was able to have Kyung Joon. Her intention was for Kyung Joon to learn one day that he had other parents and an older brother, and he is in fact not lonely. Kyung Jae finds out his surrogate mom wanted him to meet his other family by using the book as a clue. Professor says a miracle will happen, since Kyung Joon is laying unconscious right now and he's been found. So when Kyung Joon wakes up, he'll have an older brother and parents waiting for him. The professor believes that Kyung Joon's surrogate mom wanted this kind of happy miracle to happen.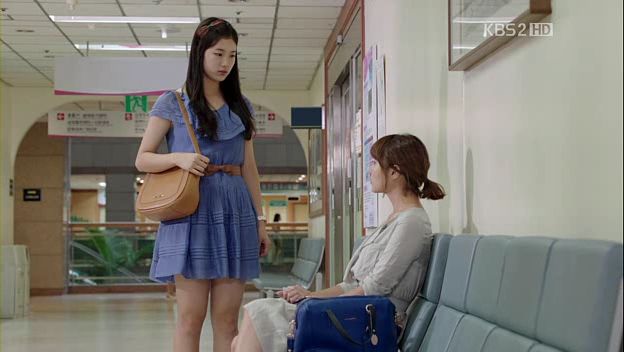 Kyung Jae thinks to himself that he needs to forget everything that happened when his soul goes back so he can find the happiness his surrogate mom wanted for him. His conclusion from the book is that when he switches back, his memories will be gone in order for him to find the happiness his mother hoped for. Mari thanks Da Ran for convincing Kyung Jae to stay, and asks if she has chosen to be by his side. Da Ran confesses that she loves him so much which is why she won't keep him by her side. Mari is pleased with that.
Kyung Jae sits in the living room with the Miracle book. He flashes back to all his happy times with Da Ran in this house. She cooks rice without beans, she warns him to keep the floor free of crumbs, they listen to the walkman together, she plays with the two pandas with him. He cries some more as he thinks about how he needs to forget all of this so he can start over after the switch.
Da Ran buys fresh baked bread for Kyung Jae, but when she comes home she sees that he's cooked the delicious oven-roasted chicken he was planning to make for her that time. They sit down to eat and discuss how Kyung Joon's blood will be drawn tomorrow. Kyung Jae is unclear if the switch will happen then. They acknowledge this between them might all end tomorrow.
When Da Ran offers to be by Kyung Joon's body, Kyung Jae asks her to stay by Yoon Jae's body. He mentions how when Yoon Jae wakes up, he can answer Da Ran's question about whether he loves her. Da Ran says she no longer cares about Yoon Jae's answer. AH HELL YEAH! Sadly Kyung Jae reveals his plan to forget everything that happened post accident. He will pretend he doesn't remember so things can go back to the way they were.
He asks her to not be sad that he doesn't remember. He asks her to forget him as well. They make a promise to each other. If he forgets, she'll also act like none of this happened. Da Ran gets up to grab some milk from the fridge, and after she walks away, Kyung Jae starts to silently sob. We see Da Ran also silently crying with the fridge door blocking her face. OMG, sobbing like a baby here.
At the hospital, Se Young preps Kyung Joon's body while Kyung Jae looks on. Da Ran and Mari wait outside. Kyung Jae tells Se Young to go out as he'll do it himself. The procedure starts and we see blood drawn from Kyung Joon's body. Suddenly Kyung Jae starts to get dizzy. He grabs Kyung Joon's hand and then he collapses on the ground.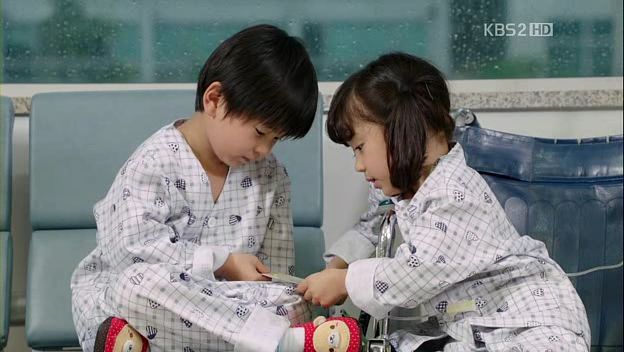 We see Teddy Bear and Rabbit looking at the Miracle picture and discussing which of the two angels is cuter. They turn the picture around so we don't know which angel is the one on top.
Se Young tells Da Ran and Mari that Kyung Jae fainted during the procedure. Mari immediately takes off for Kyung Joon's hospital room. Mari runs inside and walks over to the bed, looking sad when she sees Kyung Joon still unconscious.
Da Ran slowly walks into Yoon Jae's doctor's office and sees Yoon Jae's body sleeping on it. Da Ran leans down and looks at him, touching her hand to his cheek. Slowly his eyes open, and he looks at her. Da Ran calls him Kyung Joon-ahhh. He sits up and looks quizzically around at his surroundings. Da Ran asks again if he's Kyung Joon? He stares at her.
Thoughts of Mine:
AHHHHHHHHH (to infinity). This cliffhanger will be the death of me. Unlike the cliffhanger at the end of episode 6, I'm fairly certain this time there was a switch back, and we're finally meeting Seo Yoon Jae again. Or maybe not. Maybe wuri Kyung Jae is just perplexed there wasn't a switch. All I can say is that I have NO clue whatsoever how the final two episodes will unfurl, and what the major end game of this drama is. Other than my OTP of Kyung Joon and Da Ran have to end up together, or else imma declare online war on the Hong Sisters.

I am so happy the drama chose to deal with whether Kyung Joon should save Yoon Jae in a thoughtful way, by de-coupling the choice from what wrongs were done to Kyung Joon by his real parents. That's a different issue that needs to be addressed, and sins ought to be atoned for. But the decision on whether to save his older brother is one that Kyung Joon should make devoid of gut punch reactions. Da Ran is right that it is the right thing to do, and he will come to regret it if he doesn't.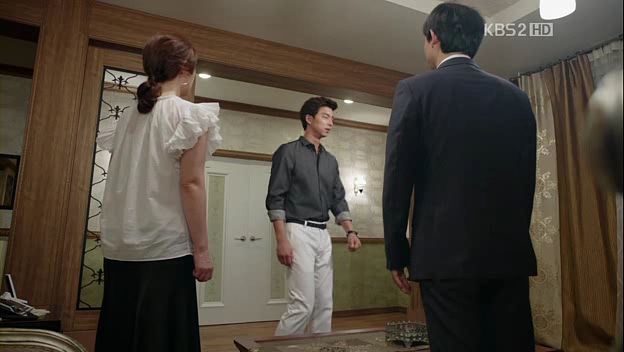 The Miracle book being written by Kyung Joon's surrogate mom was a lovely gesture, one which symbolizes her hopes for future happiness, even if it comes in the form of a Miracle. She's not bitter about carrying Kyung Joon, she's not angry that she raised him, nor does she want to keep him from his real family. Her love is so great that she hopes her son will grow to find another source of happiness with his biological family. I think Kyung Joon understand her wishes at the end, hence he choose the be a strong and mature adult and save Yoon Jae. His biological mom was a petty and jealous person, who couldn't get over the fact that her second son was born from the womb of the woman her husband loved, hence she chose to discard his existence. But similarly Kyung Joon's surrogate mom was a magnanimous person who embraced Kyung Joon and wanted his happiness above all else. I'm proud Kyung Joon was able to understand the lesson she was trying to tell him via the Miracle book.
I think Kyung Joon's real parents are two pieces of shit, they are cruel and selfish, weak and perverse. How could Yoon Jae's mom discard her biological son simply because he was born of the woman her husband loved is beyond me. But my gripes about his parents aside, they are his parents, and at this point, they are his only family. We can't choose our family, and if his parents want to make amends, then it's up to Kyung Joon to decide if he wants to accept it. I understand why Da Ran tried to counsel him to accept the fact that they are his family first, because avoidance is not the mature thing to do. Just like Kyung Jae tried to run away in episode 3, when he tries again, its still Da Ran who manages to talk sense into him. He's a young man, but at a time like this, he cannot afford to be a child and just do what he wants. He might come to regret it, and it'll be too late.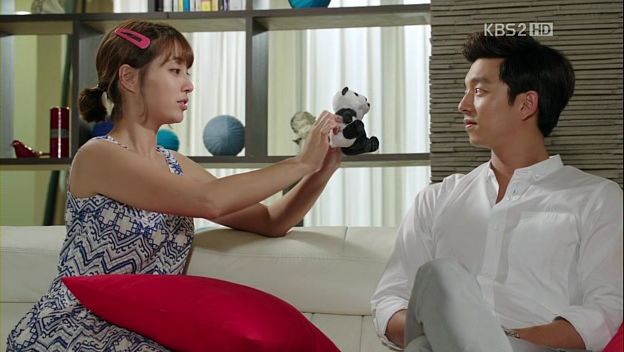 I'm so grateful the drama dispensed with Kyung Jae thinking Da Ran was choosing Yoon Jae, and Da Ran thinking that she had to hide her true intentions from Kyung Jae. Her confession at the airport was beautifully done, when she dug deep into herself and spoke from the heart. She loves him, but she cannot place him first in the sense that she has to support his decision to be an irrational child and run away. Love is not about unconditional support, love is wanting the best for the other person and encouraging them to do the right thing. I appreciate how Da Ran leaves the choice with Kyung Jae, but she tells him the hard truths he doesn't want to deal with. He has a shitty family, he's in the body of his older brother who will likely die without treatment, and perhaps he can go back to his original body and find happiness that might not include her.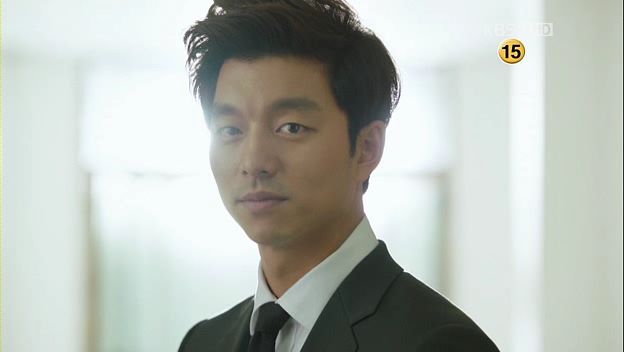 How easy is it just to run away, to get angry and throw things, to lead with our emotions rather than our minds. We've all been there, done that. When we were kids, and maybe even now when something unbearable happens. Da Ran reminds Kyung Jae that perhaps everything that happened has a greater purpose aside from saving Yoon Jae. She believes the soul switch is a chance for Kyung Jae to find his family, and how terrible would it be for Kyung Joon to one day get over his issues with his parents only to learn that his older brother is gone when he could have saved him. I'm glad that in the end, Kyung Joon made his own choices, and I was moved that he did it with full knowledge of what might happen, but knowing in the end that Da Ran does love him. I hope folks have also been able to de-couple clamorings for Shin Won Ho or Gong Yoo to get the girl, in either incarnation of Kyung Joon. The actor doesn't matter, as long as we know it's Kyung Joon, the young man we've come to love and cherish for the last 14 episodes.