Yoo Seung Ho as the Celestial Jade Emperor! That is all. You may carry on now. Arang and the Magistrate has been anything but stingy when it came to releasing teasers, stills, and behind-the-scenes goodies when it came to leads Lee Jun Ki and Shin Mina. I'm totally not complaining, but I've been waiting for what feels like a bajillion years for the first peek at my baby Yoo Seung Ho's special appearance in this drama playing the young, dashing, and playful ruler of the Heavenly kingdom (玉皇大帝). It's been worth the wait.
Doesn't he look ridiculously gorgeous, in that only-in-a-drama way. Though his black with streaks of white mane of glory does raise some eyebrows, but ultimately he pulls it off. I hope seeing this soothes some still wounded hearts over his turn in Warrior Baek Dong Soo. He goes from all-black to all-white, LOL.This drama is really feeling more fantasy than sageuk, and along with Yoo Seung Ho's still, MBC also released tantalizing peeks at two other supernatural beings who will likely play an important role in deciding the fate of Arang, the poor murdered Joseon noble woman whose soul now haunts the village Lee Jun Ki's magistrate has been stationed.
Ha Jung Soo as a soul reaper of the Underworld. He's so deliciously spooky looking. Love how the make up artist made his face all grey and pallid, like he's a zombie almost. Neato.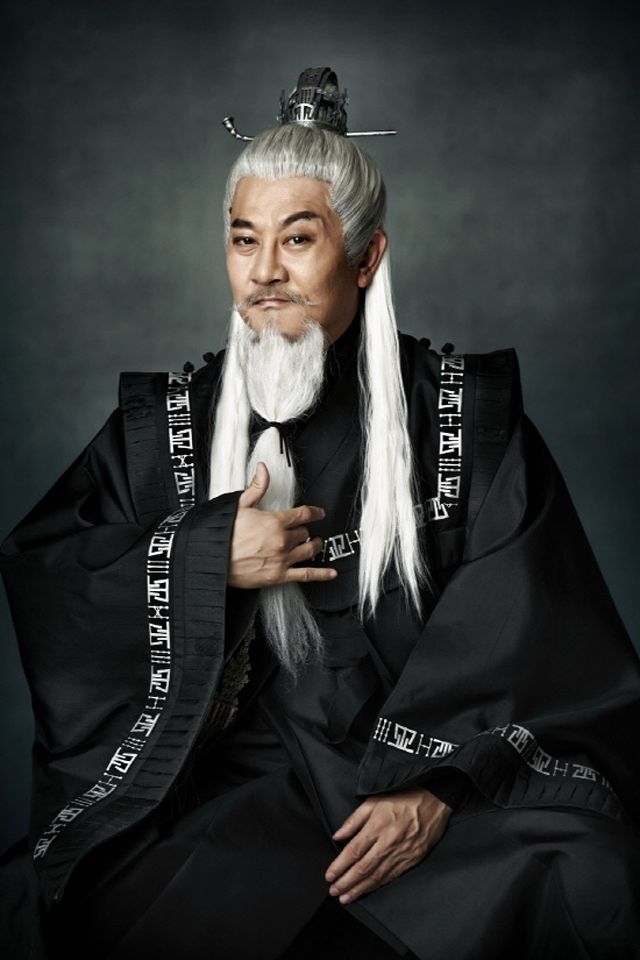 Park Joon Gyu as the King of the Underworld. Betcha five bucks the two opposing rulers are battling for control over Arang and where her soul ends up, in Heaven or in Hell. This drama really isn't going to be subtle, is it? The Celestial Emperor is dressed all in white with black flowing hair, while his counterpart the King of the Underworld is dressed all in black with a white tidy mane. I do quite appreciate a nicely tied up flowing white beard.