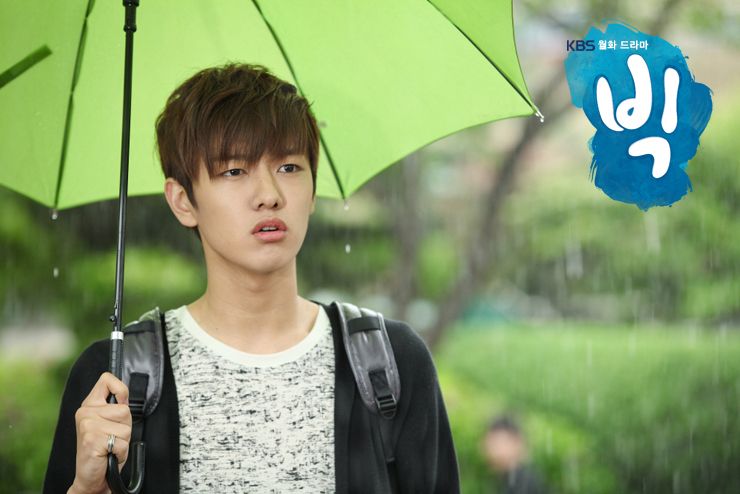 I'm been trying hard not to keep speculating about who woke up at the end of episode 14 of Big, despite my post-recap assertion that it was most likely Yoon Jae. But my Big love got the better of me, that and the niggling sensation that there might be proof of who it was based on clues hidden in the drama earlier. I've loved the hands, hands, and more hands theme flowing throughout the drama, but the Hong Sisters have been embedding additional Easter Eggs everywhere IMO. I think when all is said and done, we might go back and rewatch this baby and gain a deeper appreciation and understanding for how intricate they plotted this drama. Or maybe not, maybe I'm just projecting my hopes onto the writing sisters in the fervent wish that they won't sink this ship with an abominable ending. Now off to the guessing game.
When I saw the body of Yoon Jae laying in his hospital office bed, I was initially so shocked I couldn't really process all the details. After taking a step back, I realized that the person who woke up is likely Kyung Joon still. So that is Kyung Jae laying there, not Yoon Jae. My reasons? The exact laying position he was in was the exact same way Kyung Joon laid in episode 1, the first time the drama showed him resting on his kid race car bed and reaching over to play with his toys on the bedside table. See the photographic evidence below.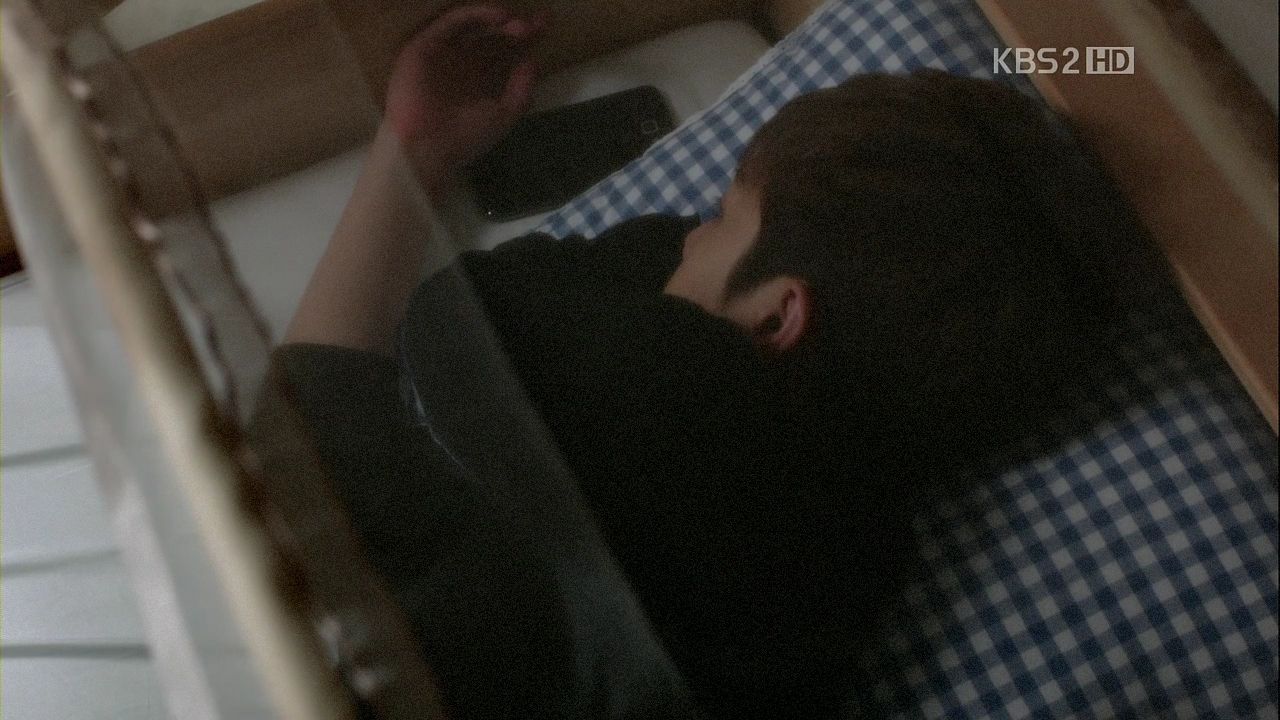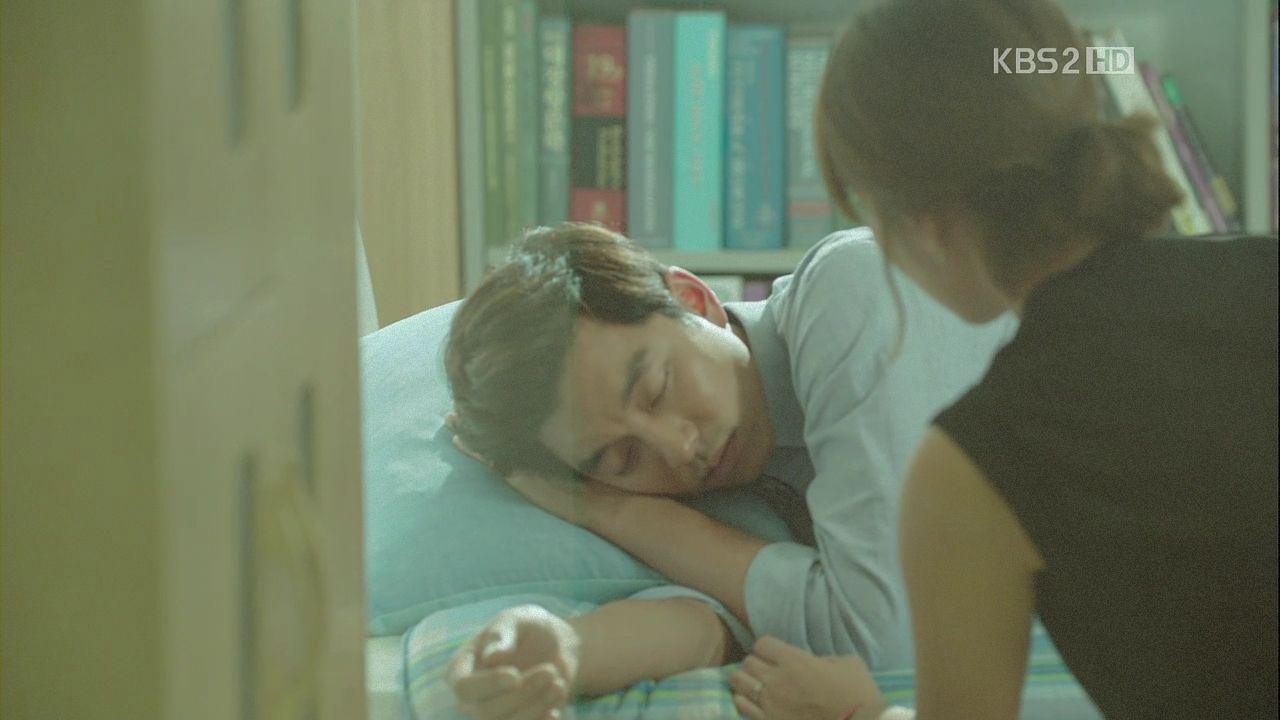 The sleeping position is identical, no? On the right side, with the left arm outstretched, and the right hand under the cheek. If I want to bolster my proof, check out all the times we've seen Kyung Jae resting, he's always laying on his side.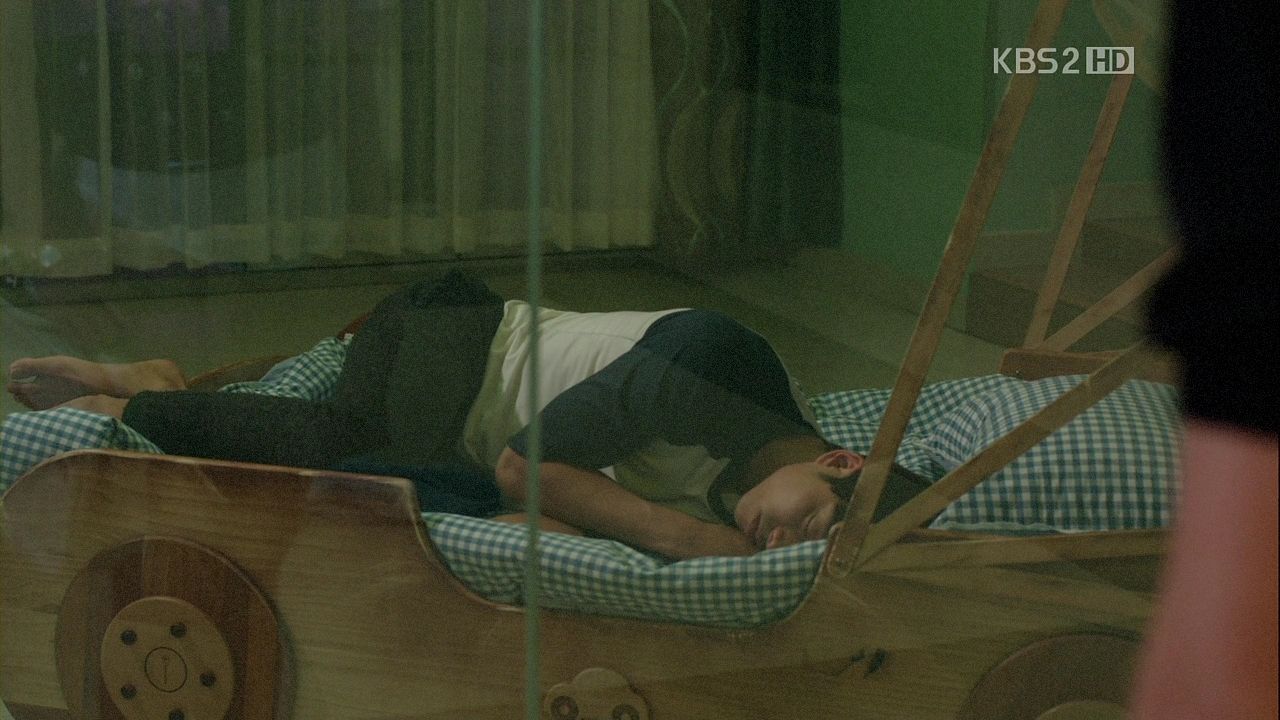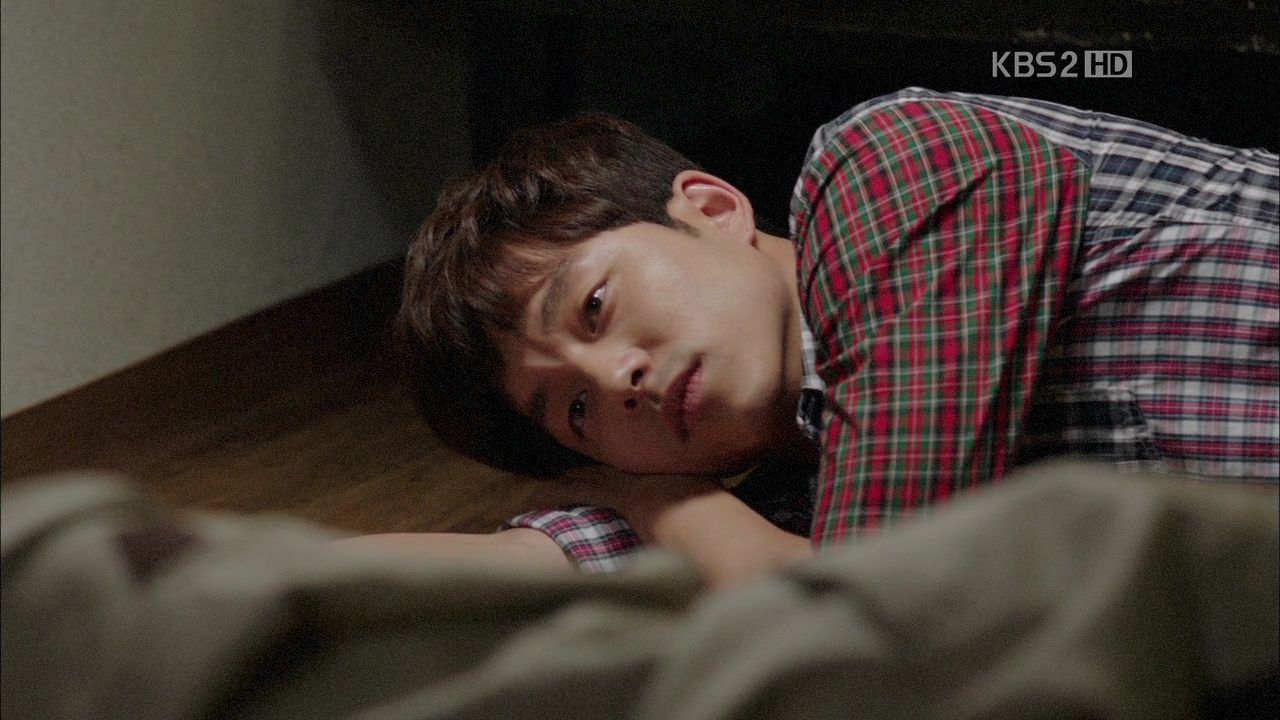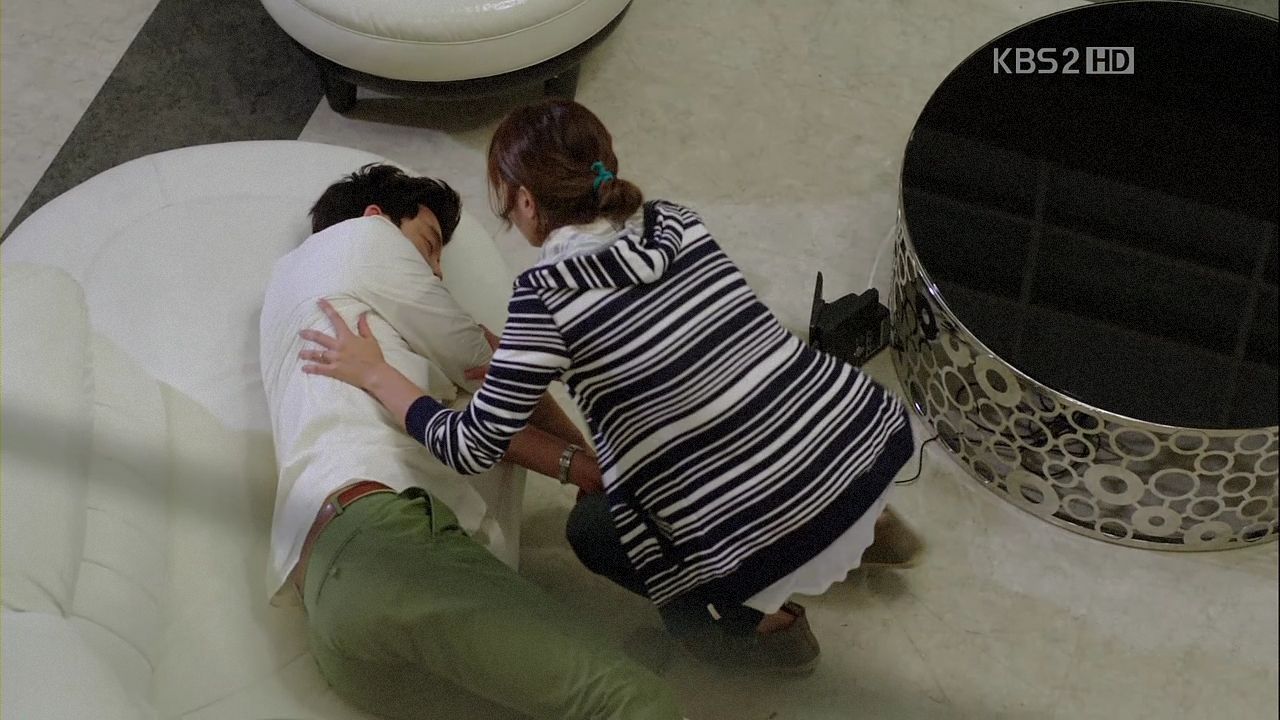 The above are all moments when Kyung Jae is resting, though not necessarily in deep sleep. I don't think its a coincidence the PD chose to film Kyung Jae resting each time in the side-sleeping position. If we look at the screencap below, it's hard to deny the Yoon Jae body that is resting at the end of episode 14 is identical to all the Kyung Jae resting moments in earlier episodes.
So why do I keep saying "resting" instead of sleeping? Because I think there is yet another clue that this is Kyung Jae, and he's laying there with his eyes closed because he's in pain, and because he's processing the non-change back and what to do about it. Remember each of the other times there was almost a change, he's always in a lot of pain. This time I doubt he would be any different, and he seemed in pain right before he collapsed. But recall that in previous almost change backs, he also collapsed, but in the end there was no return to his original body. So the mere fact that he collapsed besides Kyung Joon is not indicative the souls were switched back. Furthermore, everyone at that hospital knows Yoon Jae is sick, therefore if he collapsed, why would he be laying in his own office bed rather than in a hospital room as a patient getting checked up.
Hello? Guy just fainted, in a hospital no less, so unless the doctors are courting malpractice, he would be examined. Therefore the only reason he was not being probed and was instead laying on Yoon Jae's office bed was because Kyung Jae collapsed beside Kyung Joon's body during the blood withdrawal, and then promptly got back up. As he has done in the previous other four times his soul momentary went back to his own body. Afterwards he declined to be check up and walked back to Yoon Jae's office. Se Young just said Yoon Jae collapsed, but that doesn't mean he was still in a faint when Da Ran got to him.
He was laying on the bed resting from the residual pain when Da Ran came in. When Da Ran put her hands on his face, he opened his eyes, but with Gong Yoo's amazing acting, it's not immediately clear whether he was waking up from sleep or just opening his eyes because he was just resting. I think this is therefore a feint, and there was no switch back. Which then really really suggests that Yoon Jae's soul is dead. Has been since the accident. That is why Yoon Jae's body coded and he was wheeled into the morgue. Kyung Joon's soul went into his body because it was the Miracle book at work, with his dead surrogate mother doing her magic to make her son find happiness.
I know its not logical to say that Kyung Joon's body can lay there without a soul inside, but that is just a leap of fantasy we probably have to accept. Plus there is plenty of anecdotal evidence that people may be "dead" and by the use of medical machinery kept "alive". I don't think that is a hang up at all. If I follow this hypothesis, then I think that Mari's dream is probably about Kyung Joon's body dying because his soul has chosen to stay in Yoon Jae. Maybe the end game is about giving Kyung Joon the choice – to return to his own body or stay in Yoon Jae's. I think he should, and I want him to, go back to being 20 year old Kyung Joon who has his life in front of him. But maybe what I want doesn't matter.
My choice for Kyung Joon would be imposing what I think he should do. What if he wants to stay as Yoon Jae, so that he can be with Da Ran without complications, be the doctor who saves children in his brother's stead, and have the family he was meant to have. Realize my operative word is "he wants", as opposed to what the viewer wants. And no, I don't think that happening would be to satisfy some sort of K-drama code that the male lead, i.e. Gong Yoo's fine fine male form in this case, must get the girl. I'm getting the sense that the story is being developed as a tale about a boy who grows up overnight and then has to choose what life he wants.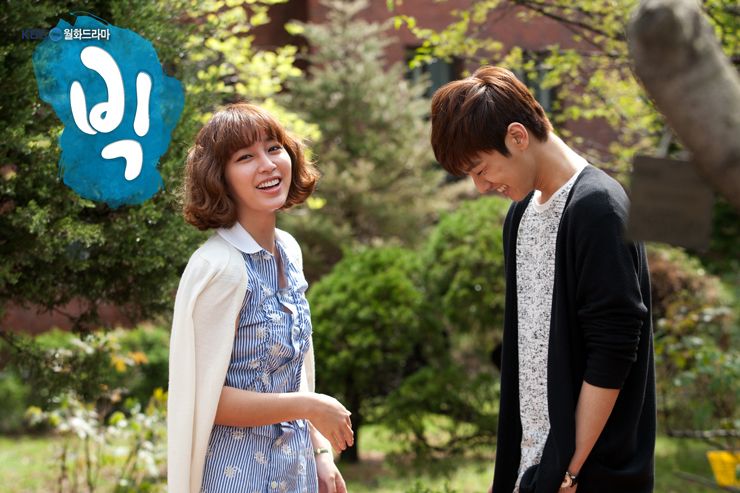 I probably have as rabid a love for Shin Won Ho as any of his fans out there, but you don't hear me bemoaning his fate in Big in spend the majority of it laying in a hospital bed. I don't care which version of Kyung Joon ends up standing at the end of the drama, as long as its understandable for me and he gets to choose. Maybe the only way for Kyung Joon's soul to return to his own body is for him to wish it. Kang Kyung Joon was an amazing meaty role for Shin to land, this total newbie who gets a chance to appear on the radar of drama fans in ways most young stars could never hope to do. It doesn't matter about screentime, it's about what you do with it. Shin was fantastic in episode 1, and I'll always swoon over how he got off that bus and grabbed Da Ran's hand on her umbrella and then stared holes through her face. But Shin needs to thank Gong Yoo big time for taking Kyung Joon and elevating this character into unforgettable territory.
If Kyung Joon returns to his body in the upcoming episodes, I hope Shin has been studying Gong Yoo's performance keenly so he can at least try to attain even a sliver of all that nuance. But I think his acting limitations and inexperience aside, the boy has so much natural charm and charisma he can sell me on anything at this point. I would love for everything I postulated above to be wrong, and the person who woke up in front of Da Ran is Yoon Jae, because as much as I think the poor sap is as interesting as white paint, I welcome his return for the sake of dramatic angst and letting him say his peace. Maybe he doesn't want Kyung Joon's blood, maybe he refuses to once again live because of his brother's gift of part of himself. I think the final two episodes can go in different directions and still be fascinating, which is the hallmark of a story well crafted. So there you have it, theory number 987 from me.