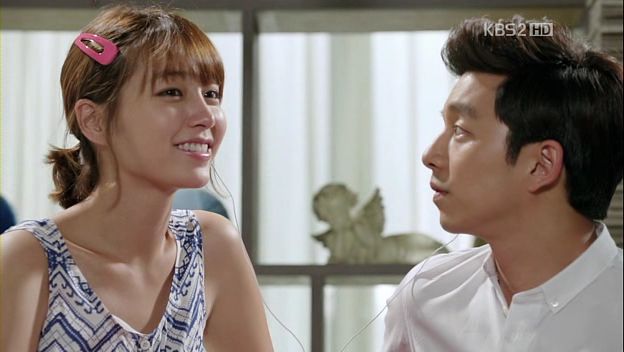 I'm not sure I like this preview of episode 15 of Big very much. I worry that not much is happening and the story doesn't have the luxury of dawdling anymore where there are so many issues it needs to tie up. But I've watched enough dramas to know that previews can often be misleading, so I'll just have to find a way to sit tight until Monday night. We get visual confirmation as to which soul is in Yoon Jae's body at the end of episode 14, and maybe that explains the Miracle story hoodoo magic isn't how people are interpreting it. I'm not sure why there are some folks saying the drama ends at 18 eps, since both Gong Yoo and Lee Min Jung have recently given interviews where they confirm it ends at 16 eps and both are already off to their next activities immediately afterwards. I would love for a few more episodes with Kyung Joon and Da Ran, but Haeundae Lovers is already set to start on August 13th, and the interim two weeks is all Olympics all the time. So let's just savor and enjoy the final two hours with our beloved OTP, shall we?
Video preview for episode 15:
Da Ran: Do you want me to accompany you to the hospital.
Kyung Jae: No need. Going with Gil Teacher makes me feel uncomfortable.
Da Ran: That pizza has mushrooms on it.
Kyung Jae: Mushrooms? So?
Yoon Jae's mom: Completely accepting my child is still difficult right now.
Kyung Jae: He knows that he was frozen for 12 years, and was only born because you guys took advantage of his mother's love.
Da Ran: Are you really going to pretend that you don't remember everything that happened between us. Are you going to throw out your memories?
Kyung Jae: Gil Teacher, I don't know what kind of memory you have that's making you this sad. But this is a lot to bear for me when I don't have the same memories.
Da Ran's dad: You said she met with a teacher from outside the city?
Da Ran's mom: Looks she's looking for an chance to go live there.
Da Ran: I….it looks like its not going to work even if I escape to another country.
Da Ran: Where are we going right now?
Kyung Jae: You and I have to go sort through some matters first.
Nurse: What, what is happening! Oh no, oh no!