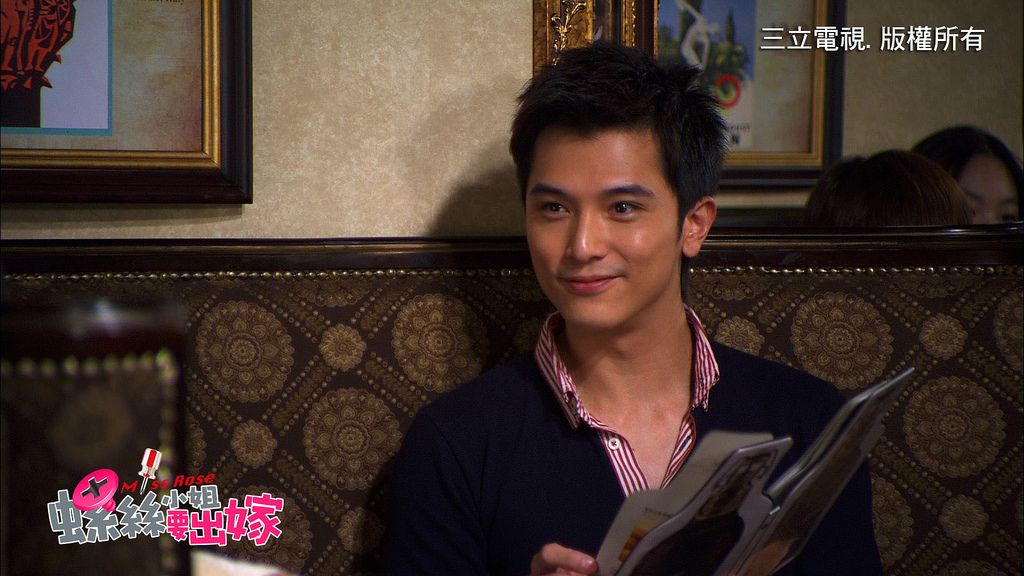 I feel like every post of mine about Miss Rose is me talking to myself, since pretty much no one else is watching it since its not being subbed. Oh well, I do enjoy sharing secret little pleasures of mine with other drama lovers, though the inability to have flailing discussions for how much awesome this drama is does dampen my spirits just a smidge. Three episodes in, I can safely say this drama has broken out of its earlier similarities to Office Girls and shown that its focusing on the OTP romance much more than OG did. I loved OG, but the OTP of Xing Ren and Zi Qi lacked the passionate romance and instead subsisted on the cute sweetness to showcase their mutual maturation. In MR, neither Cheng Kuan and Si Yi are immature in the slightest, though she does tend to jump to conclusions and over-react while he's a grumpy ass when he wants to be.
Since this couple is older, I love that they are falling for each other in much more self-aware ways and actually thinking about what it might mean in the long run. Si Yi doesn't think Cheng Kuan is a possibility, and I bet Cheng Kuan asked VIvian what he means to her at the end of episode 3 because his recent interactions with Si Yi is leading him to question his path in life. Should he marry for his career, or perhaps love isn't something out of his reach. Episode 4 looks to be chock full of OTP goodness and some burgeoning complications with Vivian start to arise. I love it, because the former makes this story so satisfying to watch, and the latter starts to raise the stakes all around.
Written preview for episode 4:
Cheng Kuan and Si Yi – the later it gets, the more beautiful it is?
The TV is showing a passionate kiss between the leading man and leading lady. Si Yi can't help but replay her kiss with Cheng Kuan. There was no love…..there was no passion……just two lips lightly pressed together. A touch like this without any warmth, what does it mean?
In order to win the large government bid in an effort to save Guang Qiang, Si Yi and Cheng Kuan take a long distance trip to gather intel. The two of them overnight in the same hotel, what other pratfalls will befall them? Faced with the beautiful scenery of an aquarium, Si Yi and Cheng Kuan feel the romantic atmosphere around them. Si Yi awkwardly wearing her pajamas, Cheng Kuan sipping an apertif, the mood is very interesting.
The normally cold and reserved Cheng Kuan gradually lowers his barriers, but the increasingly closeness between them is interrupted by a phone call. The caller ID shows that its from Vivian. Cheng Kuan slowly presses the answer button, is a bomb about to drop on them?
© 2012, ockoala. All rights reserved.