Excuse me while I spazz – wet Roy Qiu = fanning myself and hopping up and down like an epileptic rabbit. Clearly that picture above just short circuited my brain, but once I regained my sanity, I realized that the written preview for episode 5 of Miss Rose is like drama rom-com crack made just for me. Vivian the bitchy fiancee finally meets Si Yi, and the mutual dislike from the tie incident has ballooned into intense loathing from both sides. I love that Guo Xue Fu, her English name is Puff and she's Tia Li's fellow Dream Girls member, plays Vivian with complete willingness to be as mean and cold as can be. Unlike Tia's Kai Er character in Office Girls, being fake and devious, I much prefer having an antagonist like Vivian who is not afraid of being openly confrontational.
Right now Si Yi and Vivian's differences in wealth and background is like Heaven and Earth, but I can see the Cheng Kuan who is trying to reach Heaven actually stopping to think about what exactly he wants to attain by becoming President Jiang's heir and marrying Vivian. All of that is because of Si Yi, and Vivian's awareness of Si Yi's presence in Cheng Kuan's life will only force him to take a closer look at both woman and how they affect him. It's going to hurt watching Vivian pick on Si Yi, but I know it's going to hurt Cheng Kuan more and he'll likely not hold back if Vivian crosses the line one too many times. And once Si Yi's ex-boyfriend enters the picture, I can't wait to watch the fireworks fly.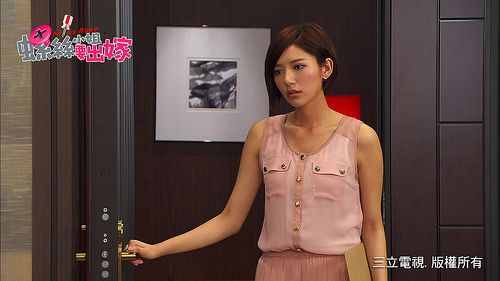 Written preview for episode 5:
Rivals always run into each other, and the bitch asserts her presence. Vivian steps foot into Guang Qiang and makes her position clear. Si Yi becomes Vivian's number one enemy and gets raked through the coals. Cheng Kuan sees this and it really makes his heart ache. Should he be a hero and save Miss Screw, or shall he support his "most important" fiancee?
Tick tock…..tick tock….. time slips by and it grows dark outside and the bid submission period is drawing to a close. General Manager Wu and Manager Kang, those two trouble creating machines, what situation will they create for Cheng Kuan and Si Yi's already complete bid submission?
Cheng Kuan tenderly wipes away the foam on Si Yi's lips and Si Yi's eyes fall on Cheng Kuan's handsome visage, the distance between them less than an inch. The only sound is their heartbeats. An angry glare hits them from the doorway, where Vivian stands there………