Two days into the new week, I'm already rolling around in the collective awesome of yet another amazing episode of Miss Rose, which was followed a day later by a jawdroppingly great episode of Rich Man, Poor Woman. If this is a sign of generous drama powers at work, then I expect Arang and the Magistrate to literally blow my mind with its two new episodes this week, thus capping off what is surely a knock out performance by all three dramas I'm currently watching. What more can I say about MR, other than it's being subbed finally so more people can enjoy it. Super yay! I love recapping a drama that can be watched because then a discussion can start and people can gush to their heart's content. I think obvious now that Cheng Kuan likes Si Yi, and Si Yi probably admires Cheng Kuan a lot and likes him back a little. And they both are aware of it, how cool is that? I like how the cards are being laid out on the table, so Si Yi knows that Vivian doesn't love Cheng Kuan and is just a trophy girlfriend to him. At least this will make anything forthcoming between Cheng Kuan and Si Yi less like she was being an interloper.
I understand why Cheng Kuan is sticking with this plan to marry Vivian, but I'm not sure why Vivian has any reason to go along with it. Her dad wants it? She doesn't seem like someone who does what daddy wants, unless that is all she does, and she takes out her frustrations on everyone else. After realizing Si Yi is a threat, though, I'm now certain Vivian will hold onto Cheng Kuan come hell or high water. Now its about pride, and she's not about to lose her guy to some no-nothing low level secretary at a small company. I was squeeing through every scene where Cheng Kuan just stares at Si Yi, whether to make sure she's okay, or simply like he's admiring and studying something that intrigues him. Roy Qiu takes the power of the stare to new heights in this drama (as he did in Office Girls), and it never fails to melt me. I really like Si Yi and Xiao Ke's friendship, but I wonder how her likely straying boyfriend story will unfold. For now, I'm content with all the slowly developing and frankly not terribly interesting side plots because the OTP is just the bees knees.
Episode 5 recap:
Xiao Ke spills coffee on Vivian's shoe and Si Yi steps in to defuse the situation. Instead the situation gets worse since the two ladies recognize each other from their previous tie incident. When Vivian refuses to go clean up and insists the shoes are too expensive for poor people to replace, Si Yi just bids her a good day and takes Xiao Ke away. Vivian fumes and goes inside to meet with the General Manager.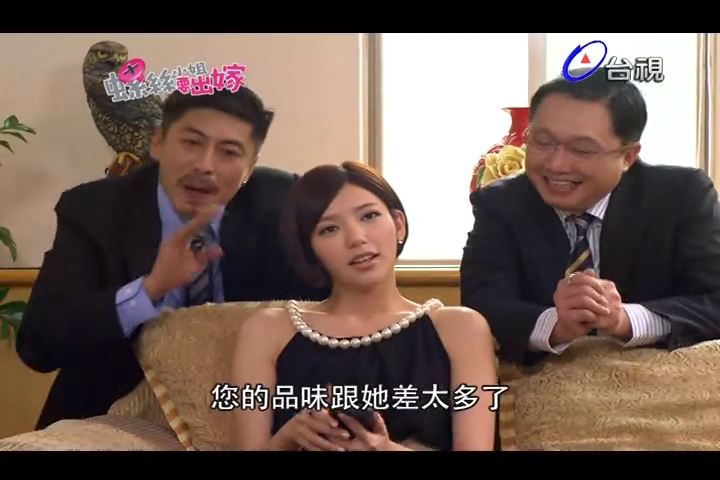 Vivian is welcomed with open arms by the obsequious GM Wu, Manager Kang, and Ting Ai. When Vivian claims that she was insulted when an employee at the company didn't recognize her as the auditor sent by the parent company, Si Yi is called into the office and chewed out. She's forced to apologize to Vivian, and initially Si Yi stands her ground because she did nothing wrong.
When Vivian threatens to call her dad President Jiang and have him come down to audit the company personally, Si Yi is pressured even more to apologize, and she does so with unshed tears in her eyes. GM Wu and Manager Kang insult her as a stupid low level employee and beg Vivian not to let Si Yi upset her. They call her a walking guava since she's dressed in green and white today, and not someone who the gorgeous and unparallel Vivian should even deign to notice.
The other employees, including Xiao Ke, are gathered outside the office peeking at the show. Cheng Kuan walks by and all the employees disperse, which is when Xiao Ke asks him to go inside and help Si Yi from being verbally assaulted. Cheng Kuan's face changes and he walks right into the office. Vivian beams when she sees him, but Cheng Kuan looks at Si Yi first, noticing her tears and embarrassment as she stands there enduring the attacks. He tells her to leave and she quickly walks out.
Cheng Kuan wants Sheng Jun to take Vivian home, but she insists on staying at the company to have fun. Cheng Kuan knows she wants him to keep her company, so instead he says he's busy and walks out of the office. Vivian is furious but GM Wu and Manager Kang quickly swarm her and offer to take her out to tea to cheer her up.
Si Yi sits with Xiao Ke and the latter is very grateful Si Yi stood up for her to Vivian. Xiao Ke is shocked to learn that the famous and rich socialite Vivian Jiang is Cheng Kuan's girlfriend, to which Si Yi says the perfect man of course is paired with the perfect woman. Si Yi reveals that she is always willing to stand up for a friend being mistreated, which really touches Xiao Ke.
Si Yi is preparing the bid proposal for Cheng Kuan and he keeps coming by every few minutes to check on her, clearly hovering because he wants to see her after what happened to her earlier. Si Yi asks for a few minutes to finish, and when she's done, she goes to the copy machine to make copies.
Cheng Kuan stands there and sneaks looks at her, which Si Yi notices and they two of them awkwardly don't address what's going on. Si Yi finishes making copies and hands the bid proposal to Cheng Kuan, who reviews it and approves.
GM Wu is still playing online mahjong in his office with Manager Kang keeping him company. Cheng Kuan walks in bearing the bid proposal which needs GM Wu's seal of approval on it to submit to the government agency. GM Wu promises to review it promptly. After Cheng Kuan leaves, GM Wu doesn't want him to succeed so easily so Manager Kang rips out the page containing the company insurance information so the bid proposal is now incomplete. The two men chuckle over how devious they are.
Si Yi and Xiao Ke are at her cafe discussing Cheng Kuan. Xiao Ke is surprised Cheng Kuan didn't yell at Si Yi for the run-in with Vivian, and that surprises Si Yi as well. Si Yi is pretty impressed with his work ethic and ability, which leads Xiao Ke to point out that Si Yi can't stop talking about him. Si Yi insists that she has no feelings for him. Xiao Ke's boyfriend Ah Zhe arrives and he's strangely aloof with Xiao Ke, who happily tells him she bought him a new shirt. Si Yi tells Ah Zhe that Xiao Ke reveres him and he needs to treat her well. Ah Zhe awkwardly promises to do so. Oh this does not look good.
The fortune teller lady Lily suddenly walks into the cafe and orders a milk wine. Si Yi spots her and tries to sneak out, but Lily calls back the walking guava and reminds her about then wedding bet. The way Lily sees it, plenty of time has passed and there has been no movement on Si Yi's part so clearly its not going to happen.
Si Yi says she's planning a wedding, and is worried that if Lily pole dances her guests will jump off the building. Lily snarks that Si Yi should have her wedding on the ground floor, and Si Yi retorts that she'll have it on level B-1, to which Lily asks if Si Yi is planning a ghost wedding (since she's having it below ground level). Ha!
Si Yi is bested and shuts up, which is when Ah Zhe brings over the milk wine. Lily takes one look at Ah Zhe and tells Xiao Ke to marry him as soon as possible before something unexpected can happen. Ah Zhe looks really guilty, but Xiao Ke remains oblivious to what Lily is suggesting. Si Yi pipes up that Xiao Ke and Ah Zhe are a happy couple and Lily shouldn't insinuate otherwise. Lily gives Ah Zhe a pointed glance, saying that there are things that Xiao Ke and Lily don't know, before theatrically swanning out of the cafe.
Cheng Kuan and Sheng Jun go to visit Vivian, who is swimming in a pool, and they wait patiently for over an hour for her to finish. Vivian finally leaves the pool and wonders how the always busy Cheng Kuan has time to wait for her today. Cheng Kuan asks for Vivian not to hold a grudge with Si Yi, she's an important secretary to him so that he can accomplish what her father tasked him with at the company. He needs her professionally so Vivian should just let it go. Vivian reluctantly agrees but still gives him her bitch attitude.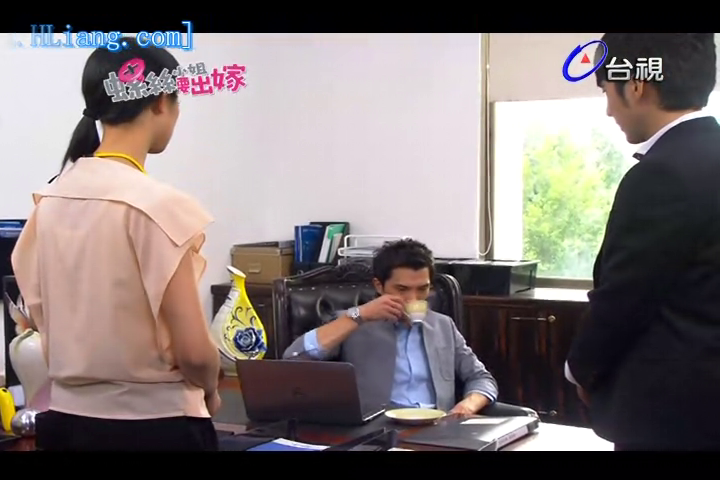 Cheng Kuan and Sheng Jun go back to the office and Si Yi arrives with coffee and learns from Sheng Jun that Cheng Kuan is in a bad mood since he had an unpleasant talk with Vivian earlier. GM Wu presents the signed and sealed bid proposal and Sheng Jun goes off to submit it to the government agency before the office closes at 5:30 pm. Sheng Jun notes that Miss Screw is definitely capable as a secretary, but too bad she's gotten on the wrong side of Vivian Jiang, which means Si Yi's life at the company will be rocky from here on out. Cheng Kuan does not look pleased to hear this.
Si Yi is cleaning GM Wu's office and shredding his discarded documents. She finds the ripped insurance form which is when Cheng Kuan enters having just received a call from Sheng Jun that the insurance form was missing from the bid proposal. Cheng Kuan and Si Yi rush to submit it before the office closes, with Cheng Kuan driving pell mell during rush hour traffic.
They are pulled over by a cop and Cheng Kuan starts the charade by pretending his wife is in great pain and he was rushing her to the hospital. Si Yi theatrically starts moaning and Cheng Kuan reveals she has appendicitis from severe constipation. The cop offers to open a lane for them but Cheng Kuan declines. They are released and speed off.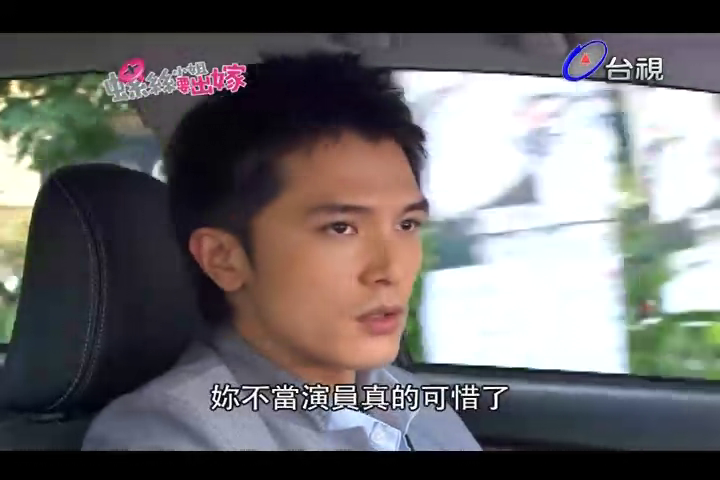 After they are safely away, Cheng Kuan suggests that Si Yi should consider becoming an actress (a riff on model Megan Lai when she transitioned into an acting career), whereas Si Yi replies that its a shame Cheng Kuan isn't a race car driver (a nod to Roy Qiu's real life love of race car driving). They arrive at the government office but the deadline has passed and the government worker is leaving work already and refuses to accept their bid.
Cheng Kuan tells Si Yi that this bid may be the last hope for Guang Qiang, which is when Si Yi darts out into the rain and runs in front of the car to stop the person from leaving. Cheng Kuan sees this and runs out in the rain as well, also stopping the car and bowing deep, imploring the government employee to accept their bid. The lady is moved by their persistence and gets out of the car and accepts the bid.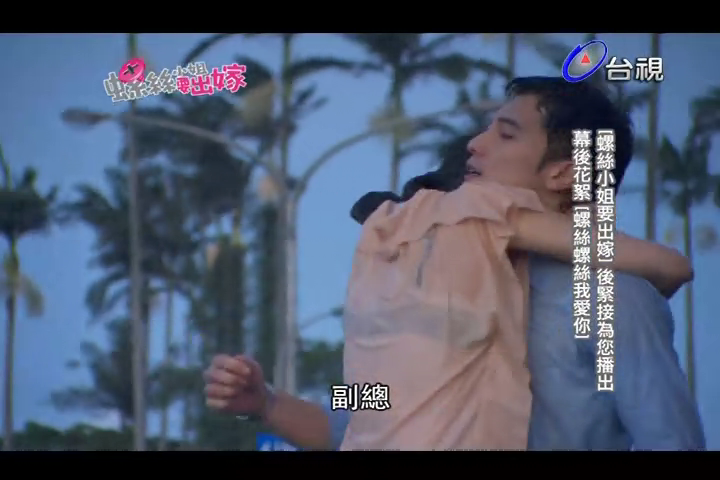 After she drives off, Si Yi yelps in joy and grabs Cheng Kuan for a hug. He's stunned and she realizes what she's doing and quickly pulls away. As Si Yi walks away, Cheng Kuan smiles at her.
Inside the car, both of them are drying off and Cheng Kuan asks why she ran in front of the car? What if she were hit? Si Yi explains it was due to what he said, that this was the company's last chance. They realize that failure is not an option and sigh. Si Yi sneezes and Cheng Kuan looks concerned. He explains that his apartment is near here and she can come over to shower and change into dry clothes. Si Yi declines and wants to go home, plus he has a girlfriend and it would be unseemly for her to go. Cheng Kuan looks pained before he reveals that Vivian is his display girlfriend. Si Yi asks what he means but he doesn't answer.
Si Yi finishes her shower and towel dries her hair, wondering what Cheng Kuan meant by Vivian being a display girlfriend. Cheng Kuan calls to Si Yi, asking if she's falling asleep or fallen since she's taking so long. Si Yi walks out and she's wearing the ridiculous outfit she bought for Cheng Kuan in episode 1 when she smushed him full of cake. She thanks him for the dry clothes, and he smiles a little smile to himself. I love that he kept that outfit, as opposed to throwing it away as I thought his would have done.
He offers her a warmed cup of milk and she accepts. They sit at the table and she sips her milk, the mood slightly awkward. Cheng Kuan goes to get another cup of milk and when he returns, Si Yi reminds him that she's not done drink the first cup yet. So he sits down and they drink together, toasting to the hope that they will win the bid. Si Yi thanks Cheng Kuan for reigniting her passion for work. Cheng Kuan asks Si Yi not to piss off Vivian again at work, since no good will come of it. If Si Yi is sick, or hurt, or even sad, that will worry Cheng Kuan a lot……because he's her boss and its his duty to make sure she's fine. LOL, worst excuse ever.
As Si Yi finishes her milk, she ends up with a milk mustache. Cheng Kuan stares at her and then slowly leans in. Si Yi also leans forward as if to accept an impending kiss, only to have Cheng Kuan reach for the tissues behind her and hand it to her to wipe up her milk mustache.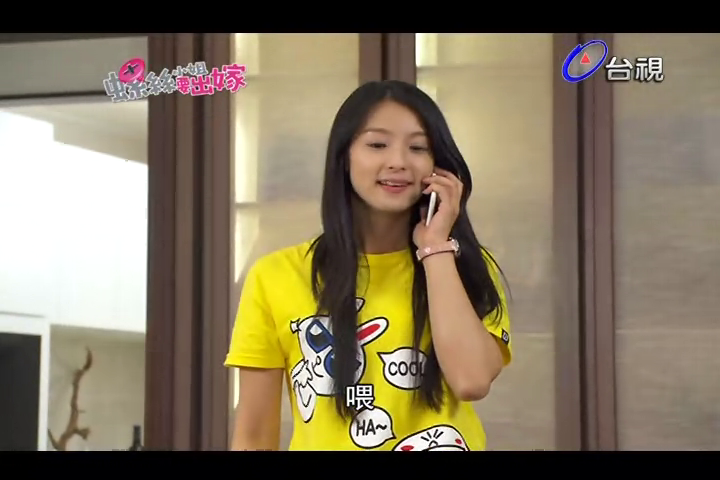 Si Yi's parents are home and Dad wonders why she's not home yet while Mom takes this as a sign that Si Yi's love life is heating up. Dad calls Si Yi and while she misses the call, it does remind her to head home. She wants to go wash the cup but Cheng Kuan tries to grab it from her, saying he'll do it. The cup falls on the floor and the shattered pieces cut Si Yi's finger when she leans out to gather them.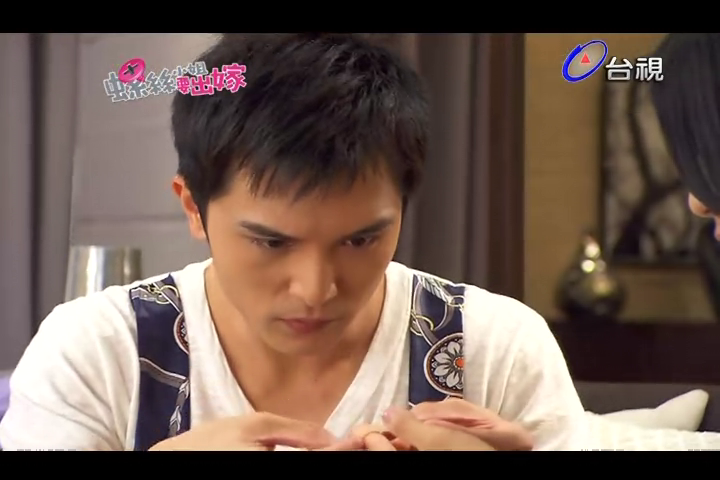 Cheng Kuan rushes her to the sofa and grabs the first aid kit. He tenderly cleans the wound and puts a bandaid on her finger. Si Yi stares and tells him she can do it. Cheng Kuan then grabs her towel and moves to dry her hair, reminding her that she can catch a cold if her hair isn't dry and if she gets sick that will affect her job ability. Si Yi stares as Cheng Kuan gently dries her hair.
Which is when Vivian walks in through the front door without knocking, here to deliver some papers for her dad to Cheng Kuan. Dude, bitch, ever heard of knocking? Oh wait, I forgot you are an ill-mannered wench, expecting manners from you would be like expecting a penguin to tap dance. Vivian freezes when she sees this tableau and immediately flips out. She accuses Si Yi of being a shameless tramp and demands she stay away from Vivian's man. Si Yi tries to explain about the bid and getting wet but Vivian refuses to buy the explanation.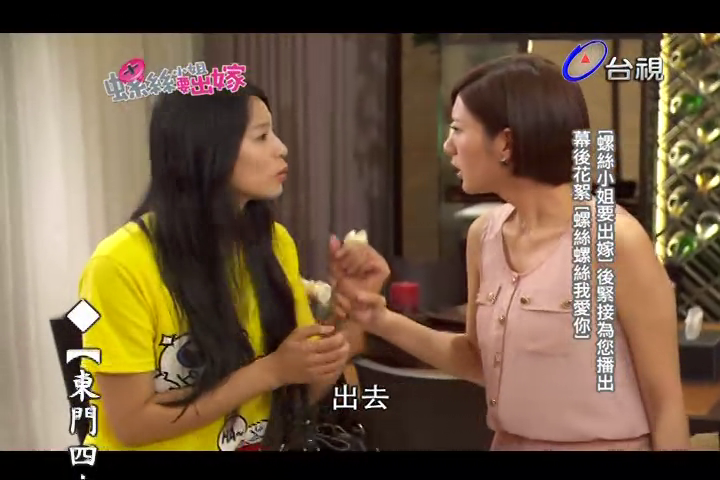 As Vivian tries to grab Si Yi's hand to make her leave, during the ensuing tussle Si Yi's watch is broken and the watch face shatters when it falls on the floor. Si Yi stares in horror at the broken watch, clearly very meaningful to her.
Cheng Kuan pulls Vivian aside and sternly tells her to stop it! Vivian is tearful and stunned that Cheng Kuan would raise his voice to her, and all because of that woman. Vivian says its just a cheap watch and she'll buy Si Yi a new one. Si Yi tearfully says the watch is not cheap, and then tells Vivian that Cheng Kuan will explain what happened to her and then walks out.
After Si Yi leaves Cheng Kuan's apartment, she slowly walks towards home. She asks why Vivian can't be nicer to Cheng Kuan since he already belongs to him? I dunno, that would require having a heart, and Vivian clearly lacks one. As she stops at a curb, a passing car sprays water all over her shirt and face.
Si Yi finally crumples at the series of indignities she's had to endure recently, bending down to sob. As she's crying, someone walks over and drapes a shirt over her. Si Yi looks up and sees Cheng Kuan kneeling before her.