Six episodes is enough to render a verdict on a drama's potential, no? If a twenty-episode or less drama can't get its act together by the sixth episode, not much can buoy a shaky ship for the remainder of its run. Similarly if an excellently launched drama remains firmly in control by the sixth episode, I'd say chances are good this drama has the legs to finish the grueling marathon that is telling a story from start-to-finish. Six-episodes into Nice Guy, it's become obvious where this dramas strengths and weaknesses lie. Its most stellar element is its directing and acting, and its weakest link is actually the story, with the slightly bombastic OST falling somewhere in the middle between effective and too heavy handed. While I normally can predict where a drama is headed, even if the hows are hard to guess, having read the synopsis of NG leaves me wondering just what the heck the second half is aiming to go. The major plot element of Eun Gi supposedly getting amnesia is nowhere near appearing, and now I don't even know what point it serves. That annoys me, because being content to let a story unfold in due course still requires the basic outline to have thematic purpose.
While Eun Gi remains my favorite character bar none (second being adorable Joon Ha played by my Lee Sang Yeob), her character is all over the place. At least we know now that she's not playing Maru to get back at Jae Hee, but conversely Maru is definitely playing Eun Gi to get back at Jae Hee. Its like that horrible bitch just cannot stop wrecking everyone's lives even when she does nothing other than exist. Maru is slipping towards becoming a hard to root for fallen hero, because unlike Eun Gi who was born into her own Hell, his was of his own making. Learning just how much he loved Jae Hee makes me actually annoyed with him and wishing he could just GET OVER IT. If I can slap some sense into Maru I would. He sacrificed for Jae Hee willingly, I actually don't think Jae Hee owed him anything. Yes, she screwed him over again with the alleged blackmail bit, but he's actually much better off just walking away and picking up the pieces of his own life. I don't know what rocky paths Maru will be embarking on, but I remain riveted to the screen waiting for more reveals. Looks like the domestic audience also can't get enough of Nice Guy, its ratings for this episode jumped more than 2% widening its lead even more over Arang and the Magistrate.
Episode 6 recap:
We start with a flashback to young Maru and Jae Hee's first meeting, when he helped hide her from the people beating her up. He then flashes back to them laying on the lawn in college where Jae Hee asks why Maru doesn't accept the affections of the rich girl who likes him. He says he only wants to hold onto Jae Hee. She laughs and lays down on his back, telling him that he needs to keep that promise then.
The scene switches to Maru kissing Eun Gi in front of Hirosaki Castle in Aomori. He deepens the kiss and Eun Gi goes from shock to responding in kind. The camera pulls behind Eun Gi's head where we see Maru's face, and while he's kissing Eun Gi, his eyes open and it's cold and calculating. Dude, don't make me reach into the screen and kick your ass because you hurt Eun Gi due to your ridiculous obsession with Jae Hee
Maru and Eun Gi hold hands and walk through Aomori to watch the Summer festival. We see young Maru writing in his diary back home after his lawn study date with Jae Hee. Maru writes that he now has something he desires, something that he covets. It is his Jae Hee noona. He thanks her for coming into his life. Even if he can't give her wealth, he has the confidence that he will take good care of her, cherishing her for life. He will never allow her to be lonely or sad.
While watching the parade, Eun Gi suddenly turns around and notices Maru isn't there. She frantically looks for him and stumbles around the crowd until he suddenly reappears. We see that Maru had purposely hidden from her and was watching her looking for him. Okay, you are officially scaring me, Maru. Maru holds up two beers as if he had walked away to buy her a drink.
Eun Gi runs across the street and embraces Maru, holding him tightly as if she is afraid of losing him. Maru thinks to himself that since that day he made the promise to hold onto Jae Hee and not let go, then he will always be near her. Maru vows that his beginning is Jae Hee, and his ending will also be Jae Hee. He finishes writing in his diary that he hopes Jae Hee noona feels the same way about him. Maru hugs Eun Gi back and his eyes glint with purpose. He reads from the diary page written on June 30th, 2003.
Eun Gi is being driven home by her secretary. Eun Gi smiles while looking out the window, asking if she seems crazy these days. She reveals that she's in love and the secretary notes that Eun Gi is glowing and looks very pretty. Eun Gi asks if it's hard to learn how to put on make up and if the secretary can teach her how? That shocks the secretary and Eun Gi laughs at how she's totally gone off the deep end it seems.
The secretary tells Eun Gi that the Chairman is very mad at her. The secretary hands her some pills to calm her down but Eun Gi is not afraid and reminds her that she's still the same tough Seo Eun Gi.
Eun Gi walks into the house and sees all her stuff packed in the living room. She's nonplussed and asks for a bite to eat from the housekeeper before getting kicked out. Jae Hee wheels the Chairman out and he demands to know how she even has the gall to eat at a time like this. The Chairman calls Eun Gi shameless for coming back after ruining the deal. Jae Hee excuses herself to give her son a bath. Eun Gi says she will leave but the Chairman wants her out right now before she even eat a bite of food from this house.
The Chairman tells Joon Ha to cut off Eun Gi's credit cards and notify their hotels not to let her stay there. He also wants all Tae San employees notified that they are not to communicate with Eun Gi. The Chairman tells her not to come to work either, he doesn't need her around to ruin the company. She asks the Chairman why he doesn't have anything else to say to her, such as thanking her for saving the resort from being sold to a swindler. For saving the resort his ex-wife left behind.
The Chairman points out that the resort loses money every year. The scene cuts away to Jae Hee smiling as she bathes her son. The Chairman asks Eun Gi why she doesn't apologize for what she did when she walked into the house? Joon Ha asks the Chairman to forgive Eun Gi but he won't because she refuses to acknowledge she did anything wrong. Eun Gi says that the Aomori resort is her most precious place and she wouldn't hesitate to do the same thing again. Eun Gi turns to leave, telling her dad that her clothes were bought by Tae San Group money as well but she's not planning to walk out naked so she won't take it off.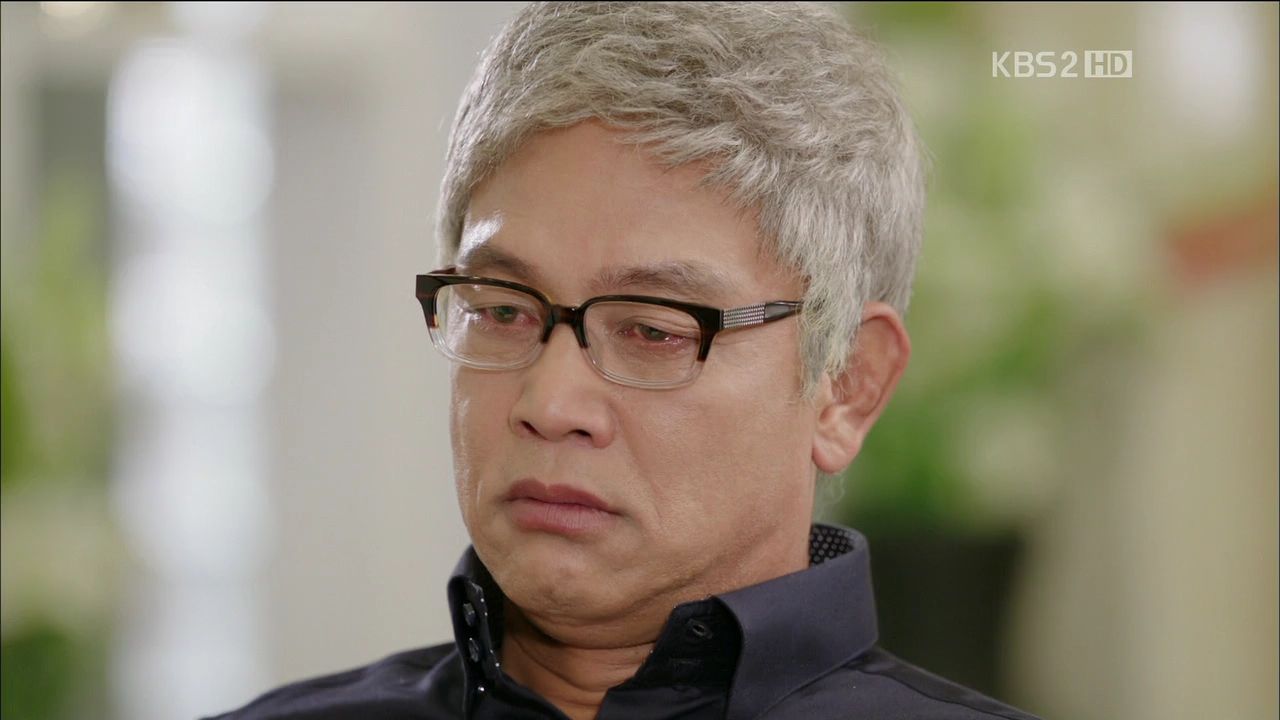 Eun Gi bows her to dad and tells him to be well. After Eun Gi leaves, we see the Chairman's eyes are red-rimming and then he clutches his chest in pain.
Joon Ha follows Eun Gi outside and she tells him not to talk with her per the Chairman's orders. He wants to give her his credit card but she won't take it since his money is earned from the Tae San Group. He reminds her that he's her oppa but Eun Gi doesn't want to get him in trouble. She hands him her wallet but takes out a few bills first, then telling him that her car keys are in her room. She asks him to take care of the Chairman. Then Eun Gi remembers something and asks Joon Ha where to go if she wants to take a bus. Jae Hee finishes the bath and tells her son that he did well and he is totally deserving of being the son of the Chairman.
Back at Casa de Maru, Jae Gil is dancing in the courtyard and Choco comes out to ask him to stop. Choco asks Jae Gil if he's missing his ex-girlfriend Yura but Jae Gil acts like he doesn't even know such a person. Eun Gi walks up and Choco remembers her as the unni with her brother that day. Eun Gi finds out that Maru is at work and asks where that is?
Jae Hee sits across from Maru in the completely empty bar, revealing that she booked the entire place so its just the two of them. Maru pours her a glass of Absinthe. Jae Hee compliments Maru on still being so handsome no matter what he does. Jae Hee says that Eun Gi is no match for her. How can a person born with everything compete against someone who has nothing.
Jae Hee asks Maru to stop toying with Eun Gi and go back to his old life. Jae Hee asks Maru what's going to happen if he keeps using Eun Gi? Maru wonders if it appears that he's using Eun Gi? She's the daughter of a chaebol, not to mention pretty, smart and kind. Does it look like he's being 100% false with her? Maru tells her to finish the drink and go home. Jae Hee insists she is serious about wanting to go back to him. She also cannot forget him. God, I want to punch her in the face so bad.
Eun Gi and Jae Gil are in a taxi headed to the bar. Eun Gi tells him she can go by herself but Jae Gil explains that he works at the same bar as a singer. Jae Gil texts Maru that Eun Gi is on her way to see him, telling him to get rid of any other woman around him.
Maru calls Eun Gi and puts its on speaker so Jae Hee can hear. Damn he's such a cruel bastard. Eun Gi happily answers the phone while in the car with Jae Gil headed to the bar. Maru asks where she is and Eun Gi tells him she's coming to see him. Maru is happy she's coming and tells her that he misses her to death. Eun Gi smiles and reveals that she's been kicked out of the house. During this entire conversation, Maru just stares at Jae Hee without blinking an eyelash.
Maru welcomes Eun Gi to stay with him, in fact he's already cleaned out a room for her and asks her to live with him. Eun Gi says she's hungry and Maru asks what she wants to eat, he'll make any dish he knows how. Eun Gi says she wants ramyum with egg, mandoo and some dokbokkgi. He tells her that she has the same tastes as him so she needs to hurry up and get here.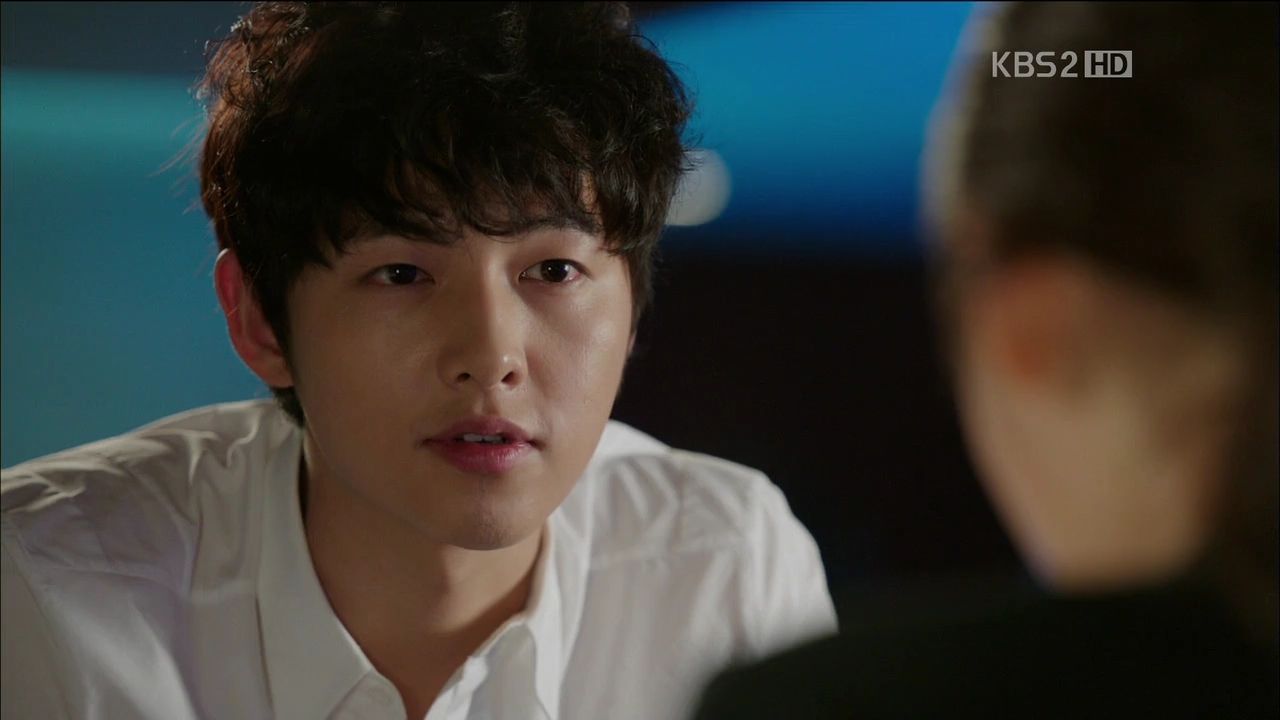 Eun Gi tells Maru that she loves him. Jae Hee's eyes widen and Maru stares back at her. Eun Gi says "I love you" again and Jae Gil turns around in the taxi to stare at her. Maru smiles at Jae Hee and says "Me, too, I love you, Seo Eun Gi-shhi." The call ends with Eun Gi happily smiling.
Maru tells Jae Hee she needs to leave since his girlfriend is coming. He asks her to leave otherwise it'll be awkward once Eun Gi arrives. Jae Hee grabs him and suggests that they go down together then. She kisses him but he doesn't respond to her kiss other than his eyes widen. She tells him that they can kiss when Eun Gi arrives and be caught together.
Maru wipes his lips and then pushes her against the column and forcefully kisses her. He pulls out his cellphone and snaps a picture. Jae Hee asks if he's gone insane? Maru says if they want to be captured, this photo is the best way.
Eun Gi pulls up outside the bar and when she steps out of the car, she gets a text from Joon Ha that includes the picture of Jae Hee kissing lawyer Ahn outside the house. Eun Gi calls him back and screams at him, asking what he's doing?
Maru tells Jae Hee that she doesn't know the real meaning of people destroying themselves. In Maru's world, he has nothing left to lose anymore, whereas Jae Hee does and she'll never be able to go all the way like he can. Jae Hee tells Maru that if he comes into her world, he'll discover how filthy it is, and does he still want to? Fine, if he wants to, then she'll play this game with him. She has no intention of leaving that world and he has no intention of giving up his plan to bring her down, so they will walk to the end and see what happens.
Jae Hee turns to leave and it appears her hips are in pain. Maru looks at her walking away and his eyes reveal his worry for her. Ugh, stop worrying for her. At all. He stops himself from going to help her.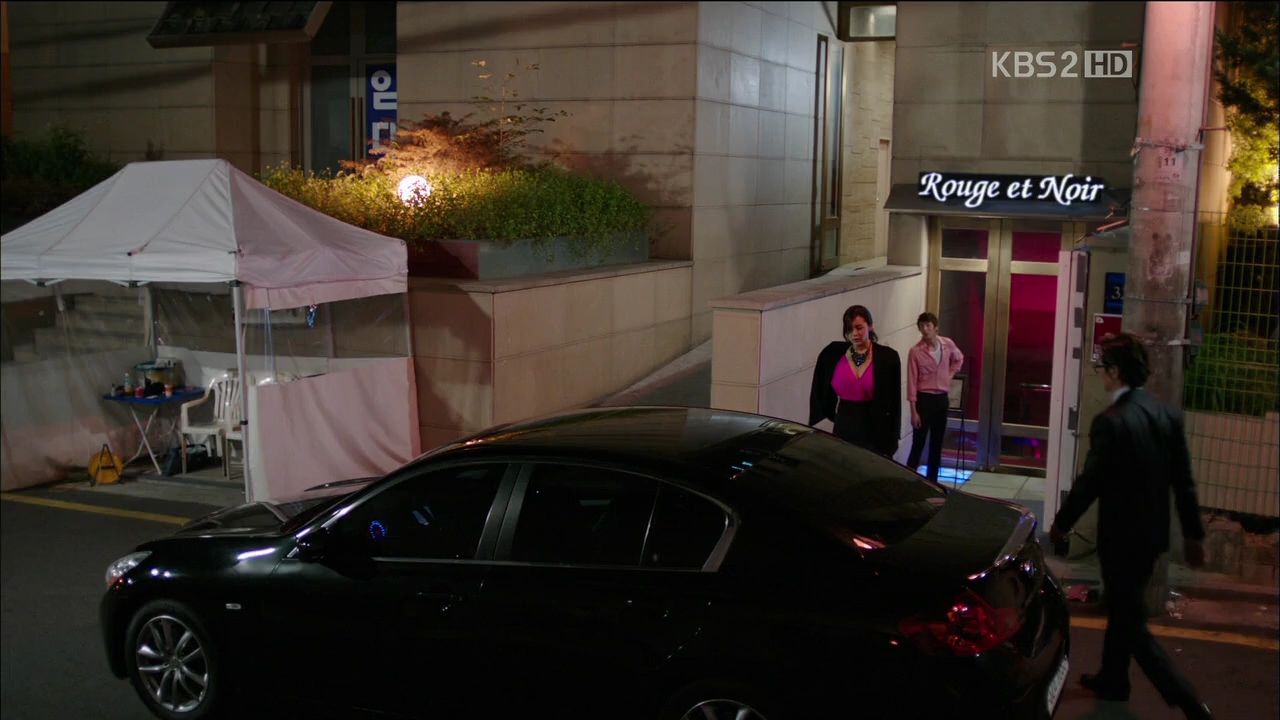 Jae Gil walks to the front of the bar and finds the note that its closed tonight for a private event. He sees Jae Hee walk out and he calls her noona but she ignores him. Lawyer Ahn, with a new slicked back but equally nasty hair do, pulls up and opens the door for Jae Hee to get in. Jae Gil stands by the door and sees all of this.
Jae Hee sits in the backseat in pain and lawyer Ahn offers to take her to the hospital. Jae Hee says it's not necessary since it's an old injury that flares up on occasion. She says its nothing to worry about. She tells lawyer Ahn that she knows he has an ulterior motive in assisting her, and she'll let him use her. She tells him not to genuinely fall in love with her, treating her this way is what Han Jae Hee deserves.
Maru sits in the empty bar and Jae Gil walks in and asks what's going on? That bar is empty and he just saw Jae Hee noona leave. Maru looks out of it and Jae Gil has to get his attention. Jae Gil asks if Maru is crazy to see Jae Hee. Maru asks about Eun Gi and is told something came up and she had to leave. Jae Gil reveals that he broke up with Yura.
Eun Gi meets up with Joon Ha and demands to know if he photo shopped that picture. Joon Ha shows her the original and reveals it was from a CCTV capture in front of the house. He tells Eun Gi that the Chairman will be looking to bring her back if she can complete one project. Eun Gi is in no mood to talk about that. Joon Ha tells Eun Gi that she needs to return as soon as possible, since the Chairman is sick and Jae Hee is starting to get more involved in company matters. He's worried something will happen soon.
Eun Gi learns that Joon Ha hasn't told the Chairman yet about Jae Hee's duplicity. He was worried that with his weakened constitution the shock might be too much. Eun Gi tells him that he did the right thing and she starts to think about how to proceed next.
The Chairman calls lawyer Ahn to ask him to track down where Jae Hee is right now. Errrr, in his back seat, dude. He wants her cell phone tracked and reported back to him. He reminds lawyer Ahn that he doesn't even trust women 30%. During the call it appears the Chairman experiences some chest pain.
Jae Gil and Maru are drinking and when Jae Gil gets drunk, Maru flashes back to Jae Hee's injury. Turns out that Jae Hee's brother beat her up to take her purse and she refused to hand it to him because it was a gift from Maru to her. Maru walks home to see this beat down and he takes off his backpack likely to go protect Jae Hee.
Eun Gi tries calling Maru but he doesn't pick up his phone. Eun Gi sits at a street stall and waits for Joon Ha to bring the three employee union leaders to come negotiate with her. She welcomes them and extends her hand for a shake but they ignore her. Eun Gi knows they think of her as a betrayer and she offers to enter into a drinking competition with the best drinker. If she wins, they will have to do as she said. If he wins, she will do as they want.
Jae Gil is passed out drunk on the floor muttering about Yura while Maru sleeps sitting in the chair. Choco arrives and immediately goes to Jae Gil. She can see that he's been crying. Choco says its all her fault and offers to do anything for Jae Gil. Jae Gil mutters something and Choco thinks he wants Maru's watch. She takes Maru's watch from her sleeping brother's hand and gives it to Jae Gil. Choco then piggybacks Jae Gil home, leaving Maru sleeping there.
Eun Gi and the head union leader engage in a drinking game where they literally gulp down pots and pots of soju. OMG, this is like a public announcement for alcoholism and future liver transplants. Eun Gi finally can't handle it anymore and ducks out for a moment. Joon Ha follows and asks what she thinks she's doing? Eun Gi tells him she's fine.
Maru wakes up alone in the empty bar. Joon Ha goes to get the car to drive Eun Gi but when he returns she's gone. Maru walks home and gets a call near his house. It's drunk Eun Gi and she apologizes for not showing up because something happened. We see drunk Eun Gi sitting near Maru's house. He can tell she drank and Eun Gi confirms she's drunk on soju.
Eun Gi asks what he's done to her? What did he do to her that all she has in her brain is images of him? Because of hims he can't even concentrate, all she wants is to see him, always to see him. Eun Gi laughs that she really isn't this kind of person. Seo Eun Gi really isn't this kind of person. Maru listen to Eun Gi on the phone and then walks past her sitting on a stoop calling him. He turns back and kneels down before her, the two of them still on the phone.
Eun Gi sees Maru before her and she marvels on how this person looks just like Maru. She reaches out to touch his face and his eyes flicker when she touches him. He looks at her with this gentle direct gaze. Maru says he feels really bad when he thinks about what he's doing to her life. Eun Gi is amazed that her vision of Maru can talk. Maru candidly tells Eun Gi that her memories with him are a nightmare but soon she will wake up from said nightmare.
Maru lays a passed out Eun Gi in his room to sleep. He takes care of her as she sleeps, gently wiping her face and staring at her. Her phone rings and he answers the call from Joon Ha. He assures Joon Ha that Eun Gi is safe and asleep. Joon Ha asks if he's Eun Gi's boyfriend and Maru says yes, introducing himself as Kang Maru.
Joon Ha is relieved that Eun Gi is being taken care of. After hanging up the phone he looks really sad. Maru ends the call and sits there still staring at Eun Gi.
Its morning time and Eun Gi wakes up first but she doesn't do anything except lay on her side staring at a sleeping Maru with a smile on her face. Back in the Seo house, Jae Hee is also awake in bed with the still sleeping Chairman. She sighs and turns to her side away from him.
Joon Ha jogs along the Han River and he passes by lawyer Ahn, who notices him. Joon Ha goes to work and pulls up the video of Jae Hee kissing lawyer Ahn and watches it again. He then sees the rest of the video which is Maru driving Eun Gi home. He finally makes the connection of Kang Maru, Eun Gi's new boyfriend, with the man who allegedly blackmailed Jae Hee. He calls up the CCTV company to ask for video enhancement.
Maru finally wakes up and opens his eyes to see Eun Gi staring at him. They say good morning to each other and Eun Gi wonders how she got here? Maru explains she arrived in the neighborhood by herself, but he brought her to the house. She asks if she said anything crazy last night, like how much she liked him?
Maru confirms she did, so Eun Gi wants to know what his response was to her confession. Maru claims to have responded to her last night but she doesn't remember and asks him to say it again. Maru claims no fair and suggests they eat breakfast first. Joon Ha walks out of the CCTV room and looks distressed. He places a call to confirm whether Eun Gi's boyfriend is named Kang Maru.
Eun Gi won't let it go and keeps asking what he said to her last night? Maru looks her straight in the eye and says that he asked if she wanted to run away because she was being seduced by Kang Maru? That's akin to stepping in dog shit and having horrible luck, so does she want to put on her shoes now and run away? He's giving her only one chance.
Eun Gi smiles and asks if she can answer him now? Maru nods silently. Her answer comes in the form of leaning in to kiss him. Maru's eyes widen and twitches uncomfortably.
Jae Hee is trying on wedding gowns for media pictures and she excuses herself to answer a call that she thinks is from Maru. Her face falls as the call is from her brother, telling him that he's back and asking where she is? Lawyer Ahn notices her distress when she answers the call.
Maru walks out in the courtyard and finds Choco tending to a beaten up Jae Gil, who reveals that Jae Hee's gangster brother just visited and beat him up to find out where Jae Hee is. The guy stole Maru's phone to reach Jae Hee. Jae Gil warns Maru not to get involved. Jae Hee's brother looked spitting mad and Jae Hee is likely dead if he gets his hand on her.
Eun Gi and Joon Ha meet with the striking employees and negotiate their new contract. Eun Gi accepts all their terms which worries Joon Ha. Eun Gi says at most the Board of Directors will throw a hissy fit. She tells Joon Ha that she's in a really good mood right now.
Eun Gi finishes the meeting and happily takes a bus back to Maru's. On her way up to the house, an ahjumma stops her and asks if she's living with Maru? The ahjumma hands something to Eun Gi and asks her to give it to Maru.
Eun Gi stops and turns the item over and sees that it's the graduation picture of Jae Hee and Maru. The investigator who is working on lawyer Ahn and Jae Hee's side is hiding to the side watching this, clearly having orchestrated this to reveal Maru's connection with Jae Hee. Eun Gi stares at the picture and her eyes widen.
Maru walks out of the house and sees Eun Gi. His normally impassive expression breaks out into a slow smile as he welcomes her back, but Eun Gi just stares in shock at him.
Thoughts of Mine:
Episode 6 was definitely a tense confrontation driven episode and worked much better to keep the story afloat than the laughable "save the resort" child's play tactics of episode 5. NG is ultimately a character-driven story and it moves forward when people talk, even if they don't always say what they mean. I enjoy all the not-so-subtle shades of grey which has been interspersed throughout the drama from the very beginning. Abrasive and confrontational Eun Gi is like a lost child emotionally even if she's a pitbull when it comes to everything else. Jae Hee has a terribly trying childhood but now she's turned into a scheming golddigger. Maru was all devotion and kindness until a sacrifice proved to be a cruel awakening. The Chairman appears to push his daughter using only harsh methods but inside he is trying to make sure she is taken care of when he is gone. All of this works well to make the characters appear flawed yet understandable.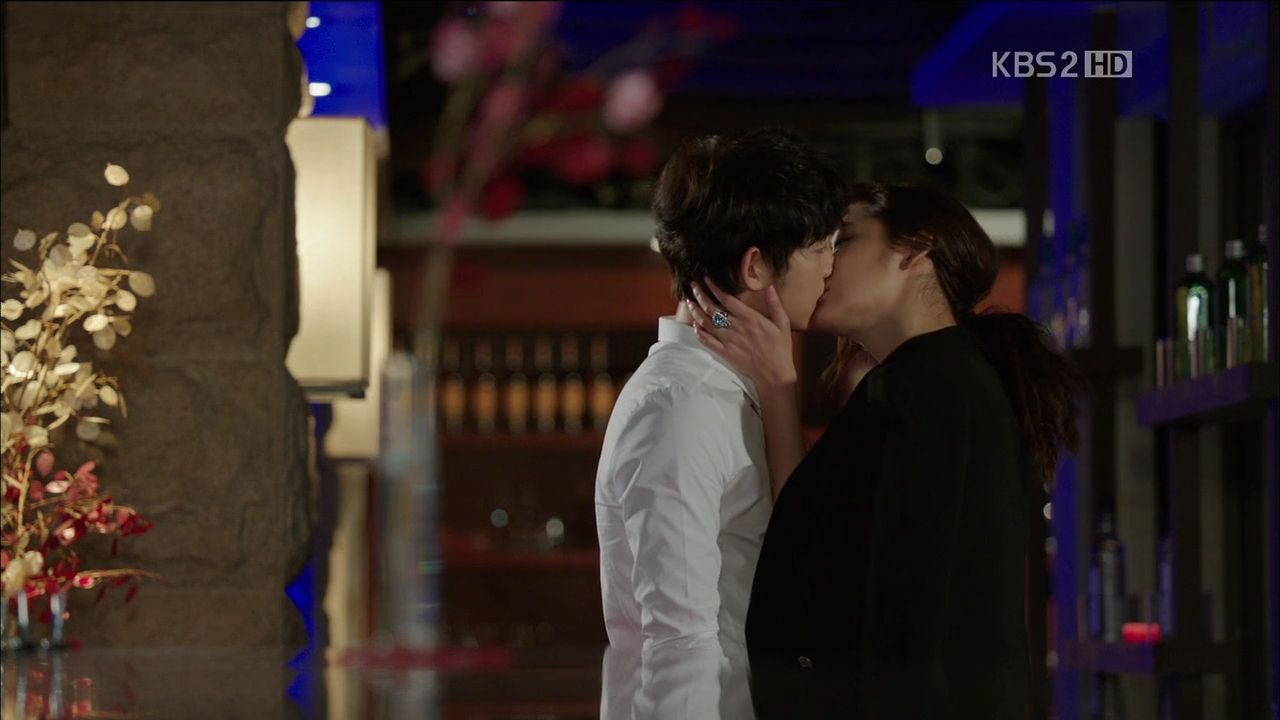 What I hate is learning the extent of Maru's love for Jae Hee, and seeing clearly that he still loves her. If he didn't, he wouldn't care what the hell she did with her life. He's hung up on thwarting her schemes because his anger stems from the still present love he has for her. That pisses me off, especially when we see clearly that Maru is using Eun Gi. Yes, he tells her that he's no good and gives her the chance to run away. But that's not enough to warn off Eun Gi, and he can tell that she is opening her heart up to him and likely has never done so before with any other man. And yes, its clear that she actually pierces through his ulterior motives and touches a part of his broken soul, but that is not enough for him to place her well being above his own purpose. I wish I could root for Maru to succeed in bringing Jae Hee down and fall in love with Eun Gi along the way, but the more I see that his plan will be bringing her immense pain first, the more I'm losing sympathy for him.
I think Lee Kyung Hee's script is really interesting but she doesn't fill in the blanks well enough. It's like she wrote a fabulous outline but when it came time to do a deep dive, she ends up with spots of genius bookended with random scenes and nonsensical plot devices. Choco and Jae Gil need to go, lawyer Ahn's motivation in helping Jae Hee makes zero sense to me even if he lusts after her, and Eun Gi's complete and utter fascination with Maru borders on the incredulous. Part of me wants her to get with sweet and decent Joon Ha and dump Maru, but then I realize she's never liked Joon Ha before for a reason. Joon Ha is like the old Maru, kind and devoted, and that is not what gets through to Eun Gi. She is attracted to this not-nice-guy version of Maru, and likely would have never given old Maru a second glance if she met him. That feels so ironic, since old Maru would have never hurt even a hair on her head. But then again, old Maru loved Jae Hee and only Jae Hee, so he and Eun Gi would have never had any chance to begin with. Which really begs the age old adage, it's all about timing. Right now the timing is right for Maru and Eun Gi to spark, but whether all the lies and truths will doom them, only time will tell.